This vegan cilantro pesto with walnuts is not only delicious, but also gluten free.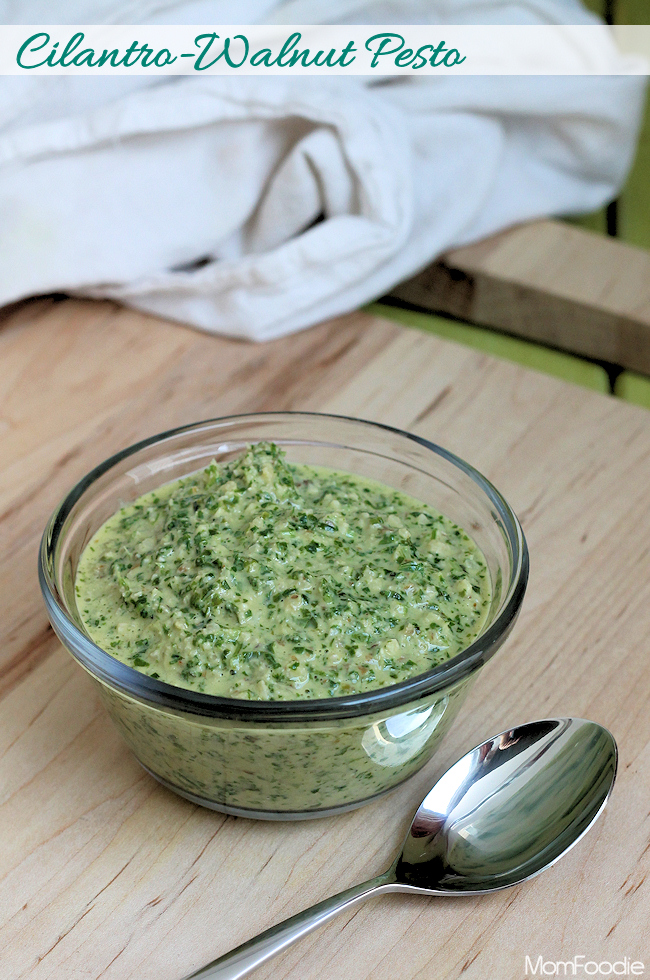 Yesterday I found myself with some cilantro on-hand that pretty much needed to be used pronto.   I didn't have anything in particular in mind for it, but wasn't about to let it get funky on me.   I fuddled around on the web for a bit, and came across a recipe for Cilantro-Walnut Pesto on the Cooking Light website.  I had plenty of shelled walnuts and most of the other ingredients necessary.  It seemed worth a try, so the well worn mini-food processor was dragged out to do it's business (I am long overdue to replace that thing).
I stuck to the original for the most part, but was short a little cilantro, so I added a little basil and few more walnuts to keep the liquid to solid ratios about the same so consistency would be right.  The results... a yummy vegan sauce that you would swear had some dairy in there somewhere, but nope, no moo juice at all.  The great thing about using this in vegetarian meals is the protein from the walnuts.  Even if you aren't averse to meats & dairy (I'm not.) this packs some nice healthy oils, and cilantro is loaded with vitamin A, so dollop some Cilantro-Walnut Pesto on!
Great to add to simmered or sauteed dishes, smeared on sandwiches, as a dip or topping for grilled meats, veggies or seafood.
Here is the recipe, as I made it.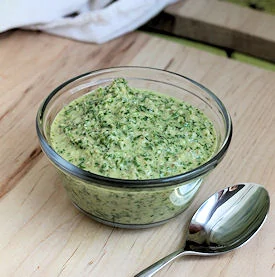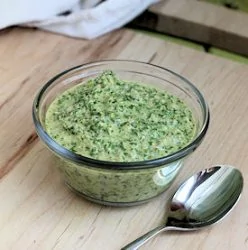 Cilantro-Walnut Pesto: A Healthy Condiment Recipe (gluten-free, vegan)
Print
Pin
Rate
Ingredients
3

garlic cloves

2

cups

of cilantro leaves with smaller stems

I just pick out the bigger stems after a couple pulses of the food processor

2

tbs

fresh basil leaves

⅓

cup

chopped walnuts

2

tablespoons

white wine vinegar

½

teaspoon

salt

¼

cup

organic vegetable broth

3

tablespoons

extra-virgin olive oil
Instructions
Add ingredients to food processor (preferably a smaller one).

Pulse until smooth and emulsified.

Use right away or store covered in refrigerator.