Sauteed vegetables are one of the the most classic of vegetable side dishes and quite nutritious. This quick and easy Italian sautéed vegetables recipe can make a simple rotisserie chicken into a great low carb meal.
Sauteing carrots, zucchini, red bell pepper, broccoli and onion together make them taste better than apart, since they flavor each other. The fresh veggies are a healthy side dish and make any meal better!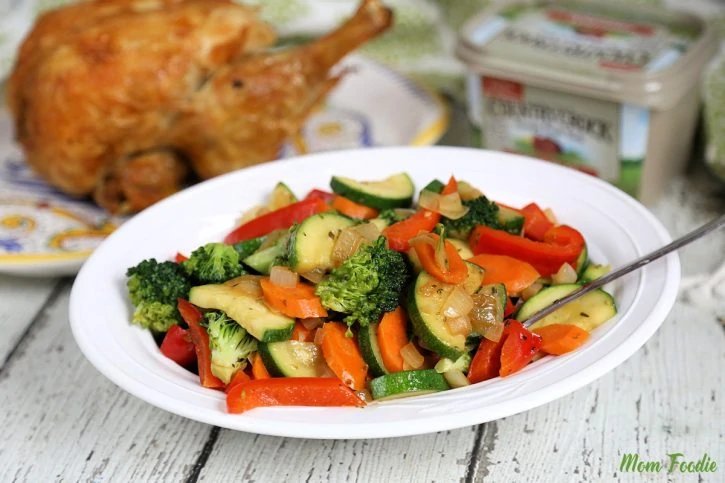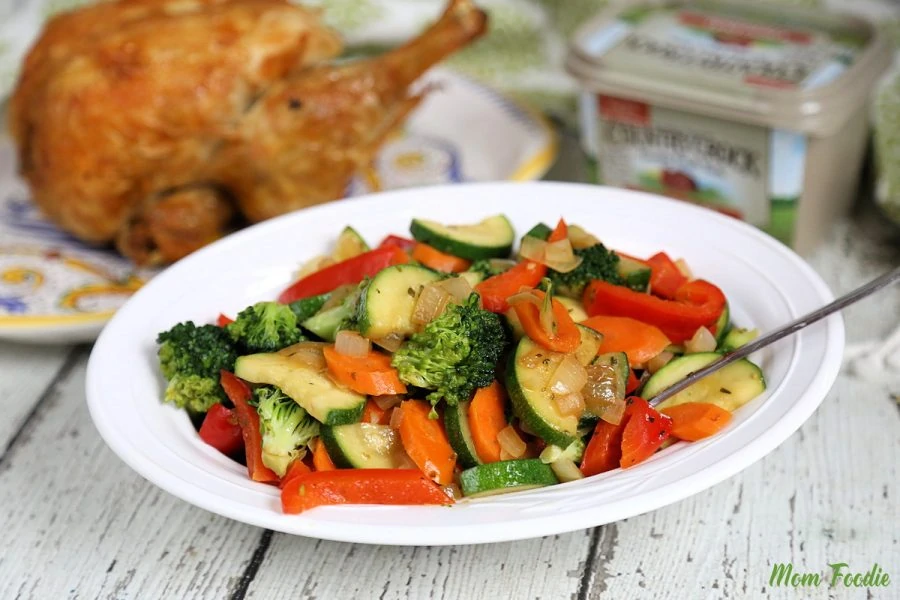 Sauteed Vegetables Make It a Meal
So many of us are trying to focus on serving nutritious family dinners each evening, but are incredibly strapped for time. In our house, I have been trying to make sure our meals are nutrient dense and something both my fussy daughter and I will eat. Sometimes my solution is a mix of ready made items, like a rotisserie chicken along with a quick batch of fresh sautéed vegetables. That is exactly what is on our dinner menu tonight.
While we stuck with the chicken and sautéed veggies, a nice green salad with a Vinaigrette or Ranch Dressing would be a great addition. Maybe start some Crock Pot Mashed Potatoes or delicious Crock pot Glazed Carrots before going shopping. They are easy family favorites.
A batch of Raspberry Iced Tea to drink would be refreshing. If you are watching carbs try my Keto Green Tea Lemonade.
Want Dessert too? I suggest Strawberry Fluff Salad, or Million Dollar Pie. For my low carb friends ... Keto Churros.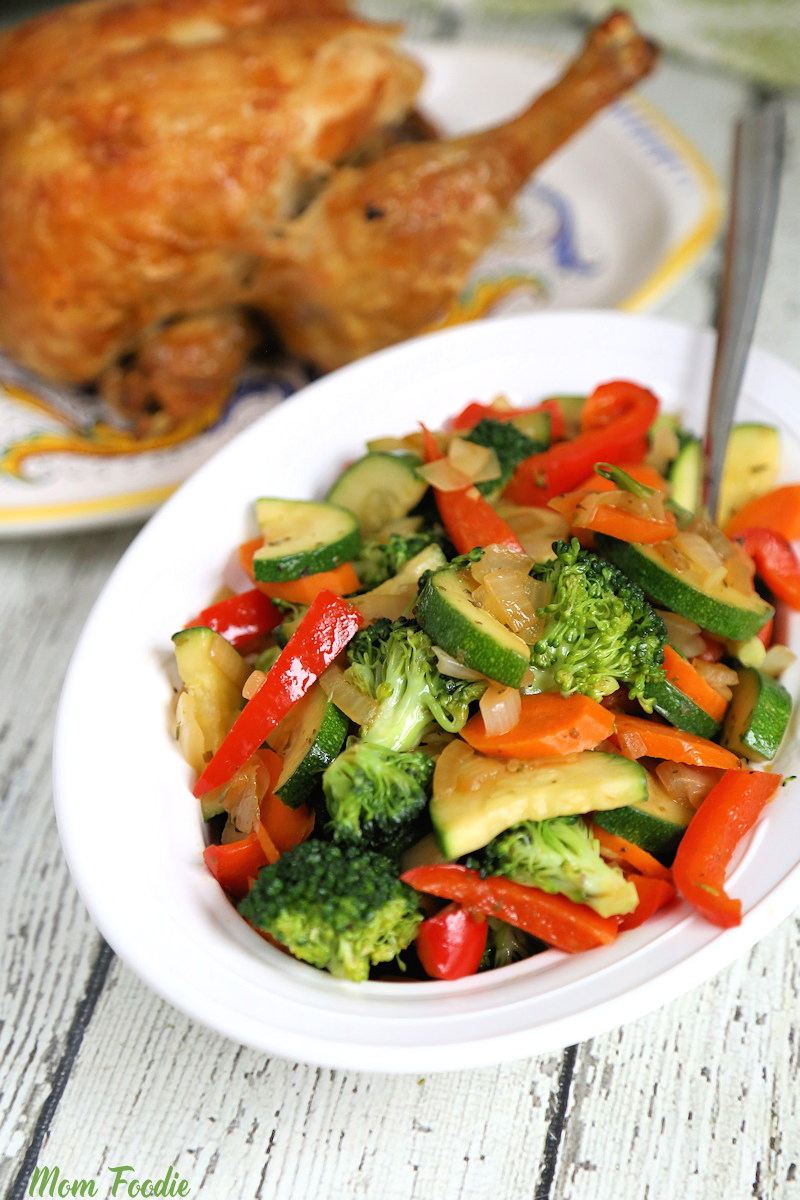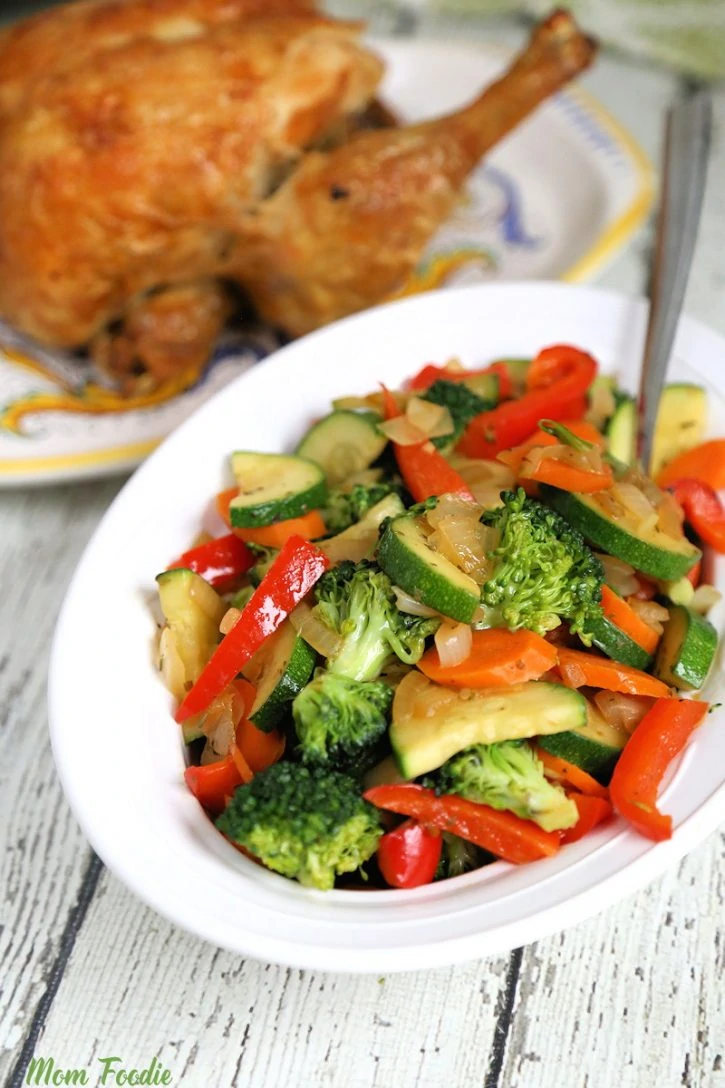 Quick Side Dish
These simple sautéed vegetables help get a nutritious meal on the table with speed and ease. This leaves us more precious time to enjoy our family or get things done. No matter why you need dinner to come together fast, this easy vegetable stir fry recipe is a great way get it done.
Pair these simple sautéed vegetables with crock pot meatloaf, Air Fryer Chicken Drumsticks or any of your favorite tilapia recipes.
How to Saute Vegetables
This quick and easy fresh vegetable sauté is a delicious side for a rotisserie chicken, grilled meats or even drive-thru burgers (instead of fries). No time to cut up veggies, no worries, just swap in frozen.
The recipe makes 4 servings of sautéed vegetables.
Prep time 5 mins | Cook time 10 mins | Total time 15 mins
What you need for ingredients:
I used roughly equal parts of these fresh vegetables to sauté:
broccoli florets Make sure you have small florets, big pieces will not result in tender broccoli.
zucchini, sliced (or yellow squash)
carrots, thinly sliced
sweet bell peppers, sliced into bite-sized pieces (red bell pepper shown, but you can use any color)
a small onion chopped (a regular one is fine, but I do prefer sweet or red onion)
1 tablespoon olive oil or avocado oil (or 2 tablespoons butter)
Italian seasoning or spice blend of choice (I like to use salt-free seasonings, like Mrs. Dash)
salt and pepper to taste (for a bit of heat, add a pinch of red pepper flakes as well)
Minced garlic, green onion, halved brussels sprouts or mushrooms are other veggies that make great additions. Cauliflower can be used, treat it as you do the broccoli.
Preparation
Start with 2 tablespoons of butter or olive oil in a large skillet pan over medium high heat.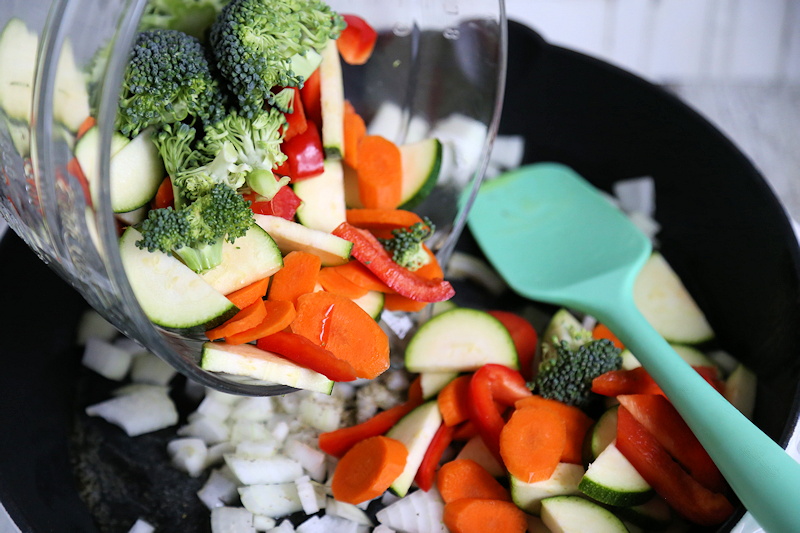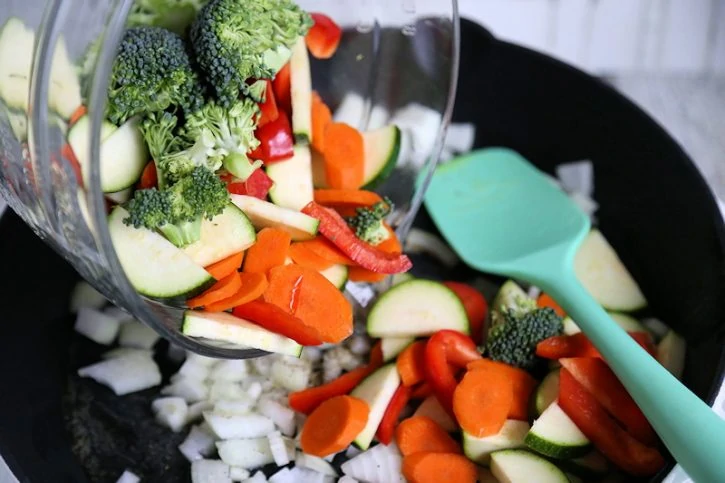 Add chopped onion, mixed vegetables and Italian seasoning to the hot skillet. Stir to coat with the oil or butter. If you are adding garlic, do so now as well.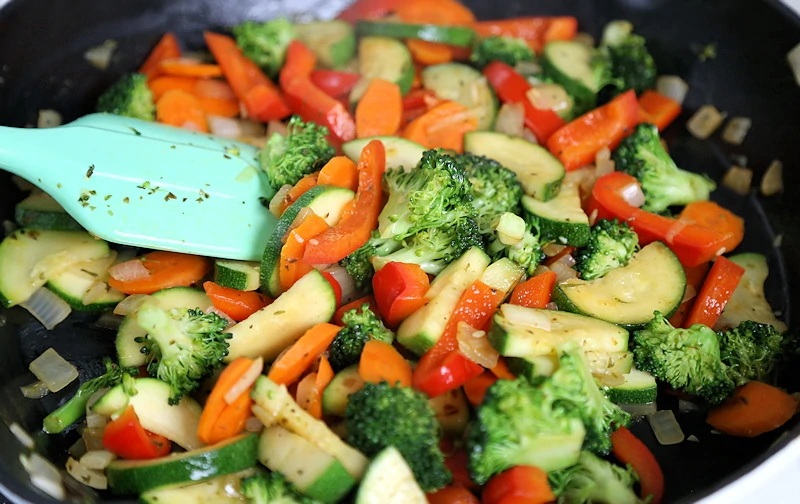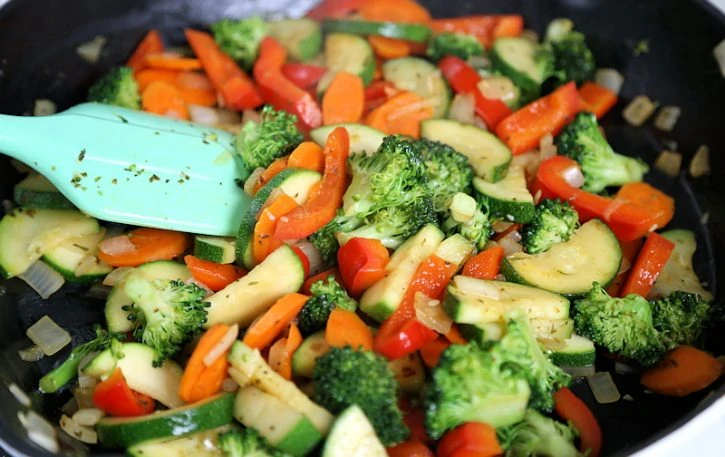 Stir frequently to cook vegetables. You are done cooking veggies when they tender, yet still have a little crispness and are not browned. Add another tablespoon of butter, olive oil or avocado oil to the veggie sauté at this point and season with salt and freshly ground black pepper to taste.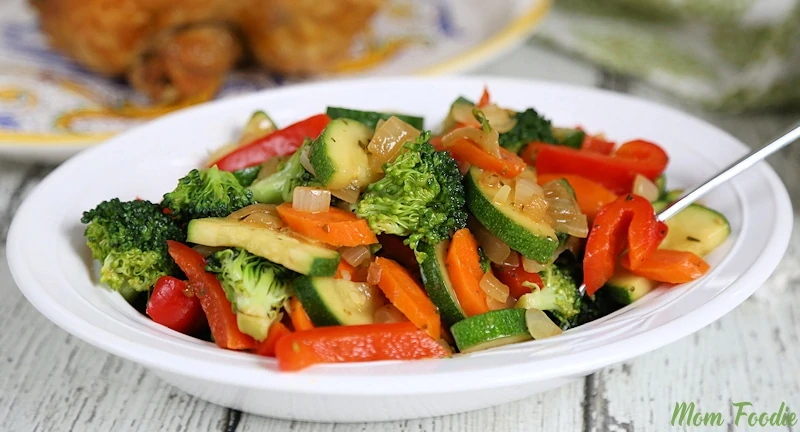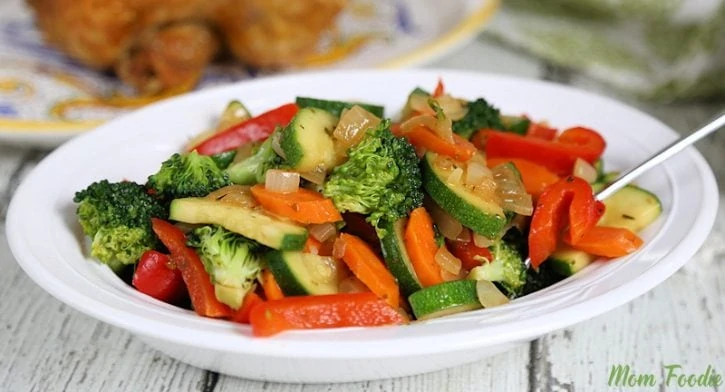 Serve immediately. Top the simple sauteed vegetables with some freshly grated Parmesan cheese if you like.
Leftovers can be stored in the fridge in an airtight container for 3-4 days.
This Italian vegetable sauté is a healthy easy side dish loaded with colorful veggies and pairs well not just with rotisserie chicken, but also steak, salmon, baked cod or any grilled meats. They take just a few minutes to prepare too!
Sautéed Vegetable Swaps
While there is a good mix of sauteed veggies in this recipe, you are not limited to what appears here. Be mindful of how quickly a veggie cooks and adjust cut size relative to the other selections you have made. Softer vegetables cook faster. The goal is to get each vegetable to a similar cooking time.
Fresh green beans, yellow squash and asparagus can all be swapped into this sautéed vegetables recipe without adjustment. Mushrooms can also be used, but add them in the final few minutes of cooking. See my asparagus sauté with mushrooms.
Leafy greens, sliced green onions and chopped fresh herbs are also options that should be added toward the end of cooking, though a tougher green like kale will need a few minutes to soften.
You can even add some fresh tomatoes and basil toward the end of cooking if you want to zing things up.
Different Seasonings
While this is geared as a simple Italian side dish, the recipe can be very easily adjusted to go with a host of cuisines.
Get some Asian flair in your sauteed vegetable medley with bok choy or snow peas. They work well in this recipe. Of course, you could add a little stir fry sauce instead of the dry seasoning.
Other herbs such as herbs de Provence or a few sprigs of fresh thyme also work well in a veggie sauté.
Flavor up sautéed vegetables with some Cajun spice seasoning, Ranch seasoning or a hearty sprinkle of curry spice, in lieu of the Italian seasoning.
For more savory flavor add garlic or onion powder.
A splash of lemon juice can brighten the dish up.
If you want more caramelization on your sautéed veggies add a sprinkle of sugar before cooking. It will only add a hint of sweet flavor, but will help with browning.
For sautéed veggies to go with Mexican dishes, swap Poblano pepper for bell pepper and toss in a ¼ teaspoon each of cumin, chili powder and ½ teaspoon of oregano.
Meatless Meal in a Snap
Toss leftover veggies with some pasta and top with Parmesan cheese or a splash of soy sauce to make a veggie pasta dinner, perfect for busy weeknights.
Add a little vegetable broth with cornstarch whisked in while cooking your vegetables and serve over steamed rice (perhaps with a drizzle of my homemade yum yum sauce) for another easy and delicious vegetarian meal option.
Use in Meal Prep
If you like to meal plan for the week an easy veggie sauté like this can be utilized to expand main dishes when needed. Cut up your vegetables before and and put in plastic bags in veggie drawer or freeze until needed.
Cooking the sautéed vegetables doesn't take long and it is a great way to add a fresh element to a tired casserole or when you need to extend food for an added guest.
Can I use frozen vegetables?
Yes, you can also sauté frozen veggies. Don't thaw them before adding to skillet. Be mindful of liquid in the pan, and drain if needed to avoid limp soggy vegetables. You will not have the same crisp vegetables as with fresh, but results will still be tasty.

You can also toss in something like frozen peas or corn in along with fresh vegetables.
What is a good skillet to sauté vegetables in?
While a large cast iron skillet is pictured in the article, non-stick pans can also be a great choice. Either way, look for a wide deep skillet for ease of use and a heavy bottom for even heat distribution.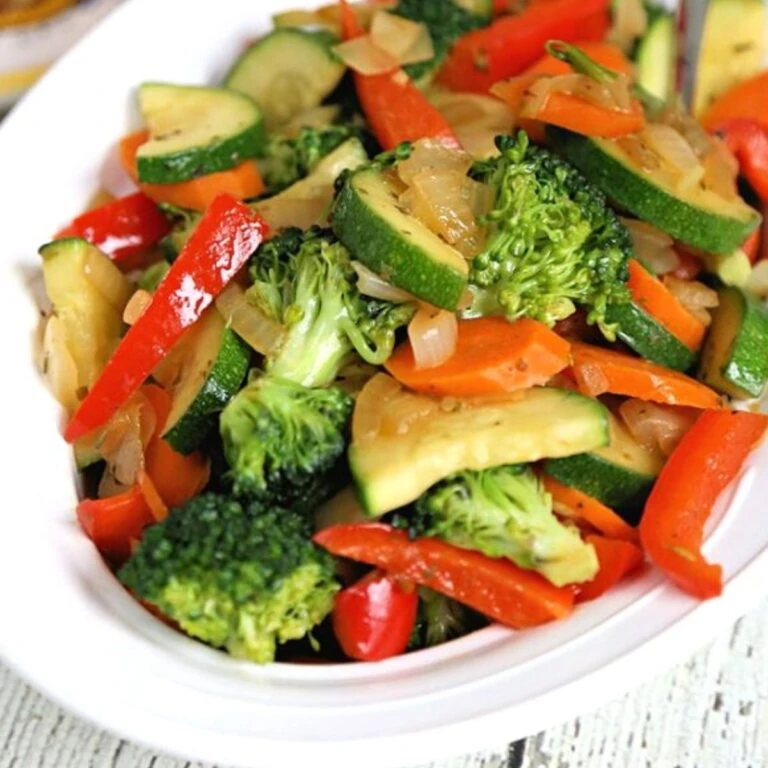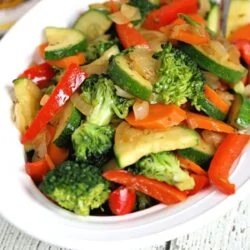 Sauteed Vegetables
An easy sauteed vegetables recipe with Italian herbs really makes a meal. Includes other seasoning options for the sauteed veggies too.
Print
Pin
Rate
Ingredients
2

tablespoon

olive oil

divided (or 3 tbs butter)

1

cup

carrots

thinly sliced

1 - 1 ½

cups

broccoli florets

1- 1 ½

cups

zucchini or yellow squash

sliced and halved

1

cup

red bell peppers

cut into bite sized pieces

1

small onion

chopped

½

teaspoon

dried Italian seasoning

Sea Salt and Fresh ground black pepper to taste

¼

teaspoon

garlic powder

*optional
Instructions
Add olive oil or melt 2 tablespoons butter in large skillet over medium-high heat.

Sauté vegetables, onion and Italian seasoning (and garlic powder if using), stirring occasionally, until vegetables are crisp and tender, about 8 minutes.

Top with remaining 1 tablespoon of butter (or spread).
Notes
A clove of fresh garlic (minced) or a pinch of red pepper flakes are flavorful additions worth considering.
Nutrition data based on roughly equal parts of the 4 suggested vegetables. As always, this is just an estimate.
Nutrition
Calories:
87
kcal
|
Carbohydrates:
11
g
|
Protein:
2
g
|
Fat:
4
g
|
Saturated Fat:
1
g
|
Sodium:
101
mg
|
Potassium:
399
mg
|
Fiber:
3
g
|
Sugar:
5
g
|
Vitamin A:
6311
IU
|
Vitamin C:
66
mg
|
Calcium:
50
mg
|
Iron:
1
mg