Coconut Pound Cake Cupcakes that are non dairy and reduced sugar for guilt-free indulgence.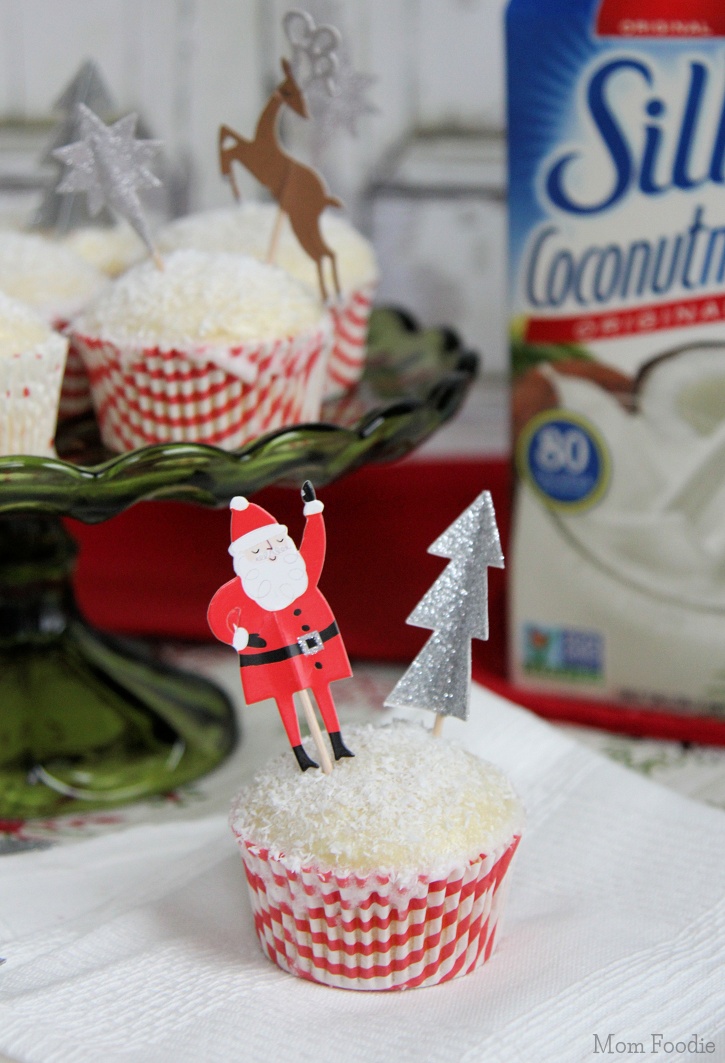 I always see such cute holiday treats around this time of year, but I'm trying to at least avoid adding more work to my coming New Year's Resolution to get in shape.    I decided to be smart about making a fun & festive batch of cupcakes.  They would be non-dairy, reduced in sugar & very easy to decorate (I stink at pastry decorating).  These Snowy Coconut Pound Cake Cupcakes were the recipe I came up with, and I am happy with the results.
How to Make the Cupcakes Reduced Sugar & Dairy-Free

Reduced Sugar
I substituted some "measures like sugar" stevia for half the sugar both in the batter and the icing.  It didn't dissolve quite like confectionery sugar in the icing, but did dissolve well none the less.  The 50/50 ratio maintained the baking properties of sugar, and kept the taste good, while still reducing the amount of sugar significantly.  The coconut flakes added to the top are dry unsweetened flakes.
Dairy-Free
Silk Original Coconut Milk and coconut oil stood in for dairy milk and butter very successfully.  They also lent a subtle coconut flavor to the finished product, which was quite enjoyable.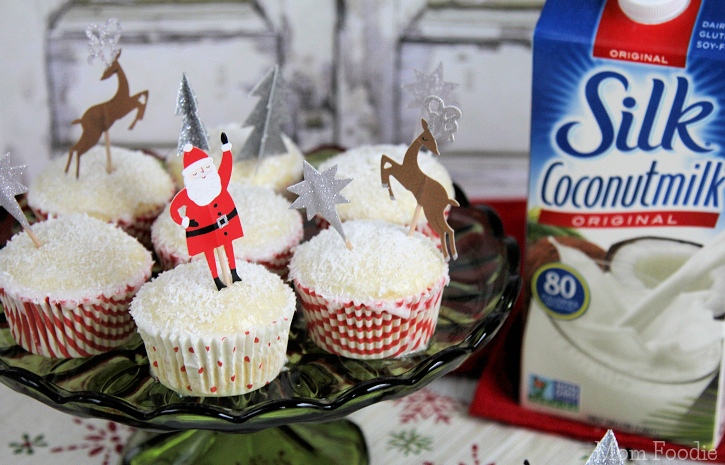 The cute paper decorations were a zero calorie addition.  All we had to do was create a smart and tasty backdrop to display them on.    Too me these are better than a bunch of heavily dyed sugar decorations.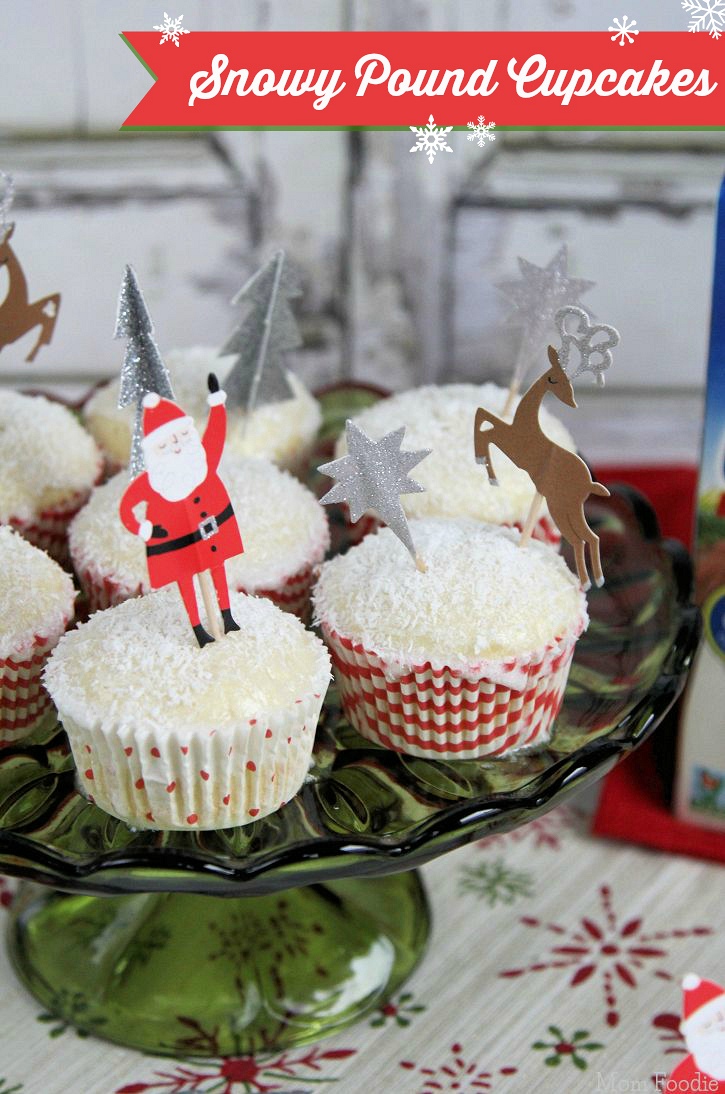 While you are in the holiday spirit, make my Gingerbread Pie, Old Fashioned Molasses Cookies, Cranberry Sour Cream Bundt Cake or Christmas Popcorn (GF) as well.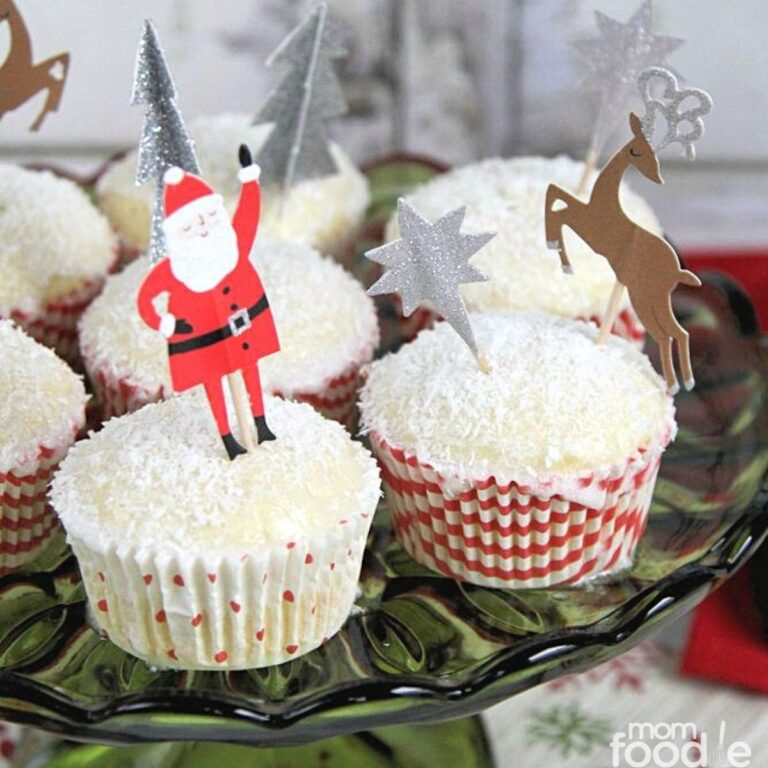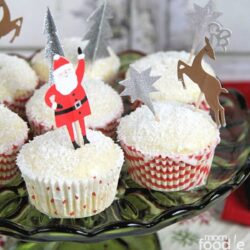 Ingredients
Coconut Pound Cake Batter
4

large egg whites

room temperature

2 ¼

cups

unbleached flour

all-purpose is fine

¾

cup

sugar

¾

cup

zero calorie measures-like-sugar Stevia

1

tbs

aluminum-free baking powder

½

teaspoon

baking soda

1 ¼

teaspoon

Kosher salt

1

tbs

corn starch

½

cup

coconut oil

1

cup

Silk Original Coconut Milk

1

teaspoon

almond or vanilla extract
Gaze and Topping
⅔

cup

confectionery sugar

⅔

cup

zero calorie measures-like-sugar Stevia

2 ½-3

tbs

Silk Original Coconut Milk

Approximately a ¼ cup of dry unsweetened coconut

if you can't find this, just use a little sweetened coconut
Instructions
Make sure your egg whites are set out to reach room temperature.

Preheat oven to 350 degrees and line a muffin/cupcake pan with cups.

Place flour, sugar, stevia, baking powder, baking soda, salt and corn starch in mixing bowl and mix well to sift.

Add the coconut oil, and mix on low, for 1 minute, then add the coconut milk and extract. Mix in med-med/high for 2 minutes, until batter is smooth.

Spoon into the baking cups, then bake for 17-19 minutes until the tops spring back from your finger when you gently press down.

Set the cupcakes aside too cool.
Glaze
Whisk together the confectionery sugar and stevia with 2/12 tbs of coconut milk. Add a little more if you need to.

Dip each cupcake face down into the glaze and twist around to cover the whole surface. Gently shake off excess, the flip over and place on a tray or cutting board.

Sprinkle the coconut over the cupcake immediately, so it will adhere well.

Add paper decorations, if you like and serve.
This conversation is sponsored by Silk. The opinions and text are all mine.