When it comes to Christmas cookies this Thumbprint Cookie recipe is a holiday classic, yet delicious anytime of the year. These buttery shortbread cookies with a thumbprint indent filled with jam are colorful and delicious. I love how they have a distinct homemade look to them too.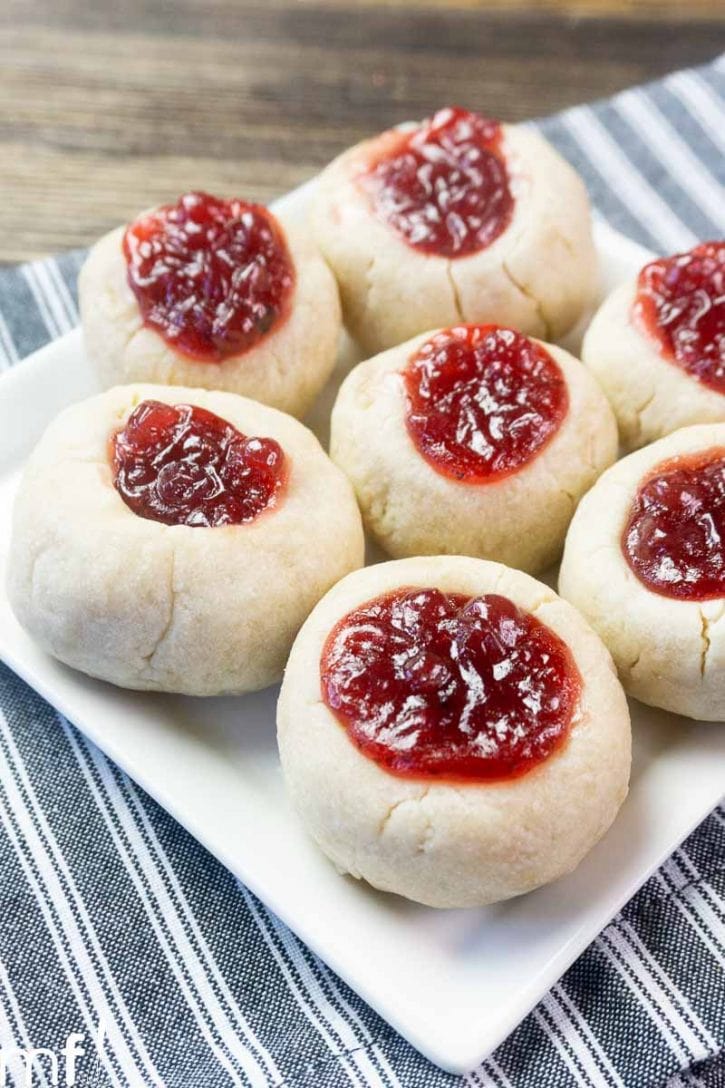 Thumbprint cookies originated in Sweden where they are called Hallongrotta, which means raspberry cave. Obviously raspberry thumbprint cookies are the most popular. There are also Rosenmunnar, those are made with strawberry jam. Apricot and lingonberry jam are also common choices. Nuts are even added sometimes.
These thumbprint cookies are made with a tender shortbread cookie dough, so are made with powdered confectionery sugar rather than granulated sugar.
How to Make Thumbprint Cookies
Let's make some jam thumbprint cookies!
Makes 15 to 17 cookies
Prep time: 25 minutes Bake time: 12-14 minutes
Total Time: 40 minutes
Ingredients you will need
1 3/4 cup all purpose flour
1/4 teaspoon salt
3/4 cup unsalted butter; softened
1/2 cup powdered sugar
2 teaspoons pure vanilla extract
Lingonberry, Apricot or Raspberry Jam
Supplies:
baking sheets
parchment paper or silicone liner
Preparation
Preheat oven to 350 degrees F. Line a baking sheet with parchment paper.
Cream butter and sugar together in a stand mixer or in a bowl with hand mixer. Add in vanilla. Beat more. Add in salt and flour. Dough will become crumbly but stick together them hand kneaded.
Using your hand take out 1 tablespoon full of the shortbread cookie dough. Knead in the palm of your hand and then roll into balls. Slowly press your thumb into the center and place on baking sheet 2 inches apart. Fill the hole with jam.
Bake for 12 to 14 minutes. Transfer to wire rack to cool. Store in airtight container.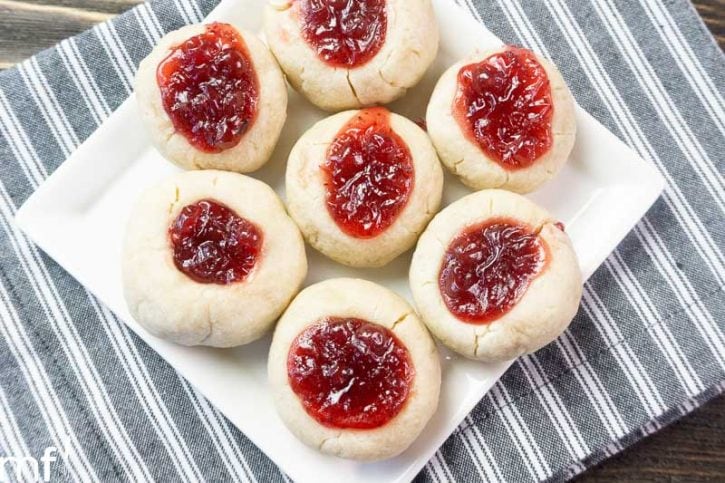 How to Store Thumbprint Cookies
Store the cookies in an airtight container. They will be good for up to a week.
Can I Freeze Thumbprint Cookies?
Yes, store them with waxed paper between the layers and seal in an airtight container. They can be frozen for 2-3 months.
More Holiday Cookies!