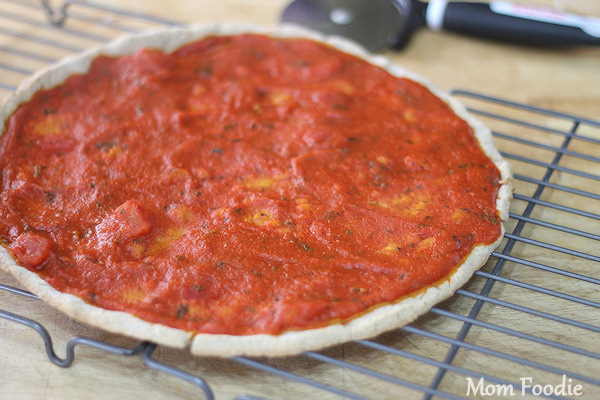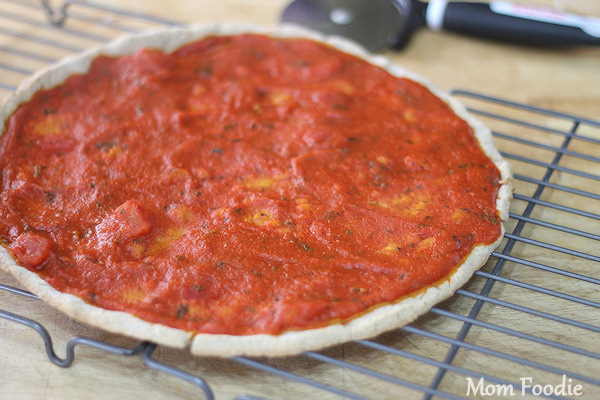 This Gluten Free Pizza Crust is made out of oatmeal. Yup, basic oatmeal with yeast and a few other household ingredients.  No special equipment or ingredients from the specialty food section.  It is pretty quick to make as well.  If the pizza above looks a tad bit boring to you, thank my daughter for that, her fave pizza is just sauce on a crust.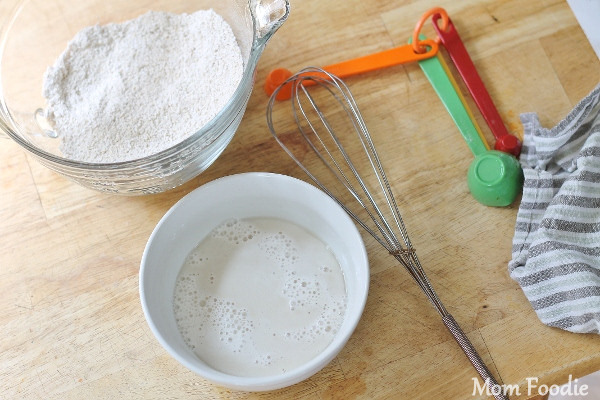 This gluten free pizza crust is good for thin crust pizzas. It comes out pretty crispy, and isn't tough. That being said, it isn't going to knock your socks off, and have you proclaiming it is the best dang pizza you ever had, but if you need a gluten free dough, this one is easy and inexpensive to make with oatmeal and  ingredients most homes will have already, and it doesn't suck…what an endorsement…lol.
I will be making another gluten free pizza with this  oatmeal pizza dough very soon, only next time I'm thinking pesto with fresh mozzarella, which would compliment this crust far better than my little one's preferred "plain" style.
Print
Gluten Free Pizza Crust : Oatmeal Pizza Dough Recipe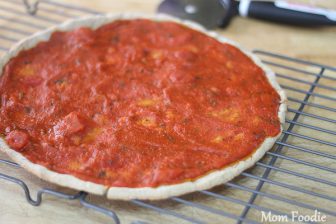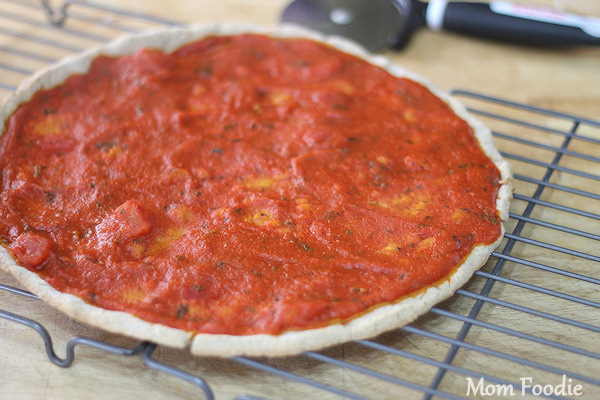 Quick easy gluten free pizza crust recipe from common ingredients.
Author:

Robin Gagnon (inspired through various sources)

Prep Time:

10 mins

Cook Time:

17 mins

Total Time:

27 minutes

Yield:

4
Ingredients
2 tsp dry active yeast (packets don't hold much more than this, so feel free to swap using one packet)
1/2 cup warm water
1 tsp sweetener (honey, agave or sugar)
2 1/2 cups of old fashioned oats
1/2 tsp Kosher salt
1 tbs olive oil
1 tsp minced jarred garlic (only use about 1/2 this amount if using fresh garlic or garlic powder)
Instructions
Preheat oven to 450 degrees.
Whisk the yeast, water and sweetener. Let this set for a little while so yeast can develop (about 5 minutes).
While the yeast is developing, put the oats in a food processor and grind the heck out of them, to make oat flour.
Reserve a 1/4 cup of the flour.
Put the remaining oat flour in mixing bowl with kosher salt, mix.
Add the yeast mixture, oil and garlic, mix.
Flour a rolling surface with reserved oat flour.
Shape dough into ball, then flatten out with your hands a bit.
Roll the dough out.
Place in non-stick pan or one coated with cooking spray. (I used a 14″ non-stick paella pan)
Shape the edges of dough by pressing against your hand. The edges need to be relatively smooth.
Bake the crust for 7-8 minutes.
Remove, and add your toppings.
Bake for 9-10 more minutes.
Notes
* While oatmeal is gluten-free, much of it is processed in plants that also process wheat, so if there is a very strong gluten allergy, check packaging to ensure it is 100% gluten-free.