This Golden milk recipe makes a creamy rich and nutty beverage. It is a traditional ayurvedic drink with a host of health benefits. As the name implies, the beverage has a lovely golden hue. The color comes from the ground turmeric root in it.
The delicious and beneficial turmeric infused drink is made with coconut milk, and non-dairy or real milk. The turmeric milk tea is steeped in warming spices including cardamon, cinnamon, cloves, ginger and even a pinch of black pepper! It is also lightly sweetened with honey or maple syrup.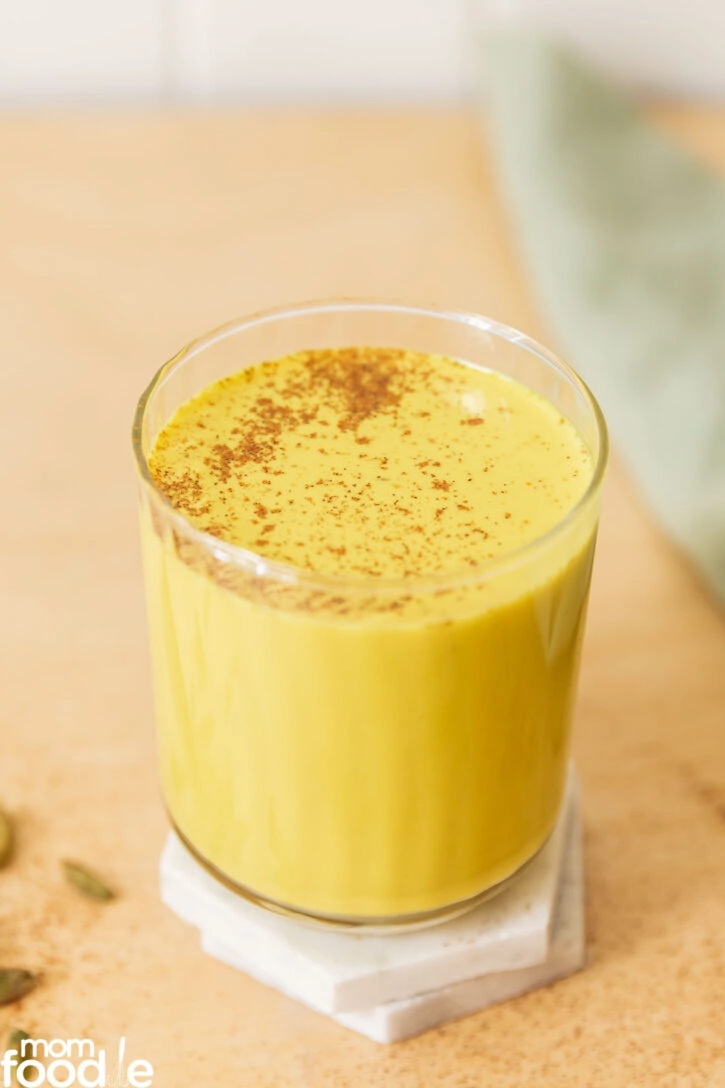 Benefits of Golden Milk
While some simply love golden milk turmeric tea as a beverage. Most people drink golden milk tea for its many potential health benefits. It has become a popular alternative remedy for many health issues.
This traditional golden milk used in ayurvedic medicine, is a spiced turmeric tea latte. Curcumin the active compound in the turmeric root used to make the tea, has natural anti-inflammatory properties and antioxidant properties.
These properties can aid in the treatment of a host of chronic conditions related to oxidative stress and chronic inflammation. When you reduce inflammation, the body just plain works better and helps the immune system fight infections.
Here is information on a few of the health conditions it may help with. These are by no means meant to substitute medical advice.
Diabetes - Curcumin has been shown to help pre-diabetics avoid or delay developing type 2 diabetes. Research suggests it can aid in maintaining better blood sugar levels, insulin resistance [ref, ref]
Cancer - There are a number of studies that point to cucumin as a way to help modulate the growth of cancer. [ref, ref]
Heart disease - Research also suggests the compounds in turmeric have cardiovascular protective properties. [ref]
Joint Pain - I have personally found this anti-inflammatory food helpful in reducing joint pain. My friend even doses his dogs with turmeric and they are all quite spry for their age.
The drink is also purported to help ease cold symptoms. I would only use a dairy free milk for this use, so you won't generate more phlegm.
Note: These studies don't necessarily dose the compound by participants drinking turmeric milk. In my non-medical opinion, it does make sense that ingesting it with synergistic spice compounds would be a good way for lay people to proactively avoid health issues or augment treatments (If agreeable to their medical provider).
How to Make Golden Milk
Preparing your own ayurvedic golden milk with turmeric is easy. To make the recipe, follow along here or jump down to the printable recipe card.
The recipe makes 1 serving.
Prep time: 5 minutes Cook time: 5 minutes
Ingredients for Turmeric Golden Milk
Here is all you need to make this golden turmeric milk. While these are meant to work synergistically, adjust to your taste preference and ingredients you have available. I've also included adjustments for dry vs fresh spices, as well as a few other options.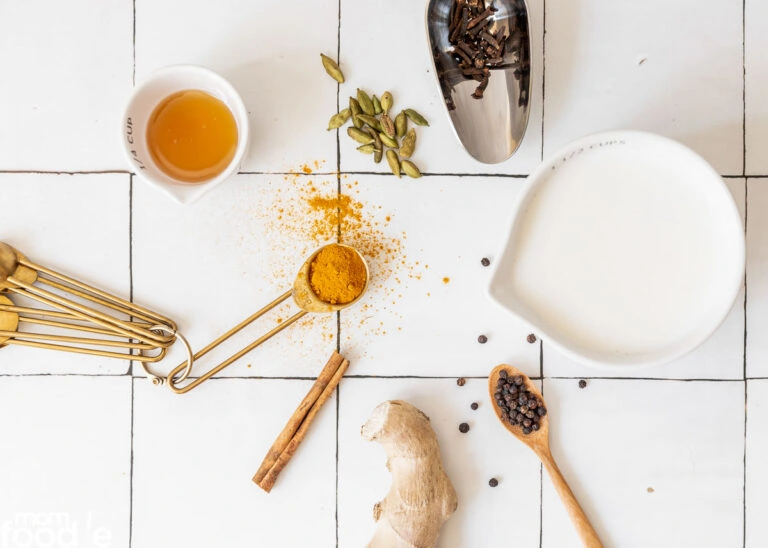 1⁄2 cup full-fat coconut milk (if you only have light coconut milk add a teaspoon of melted virgin coconut oil, the fat aids absorption)
1 cup whole milk or dairy free milk such as a creamy unsweetened almond milk (NOTE: In Ayurveda cow's milk is only recommended for vata (airy) and pitta (fiery) types. If you are not one of those types or do not know your type, use a non-dairy milk)[ref]
1 teaspoon turmeric powder or 1 tablespoon of grated fresh turmeric root
1 tablespoon honey or maple syrup
1 whole stick of Cinnamon
1⁄2 teaspoon of whole Cloves
5 green cardamom seeds (approximately 1⁄2 teaspoon green cardamom seeds)
1⁄2 teaspoon whole peppercorn or pinch of ground black pepper
approximately one 1" wedge of fresh ginger root, peeled and sliced (1 tablespoon fresh grated ginger root or 1 teaspoon dry ground ginger)
Optional : add ¼ teaspoon pure vanilla extract
Optional: ground cinnamon for garnish
Instructions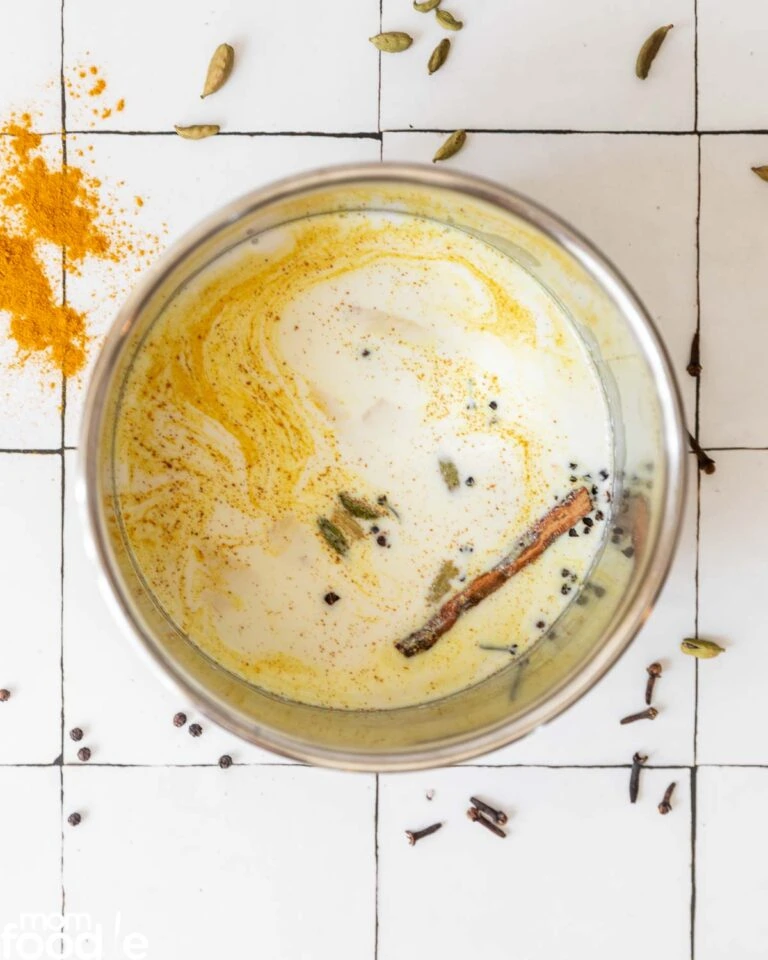 Add all ingredients into a small saucepan. Whisk until combined, over medium-high heat.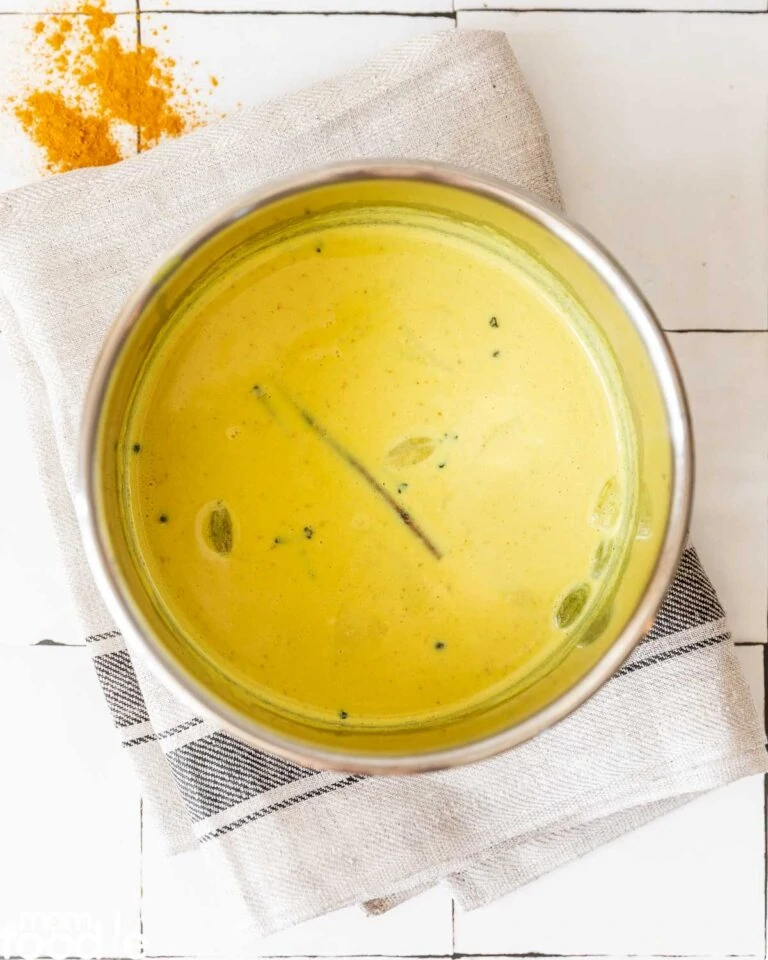 Whisk occasionally, until the mixture is hot. This will take about 5 minutes.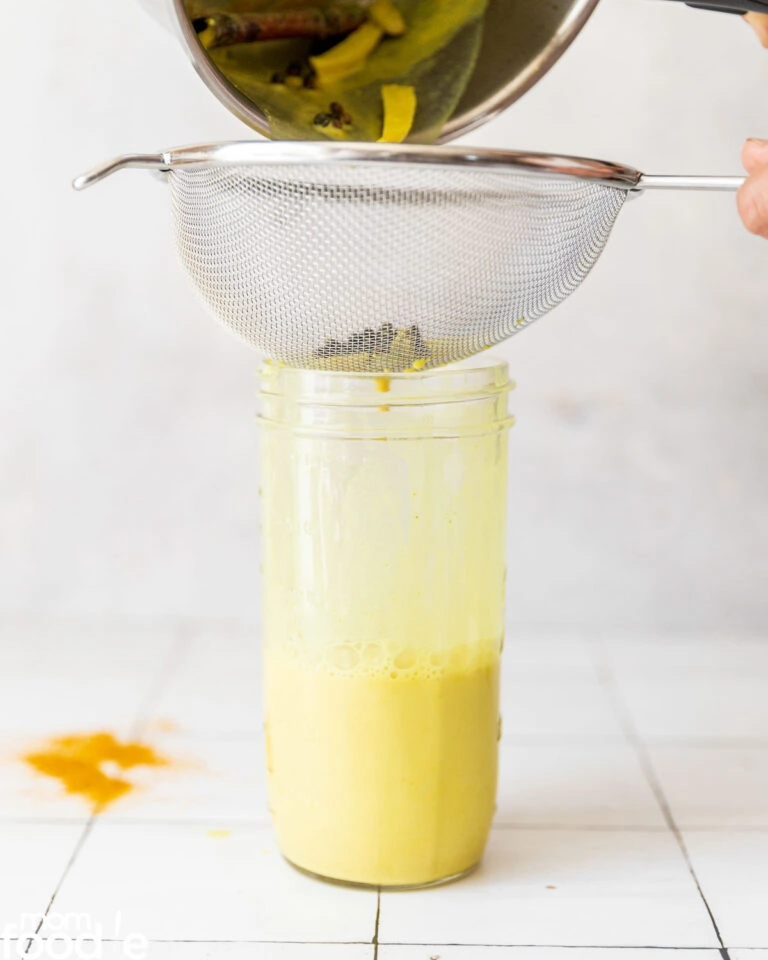 Remove the pan of the hot milk mixture from heat, and strain the golden milk turmeric tea over a sieve or cheesecloth to remove turmeric powder residue and spice pieces.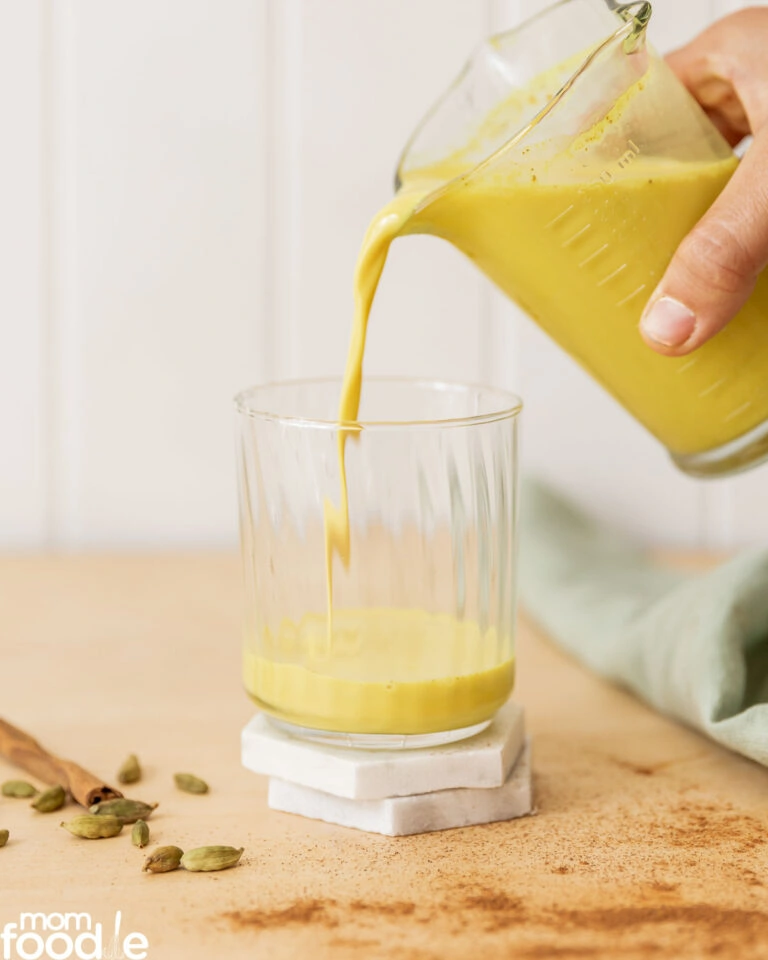 Pour the golden latte into a glass or cup.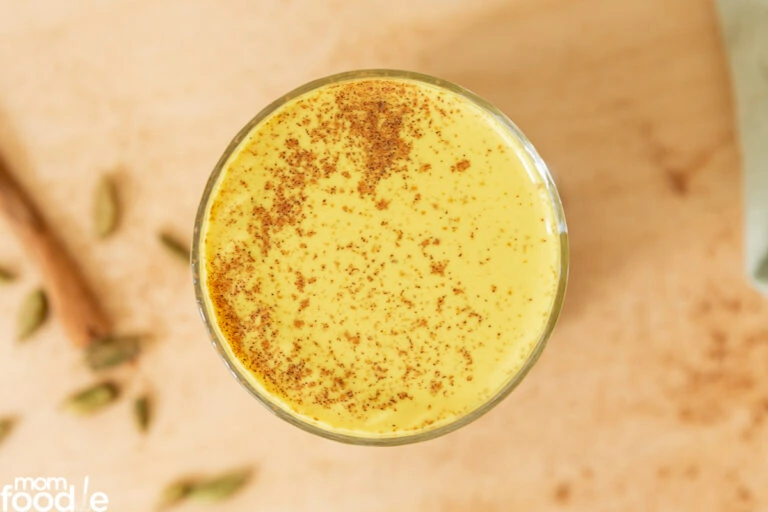 Top the turmeric milk drink with ground cinnamon to serve. Pop in a cinnamon stick as a stirrer if you like.
Storing Golden Milk
If you want to make extra for later or simply have some leftover, store in an airtight container (preferably glass to avoid staining) and keep in the fridge. It should last 3-5 days in the refrigerator.
Other Ways to Add Turmeric
While golden turmeric milk is an ideal way to ingest this beneficial spice, it is far from the only way. I enjoy it on chicken and seafood. Try my Turmeric Greek Yogurt Marinade on grilled chicken thighs, Grilled Curry Shrimp, Pan Seared Sea Bass with Curry, or Cast Iron Chicken Thighs with Turmeric.
I even apply the spice topically with turmeric soap or team it with coconut oil and apply as a turmeric scrub.
Making golden milk is easy and I believe the health benefits are well worth the small effort. It's the best golden milk recipe in my humble opinion. I hope you enjoy!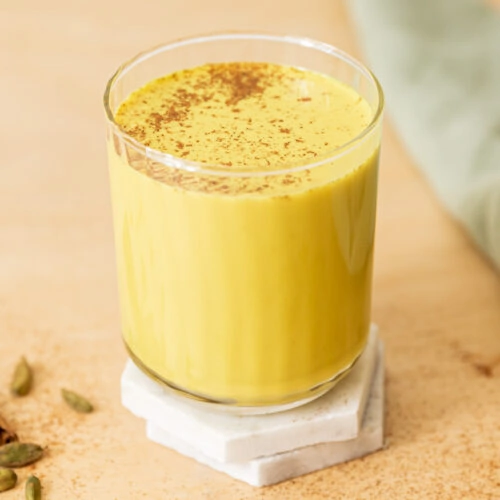 Golden Milk Recipe
A turmeric golden milk recipe that is easy to prepare and so good for you!
Print
Pin
Rate
Ingredients
¼

cup

full fat canned coconut milk

1

cup

unsweetened almond milk, oat milk or cashew milk

or traditional whole milk if you prefer

1

teaspoon

ground turmeric powder

or 1 tablespoon of grated fresh turmeric root

1

tablespoon

honey

or maple syrup

1

whole stick

Cinnamon

½

teaspoon

whole Cloves

5

green cardamom seeds

approximately 1⁄2 teaspoon green cardamom seeds

½

teaspoon

peppercorn

or pinch of freshly ground black pepper

1

inch

wedge of fresh ginger

peeled and sliced (or 1 tablespoon fresh grated ginger root or 1 teaspoon dry ground ginger)

¼

teaspoon

pure vanilla extract

*Optional

grated cinnamon for garnish

*Optional
Instructions
Add all of the ingredients into a small saucepan over medium heat.

Whisk until well combined, then whisk occasionally until hot. This will take about 5 minutes.

Remove from heat, and strain the mixture over a sieve or cheesecloth to retrieve the spices.

To serve: Pour into a glass or cup and garnish with ground cinnamon or a cinnamon stick.
Notes
If you end out using lower fat milks in the drink, add coconut oil. The fat and piperine in the black pepper are both important for absorption of the healthful compounds in the turmeric.
Nutrition
Calories:
253
kcal
|
Carbohydrates:
25
g
|
Protein:
3
g
|
Fat:
18
g
|
Saturated Fat:
13
g
|
Polyunsaturated Fat:
2
g
|
Monounsaturated Fat:
2
g
|
Sodium:
338
mg
|
Potassium:
258
mg
|
Fiber:
4
g
|
Sugar:
20
g
|
Vitamin A:
16
IU
|
Vitamin C:
2
mg
|
Calcium:
337
mg
|
Iron:
2
mg