These Grilled Boneless Chicken Thighs in Turmeric Greek Yogurt Marinade are definitely going to be happening again at our house soon!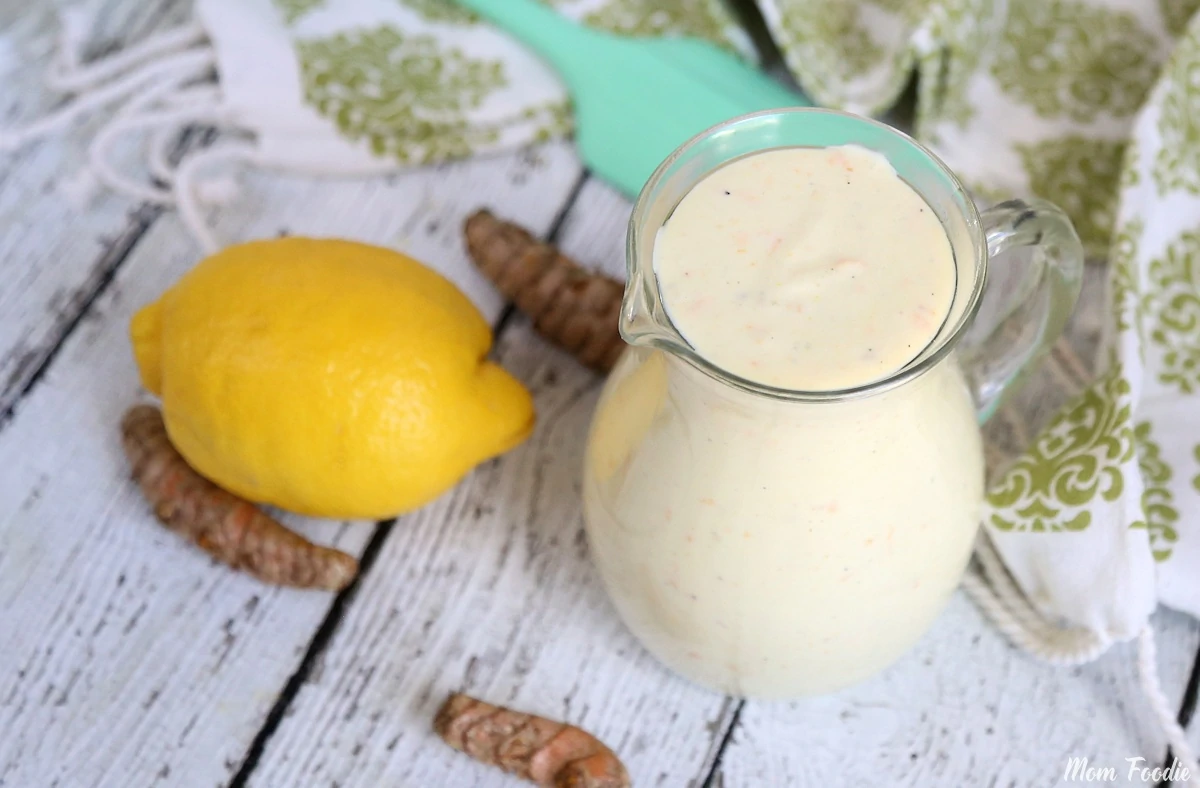 The Turmeric Greek yogurt marinade features not only fresh turmeric but also fresh ginger, garlic and lemon.  The result is a high protein Greek yogurt marinade with all the nutrition and flavor these healthful ingredients bring. The flavor this coats and infuses the grilled boneless chicken thighs with is outstanding.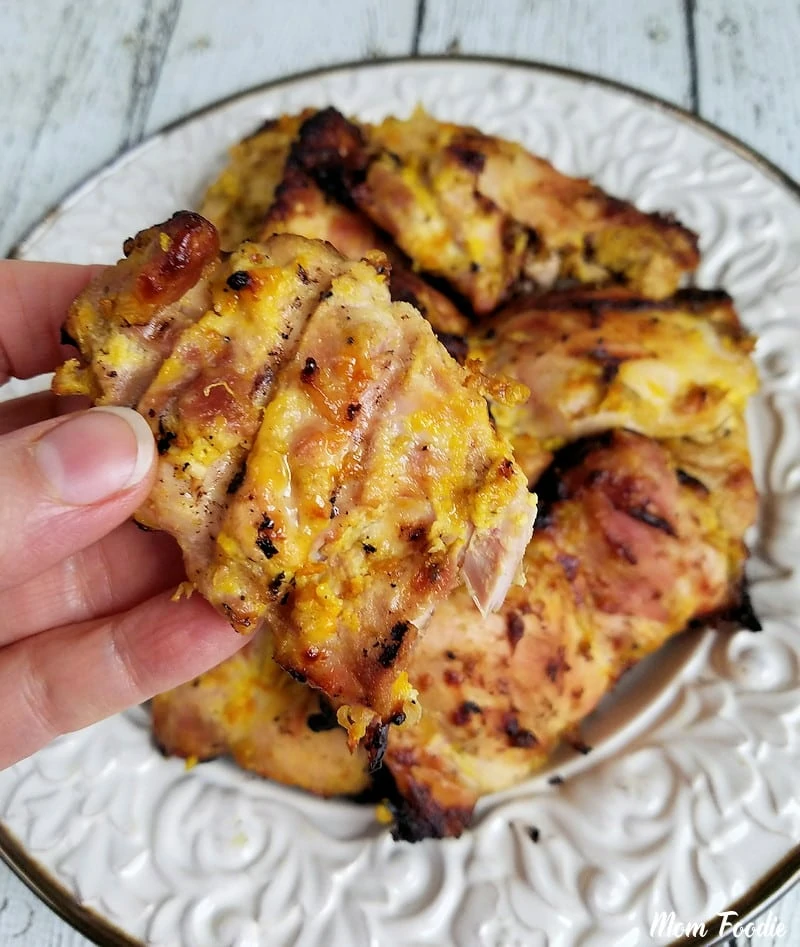 Grilled Boneless Chicken Thighs: about
The boneless chicken thighs were grilled on our Big Egg Egg and I was a little concerned about how the hardwood smoke permeating the coating of Greek yogurt marinade would taste.  I found out. It tastes great, that's how it tastes...lol.  T
he grilled boneless chicken thighs had a rich creamy tangy and slightly smokey coating, tinged yellow due to the ample use of turmeric. The chicken was tender and juicy and sections more moist from the coating and areas more like the standard "smoking bark" you get from slow cooking over a hardwood grill.

Turmeric Greek Yogurt Marinade: healthy facts
Turmeric - Don't you love it when something that is good for you is also tasty? Well, that is the case with this Greek yogurt marinade.  It has a full two tablespoons of freshly grated turmeric in it.  Turmeric is a known anti-inflammatory and antioxidant.  It is also frequently reported to be great for brain and heart health.  There are even claims it cures some forms of cancer. I want that stuff in my food!
Greek Yogurt - As most of you know, Greek yogurt is higher in protein and lower in sugar than standard yogurt.   In a low carb dish like this, the plain Greek yogurt is a great choice.
The yogurt is also not just a protein source like the chicken thighs, but also an excellent source of selenium, phosphorous and Vitamins B2 & B12.  All are present in significant amounts.
Making Grilled Boneless Chicken Thighs in Turmeric Greek Yogurt Marinade
Other than preparing the greek yogurt marinade for these grilled boneless skinless chicken thighs, it is mostly an exercise in patience to make this recipe.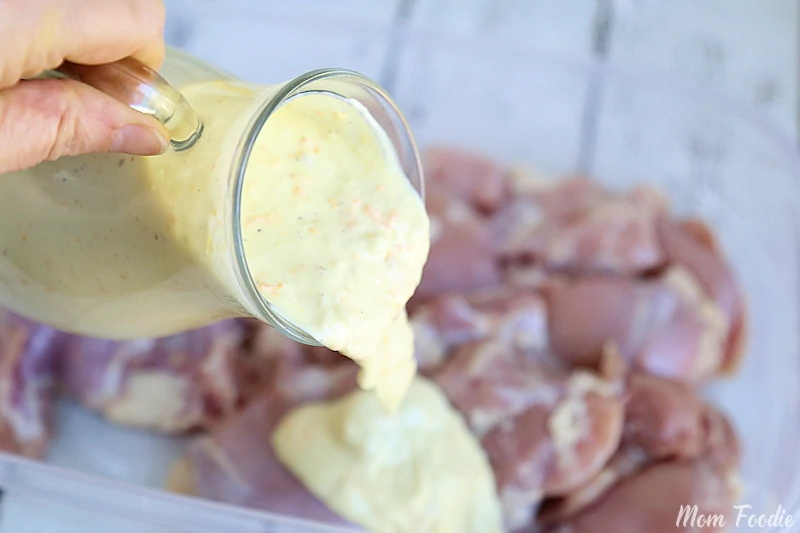 Once the chicken thighs are marinating, they need to do so for at least a few hours.  I did mine overnight. After that they need to be cooked low and slow, preferably over a charcoal grill.  The results are worth it.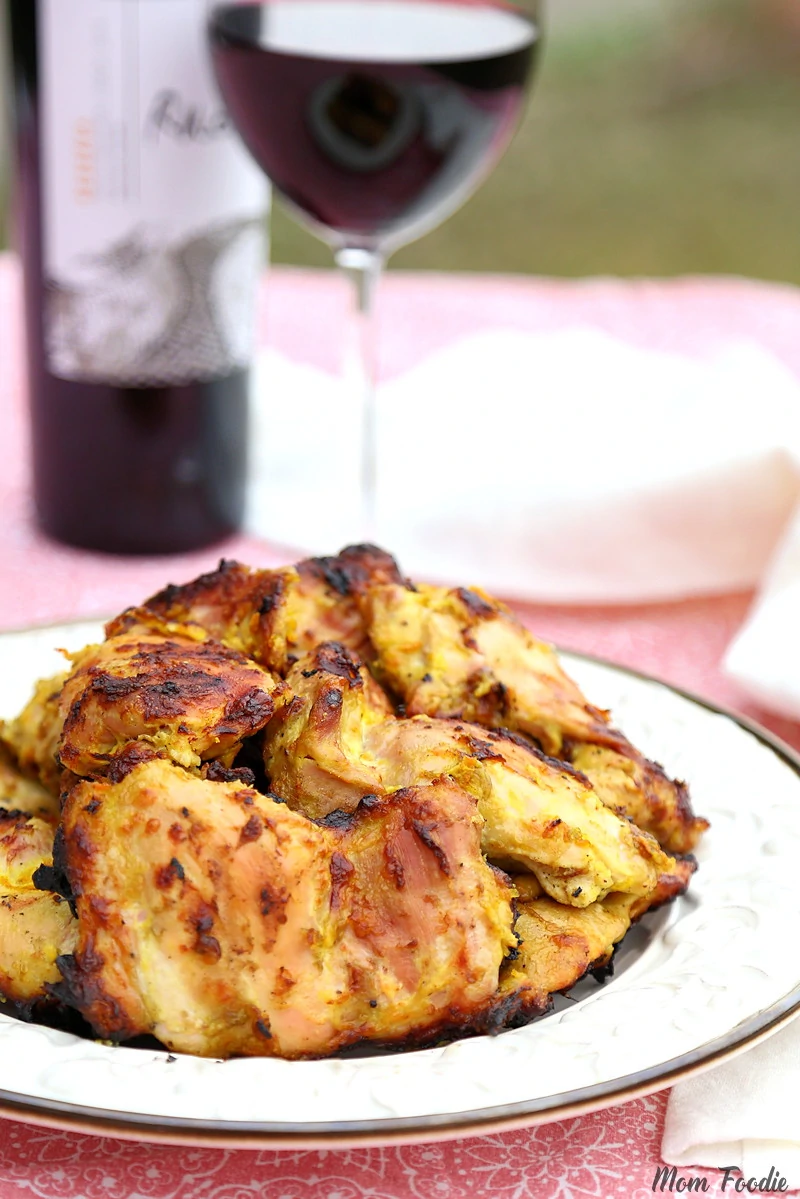 I hope you enjoy this easy and delicious marinated chicken recipe.
Suggested Sides:
Try serving these delicious chicken thighs with some Sauteed Vegetables with Italian Seasoning, a few spears of Grilled Balsamic Asparagus, a dinner salad with Pomegranate Balsamic Vinaigrette Dressing, a large scoop of Pesto Tortellini Salad or Creamy Pea Salad with Bacon and Cheese.
If you have more Chicken thighs on hand, try my Crock Pot Chicken Thighs with Potatoes and Carrots or Chicken Bolognese.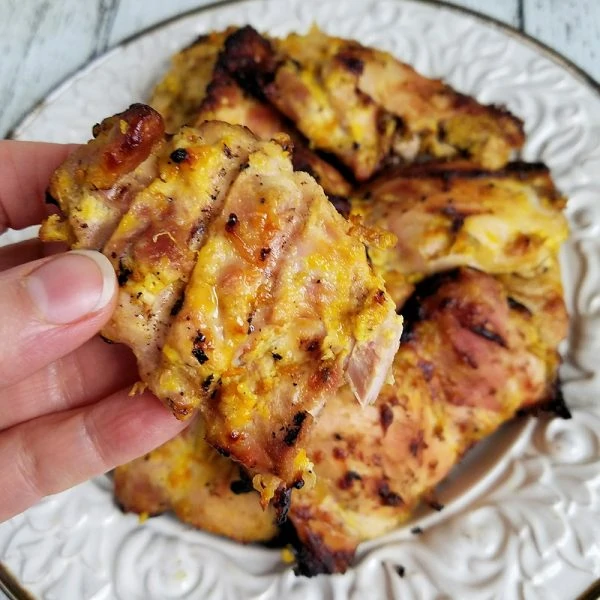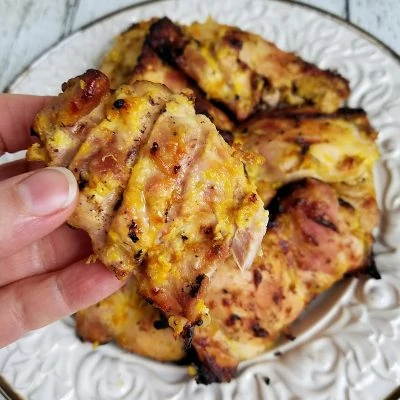 Grilled Boneless Chicken Thighs in Turmeric Greek Yogurt Marinade
Grilled Boneless Chicken Thighs in Turmeric Greek Yogurt Marinade a low carb healthy recipe.
Print
Pin
Rate
Ingredients
3-5

lbs

boneless chicken thighs
Marinade
2

tbs

fresh grated turmeric

1

tbs

fresh grated ginger

2

cloves

garlic

minced

⅓

cup

olive oil

juice of one lemon

1

teaspoon

sea salt

2

tbs

apple cider vinegar

2

cups

plain Greek yogurt

fresh ground pepper to taste
Instructions
Mix all the marinade ingredients together, then pour over the boneless chicken thighs. Place the chicken thighs in refrigerator and marinate for a minimum of 3 hours, overnight is better.

Preheat grill to 275-300 degrees. Place the chicken thighs on grill, and cook for an hour- 1 ½ hours, flip and cook for another ½ hour. Times will vary widely, based on the actual temperature of grill and size of the chicken thighs. Use your best judgement.
Notes
Nutrition data based on 4 pounds of chicken, estimate of ½ the marinade remaining on chicken and Greek yogurt info from whole milk yogurt.
Note on cooking time: these were cooked on a Big Green Egg at low temperature, which basically smokes them. If cooking on a gas grill or charcoal bricket grill simply cook them as low as you feel comfortable, but the time will be much less than 2 hours. 
Nutrition
Calories:
378
kcal
|
Carbohydrates:
2
g
|
Protein:
26
g
|
Fat:
28
g
|
Saturated Fat:
7
g
|
Cholesterol:
149
mg
|
Sodium:
317
mg
|
Potassium:
345
mg
|
Vitamin A:
120
IU
|
Vitamin C:
5
mg
|
Calcium:
34
mg
|
Iron:
1.1
mg
More Recipes to Consider
Cast Iron Chicken Thighs : Baked Turmeric Chicken Thighs Recipe
Grilled Chicken and Sweet Corn Salad
Paleo Chicken Fingers in Cauliflower Bread Crumbs
Slow Cooker Curry Chicken Thighs