This simple Chilean Sea Bass Curry with Blistered Tomatoes is just one example of how easy it can be to incorporate more seafood into your diet. Pan Seared Sea Bass is a fuss-free dinner choice for busy weeknights., The mild white fish is quite approachable for most people. It is one of my favorite easy fish recipes and makes a delicious meal.
The pan seared Chilean Sea Bass recipe is quick and easy to prepare. It is also a low carb and gluten free seafood dinner choice. There are actual two versions of the dish, one with curry the other a simple pan fried sea bass with lemon.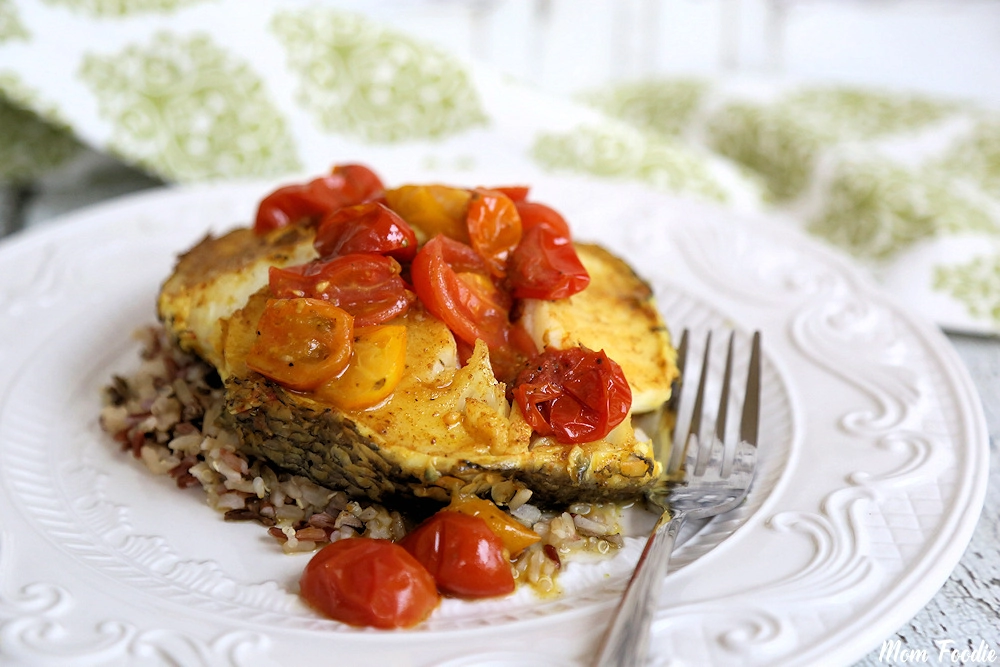 While pictured served over a wild rice blend, the recipe itself is Keto friendly. It has just 4 net grams of carbs, from the tomatoes.
Pan Seared Sea Bass
This easy fish recipe features Chilean Sea Bass pan-seared and seasoned with curry. Fresh heirloom tomatoes are tossed in part way through cooking the fish. The blistered tomatoes maintain some of the acidity and texture of fresh raw tomatoes, yet release juices that elevate the flavor of the fish.
I like to cook chilean sea bass by pan searing, since the fresh fish is well suited to it and it is an easy method year-round. Larger steaks as show I finish in the oven. In summer months I also enjoy the fish grilled, since I love the taste of wood fire grilling.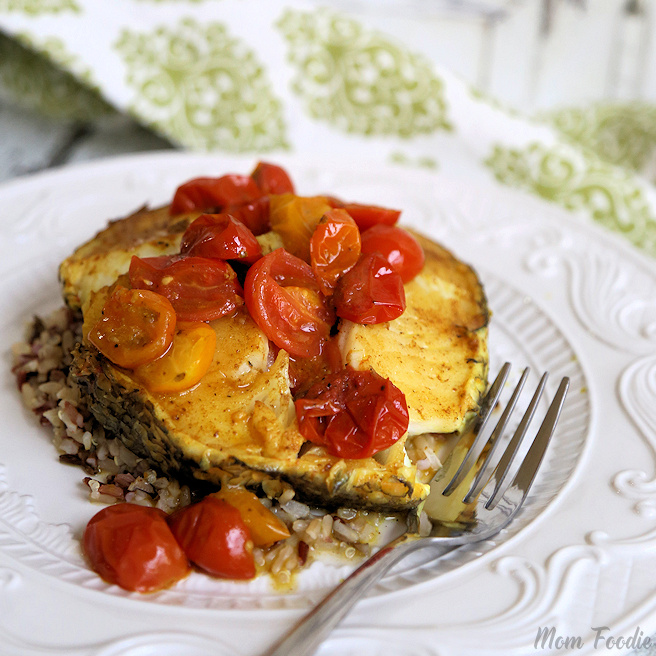 How to Make Pan Seared Chilean Sea Bass
This is how easy it is to make this pan seared sea bass recipe. It's all done in one pan and takes just a few ingredients. A simple recipe with restaurant quality results everyone will love. Print recipe card below.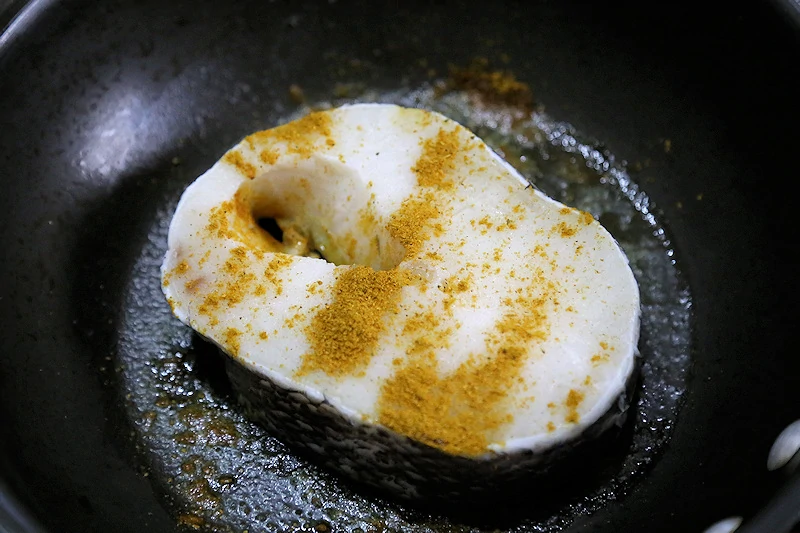 Place a large skillet over medium high heat. Once hot, drizzle of olive oil or other oil with a high smoke point in the hot frying pan. Place a sea bass steak , sprinkled with sea salt and curry in the skillet. (If cooking fish fillets, start by searing the fish skin side down.)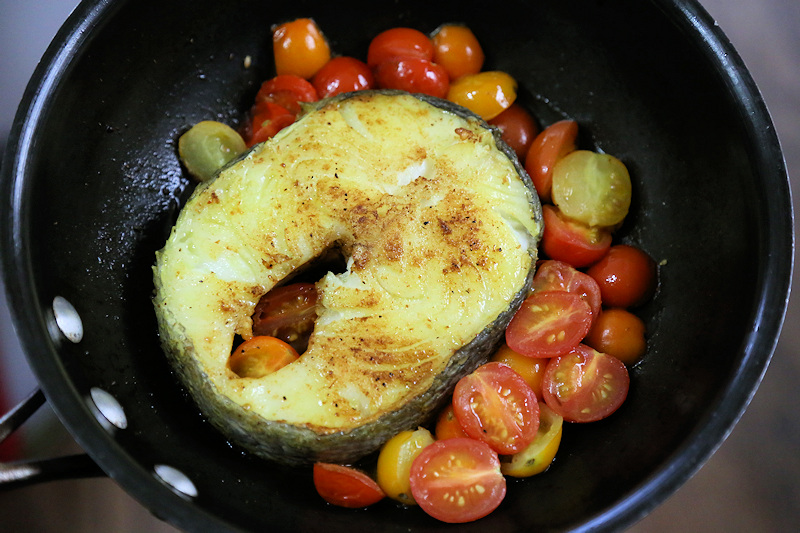 The fish is then flipped, halved grape or cherry tomatoes and a pat of butter are added to the skillet. Thicker cuts of fish are then moved to an oven to continue cooking, thinner fillets can complete right on the stove.
Make sure to cook fish through. The fish flakes easily with a fork when it is fully cooked. If you wish to check with a thermometer, insert in the thickest part of the flesh and look for internal temperature of 145 degrees F according to the FDA.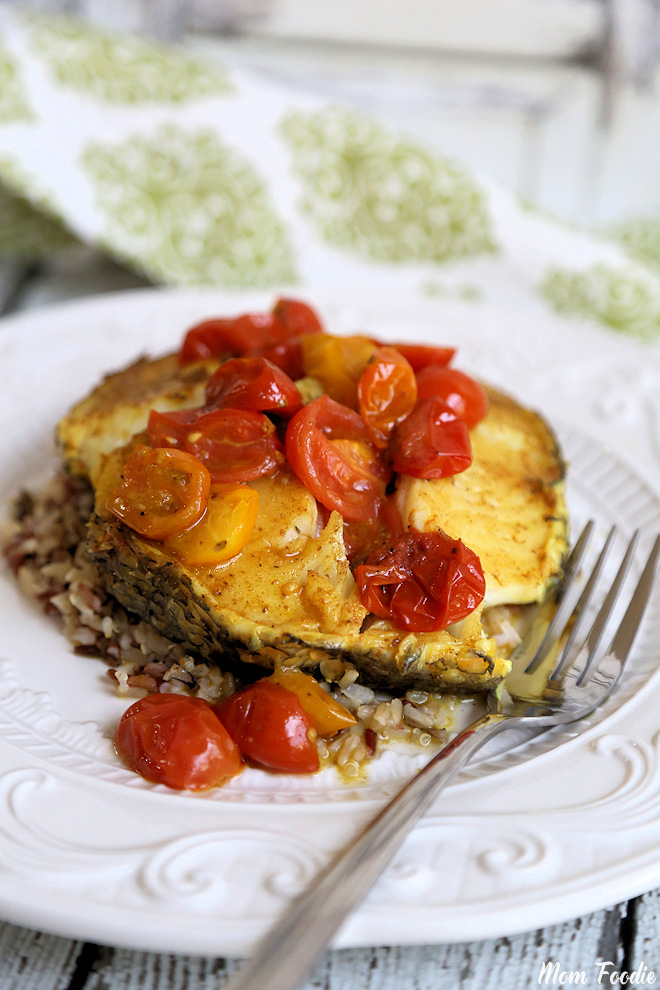 The tomatoes and fish release juices which along with the creamy butter create a pan sauce. Remove fish from the pan and place on plate the tomatoes and sauce are poured over the fish to serve.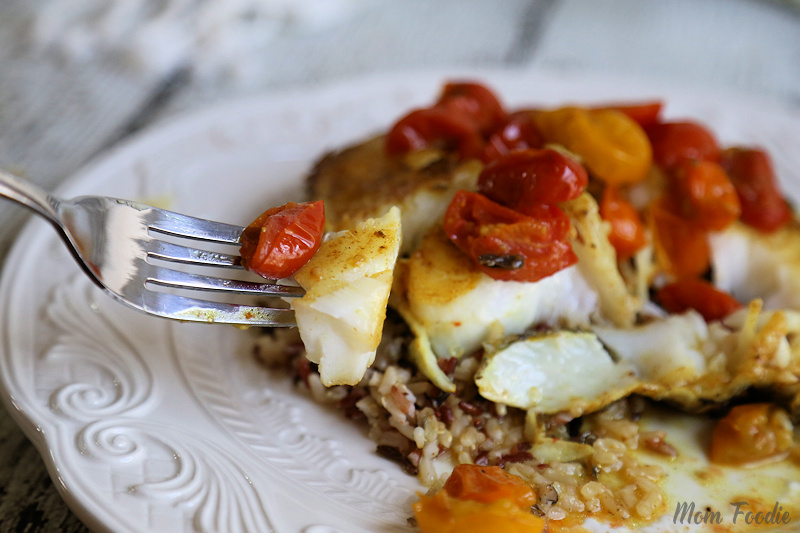 While flavorful, the curry and tomatoes are not overpowering. The delicate flavor of the Chilean sea bass is able to shine through.
Lemon Chilean Sea Bass
This is a simple, easy to make recipe of pan seared Chilean sea bass with lemon juice, minced garlic and olive oil, avocado oil* or butter and salt and pepper. It's a great alternative way to cook sea bass if you are not a fan of curry.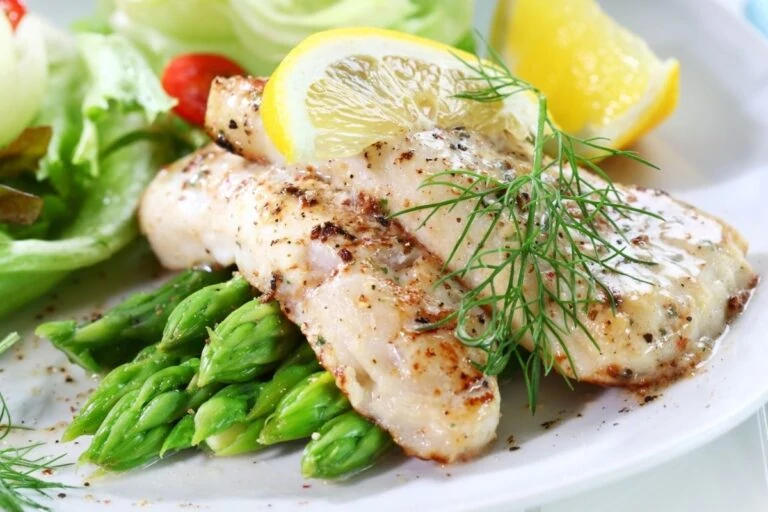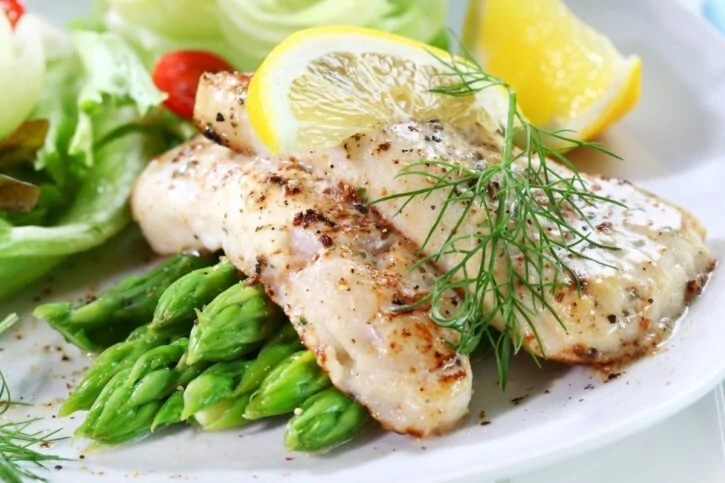 To Make: Season the steaks or fillets with simple Kosher salt and fresh ground black pepper. Place the fish in the skillet to sear. (I prefer the start mine skin side up, for a light sear, then do the bulk of the cooking once flipped.)
After you flip the sea bass fillets, add a fresh minced garlic clove to the olive oil and stir around then squeeze the fresh lemon juice from half a lemon into the pan. Cook through. For thicker pieces finish in oven as above. Melt butter into the pan if you would like a lemon butter sauce.
Serve the cooked fish with fresh dill and lemon wedges. Drizzle with a little extra virgin olive oil as well, if you like.
*high in monounsaturated fat
Other Variations
A few more options for seasoning the fish; try adding capers, green olives or chopped fresh parsley to the sauce. A splash of a little white wine is lovely in the lemon sauce.
What is Sea Bass?
Chilean Sea Bass is simply the more palatable and sales friendly name of the Patagonian Toothfish. They're often found off of the coast of South America by Antarctic waters, so the name is somewhat fitting though. They typically weigh 10 to 20 pounds when caught and have become a popular fish to cook here in the United States.
What is best pan for pan searing fish?
A heavy skillet such as cast iron is ideal as it will hold and disperse heat well. Steel, anodized aluminum or a durable ceramic coated non-stick will also work. The heavier the bottom the better.
Can I use frozen fish?
While fresh is ideal, commercial flash freezing has improved results from frozen seafood these days. Thaw the fish prior to cooking.
If you need it thawed quickly a cold water bath under a drizzle of tap water is best.
How do I store leftover Chilean sea bass?
The fish will last up to 3 days in the fridge in an airtight container. Make sure to refrigerate within 2 hours of cooking (sooner in warm conditions).
This seafood is an excellent source of protein, it is also high in the healthy omega-3 fats. Fats which are essential for both heart and brain health. Enjoying regular seafood dishes like this easy recipe is a fantastic and tasty way to support the health of your brain and heart.
Chilean sea bass fillets or steaks are not carried in all grocery stores, but I have often found it at Whole Foods and my local fish market. If you can't find it, good substitutes would be Black cod, halibut or even Mahi Mahi. Any of which would make a great meal.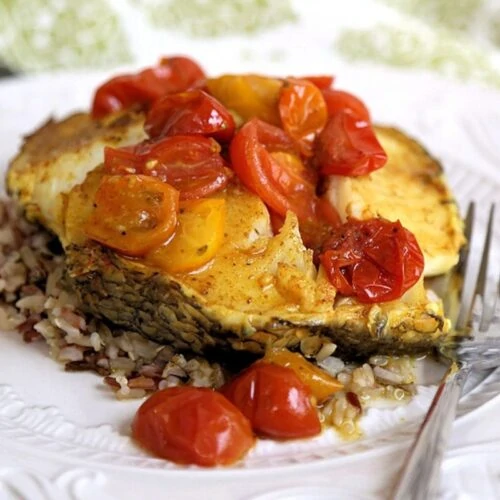 Pan Seared Sea Bass with Curry and Blistered Tomatoes
Chilean Sea Bass recipe pan seared with curry and blistered tomatoes.
Print
Pin
Rate
Ingredients
8

ounce

Sea Bass

¼

teaspoon

sea salt

½

tablespoon

olive or avocado oil

1

teaspoon

curry powder

½

tablespoon 

unsalted butter

14-16

grape tomatoes

or cherry tomatoes, sliced in half

black pepper

to taste
Instructions
Preheat oven to 400 degrees. Place skillet over med-high heat.

Pat the sea bass dry, sprinkle one side with half the sea salt and curry powder. Once skillet is hot, pour in the oil and add the fish seasoned side down in hot pan to sear. Sprinkle remaining salt and curry over the top.

Once the sea bass is seared (it will easily release from skillet), flip and add the tomatoes drop and a pat of butter. Thick Fish: Turn off burner, cover and place skillet in the preheated oven for 8 minutes. Thin Fillets: simply cook through right on the burner.

Place the cooked fish on plate or over your starch of choice and pour the tomatoes and butter sauce over the top to serve.
Nutrition
Calories:
154
kcal
|
Carbohydrates:
5
g
|
Protein:
21
g
|
Fat:
5
g
|
Saturated Fat:
1
g
|
Cholesterol:
96
mg
|
Sodium:
393
mg
|
Potassium:
592
mg
|
Fiber:
1
g
|
Sugar:
3
g
|
Vitamin A:
1225
IU
|
Vitamin C:
17.5
mg
|
Calcium:
30
mg
|
Iron:
1.6
mg