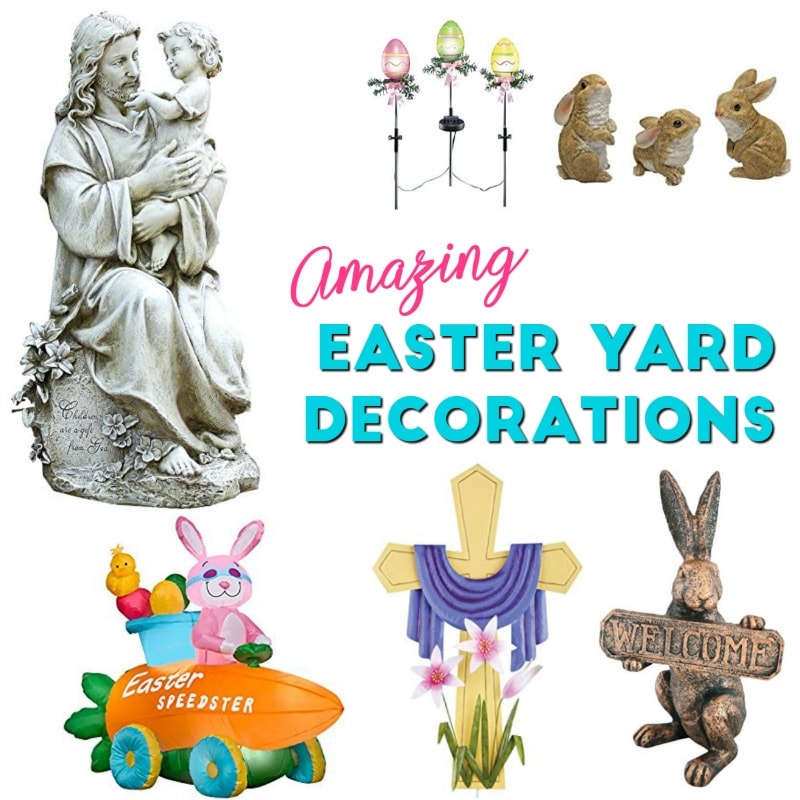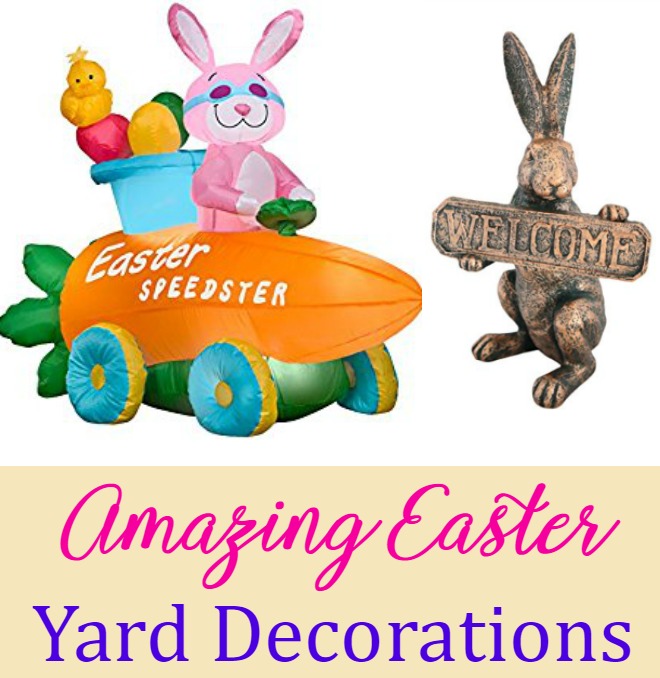 Easter Yard Decorations  are more popular than ever in recent years.  Today, I'm sharing some of my personal favorite outdoor Easter decorations, including Easter flags, statues, wooden decorations and of course inflatables. This year you will have the best Easter yard decorations in the whole neighborhood!
Easter Yard Decorations
Here's my favorite outdoor Easter decorations to festoon your yard with. They are separated by Easter egg, bunny and religious themes, as well as a section for inflatable yard decorations.
Easter Egg Yard Decorations
Easter Egg yard decorations are arguably the most popular choice for homeowners.  They immediately bring back memories of Easter egg hunts and decorating eggs for most of us. Eggs were considered a symbol of new life in pagan traditions, and serve much the same role today, where they are said by many to represent the resurrection of Jesus. Regardless, nests of eggs and pretty pastel colors certainly scream spring, so Easter egg yard decorations always make for a great choice..
Perhaps it is their simplicity that makes Easter Eggs such frequently chosen outdoor Easter decorations. An Easter egg after all is appropriate for all age groups and tend to be a bit less cartoonish than some other Easter yard decorations. Here are my Easter Egg yard decorations picks.
 Solar Easter Egg Stakes – Set of 3
 Pastel Easter Eggs with Bunny Wreath – 18″
 Toland Home Garden Easter Eggs 12.5 x 18-Inch Decorative USA-Produced Garden Flag
 Big Woven Basket with Colorful Easter Eggs
 Amscan Easter Eggs Corrugated Signs (5 Piece), 24.2″ x 16.8″, Multicolor
 Easter Yard Decorations – FLAT Hanging Easter Eggs
Easter Bunny Yard Decorations
Easter Bunny yard decorations have always been a classic way to add a fun playful holiday accent to our yards. It is believed that the idea of the Easter bunny was originally brought here by German immigrants, as the tradition of "Osterhase", a rabbit that laid colored eggs. Of course, bunnies are associated with the fertility of spring so Easter bunny yard decorations kind of makes sense seasonally anyway.
While bunny themed outdoor Easter decorations are extremely popular in the inflatable yard decoration category, those are covered below. There are so many cute Easter Bunny yard decorations to choose from, it was hard to narrow them down.
 BreezeArt Hiding the Eggs Garden Flag 31279
 Bronze-look Whimsical Resin Rabbit Figure with Welcome Sign
 Design Toscano The Bunny Den Garden Rabbit Statues, Multicolored
 Easter Peeps Bunny
 Set of 3 Solar LED Lighted Easter Bunny Outdoor Garden Stake Pathway Driveway Garden Yard Springtime Rabbit Decoration
 Big Easter Bunny Outdoor Decoration
 Amscan Easter Bunny Yard Party Outdoor Plastic Sign (5 Piece), Multicolor, 23.5″ x 17″
 BRIGHT ZEAL Solar Powered LED Figure Lights – 11″ Tall RABBIT LED Acrylic Sculptures Light – Solar Outdoor LED Lights Figurines Lights – LED Animal Light – Solar Garden Decorations 22412
Religious Easter Yard Decorations
Let us not forget why we celebrate the holiday. Religious Easter yard decorations are an attractive way to not only remind ourselves and others of this, but also add a festive flair to greet guests. Here are a few religious Easter yard decorations I found particularly charming. In my opinion anyway, they are all tasteful options for religious Easter yard decorations.
 Napco 18433 Jesus with Child Garden Statue, 20.5″
 PRAYING ANGEL GARDEN STATUE prayer yard art religious
 Easter Cross Yard Decoration
 Evergreen Easter Cross Burlap Door Decor
 Carson Home Accents Garden Flag, Easter Lambs
 Toland Home Garden Faith Angel 12.5 x 18-Inch Decorative USA-Produced Garden Flag
Easter Inflatable Yard Decorations
Easter Inflatable yard decorations are the  largest and most popular of outdoor Easter decorations available. Some of these Easter yard decorations are really quite HUGE. Of course, the benefit of this type of outdoor decoration is that when they deflate, they shrink down to be easily storable. Here are some of my favorite Easter inflatable yard decorations. Some of them are pretty wild!
 Gemmy Airblown Inflatable Easter Bunny in Speedster Scene
 4 Foot Party Inflatable Bunny Pushing Cart with Eggs – Yard Blow Up Decoration
 6 Foot Party Inflatable Bunny Sitting on Color Egg – Yard Blow Up Decoration
 5 ft. Airblown Happy Easter Chicks Inflatable – Yard Decoration
 Easter Inflatable 3.5′ Cross Christian Inspirational Airblown Yard Decor by Gemmy
 Holidayana Easter Inflatable / Easter Egg Decorations / 8 ft Wide Easter Yard Decorations / LED Easter Lighted Decorations / Early Bird Sale
 Easter Inflatable 13′ Long Bunny on Happy Easter Train
 EASTER INFLATABLE 7′ BUNNY IN EGG CAR
Keep in mind you will need an available exterior electrical socket to power these Easter inflatable yard decorations.
Which are your favorite Easter yard decorations? Do you put a lot of effort into your outdoor easter decorations?