Canning apple pie filling may be easier than you think. It is such a great way to make homemade organic pies for your family, without high cost.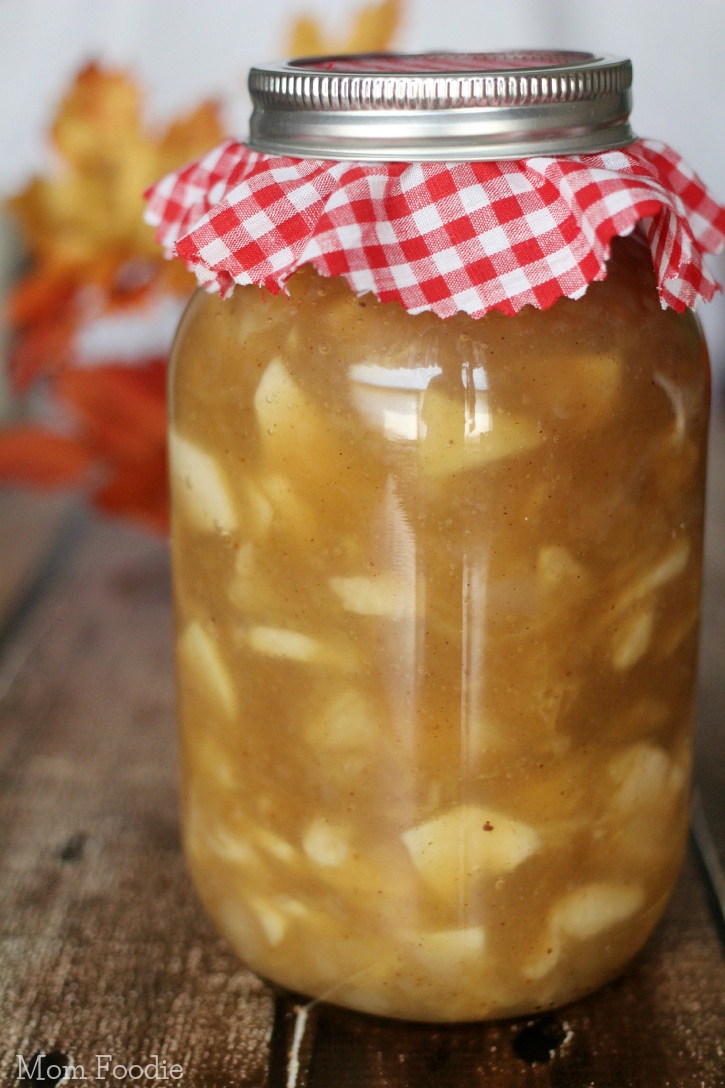 Canning Apple Pie Filling
Making your own apple pie filling can save you a great deal of time in the future, and save you money when making fresh homemade apple pies.  When canning apples for pie filling at home, it is best to do it in the late summer or early fall while apples are in season and prices are low. If you are like myself and prefer organic when it comes to apples, this will make organic pies much more affordable.
Tip: Making the filling in large batches allows you to take advantage of bulk produce pricing & the home canned apples makes wonderful hostess gifts. The apple pie filling recipe makes enough for one apple pie, multiply for as many as you wish to make.
Apple Pie Filling - How to Can
Here is a simple visual guide to canning apples for pies and other desserts. Printable recipe card with full directions can be found below.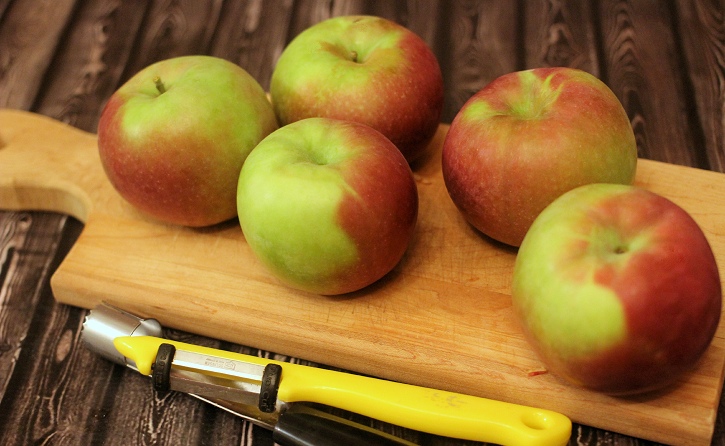 You will need 5-6 apples per pie.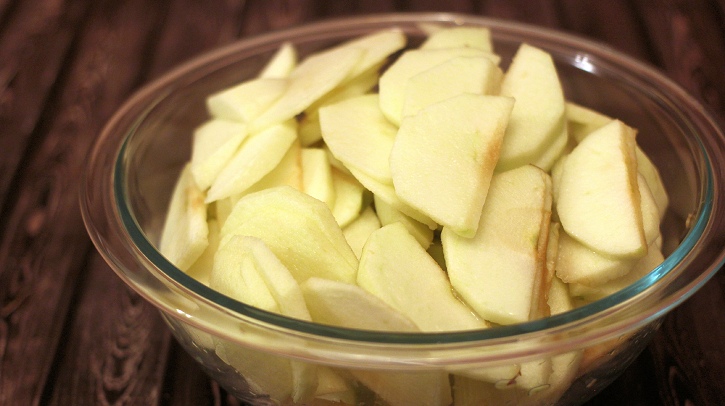 Peel  and slice the apples.  Then toss in lemon juice.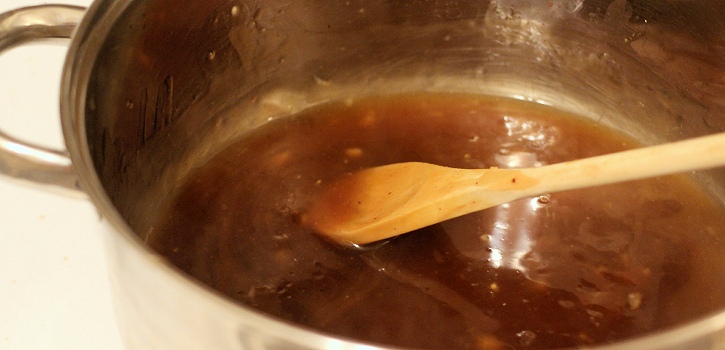 Cook the filling sauce for a few minutes.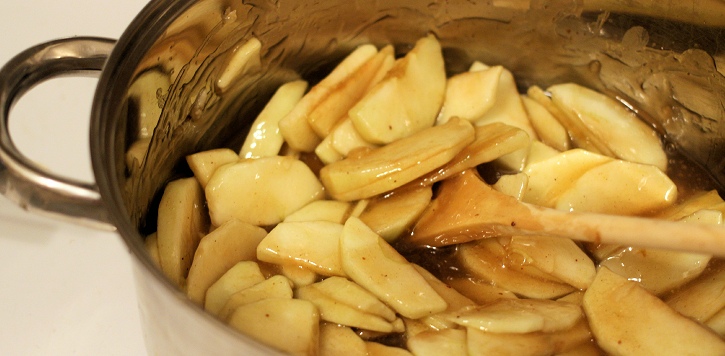 Add apples and par cook, before placing in sterilized jars. Then cap and simmer in hot water bath, to ensure safe storage.
This filling can also be used to make my Caramel Apple Dump Cake, Caramel Apple Hand Pies or served over my Applesauce Cake.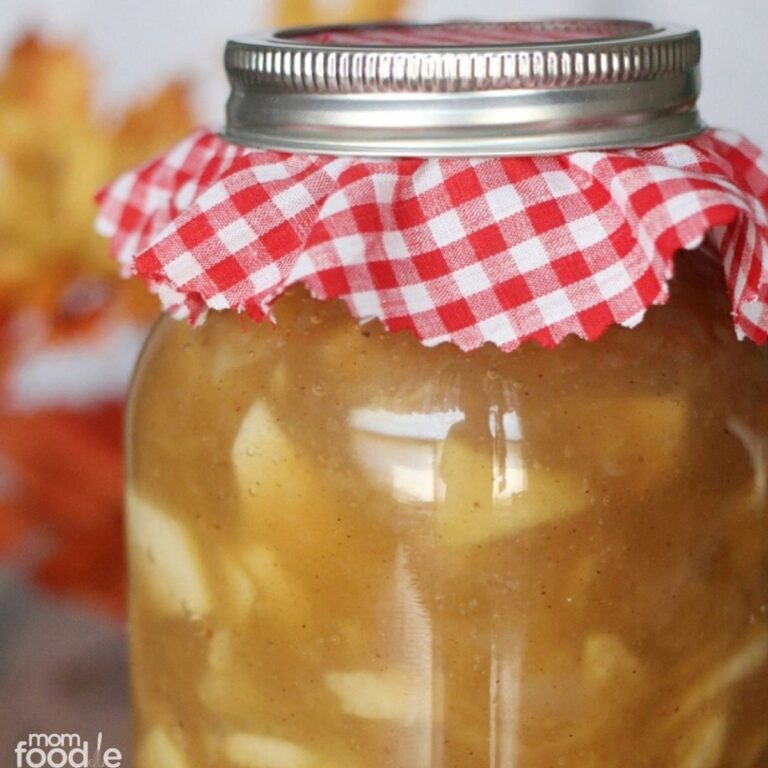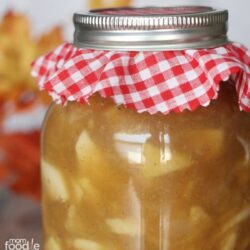 Apple Pie Filling
Canning apple pie filling at home allows you to have fresh homemade pies year round & makes great gifts.
Print
Pin
Rate
Ingredients
5-6

Apples

Medium, peeled and chopped

2

tablespoon

Lemon Juice

½

cup

Brown Sugar

½

cup

Sugar

¼

cup

Cornstarch

1

teaspoon

Cinnamon*

½

teaspoon

Nutmeg*

Salt

2

cups

Water
Instructions
First core and peel the fresh apples. Then cut into slices.

Toss the sliced apples with the lemon juice in a large bowl (this will keep them from browning) Set aside.

Whisk together cornstarch and water briskly, avoiding lumps.

Add the sugars, cinnamon, nutmeg, and a pinch of salt, mix well and bring mixture to a boil over medium-high heat. Bring to a hard boil, stirring constantly for 2 minutes.

Add the apples and bring back to a boil then reduce the heat to medium low and simmer for 2 minutes.

Place in sterilized jar immediately and seal.

Simmer the jars fully submerged in a hot water bath for 20-25 minutes to ensure food safety .

Remove with jar tongs and allow to cool. The cap should be indented to show airtight seal has been made.
Notes
*jars may be pre-sterilized in hot water bath, oven or even dishwasher. We just don't want to introduce germs inside the jars. The hot water bath will further sterilize and ensure a safe result.
*or 2 teaspoons of apple pie spice