Easy banana oatmeal cookies with chocolate chips make a great snack choice for anyone seeking a more sweet treat. The bonus, this recipe makes a healthier cookie than most. While these chewy banana cookies are still a treat they aren't as sugar and fat heavy as most cookies. They were good warm, but I liked them best chilled a little. My daughter loves to eat these soft banana oatmeal cookies with chewy texture!
This banana oatmeal cookie recipe is made with brown butter, which allows you to use less while still enjoying a moist cookie with a buttery toasted flavor. It's a delicious alternative to using up overripe bananas in banana bread. They also make fabulous breakfast cookies.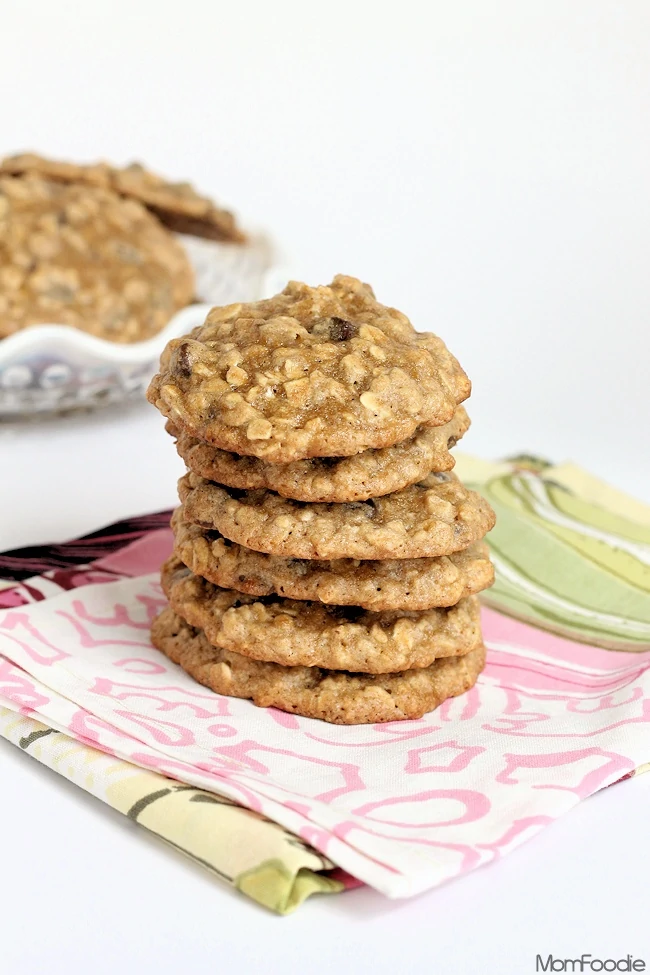 The healthy banana cookies recipe is hearty enough to serve as breakfast cookies, and honestly I love enjoying this healthy treat with a cup of coffee or tea in the morning. These banana oatmeal cookies make a great on the go breakfast!
Banana Oatmeal Cookies

- The Start
My daughter got at the bananas again. I don't get why she enjoys peeling a whole bunch so much, and I have told her not to do so, but she just doesn't seem to be able to stop herself once she gets rolling. I assume it is autism related.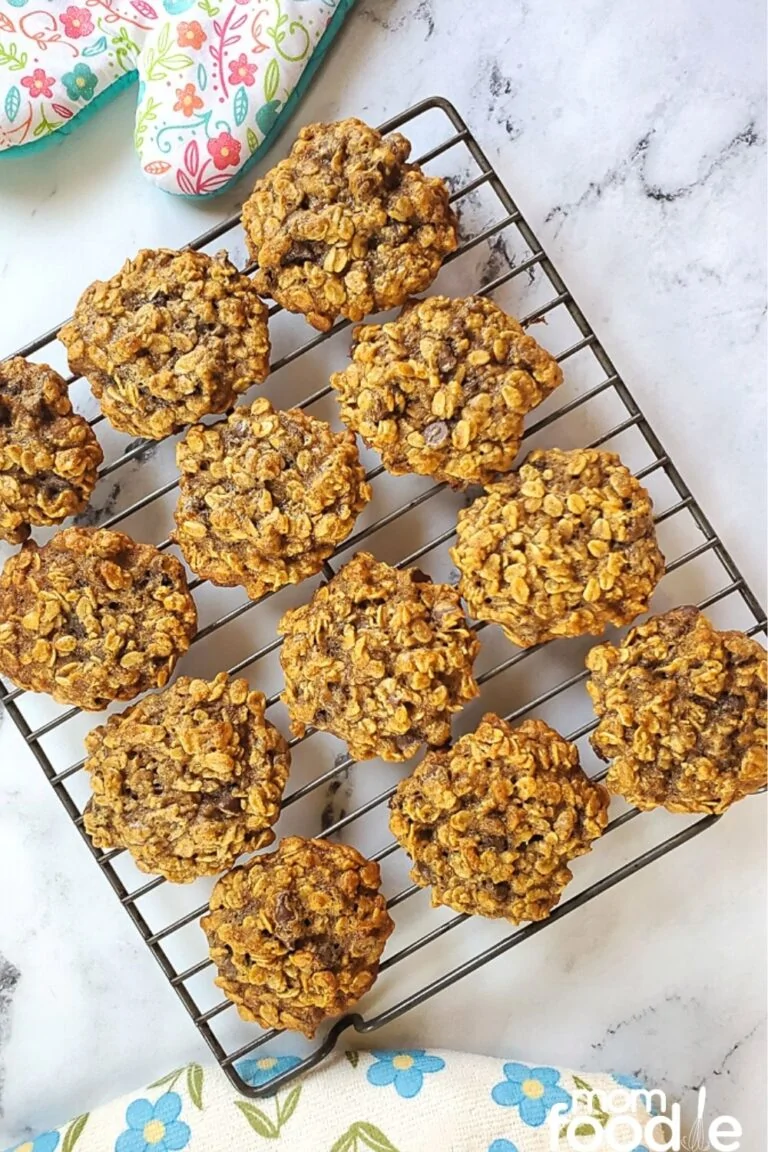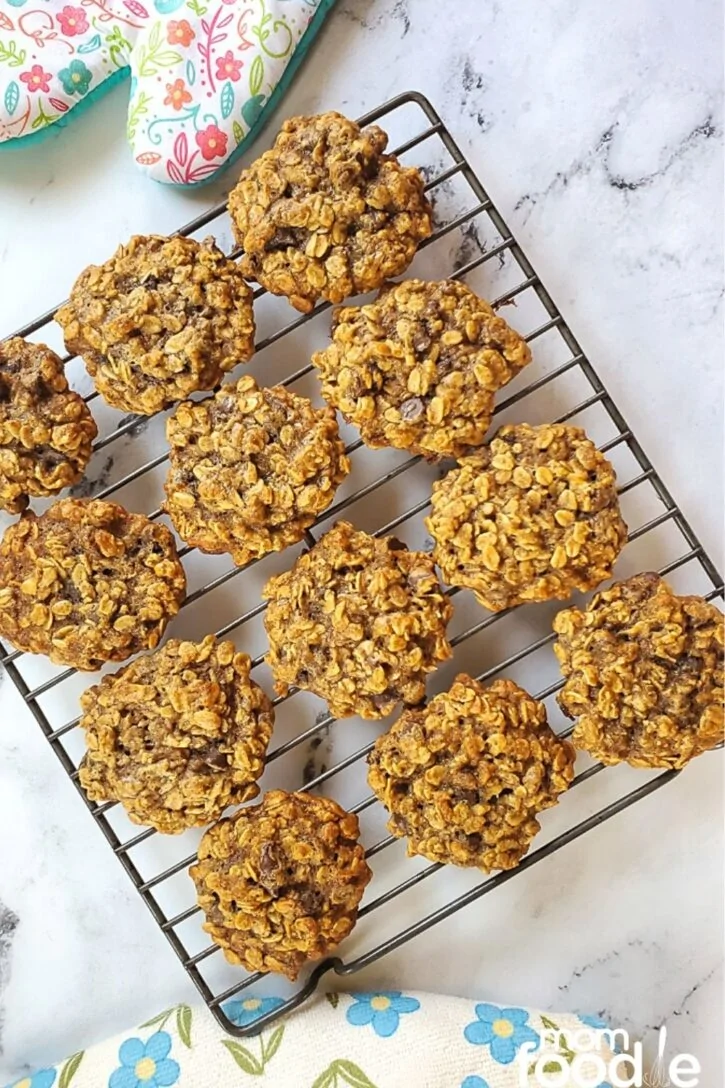 This quirk puts me in the position of having to use up bananas more often than most. Rather than bread or muffins I opted to make oatmeal cookies with them this time and the results were a hit. Bonus, they make a great school snack!
Healthy Banana Breakfast Cookies: Ingredient Choices
Making healthy choices in dessert ingredients helps us stay on track when we indulge in an occasional treat. This is something I kept in mind when creating these chewy banana oatmeal cookies.
Sometimes a few simple changes really add up, here we got healthy banana oatmeal cookies you can feel good about serving to your family.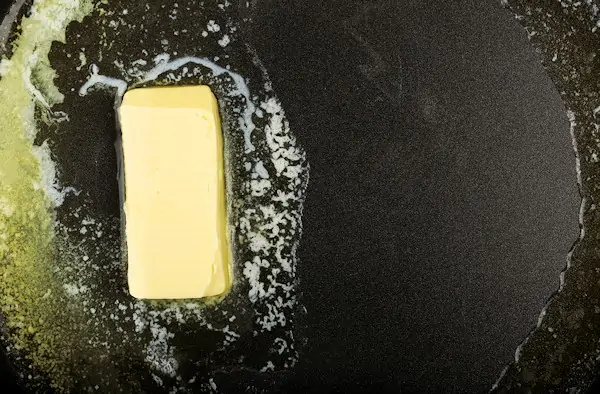 Browned Butter
I liked the results of using a reduced quality of butter while maintaining taste and moisture, in my recent Brown Butter Mocha Chip Cookies, so I used the technique here as well.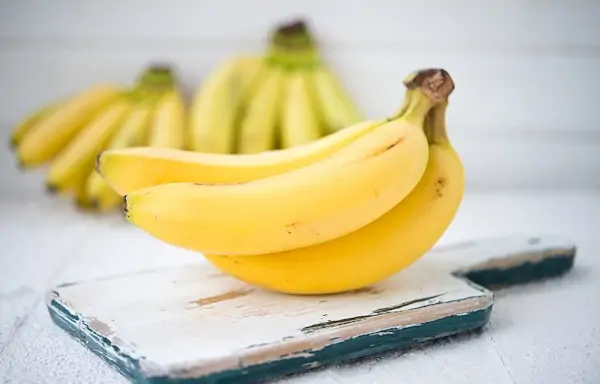 Bananas
Not only are bananas a great source of potassium, they help make the use of less butter possible. Adding mashed bananas is a great way to keep oatmeal cookies moist and soft.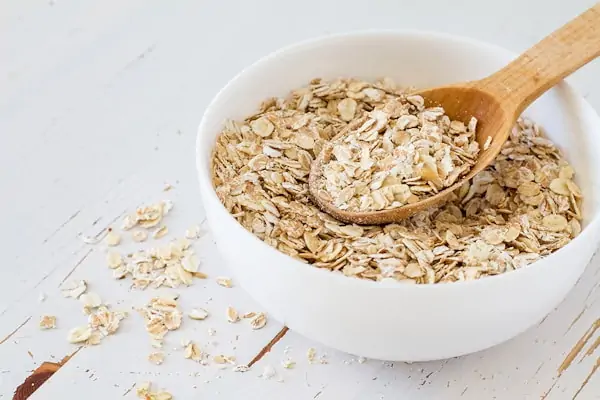 Oat

Benefits
Oats play a big part in these banana oatmeal cookies as well. Old fashioned rolled oats add soluble fiber and retain the moisture from the bananas and scant butter, so the cookies don't get hard. The result is a delicious healthier cookie.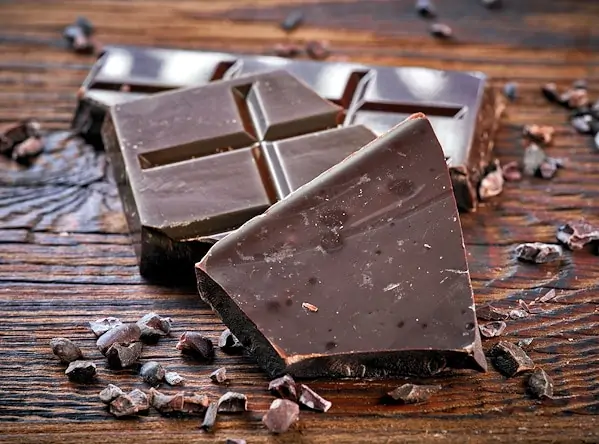 Dark Chocolate
I prefer using dark chocolate chips in my baking over typical semi sweet chocolate chips. The higher percent of cocoa brings more of the wonderful beneficial properties of chocolate to the banana oatmeal cookies. Of course, chocolate goes great with banana flavor too.
Tip: Mini chocolate chips will disperse better.
Sugar Alternatives
While I did use standard sugars in these banana oatmeal chocolate chip cookies, you can absolutely use a measures like sugar substitute instead. It is certainly something to consider if you are watching your weight or have diabetes.
There are many wonderful healthy options such as; erythritol, monk fruit, stevia, allulose or a blend of two or more. Select something that measures like sugar and trade it out in the recipe for healthy banana oatmeal cookies. There are even brown sugar versions of most of these sweeteners.
How to Make Banana Oatmeal Cookies
Now let's make a batch of these delicious chewy banana cookies with oats and chocolate chips! Follow along or jump down to print recipe.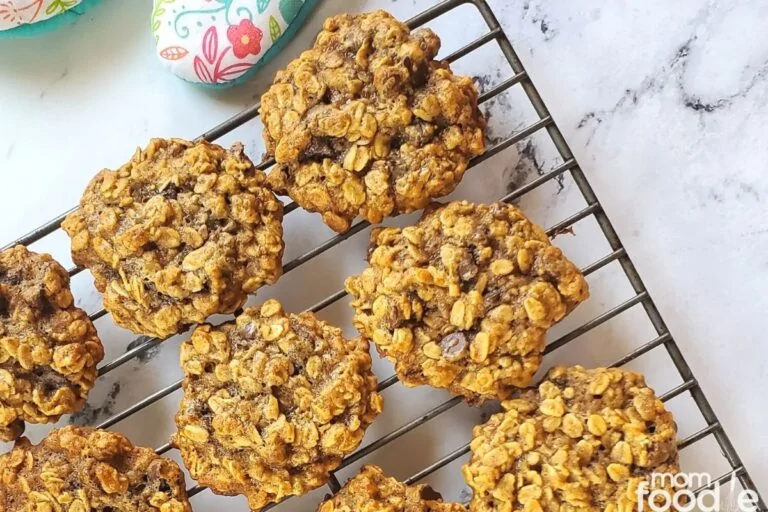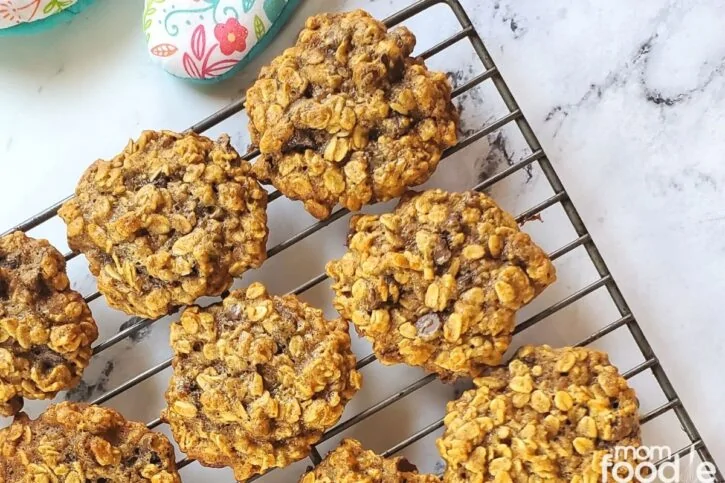 Recipe makes 27-28 cookies.
Prep time: 10 mins|Bake Time 12-14 mins
Ingredients
Here are all the recipe ingredients you will need to make these easy one bowl cookies.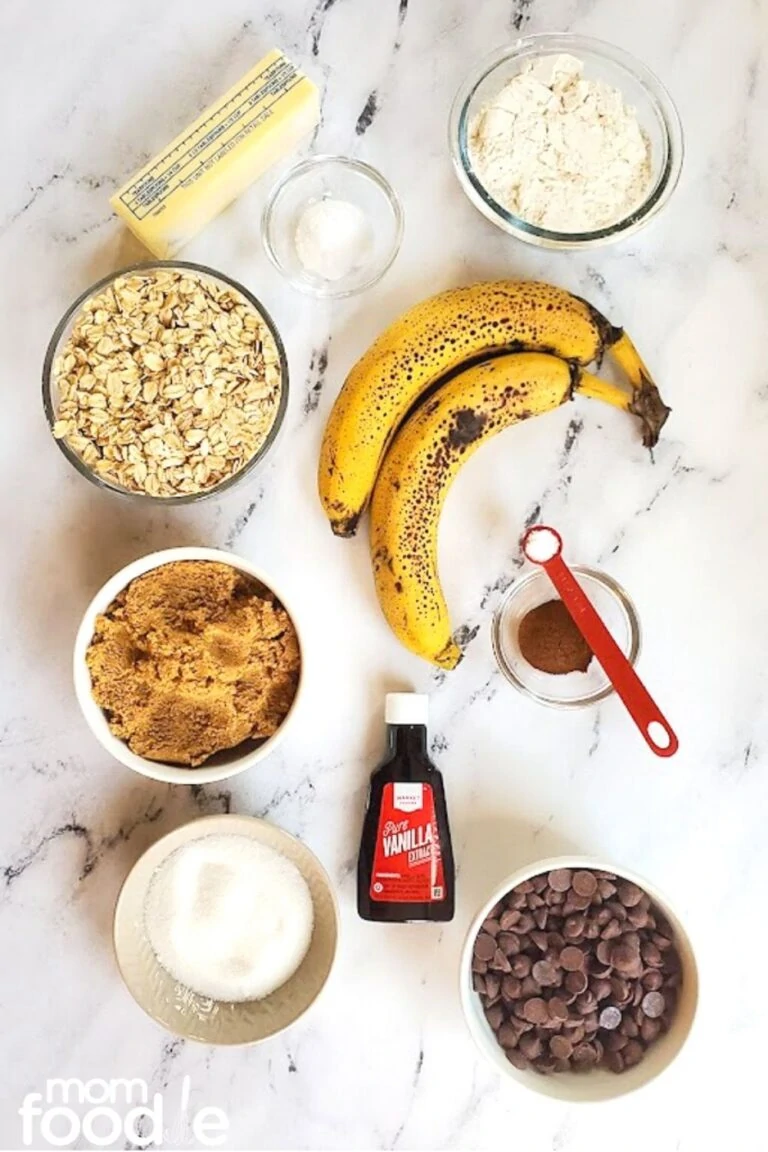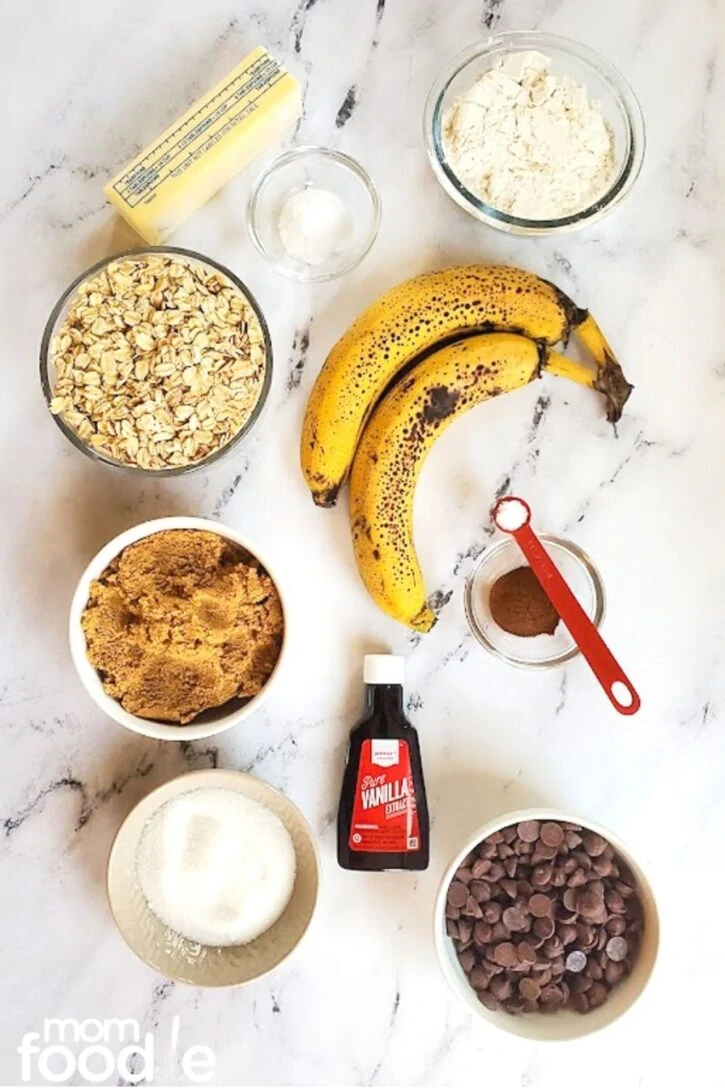 ½ cup unsalted butter one stick
1 cup ripe mashed bananas (2-3 bananas depending on size) the ones in picture are large
1 tsp vanilla extract
1 cup dark brown sugar
¼ cup pure cane sugar
½ cup all purpose flour
1 tsp baking soda
1 teaspoon ground cinnamon
¼ teaspoon salt
2 ½ cups old fashioned quick cooking oats
1 cup dark chocolate chips or semi-sweet (mini chocolate chips will spread the flavor out more)
Instructions
To start, preheat oven to 350 degrees F and line cookie sheets with parchment paper or silicone liners.
Gently brown butter in small pan, taking care not to burn it. Take off burner and set aside as soon as it is done.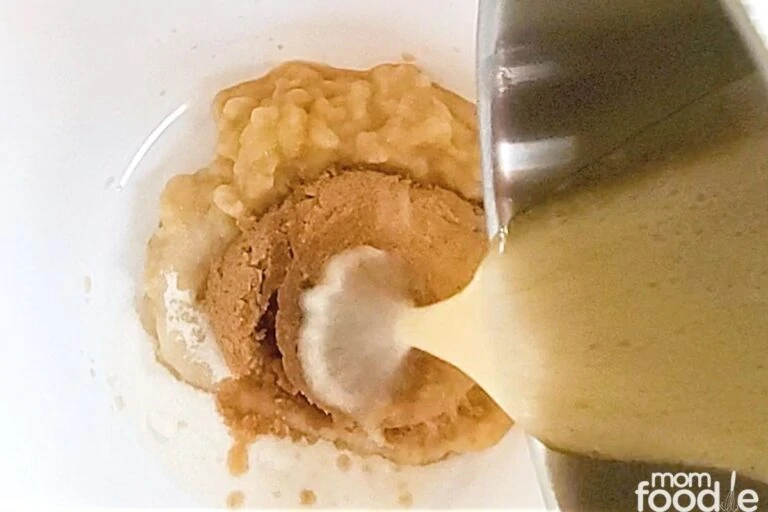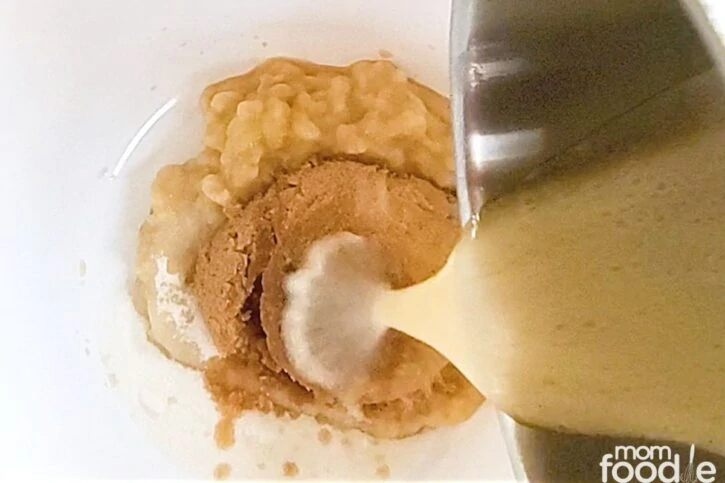 Mash bananas in a large bowl, then add vanilla extract, sugars & browned butter right in with the mashed banana. Mix until well combined.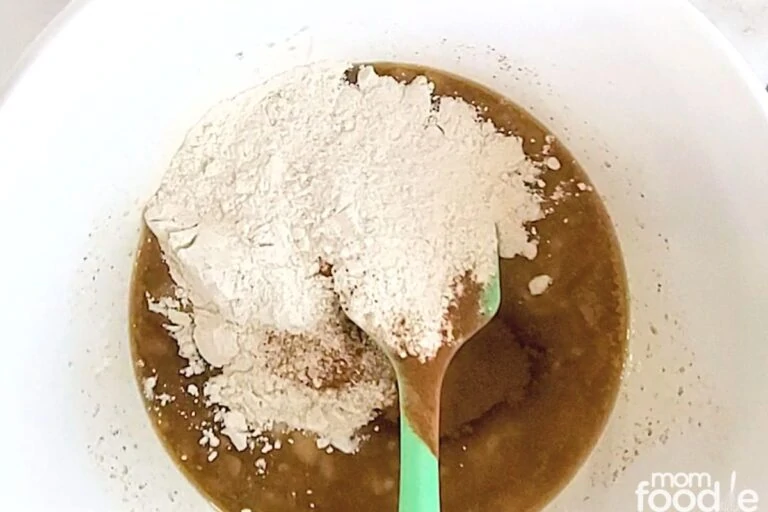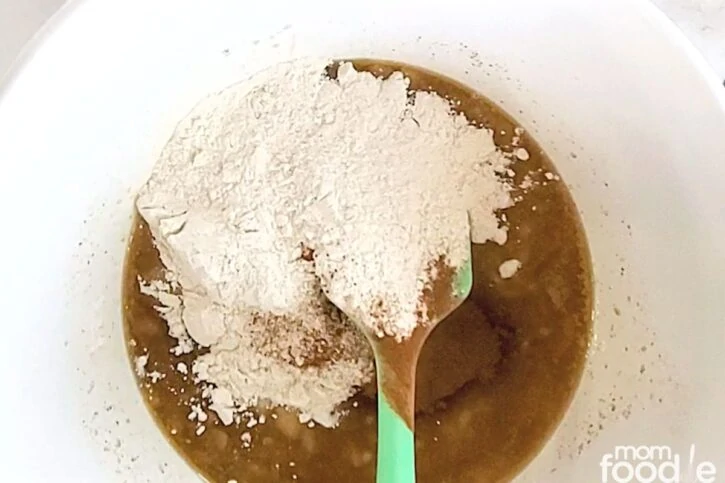 Add flour, baking soda and cinnamon. Mix well.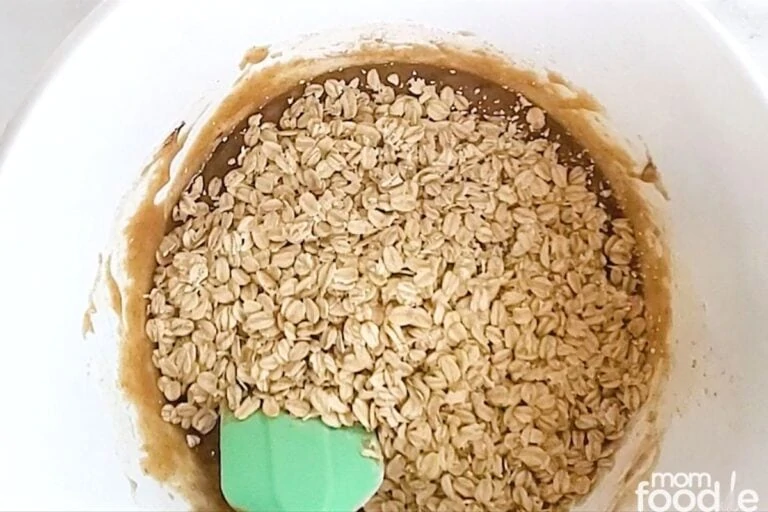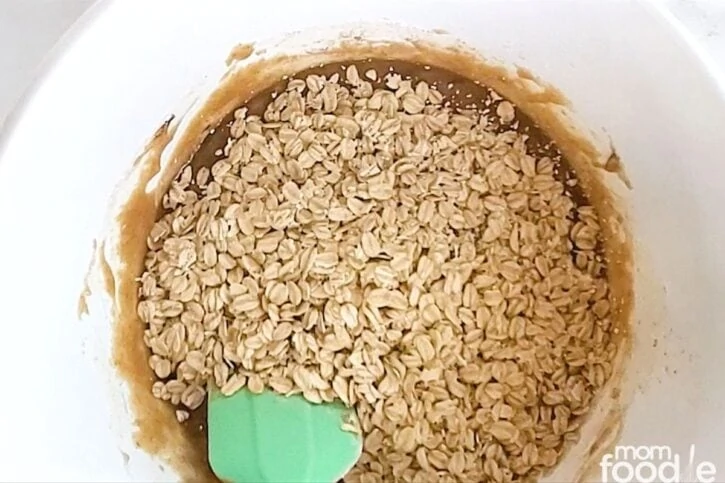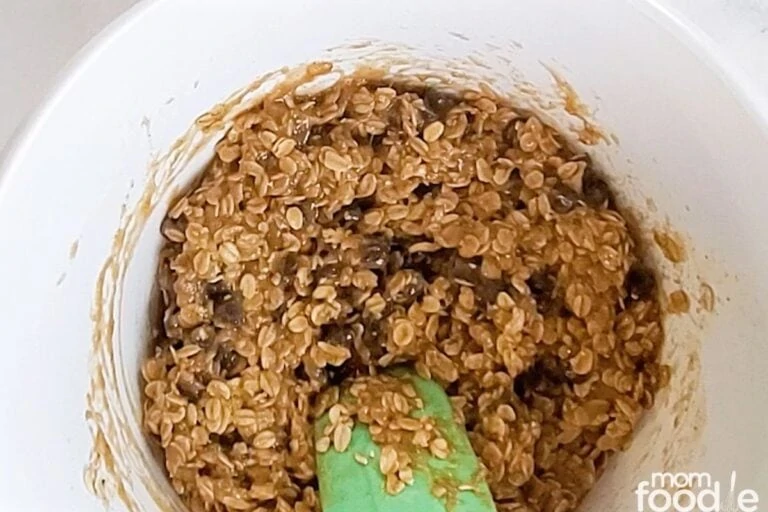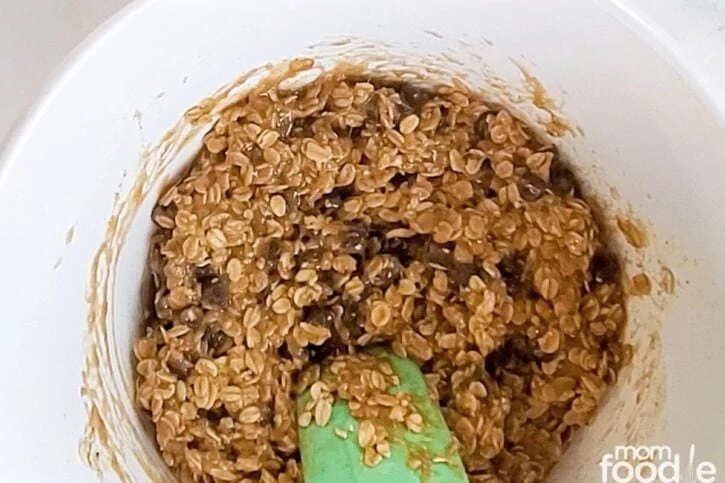 Add the oats, stir until thoroughly mixed, then add chocolate chips and fold into the cookie dough until evenly distributed.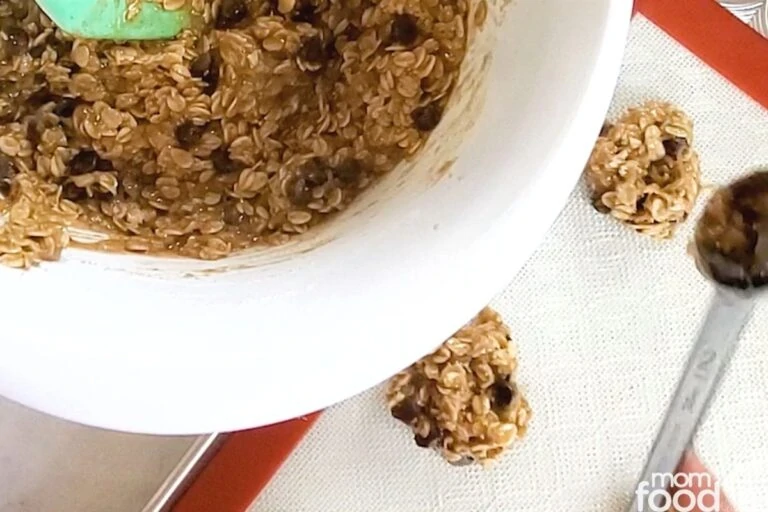 Drop the banana oatmeal cookie dough by approximately 2 tablespoons sized dollops, onto a silicone or parchment lined baking sheet.
TIP: Coat your cookie scoop with oil or non-stick cooking spray to avoid the sticky dough getting stuck on it.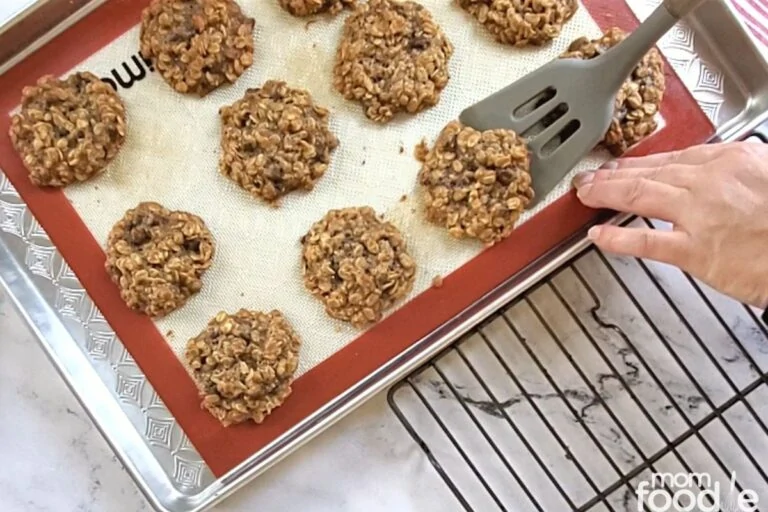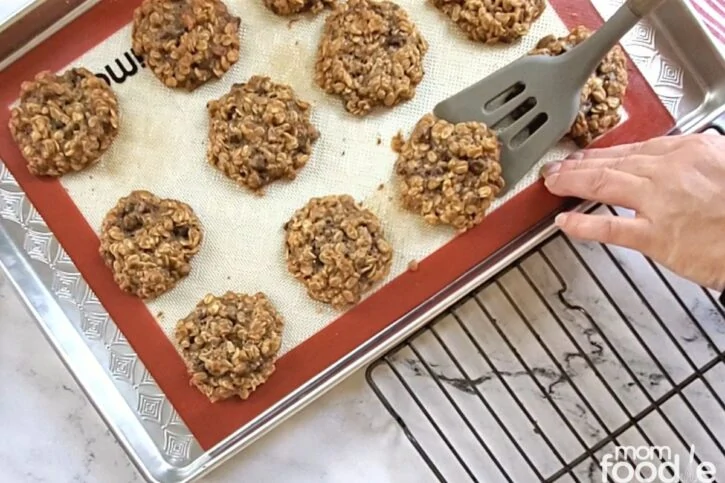 Bake for approximately 12-14 minutes, until golden brown at edges. Allow the cookies to cool on the cookie sheet after you remove from oven for a few minutes. Then remove to cool on racks to room temperature before serving so the melted chocolate can firm up.
Variations
There are so many variations you can make to this recipe and still have fabulous oatmeal banana cookies! Here are some swaps and favorite mix-ins to try out yourself.
Banana Bread Cookies are an easy and delicious spin on this simple recipe. To make them swap out the chocolate morsels for walnuts, up the cinnamon by a teaspoon and add a ¼ teaspoon of nutmeg. The chopped nuts and added spices will make the cookies taste just like banana bread!
Add slivered almonds, pumpkin seeds, sunflower seeds or chopped nuts such as walnuts or hazelnuts in place of some or all of the choc. chips.
Young children may prefer milk chocolate chips in the cookies.
Make this recipe nutty by swapping the morsels with a half cup of peanut butter, almond butter, Nutella spread or other nut butter. For those with a nut allergy use sunflower seed butter.
Dried cranberries or raisins are also nice swapped for part of the nuts or chocolate morsels.
Try adding a tablespoon or two of chia seed or flax seeds into the dough for extra fiber and omega-3 fatty acids.
For a vegan version, swap coconut oil for the butter and select non-dairy chocolate or switch in nuts or dried fruit. There is already, no egg in the recipe.
Swap out chocolate chips for peanut butter chips, for an Elvis approved sweet treat. Butterscotch chips are also a tasty choice.
Try a teaspoon of pumpkin pie spice or apple pie spice in the dough.
Storing
To store these cookies, first cool completely, then seal in an airtight container. A cookie tin or plastic container works well, but a ziploc bag or wrapping well with plastic wrap will also do.
Placing a layer of waxed paper between the layers is helpful in keeping these chewy cookies from sticking together.
They will last up to a week, though they are of course best straight out of the oven.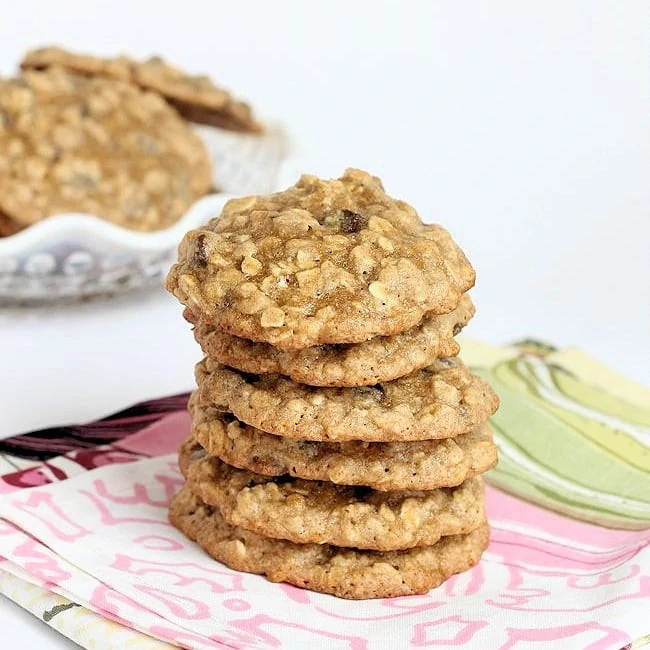 Q&A
How can I make these banana oatmeal cookies gluten-free?
Simply use gluten free flour and make sure the oats you use are certified gluten-free oats.
Which oats are best for baking cookies?
Rolled oats are the go to choice. They will maintain their shape and texture, yet will bake through in the time allotted.
Quick oats are also a good choice, but tend to lose some texture in the preparation process.
Can I freeze these cookies?
Yes, the cookies freeze well. Just make sure they are well sealed before freezing. Cookies stored in the freezer should last at least 3 months.
Other Recipes to Use Up Ripe Bananas
While we loved these soft banana cookies, if you are not in the mood for cookies?  Try my banana chocolate chip muffins, Blueberry Banana Oatmeal Muffins or my Chocolate Chip Banana Bread. Both are scrumptious and a great way to use up ripe bananas.
I hope you enjoy these moist chewy cookies. The banana chocolate chip cookies are also nice served as a quick grab and go breakfast. A great recipe to make with kids too.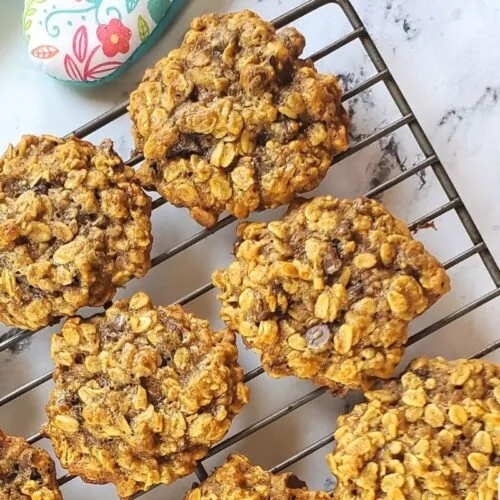 Banana Oatmeal Cookies Recipe
Banana Oatmeal Chocolate Chip Cookies are reduced fat through the use browned butter.
Print
Pin
Rate
Equipment
baking sheets

parchment paper or silicone liners
Ingredients
½

cup

unsalted butter

one stick

1

cup

mashed ripe bananas

1

teaspoon

vanilla extract

1

cup

dark brown sugar

¼

cup

pure cane sugar

½

cup

flour

all-purpose is fine

1

teaspoon

baking soda

1

teaspoon

ground cinnamon

¼

teaspoon

salt

2 ½

cups

old fashioned oats

1

cup

dark chocolate chips

or semi sweet chocolate chips
Instructions
Preheat oven to 350 degrees. Line cookie sheet with parchment or silicone liner.

Gently brown butter in small pan, taking care not to burn it. Take off burner and set aside as soon as it is done.

Mash banana in a large mixing bowl, then add vanilla, sugars & browned butter. Mix well.

Add flour and baking soda, to the mashed banana mixture and stir well.

Add the oats, stir until thoroughly mixed, then fold in chocolate chips until evenly distributed in the banana oatmeal cookie dough.

Drop the cookie batter by approximately 2 tablespoon dollops, onto prepared baking sheet.

Bake for approximately 12-14 minutes, then cool to room temperature on wire cooling racks before serving.
Notes
Store leftover cookies in an airtight container.
Substitute gluten free baking mix and certified gf free oats in the recipe. 
Dairy free option:
Swap coconut oil or shortening for the butter in the recipe.
Chocolate morsel swaps
Trade walnuts, dried cranberries, raisins, shredded coconut or dried fruit bits for the chocolate chunks. You can also substitute a half cup of peanut butter instead.
Nutrition
Calories:
144
kcal
|
Carbohydrates:
22
g
|
Protein:
2
g
|
Fat:
6
g
|
Saturated Fat:
4
g
|
Polyunsaturated Fat:
1
g
|
Monounsaturated Fat:
1
g
|
Trans Fat:
1
g
|
Cholesterol:
9
mg
|
Sodium:
98
mg
|
Potassium:
111
mg
|
Fiber:
1
g
|
Sugar:
13
g
|
Vitamin A:
108
IU
|
Vitamin C:
1
mg
|
Calcium:
32
mg
|
Iron:
1
mg