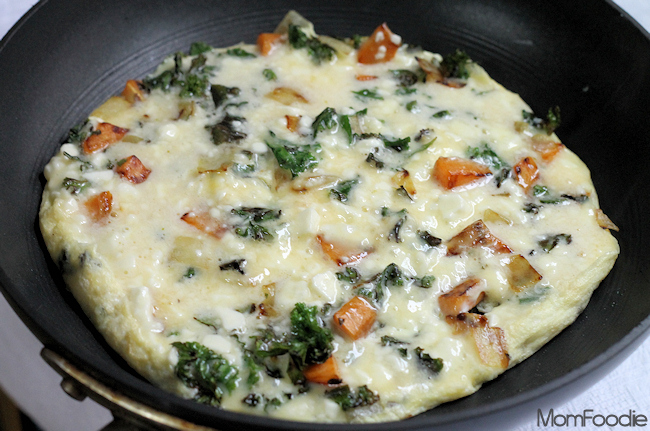 I had this Kale, Sweet Potato and Feta Frittata for breakfast, after this morning's chores.  Lil' Foodie is doing ESY (extended school year) on Tuesdays & Thursdays this summer, to help keep her in the grove and give her some time with other kids in an environment that accommodates her special needs.  Neither of us were particularly well prepared this morning.  I was just pulling bean crackers out of the oven for her lunch about 20 minutes before the bus was due to arrive & as you can see below she wasn't "feeling it" this morning.  Snoozing in bed was #1 on her mind.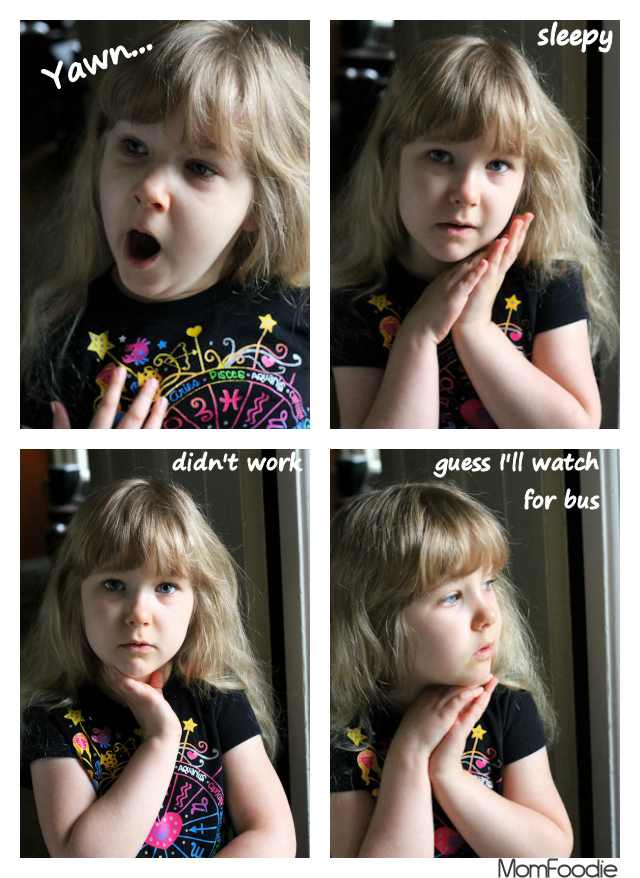 We went outside to wait for the bus and it was refreshingly cool. She was still a bit groggy, but the fresh air seemed to lift her spirits a bit. The bus came and my little sweetheart was off to school.
In the hustle of the morning routine, I counted myself lucky that I'd managed to get some coffee brewed, but was getting a bit hungry.  I wanted something substantial, that wouldn't blow my diet.  I'm working on dropping about 10 pounds before fall, when the dangerous-to-the-waistline baking and holiday season kicks in.
An omelet or frittata featuring veggies was just the thing.  For cheese, I only had crumbled feta on hand, so a frittata it would be.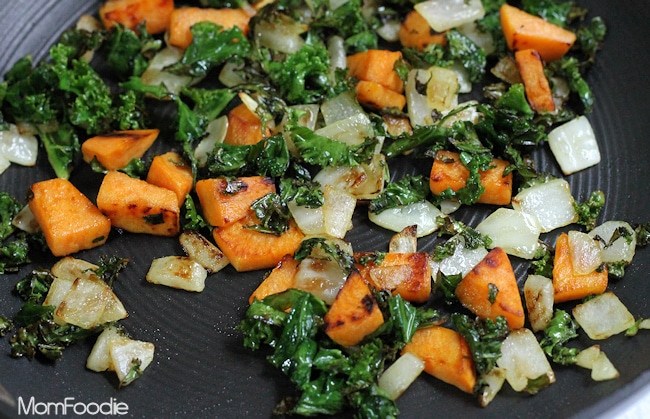 I sauteed some sweet potato, kale and onion.  The carmelization (especially of the kale) added a pleasant mild smokey flavor to the frittata.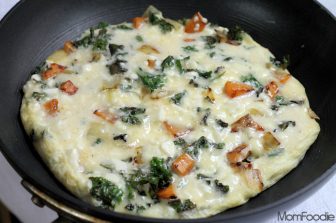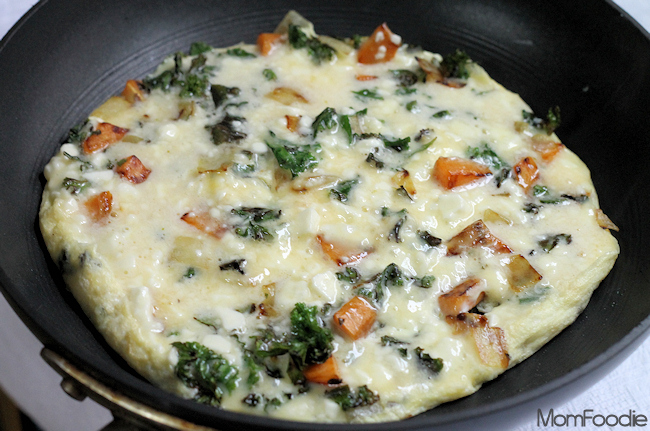 Kale, Sweet Potato & Feta Frittata Recipe : What Mom Eats After Morning Chores
Ingredients
1/2

tbs.

olive oil

1/3

cup

diced sweet potato

1/3

cup

diced sweet onion

1/2

cup

chopped de-stemmed kale

1

large egg*

2

egg whites*

1/4

cup

crumbled feta
Instructions
Place oil in non-stick skillet over med-high heat. Once hot add the sweet potato, onion and kale.

Saute stirring frequently, until sweet potato is lightly browned and cooked through, but not mushy.

Reduce heat to low-med, and remove pan from burner. Turn on the broiler (high).

Beat eggs, and stir in feta, then pour over the vegetables, shake and rotate the pan a bit if you need to in order to spread throughout pan.

Place pan back on burner and cover.

Once the eggs are mostly set, but still oozy on top, shut off burner, and place frittata under broiler for a few seconds, just enough to set the top.*

Plate & serve.
Recipe Notes
* save about 30 calories & reduce the saturated fat and cholesterol by skipping the yolk and using a total of 4 egg whites instead (I like a yolk once in awhile)
Nutrition Facts
Kale, Sweet Potato & Feta Frittata Recipe : What Mom Eats After Morning Chores
Amount Per Serving
Calories 326
Calories from Fat 171
% Daily Value*
Fat 19g29%
Cholesterol 197mg66%
Sodium 622mg27%
Potassium 535mg15%
Carbohydrates 18g6%
Protein 19g38%
Vitamin A 10030IU201%
Vitamin C 43.8mg53%
Calcium 284mg28%
Iron 1.8mg10%
* Percent Daily Values are based on a 2000 calorie diet.