This Mediterranean Grilled Chicken Wrap was created in conjunction with Stop & Shop. The recipe and opinions expressed below are that of Mom Foodie.
Make Mediterranean chicken wraps any day of the week. They're a great quick lunch or even dinner!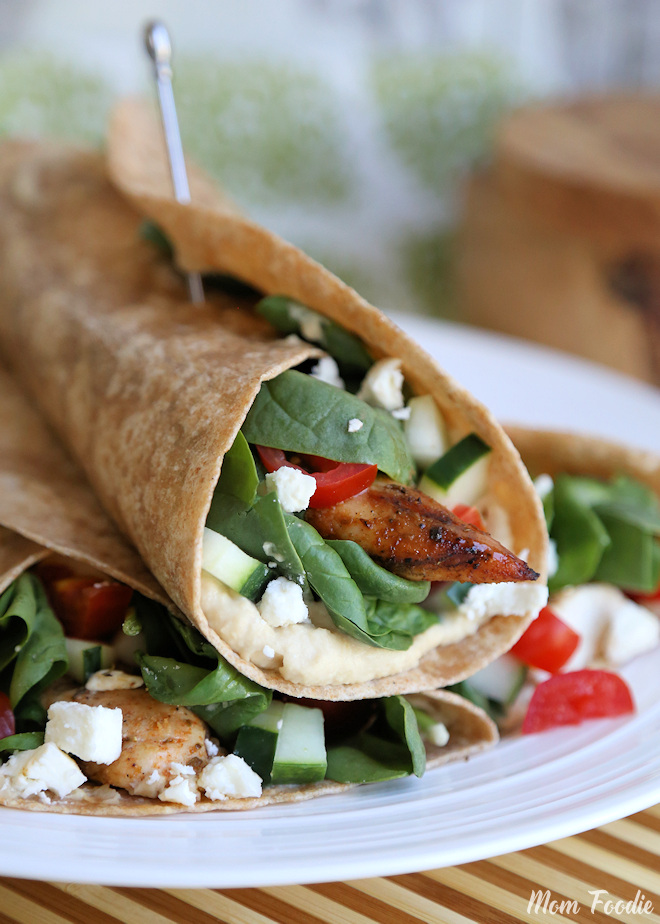 Easy Mediterranean Grilled Chicken Wrap with Feta cheese, hummus and fresh salad.
It has been over a year now since my daughter and I switched  to a more organic diet. The overall goal was to reduce the chemical load in our bodies, particularly for my autistic daughter. I am not "crazed" about it.  We do still eat out on occasion, and things that only I eat, I am a little less fussy about. The switch does seem to provide subtle benefits for my daughter, especially in her ability to focus. Perhaps it is just coincidental, but other than a bout with the flu last winter, neither of us have been sick over the past year.
Organic on a Budget
The biggest struggle for most families who try to transition into eating a more organic diet is cost. Another is availability.  The good news is both issues are getting better, and if you are smart about it, the chemical load on your family can be greatly reduced without draining your bank account. Nature's Promise Products from my local Stop & Shop stores have been a big help for me personally in making a more natural diet affordable and convenient. By teaming these affordable products with a bit of knowledge concerning which foods are more important to buy organic and cutting out nutritionally useless junk food, I have been able to reduce the cost of these dietary changes.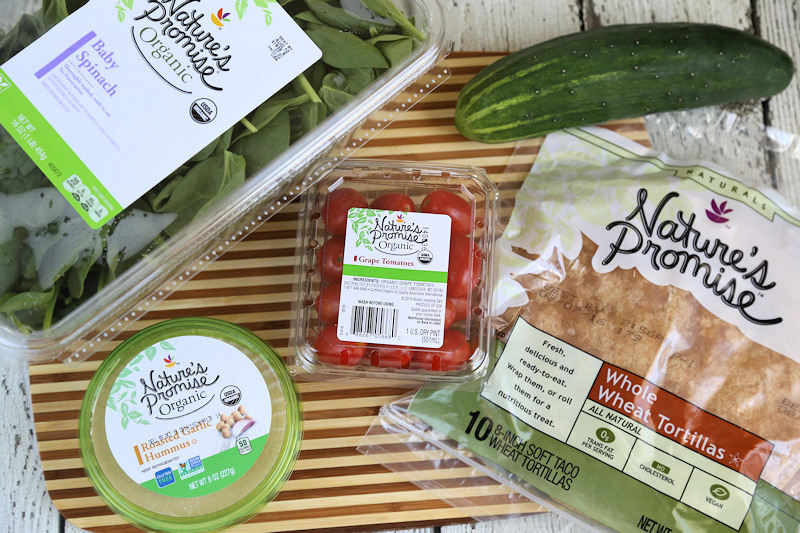 Nature's Promise
Opting for the store brand in this case is not a sacrifice in quality or taste.  Honestly, I've found I very often prefer the Nature's Promise Products over the name brand conventional options. I've noticed more and more organic and Free-from options.  Their Free-from products are "free from nonessentials such as, artificial colors, artificial flavors, and artificial preservatives", making them perfect for those with allergy concerns, as well as families like mine trying to reduce our overall chemical intake.
Putting Your Money Where It Is Most Effective
It is important to learn which foods are the most pesticide and chemical ridden, especially if you can only afford to partially switch to organic eating. There are numerous guides readily available on the web to help you determine where best to spend your money.  Probably the best known of these is the "Dirty Dozen".  It is a list of produce items with the highest levels of pesticides. Some items on the list such as tomatoes are particularly important to be mindful of, since they are used to make so many sauces and condiments.  No worries, Nature's Promise makes great tasting affordable pasta sauces, ketchup and salsa.
Making Mediterranean Grilled Chicken Wraps
To show you how easy eating better can be, I've included this recipe for Mediterranean Grilled Chicken Wraps.  Full print recipe below.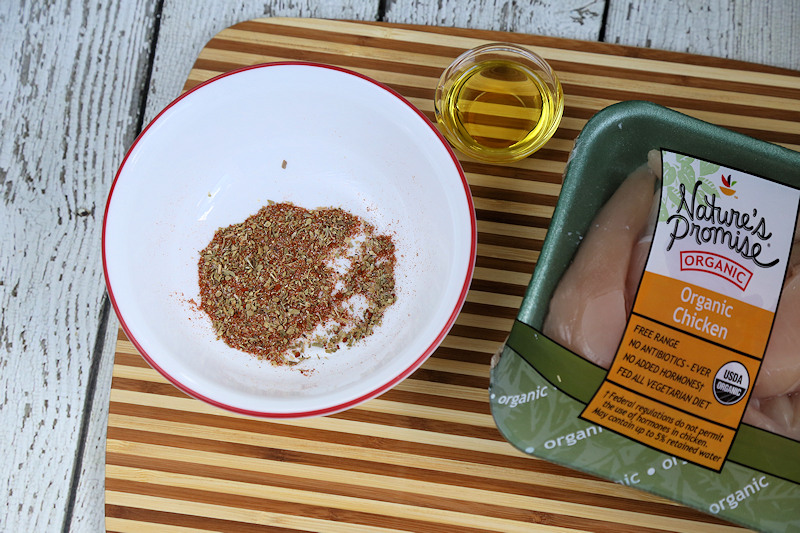 Chicken tenders or slices chicken breast meat are simply coated with olive oil and spice mix prior to grilling. Yes, you can use leftover rotisserie chicken if you have some on hand. Though the fresh seasoned chicken is ideal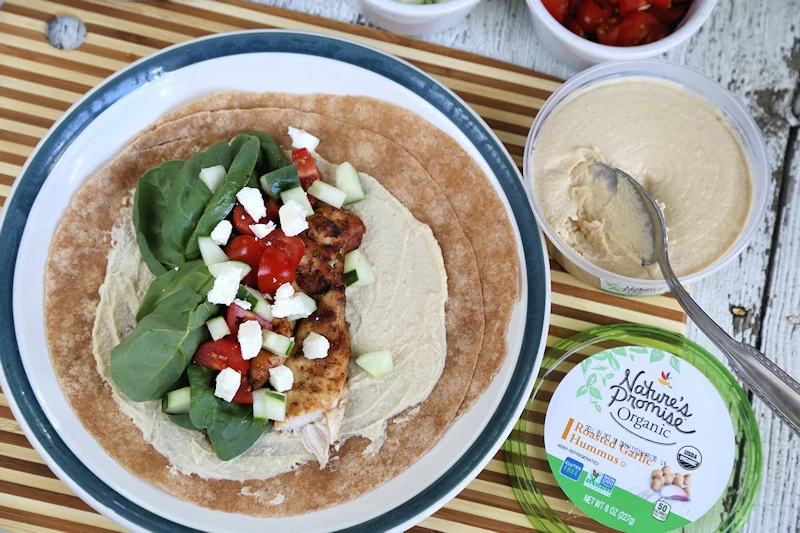 Once the chicken is grilled, the only other prep work is chopping the cucumbers and tomatoes.  Once that is done, just spread hummus on each tortilla wrap and add your cooked chicken, vegetables and Feta cheese before wrapping it up to enjoy.
I made these Mediterranean Chicken Wraps with kids in mind. If making for adults you may like to slice some red onion for the wraps and add some Kalamata olives.
Feeling ambitious? Make some homemade Kettle Chips to serve with these wraps.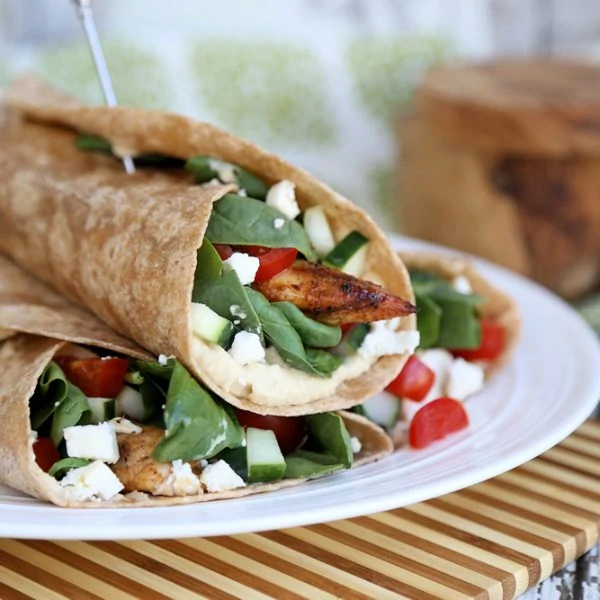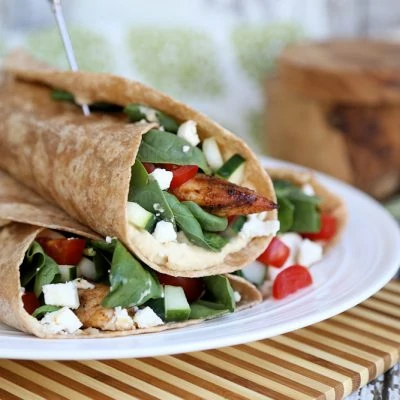 Mediterranean Grilled Chicken Wrap Recipe
Mediterranean Grilled Chicken Wrap Recipe
Print
Pin
Rate
Ingredients
1 ¼ - 1 ½

pounds

Chicken Tenders or sliced chicken breasts

1

tbs

olive oil

6

Whole Wheat Tortilla Wraps

8

oz.

Roasted Garlic Hummus

Baby Spinach

1

cucumber

diced

Cherry or Grape Tomatoes

chopped

crumbled Feta cheese
Spice Blend
½

teaspoon

oregano

½

teaspoon

paprika

¼

teaspoon

cumin

¼

teaspoon

Kosher salt

or sea salt

⅛

teaspoon

black pepper

⅛

teaspoon

garlic powder
Instructions
Preheat grill to medium (350-400 degrees). Mix together the spice blend. Place chicken tenders in a large bowl, add oil, while mixing sprinkle on the spices so they coat evenly. Grill until cooked through.

Spread a couple tablespoons of hummus on each tortilla wrap. Place a good handful of spinach and some chicken on each, then top with the cucumber, tomato and feta. Fold one side over the filling, then roll to wrap.
Nutrition
Calories:
499
kcal
|
Carbohydrates:
32
g
|
Protein:
54
g
|
Fat:
17
g
|
Saturated Fat:
4
g
|
Polyunsaturated Fat:
3
g
|
Monounsaturated Fat:
5
g
|
Trans Fat:
0.02
g
|
Cholesterol:
141
mg
|
Sodium:
894
mg
|
Potassium:
1164
mg
|
Fiber:
7
g
|
Sugar:
4
g
|
Vitamin A:
749
IU
|
Vitamin C:
16
mg
|
Calcium:
188
mg
|
Iron:
4
mg