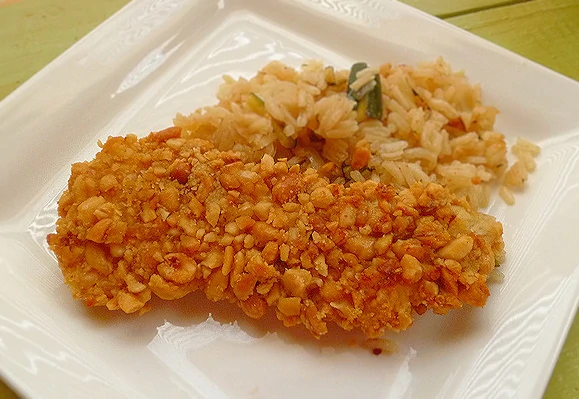 I decided to make a new peanut chicken recipe recently since I was tired of the same old chicken fingers.  I was already crusting the chicken in crushed peanuts, rather than the typical breadcrumbs, so I decided to take the extra step of making the recipe gluten free, by using corn flour as a base dredge instead of the wheat flour I generally use.  Taking some inspiration from African peanut soup, I spiced my chicken fingers up a bit, with some cayenne in the flour, but milder seasoning would be great too.
I served some of the Peanut Chicken Fingers over seasoned rice, and some with salad.   Sriracha sauce and Ponzu sauce both went well with the chicken fingers and rice.  When served with a salad, I simply used a creamy dressing on the salad, and left the peanut chicken plain.  They would be great with a sweet dip too though.
While baking the oils in the peanuts release a bit, so there is no need to use oil when cooking these.
Yes, my 3 ½ year old ate these heartily.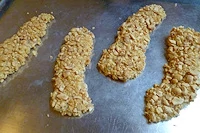 Ingredients
2

large chicken breasted

sliced into fingers - use tenders if you prefer

1 ½

cups

lightly salted peanuts

½

cup

corn flour*

not meal, this is finely ground

1

egg

⅓

cup

milk

seasonings of choice

I used ⅛ teaspoon cayenne, ⅛ teaspoon white pepper, ⅛ teaspoon garlic powder & ¼ teaspoon Mrs. Dash Table blend

Kosher Salt
Instructions
Preheat oven to 400°

Place peanuts in a large plastic bag. Pound them about 20 times with the bottom of a heavy skillet. If this is too noisy for you, just crush them up in a food processor, but be careful not to over grind them.

In one dish season the flour and mix until blended.

In another dish, beat the egg into the milk, lightly season.

If peanuts are in a large plastic bag leave them there, if not put them in a 3rd dish/bowl.

Dredge each chicken fingers in the flour mixture, then drop into the egg wash, then drop into peanuts to coat.

Press lightly on chicken to make sure peanuts adhere well.

Line up the chicken fingers on a baking sheet.

Bake for approx. 7-8 minutes, flip and bake another 6-7 minutes.

Remove and serve.
Notes
*feel free to substitute regular flour if Gluten-Free is not an issue