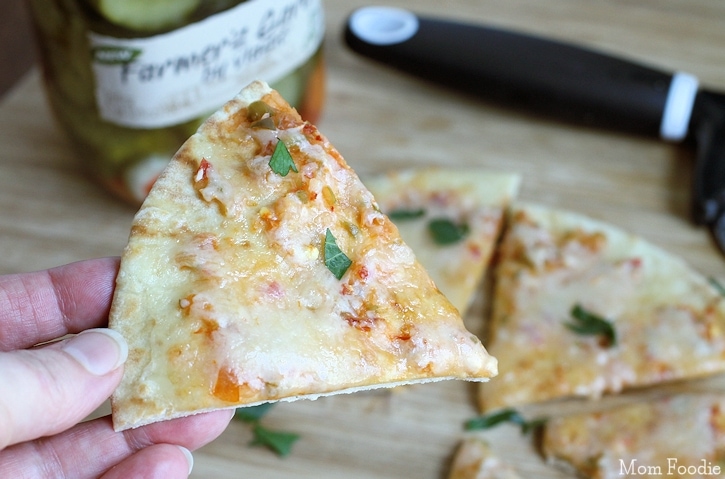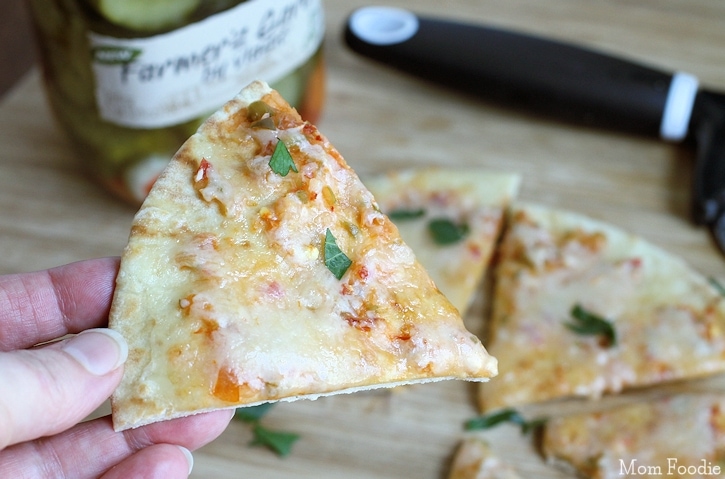 Yes, you read that right.  I said pickle pizza… and it's slammin'.
If you are looking for a funky, but easy appetizer that your friends have surely not had before and will definitely remember… well here you go.  Who wouldn't remember being served pickle pizza…lol.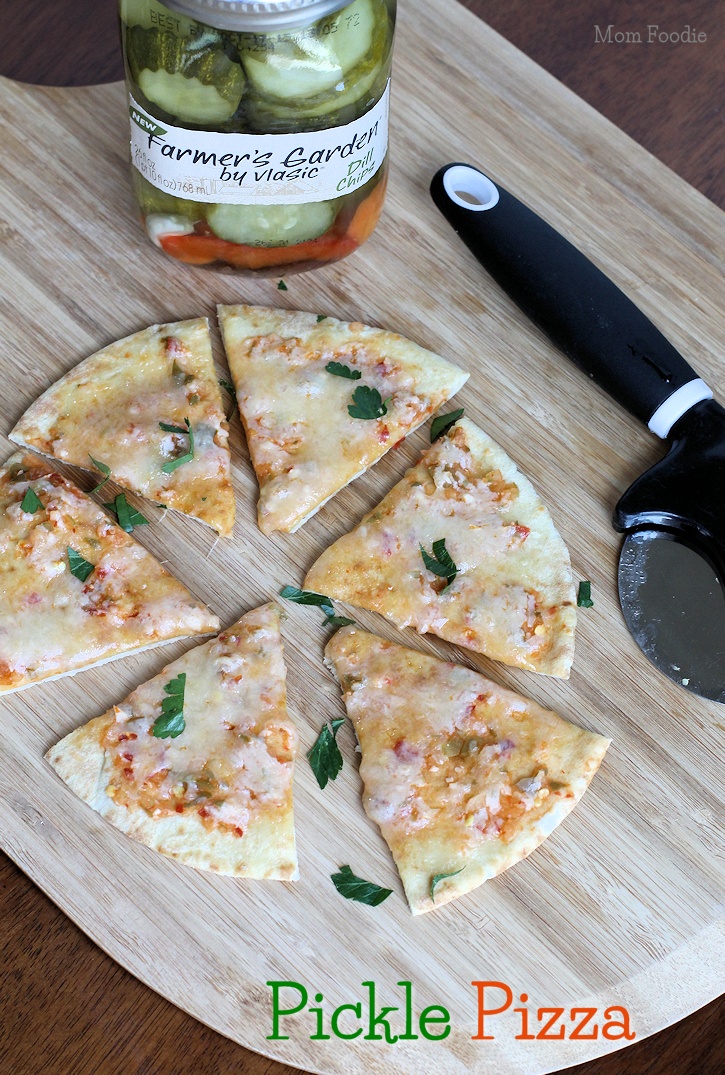 The thing is the pickles are finely chopped, and mixed with pickled garlic and chili paste, so it isn't like your guests will be getting a big hunk of pickle.  The flavor is spread out and sporting garlicy heat (Yes, I will be slathering this "relish" on plenty of other things, really soon).  The pizzas are made on standard size pita pockets, so when cut up each slice is about the size of a nacho, perfect for appetizers.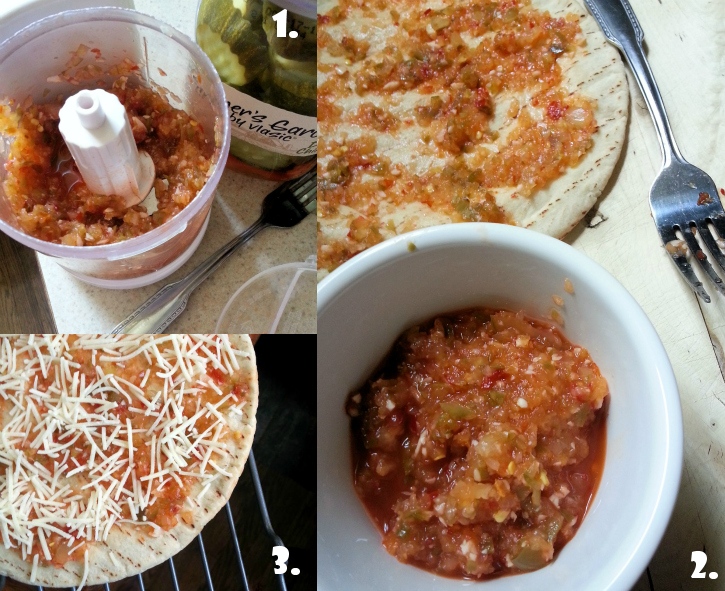 Sharp cheddar is used to top these peppery pickle pizzas, since few other cheeses could stand up to the tangy heat of the spread.  If you think guests will be leery of pickle pizza, just call them Firecracker Pita Pizza… it is sort of a small explosion of flavor in you mouth (and that was on my short list of names).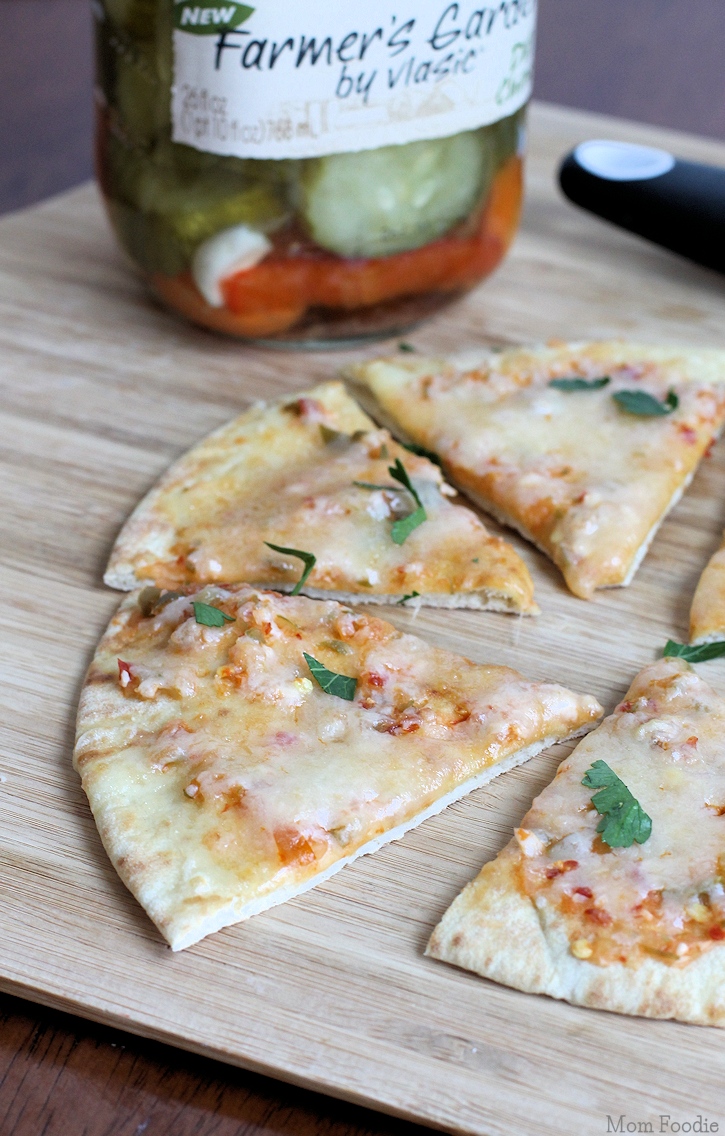 Print
Pickle Pizza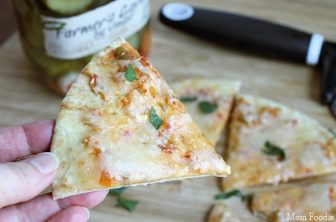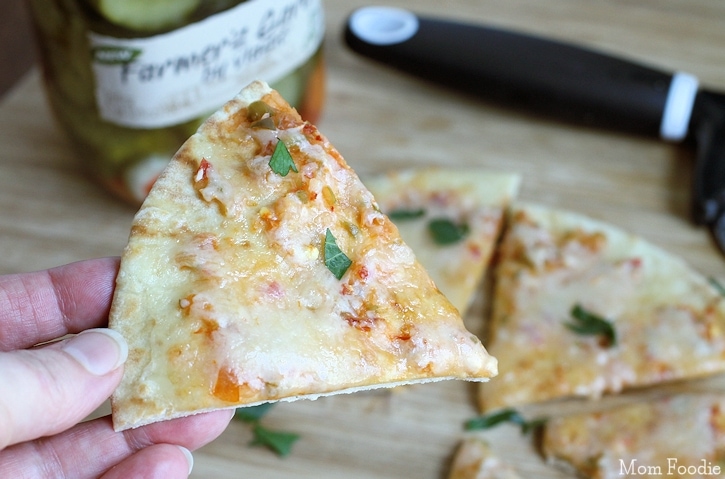 Pickle Pizza features a pickle & hot pepper relish smeared on toasted pita breads then topped with sharp cheddar cheese. Crispy and loaded with flavor.
Author:

Robin Gagnon

Prep Time:

8 mins

Cook Time:

5 mins

Total Time:

13 minutes

Yield:

8

Category:

Appetizer, pizza

Cuisine:

American
Ingredients
3 Farmer's Garden Dill Pickle Spears
3-4 of the pickled garlic cloves from bottom of the Farmer's Garden pickle jar
1 tbs Sambal Oelek (chili paste)
4 pita pockets
approx. 4 oz. sharp cheddar cheese, shredded or shaved
**optional** chopped parsley, basil or scallions for garnish
Instructions
Preheat oven to 450 degrees.
Chop the pickles, then place in small food processor with the pickled garlic & sambal oelek. Pulse until it is a fine chopped relish.
Toast the pitas in oven until lightly browned and starting to crisp. Remove.
Smear the peppery pickle relish evenly over the pitas, then sprinkle on sharp cheddar.
Pop them back in the oven until cheese is melted and bubbly. (Opt to pop under broiler for this step if you prefer).
Cut each pita into 6 wedges, and sprinkle with chopped herbs if you like. Serve promptly.

About Farmer's Garden Pickles
Farmer's Garden®  artisanal-quality pickles were used to make this recipe.  They are made from fresh ripe vegetables, hand packed & use traditional home canning style methods to lock in the great taste.  They are about the closest to canning your own that you can get.  Five varieties are available: Zesty Garlic Chips, Bread & Butter Chips, Kosher Dill Spears, Kosher Dill Halves and Dill Chips.
Sweepstakes & Coupon
Farmer's Garden is celebrating the authentic taste of #FarmToJar with the Savor Simplicity Sweepstakes running from 5/7/14 – 7/31/14. Enter at www.farmersgardenvlasic.com for a chance to win a weekend cooking adventure or summer entertaining package, each worth $1,500. One winner will be chosen each month. A $1 off coupon will also be given to all entrants immediately following entry.
Keep up to date with all the fun recipes Vlasic & collaborating bloggers are coming up with that feature these great pickles by following the hashtag  #FarmtoJar or check out the Farmer's Garden blog for some quick and delectable ideas.  Here are their Twitter and Facebook accounts if you prefer:
 So tell me… what would you put these pickles on or in?