My Dill Pickle Pasta Salad recipe focuses squarely on the pickle flavor factor, since we are big lovers of crunchy dill pickles in my home. The easy creamy pasta salad recipe features both pickles and dill pickle juice, as well as some fresh chopped dill. It is perfect for dill pickle fans!
While the pasta salad with dill pickles is a simple recipe, the results are creamy and delicious. It makes a perfect side for any family meal or gathering. Dill pickle pasta salad is a great dish for potlucks. You can conveniently make it ahead too, since it is even better the next day.
Easy Pickle Pasta Salad
Dill Pickle Pasta Salad is quite an easy pasta salad to make and one of my favorite cold salad recipes. Since dill pickle juice and dill are in the mayonnaise based dressing, the only other dressing ingredients needed are salt and fresh ground pepper.
Type of pasta
While I used cavatappi (a spiralized type of macaroni), shells, fusilli, gemelli, penne or bowtie pasta would also be great choices for this salad. You can even make the pasta salad with tortellini if you wish. Just avoid large pasta shapes or noodles for best pasta salad results.
Dill Pickle Flavor
I used fresh dill pickle spears from the refrigerated section in the recipe. They are crisper and a little milder in tartness than the shelf stable variety. I think they are the perfect choice for this macaroni salad.
The particular brand I used was Grillo's which is a company local to my area, but there are many other nationwide and regional brands available.
Baby dill pickles would also be a great choice for this creamy pasta salad, and in a pinch a scoop of dill pickle relish would work, though not ideal.
Note: I would use about fifty percent less pickles if you can't get fresh.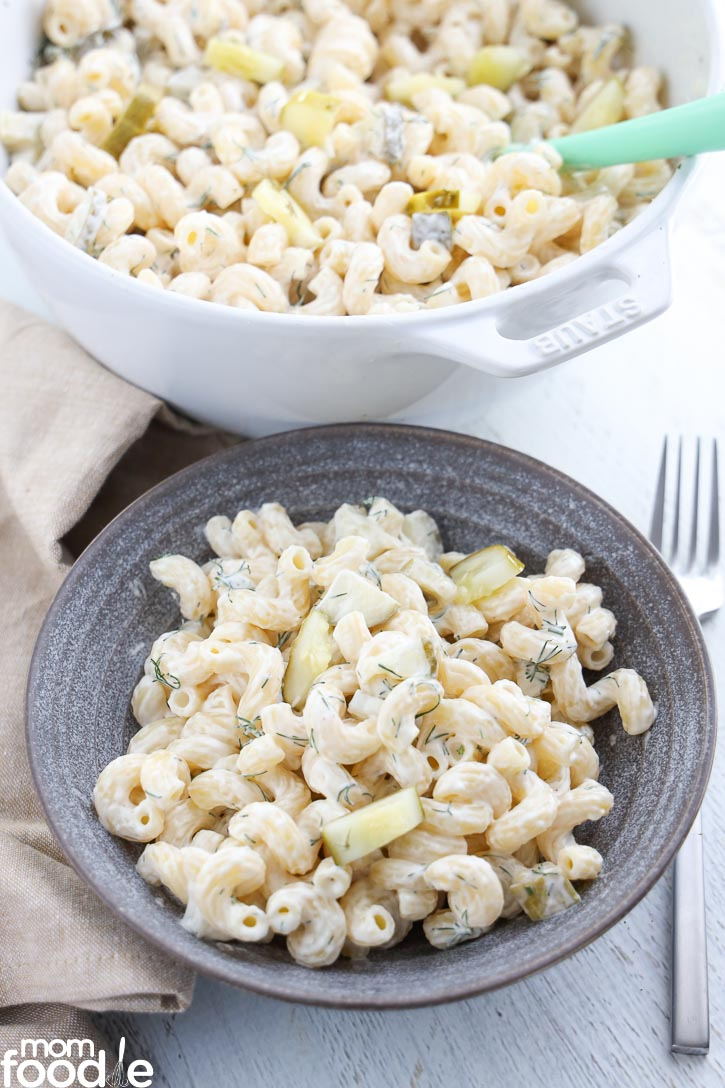 How to Make Dill Pickle Pasta Salad
Let me show you how quick and easy it is to mix up a batch of this great simple dill pickle pasta salad. The recipe makes a large bowl.
Printable recipe card can be below with adjustable measures if you want to halve it or double up the batch.
Prep Time: 8 mins | Cook Time: 7 mins | Chill Time: 30 mins | Total Time: 45 mins
Dill Pickle Pasta Salad Ingredients:
Here are the minimal ingredients needed to make the recipe:
dry pasta (rotini, penne, elbow macaroni, bow ties or cavatappi as shown are all good choices)
dill pickles, refrigerated type preferred
mayonnaise
pickle juice, dill (I always save the leftover pickle juice in the pickle jar for uses such as this)
chopped fresh dill
salt and black pepper
Instructions:
Boil pasta to al dente according to package directions. Drain, rinse with cold water, and set aside the cooked pasta. Chop the pickles and place in a small bowl or measuring cup.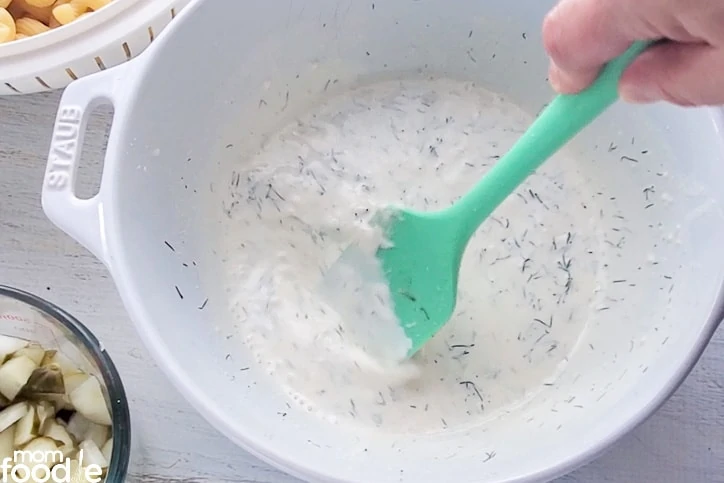 Combine mayonnaise, juice and dill in a large mixing bowl, whisk to create creamy dill dressing. Season with salt and ground pepper to your preference and stir to mix.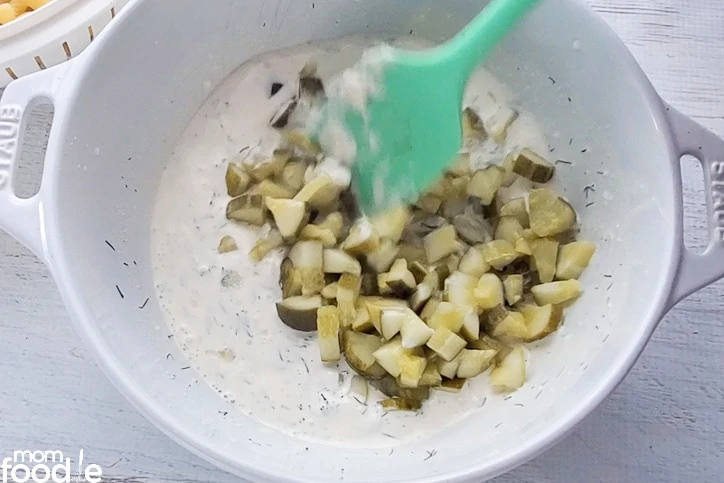 Add the chopped dill pickles and mix in dressing to coat.
Tip: This dill pickle salad dressing also makes a great potato salad! Just add a ½ cup of sour cream and some chopped chives.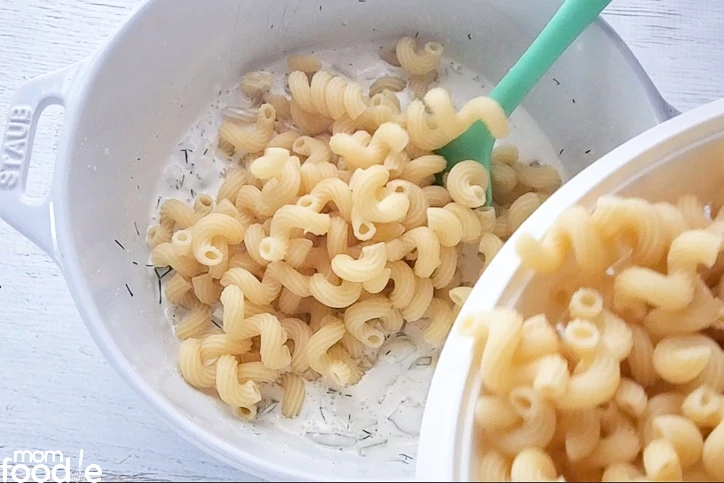 Add the cooled pasta while stirring.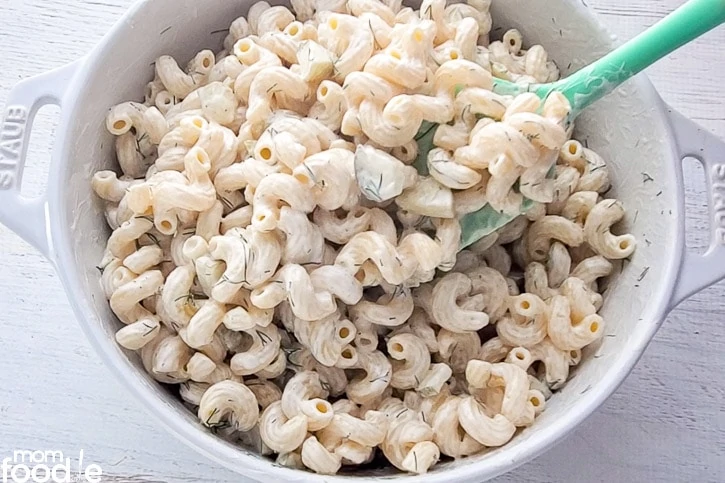 Once the pasta is fully coated and pickle pieces are evenly distributed, refrigerate for at least 30 minutes until well chilled before serving for best flavor.
Serving
The dill pickle pasta cold salad is a fantastic tasty side dish for barbecue or sandwiches a summer picnic, but is delicious year round. I enjoy it with my Cajun Blackened Salmon regularly and like to toss the leftovers with torn romaine and blue cheese as a lunch salad. It is a very versatile creamy pasta salad and goes well with a wide array of foods from Grilled Chicken Wraps to pork chops.
Try adding dill pickle pasta salad to your Thanksgiving menu this year. Guests and family will appreciate a cold option and it will go wonderfully with those leftovers sandwiches.
Additions to the Dill Pickle Macaroni Salad
My daughter will only eat it with just pickles. She is very fussy about what goes in her pasta salads, but there are so many yummy additions you can make to this basic yet delicious pasta salad recipe. Adding protein makes this side into an easy and delicious summer meal.
a cup cheddar cheese, diced or shredded (I personally prefer sharp cheddar cheese, but Colby jack cheese or even feta cheese are popular choices) Cubed cheddar or colby jack cheese will hold up well for longer term storage.
chopped cherry tomatoes or grape tomatoes, whole or halved
chopped sweet onion or finely diced red onion or white onion
shrimp or crab meat
chopped ham
½ cup sour cream or Greek yogurt swapped for an equal part of the mayo for a lower fat version
chopped hard boiled eggs
drained chickpeas or green peas
add some crunch with diced celery or crumbled crispy bacon
Chopped fresh veggies or a handful of chopped fresh herbs from your garden are always a welcome seasonal addition to pasta salad recipes
add a ¼ teaspoon of garlic powder to the dressing
for a sweeter salad use some Miracle Whip whipped dressing in place of some of the real mayonnaise (if you really like sweet try sweet pickles in the recipe)
for Italian flair, switch ⅓ cup of the mayo for Italian salad dressing. A little chopped fresh parsley or Italian seasoning would kick it up even more.
Q & A
How long can I keep pasta salad?
When stored in the refrigerator in an airtight container or well covered the salad will last 3-5 days. Unless you make additions or changes to the basic recipe, this particular one should be fine for closer to the 4-5 day point, since it uses store bought mayo and pickles aren't very perishable. You may find it is actually tastier on the second day once the flavors have melded together.
For food safety, do not leave out of the fridge for more than 2 hours at room temperature. Bacteria grow fast when pasta salads are left out.
Can I use dried dill?
Yes, while fresh dill is preferred, dried can be used. Swap 1 ½ tablespoon of dried dill weed for the fresh.
Can I freeze pasta salads?
I do not recommend freezing this. The texture will suffer and the dressing will not hold up well either.
What substitutions do I need to make this dill pickle pasta salad gluten free?
This is as simple as selecting a gluten-free pasta. The other recipe ingredients should already be fine.
Is this pasta salad vegan?
No, but simply swapping in a vegan mayo will make it so.
If you love dill pickles like I do, I'm pretty sure this will quickly become your favorite pasta salad. Enjoy.
P.S. Try my Asian Cucumber Salad too. It is not quite like pickles, but sort of, with great flavors.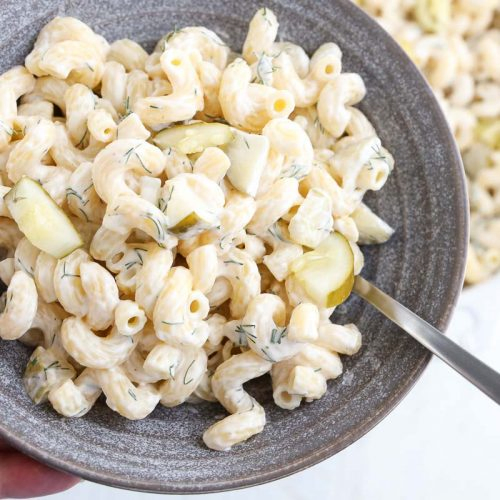 Dill Pickle Pasta Salad Recipe
This easy dill pickle pasta salad with fresh pickles and a simple dressing will soon become a staple side for your family meals.
Print
Pin
Rate
Ingredients
1

pound

of pasta

1 ⅓

cup

mayonnaise

½

cup

pickle juice

¼

cup

fresh dill

chopped

salt and pepper to taste

2

cups

refrigerated dill pickles

chopped
Instructions
Cook the pasta in boiling water to al dente. Drain and run under cold water. Set aside.

Whisk together mayonnaise and pickle juice to make a creamy dressing. Season with salt and pepper to taste.

Mix in the chopped dill and pickles.

Add the cooled cooked pasta while stirring. Once the pasta is fully coated and chopped pickles are evenly distributed, refrigerate for at least 30 minutes before serving.
Notes
Add a couple chopped hard boiled eggs, a cup of cubed cheese, chopped ham or chickpeas to make the salad more hearty if you like.
If you can't find fresh pickles, then reduce quantity by roughly half when making the recipe.
Nutrition
Calories:
379
kcal
|
Carbohydrates:
36
g
|
Protein:
6
g
|
Fat:
23
g
|
Saturated Fat:
4
g
|
Cholesterol:
13
mg
|
Sodium:
621
mg
|
Potassium:
142
mg
|
Fiber:
2
g
|
Sugar:
2
g
|
Vitamin A:
162
IU
|
Vitamin C:
1
mg
|
Calcium:
26
mg
|
Iron:
1
mg
Related Recipes
Here are a few more recipes you may like. They each have a little something in common with this one.