This healthy Pumpkin Overnight Oats is a nutritious and delicious breakfast recipe. The oats take just 5 minutes of prep the evening before, which is perfect for busy families. They will be ready to eat the next morning, without any fuss. A nutritious fall breakfast featuring pumpkin, oats, chia seeds and milk that is a breeze to make!
Why not enjoy pumpkin pie flavor in a ready to eat healthy breakfast of overnight oats tomorrow morning!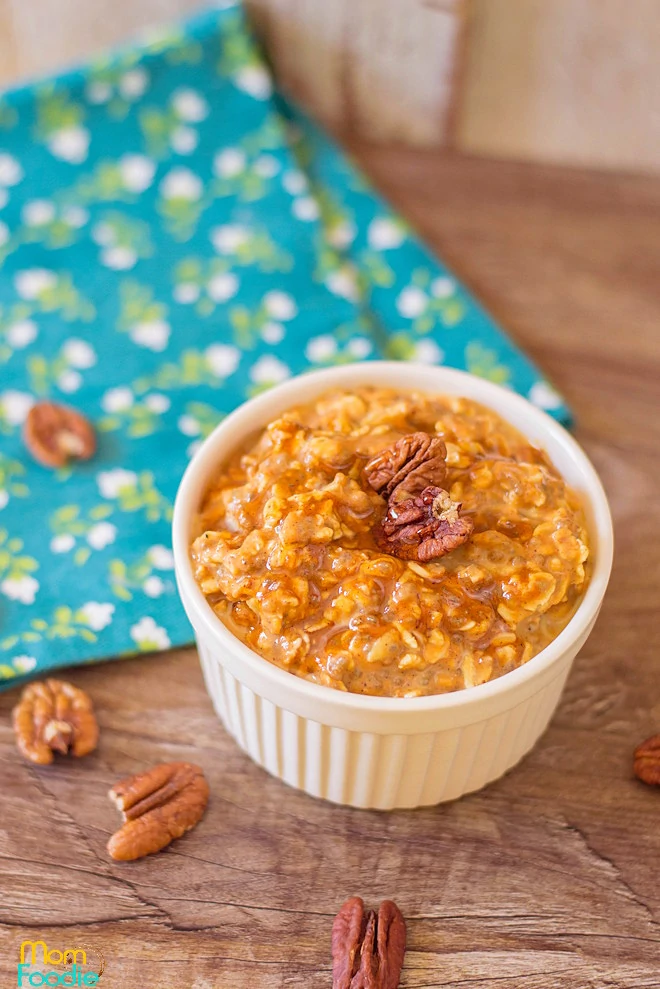 Pumpkin Pie Overnight Oats
A jar of pumpkin pie overnight oats is an easy make ahead breakfast meal prep solution that takes just 5 minutes to assemble. A nutritious breakfast, packed with vitamins, nutrients, and fiber, awaits the next morning.
If you already love to eat overnight oats and are a fan of pumpkin spice, then you will enjoy the flavor of pumpkin pie infused into your oatmeal.  It is a pumpkin spice lover's dream!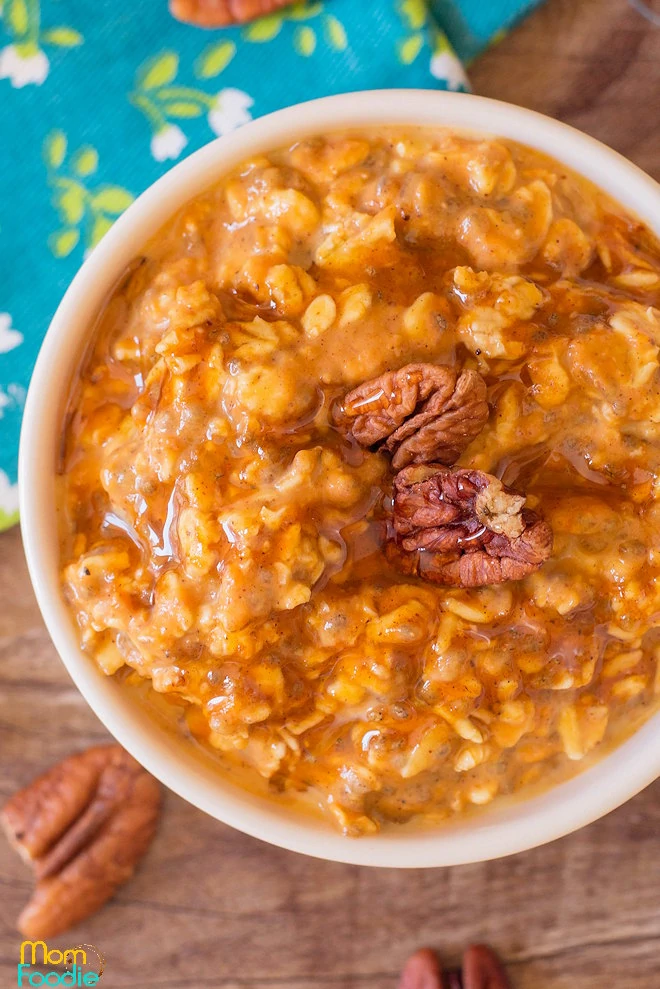 What Makes this a Healthy Pumpkin Recipe
Let's run through some of the basic nutrition information of the ingredients used to make the pumpkin spice overnight oats.
All these great ingredients make this one of my favorite overnight oatmeal recipes!
Pumpkin
Pumpkin is high in fiber and rich in  vitamins A, K, C and E.  Learn more about pumpkin nutrition here.
Old Fashioned Rolled Oats
Most of us know by now that Old Fashioned oats are a good source of heart healthy soluble fiber. Did you know they are also one of the best grain sources of protein as well? [source]
Oatmeal is rich in antioxidants, shown help reduce cholesterol and definitely good for digestion.
Chia seeds
Chia seeds are an excellent source of soluble fiber and antioxidants. They are also loaded with Omega-3 fats, the good fats.
For more information read my article on the Health Benefits of Chia Seeds.
Milk
You can use any type of milk you wish to make overnight oats. While the nutrition information is calculated based on the use of 2% dairy, I typically use an almond coconut milk blend myself. This not only makes the recipe dairy free, but vegan as well.
Both dairy milk and most plant based milks are a good source of calcium. Try making some with my homemade almond milk recipe.
How to Make Overnight Pumpkin Pie Oats
Let's walk through the process of making this simple overnight pumpkin oats recipe. Printable recipe card below.
The recipe makes two servings.
Prep time 5 mins | Soaking time in fridge: 6 hours minimum, preferably 8 hours
Here is what you will need
¾ cup milk of your choice 

¾ cup pumpkin puree (NOT canned pumpkin pie filling)

1 tablespoon chia seeds

1 teaspoon ground cinnamon*

¼ teaspoon ground nutmeg*

¾ cup large rolled oats

½ tablespoon honey (or 1 tablespoon pure maple syrup)

1 teaspoon vanilla extract (optional)

Chopped or whole pecans for topping (optional)
*or 1 ¼ teaspoon pumpkin pie spice
Preparing the Oats
Now the preparation begins.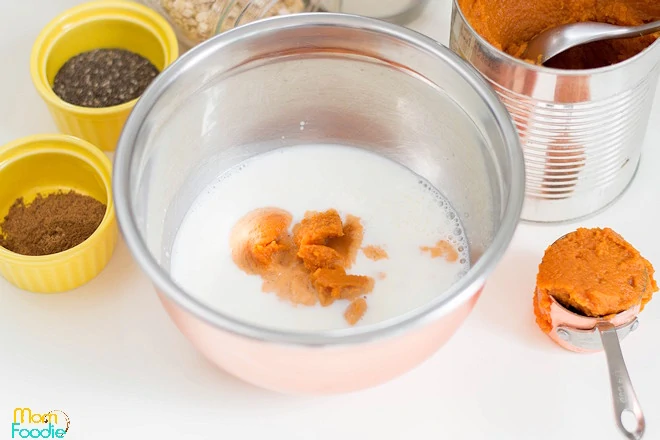 In a large mixing bowl, combine the milk, pumpkin and chia seeds. Mix well.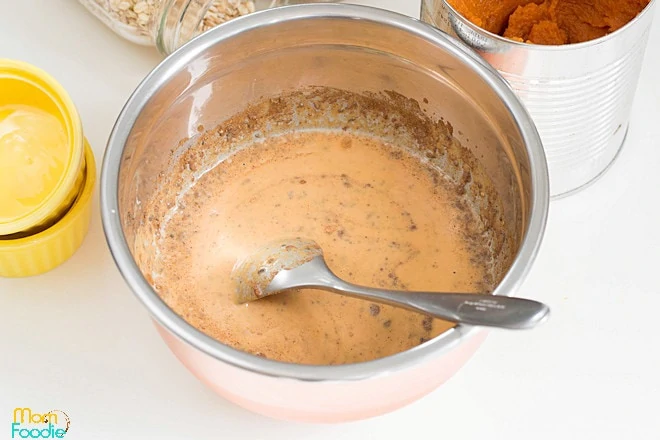 Then add ground cinnamon and nutmeg (or pumpkin pie spice blend) and mix.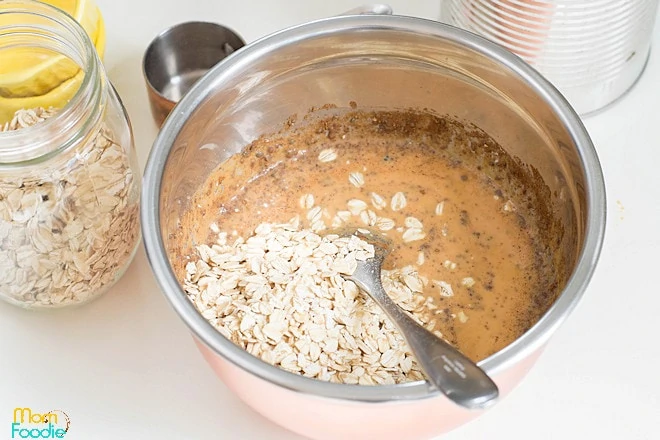 Now mix in your oats and honey. Put your pumpkin pie overnight oats in an airtight  container. Refrigerate and let the oats soak overnight. 
Tip: Skip a step the next morning and divide the oat mixture between two Mason jars, add toppings and seal. The meal prep makes your breakfast ready to grab-and-go.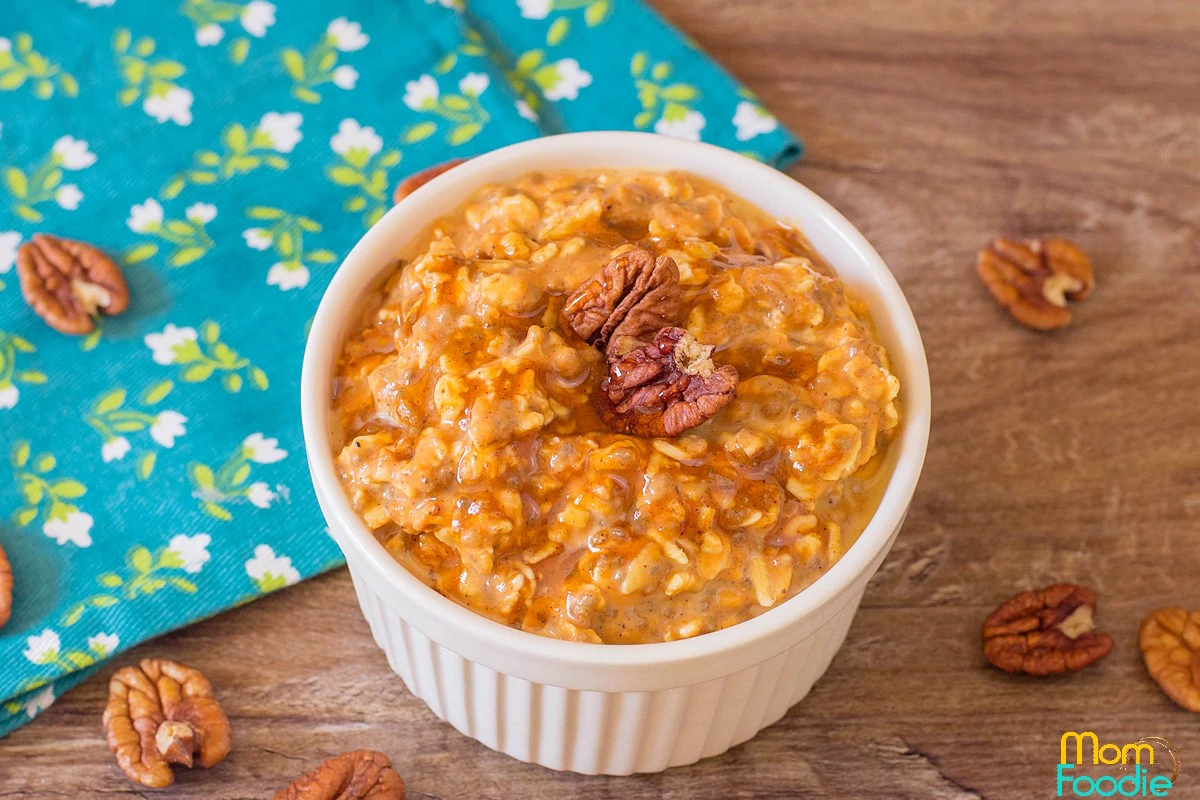 The next morning scoop the oats into two bowls, drizzle with honey or pure maple syrup. Sprinkle with your topping of choice, such as nuts, shelled roasted pumpkin seeds or a dollop of almond or peanut butter.
What Kind of Oats are Best for Pumpkin Overnight Oats?
Rolled oats are my pick for making overnight oats with. They absorb liquid well without turning to mush. This makes for great texture. This type of oats is also called Old Fashioned Oats.
Rolled oats are the best choice for consistent results and a good creamy texture.
Quick oats are likely to give you mushy results.
Steel cut oats may be tempting to use, but are prone to not absorbing enough liquid. While they can be used, steel cut oats may be overly chewy the next morning. If you do choose to use steel cut oats, plan for a longer soaking time.
Smart Toppings and Add-ins for Overnight Oats
Let's not make a healthy breakfast recipes go astray with the wrong toppings. These are all great choices which will enhance your meal. Remember to factor them into your daily nutrition goals.
pecans
shelled toasted pumpkin seeds (pepitas)
almond butter
protein powder
plain Greek yogurt
dried cranberries or raisins
walnuts
flax or hemp seed
toasted unsweetened coconut flakes
cacao nibs
Are the Pumpkin Overnight Oats Gluten-free?
The answer is maybe. That will depend if you buy gluten free oats or not. They are often processed on the same machinery as wheat, so check your packaging to ensure the oats you are buying are certified gluten-free oats.
Sweetener Options for Diabetics
While I mention an option to swap maple syrup for the honey, that won't be of much help to diabetics who want to enjoy these Pumpkin Pie Overnight Oats. For those avoiding sugars, I suggest swapping in one of the Keto Maple flavored syrups. They tend to be sweetened with healthier sugar substitutes like monk fruit, stevia, erythritol or allulose. You could also try the sugar free version of my pumpkin spice syrup and just reduce the amount of spices you use in the recipe.
In the mood for something warm and crunchy? Try my Pumpkin Baked Oatmeal!
How long do overnight oats last?
While overnight oats stored in an airtight container such as a Mason jar, will be good in the refrigerator for up to 5 days. So, you could make a work weeks worth on Sunday night and have breakfast ready everyday.
Make this delicious easy recipe. You won't regret it. This oatmeal is like having pie for breakfast!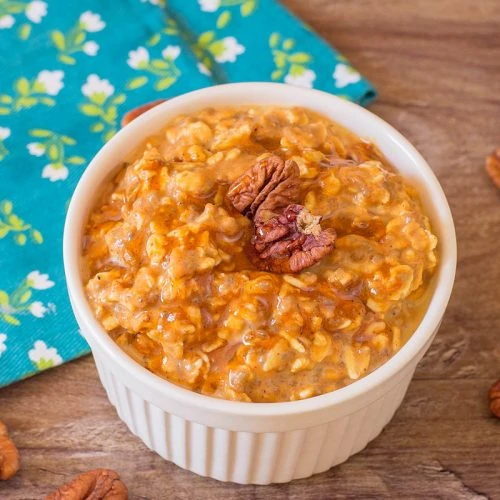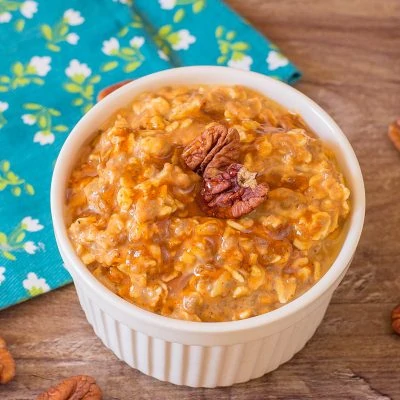 Pumpkin Overnight Oats Recipe
A pumpkin overnight oats recipe, that takes just five minutes of preparation. Great healthy fall breakfast!
Print
Pin
Rate
Ingredients
¾

cup

milk of choice

use coconut, oat or almond milk if vegan

¾

cup

pumpkin puree

NOT canned pumpkin pie filling

1

tablespoon

chia seeds

1

teaspoon

ground cinnamon*

¼

teaspoon

ground nutmeg*

¾

cup

rolled oats

½

tablespoon

honey

or 1 tablespoon maple syrup if vegan

1

teaspoon

vanilla extract

*optional

Chopped or whole pecans for topping

optional
Instructions
In a large bowl, mix milk, pumpkin and chia seeds.

Add ground cinnamon and nutmeg and mix.

Fold rolled oats into the pumpkin mixture. Add honey and mix until well combined.

Pour contents into a food container and seal. Refrigerate the oats overnight.

Serve in individual bowls or jars and if desired, add chopped or whole pecans and additional honey on top.
Notes
Nutrition data calculated based on use of 2% milk. As always nutrition info is just an estimate.
*Swap the cinnamon and nutmeg for 1 ¼ teaspoon of pumpkin pie spice if you prefer.
Nutrition
Calories:
240
kcal
|
Carbohydrates:
40
g
|
Protein:
9
g
|
Fat:
6
g
|
Saturated Fat:
2
g
|
Cholesterol:
7
mg
|
Sodium:
49
mg
|
Potassium:
448
mg
|
Fiber:
8
g
|
Sugar:
12
g
|
Vitamin A:
14389
IU
|
Vitamin C:
4
mg
|
Calcium:
197
mg
|
Iron:
3
mg