Red Velvet cake mix cookies are an easy way to make vibrant red cookies for the holidays and you don't feel like making scratch cookie dough or getting your fingers red from food coloring. The red velvet cookies are made from 3 simple ingredients: cake mix, melted butter (or oil) and eggs. If you want a cream cheese icing like on mine, that is just warmed cream cheese frosting right from a tub.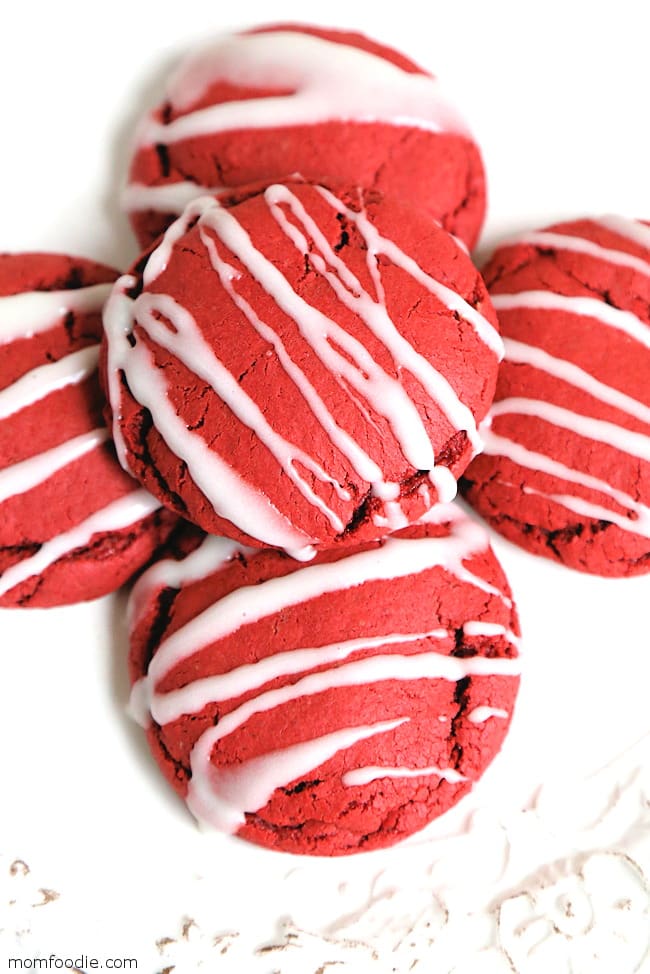 Red Velvet Cake Mix Cookies
These easy red velvet cookies made from cake mix are not only crazy easy to make, they are less expensive to make than many cookies. Cake mix and tub frosting are often on sale, eggs are reasonable and while I used melted butter, you can use whatever oil you have on hand. All the coloring you will need is already in the dry cake mix, and when you drizzle on with cream cheese icing (or frost) you will have festive cookies perfect for celebrating Christmas, Valentine's Day or any day of the year!
If your cookie and pastry decorating game is weak like mine… these iced red cake mix cookies are the solution you need. You can even toss on some red, green or pink sprinkles to make the easy cookies more fancy if you like.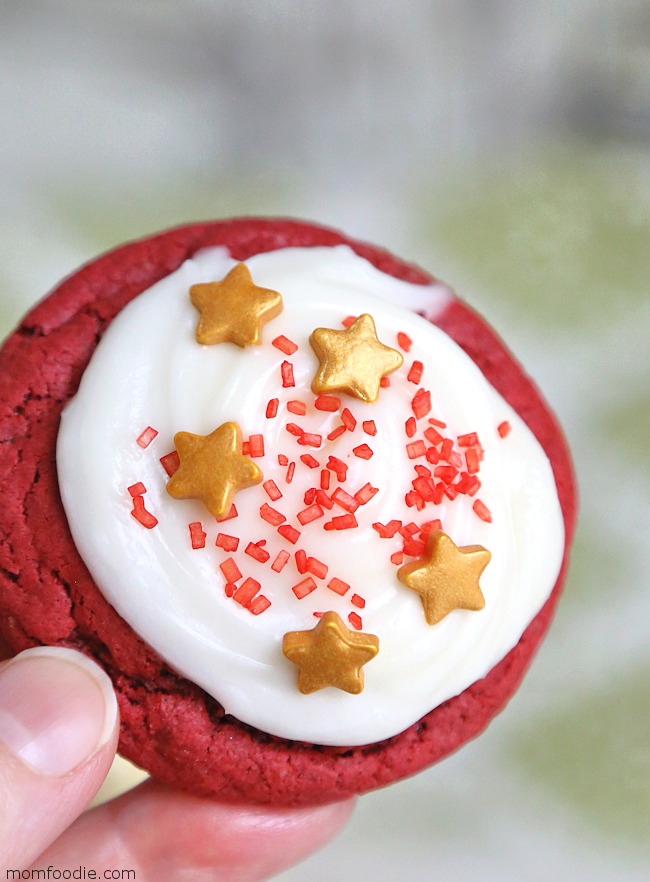 Easy Cookies for Kids to Make
We all know kids love to make and eat cookies. Although making cookies with children is a traditional holiday activity, not all kids have the coordination or patience to make decorated sugar cookies. Cake mix makes to process simple, with few ingredients and easy to work dough. Kids can still work on skills, but not get overwhelmed. Bonus for mom… they are not nearly as messy to make as rolled and cut cookies.
My own daughter is 11 but struggles with motor coordination difficulties. She helps with these and likes to frost hers and top with sprinkles like the red velvet cookie above.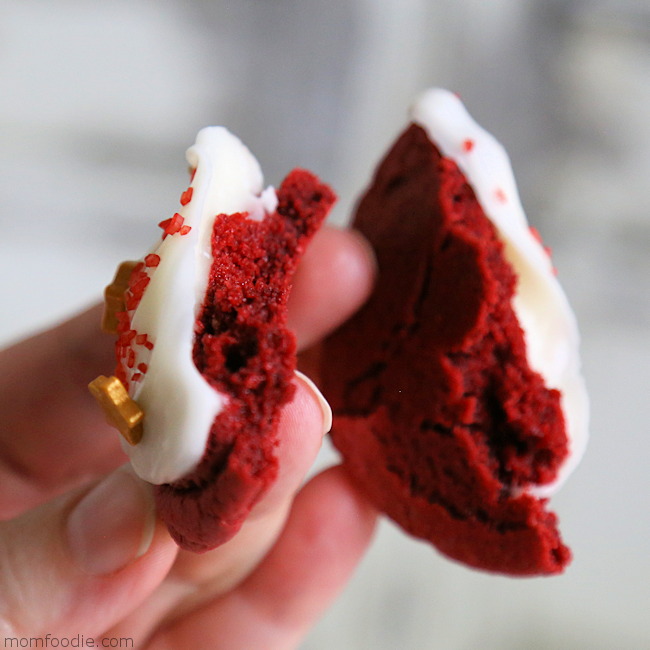 How to Make Red Velvet Cookies with Cake Mix
Here is a visual guide to making the red velvet cake mix cookies. It's an easy recipe, just follow along and you will have cookies soon 🙂
Printable recipe card is below too.
Ingredients you will need
The only ingredients you need to make these cookies:
*You can swap 1/3 cup of oil like I did with my Strawberry Cake Mix Cookies if you prefer.
The recipe will make about two dozen cookies.
Directions
First preheat your oven to 350 degrees.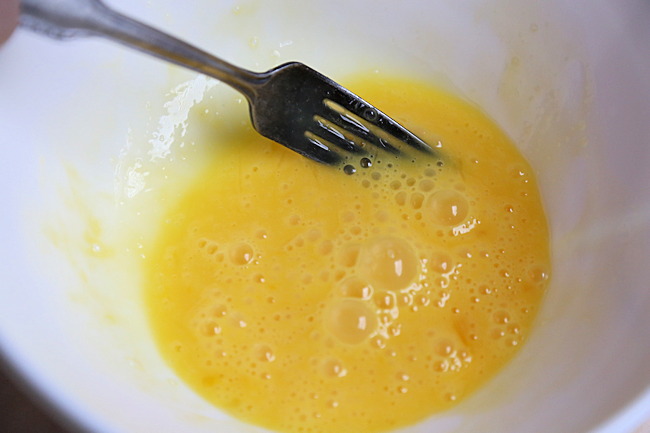 Then beat 2 eggs. Do it in a large bowl, so you can mix the dough right in it.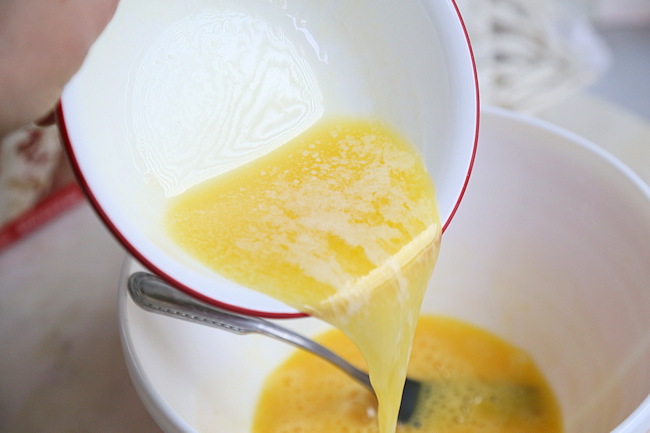 Melt the butter and pour in with the eggs.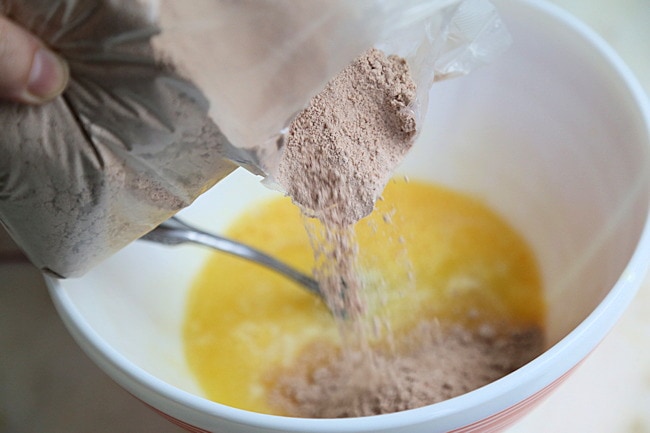 Now pour in the red velvet boxed cake mix. Don't worry. I know it doesn't look red… it will.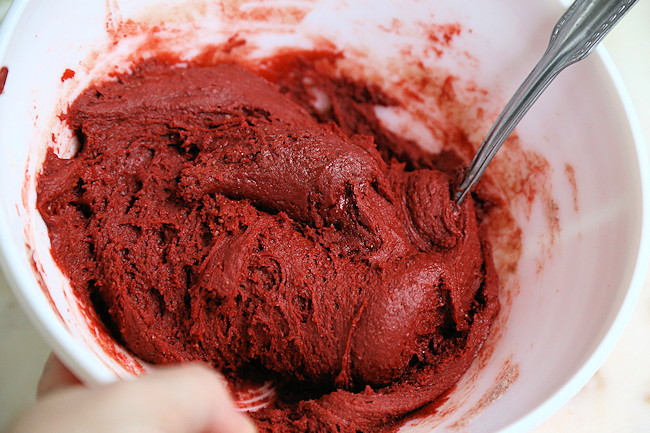 Mix it up good. A stand mixer can be used, but I just did it by hand. See, we get red cookie dough once it is mixed.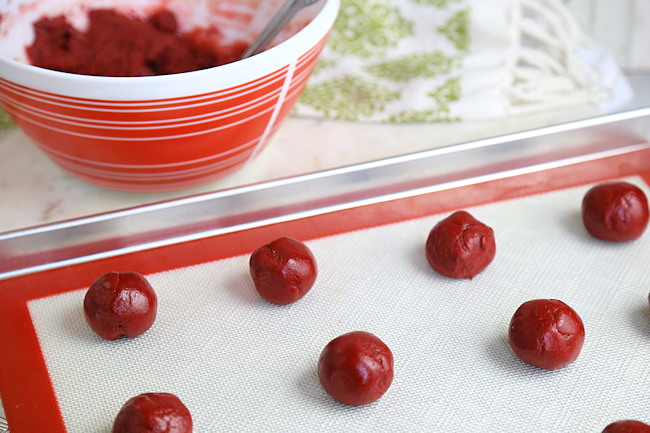 Oil your hands with a tiny drizzle of oil or a quick mist of cooking spray. Then roll balls of the dough about 1 1/2 tablespoons in size and place then on baking sheet lined with parchment paper
or a silicone baking liner
.  Space them out as the cookies will spread to slightly more than double the width of the balls.
Red Velvet Crinkle Cookies 
If you want to make your cookies as Red Velvet crinkle cookies Dust your hands with powdered sugar and roll the balls in it as well. The powdered sugar coated balls will expand and crack as they cook exposing the red cookie dough inside.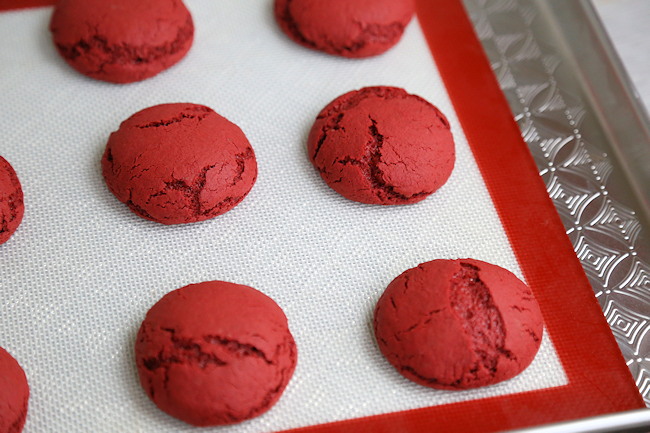 Bake at 350 for 8-10 minutes until cookies look like this. Remove from oven and allow the cookies to rest a couple minutes on baking sheet.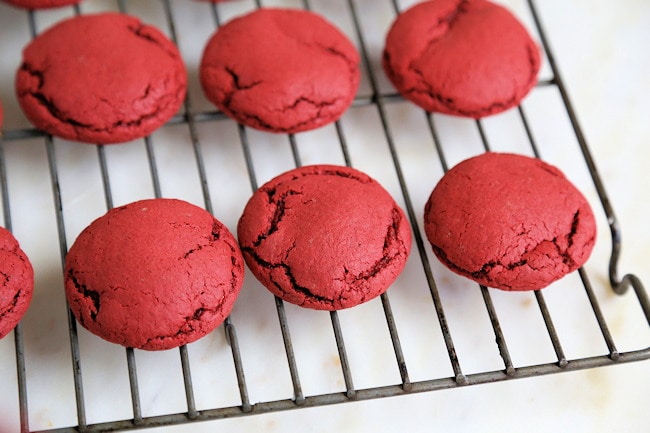 Then use a spatula to move the cookies too a wire rack to cool completely.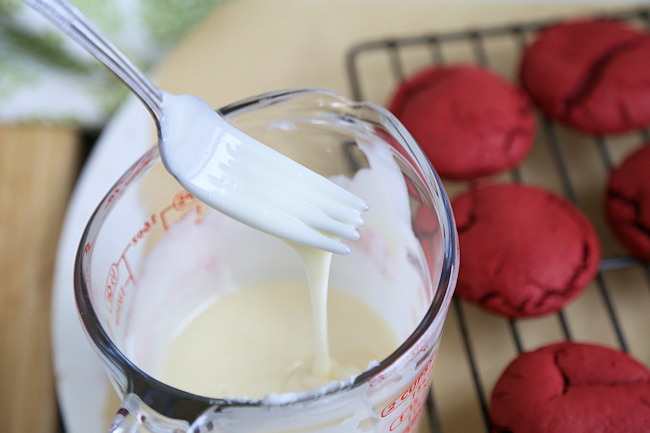 Once the red cookies are fully cooled, microwave half a tub of cream cheese frosting. It will only take about 15-20 seconds to soften the frosting enough to drizzle. If you prefer to spread it on, that can be done at room temperature or after a quick 10 second or less zap to soften it up.
Red Velvet Sandwich Cookies
If you prefer to make sandwich cookies. don't heat the frosting at all. Just spread the cream cheese frosting on the bottom of half the cookies and top with another cookie.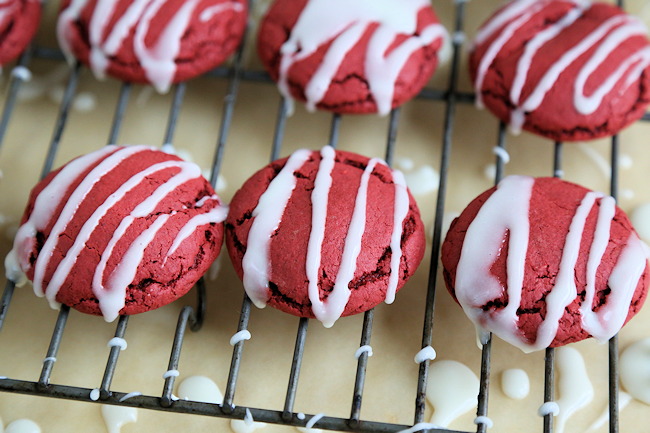 Simply dunk a fork in the cream cheese icing and gently shake back and forth over each cookie from one side to the other. A couple will come out messy, but you will get the hang of it quick. Just toss sprinkles on any with pattern you don't like.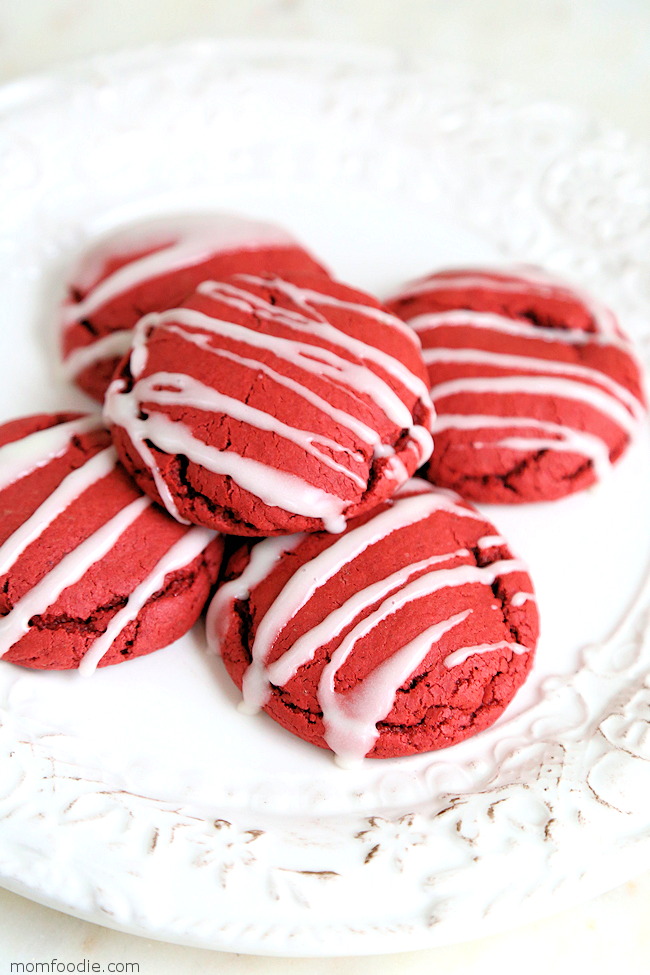 Enjoy the cookies!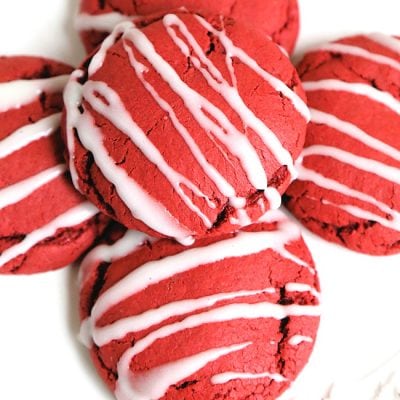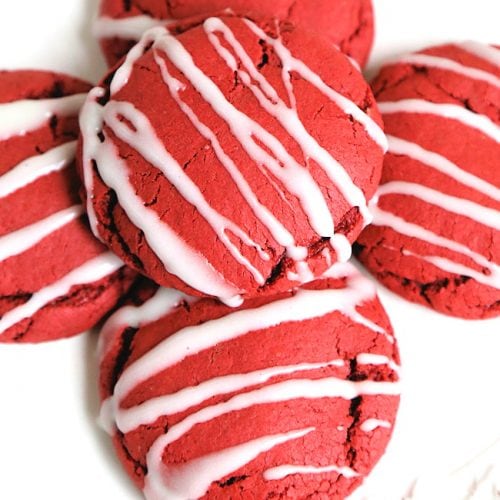 Print
Red Velvet Cake Mix Cookies Recipe
Easy red velvet cookies made from cake mix. Perfect for the holidays or anytime!
Ingredients
2

eggs

1/3

cup

butter

, or cooking oil

1

box

Red Velvet Cake Mix

1/2

tub

cream cheese frosting

***optional
Instructions
Preheat oven to 350 degrees.

Melt the butter and add to eggs.

Mix well to create red cookie dough.

Roll dough into 1 1/2 tablespoon size balls and place on parchment or silicone mat lined baking sheet. Leave space between the dough balls as the cookies will spread during baking.

Bake for 8-10 minutes. Remove from oven and allow to cool on the baking sheet for about 2 minutes.

Then move to a wire cooling rack with spatula. Allow the cookies to cool completely if you want to ice or fill them.
Icing Drizzle
Microwave the frosting for 15 to 20 seconds. You want it easily stir-able yet thick enough to not run off .

Leave cookies on wire rack over paper or a baking sheet. Dunk your fork into icing to load it, than shake gently over each cookie in a side to side motion to make lines if cream cheese icing.
Frosted
Simply slather the tub frosting on each cookie. You may want to microwave the frosting for a few seconds (think under 10 seconds) to soften it and avoid cookie breakage. Add sprinkle if you like.
Sandwich Cookies
Spread frosting straight from tub onto back of half the cookies, then press anther cookie on top. In warmer temperatures, you may want to add a little more powdered sugar to the frosting to stiffen it.
Notes
Nutrition data is an estimate based on cookies with the icing applied.
Nutrition
Calories:
144
kcal
|
Carbohydrates:
19
g
|
Protein:
1
g
|
Fat:
7
g
|
Saturated Fat:
2
g
|
Cholesterol:
20
mg
|
Sodium:
194
mg
|
Potassium:
67
mg
|
Fiber:
0
g
|
Sugar:
12
g
|
Vitamin A:
100
IU
|
Calcium:
30
mg
|
Iron:
0.9
mg