Here in New England, Baked Cod with Ritz cracker topping is standard fare. Most every restaurant has this simple fresh oven baked cod recipe on the menu. While some places add a bit of seafood to the cracker topping, others may add some herbs or even top with a tomato sauce.
I prefer keep my baked cod recipe very simple, though I did include an Italian style option below. The fish is delicate and I want to be able to taste it, rather than all the stuff piled on it.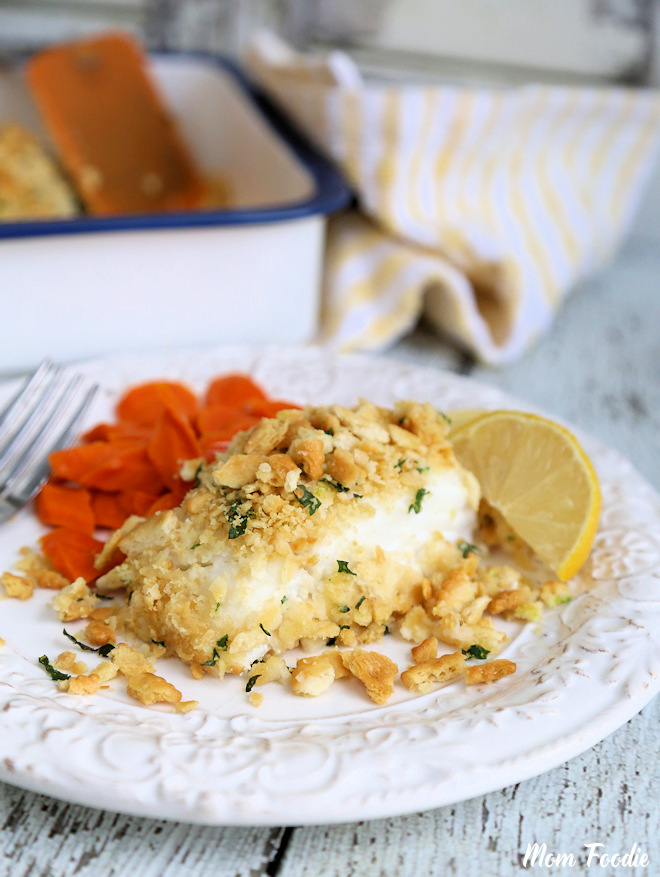 This easy baked white fish recipe is quick to prepare and quite versatile. It is a favorite among my soon to become a favorite of your family, as well.
Baked Cod with Ritz Crackers
Cod baked in this manner is served in most restaurants and many homes on a regular basis. We do love our seafood here. Sometimes I make it with a bit of an Italian style twist by adding a bit of garlic.
This simple baked fish recipe is quick and easy to make, so it's perfect for busy families. Due to the filling buttery Ritz cracker topping, I typically just serve this easy cracker crusted baked cod along with a side or two of vegetables and some lemon wedges. A baked cod fish seafood dinner is a breeze to make and due to the mild flavor of the fish, goes with a wide variety of sides.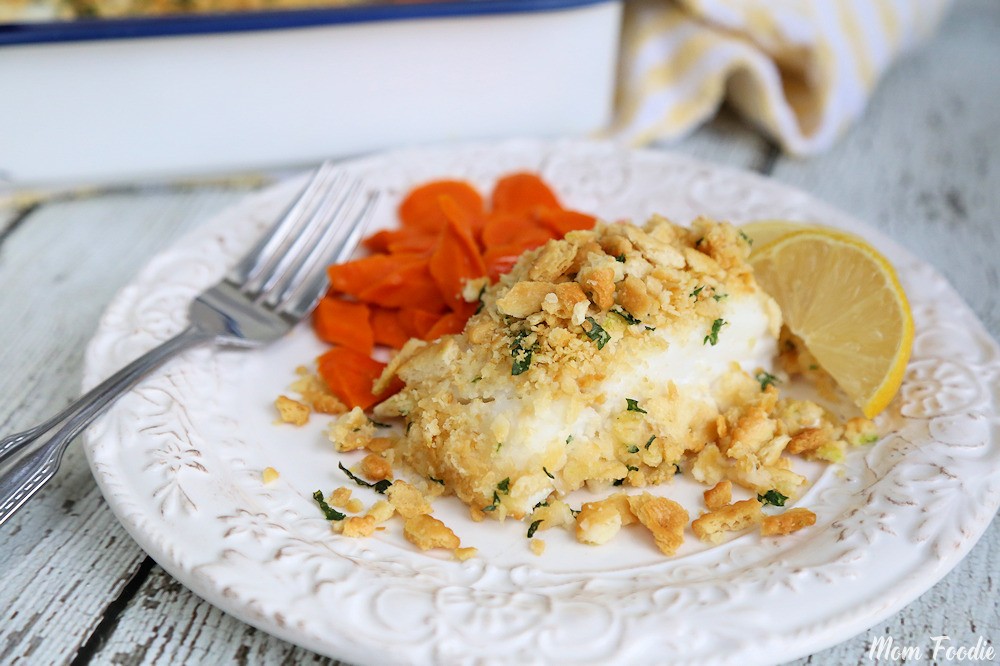 As I mentioned, New Englanders tend to enjoy our seafood. I grew up eating plenty of it. We even went "quahogging" (clam digging) when I was a child and my mom would make a big batch of chowder and clam cakes after.
Although I was accustomed to eating seafood regularly, my family only ate fish as fish & chips or fish sticks. I didn't have baked fish fillets until I was an adult and started both working and going to restaurants in the area.
Baked Fish Leftovers
Unlike fried fish, leftovers from this baked cod recipe are still rather tasty. The dish has handles "late for dinner" time delays well too. Baked fish can be gently reheated, or used for other recipes like fish cakes.
If you haven't tried baking cod before, try it. I assure you, you won't be disappointed.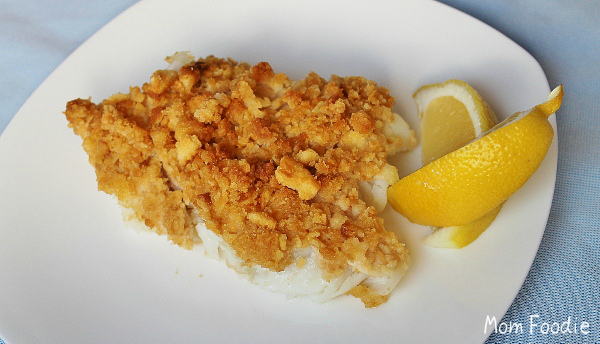 The picture here is actually of cod that was prepared the evening before. As you can see the dish has handled the time delay well.
How to Bake Cod
Let me show you how very simple this oven baked cod is to make. Even the Italian style version of the cracker topping has just four ingredients. Full recipe below.
What you will need:
cod fillets
butter, softened or melted
a sleeve of Ritz crackers
chopped parsley
fresh clove of garlic, minced *** optional
Preparation
Preheat your oven to 375 degrees. Coat baking dish with cooking spray.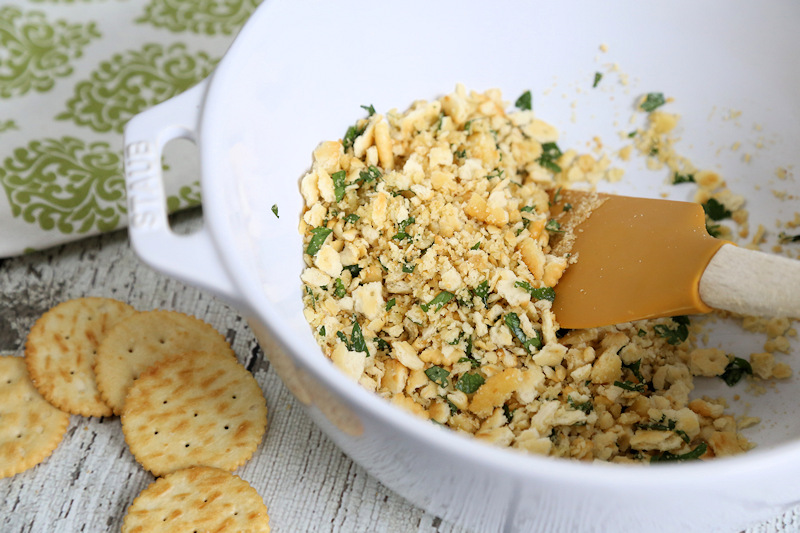 Simply mix and chopped parsley (and garlic, if using) with softened butter, then add crushed butter crackers to create the topping for the fish.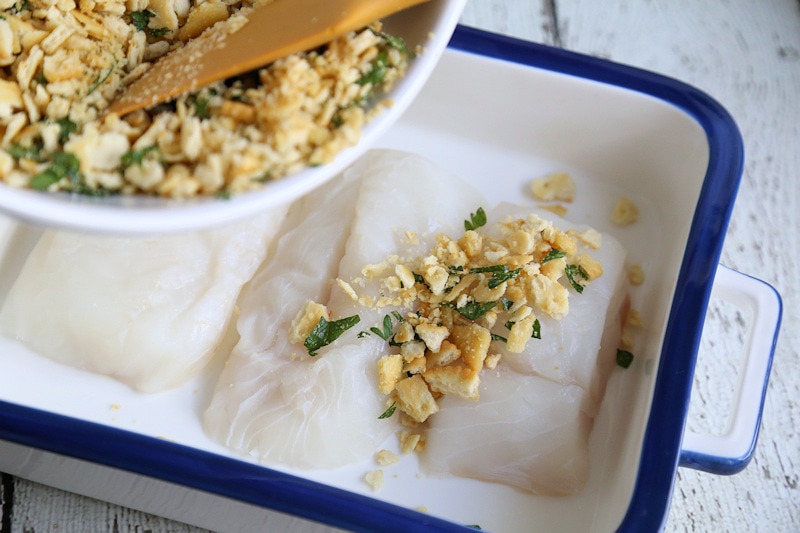 Spread the topping mixture over the cod fillets.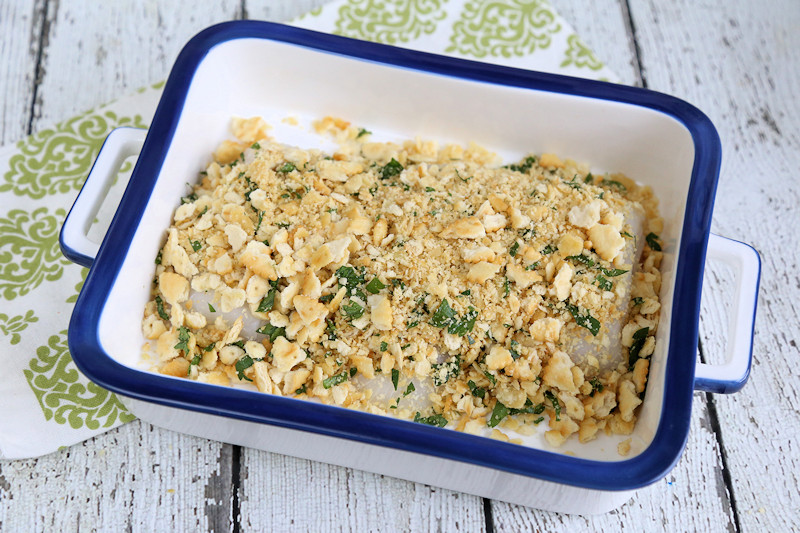 Ensure the fish is covered with topping and gently pat to help adhere, then pop it in a preheated oven and bake.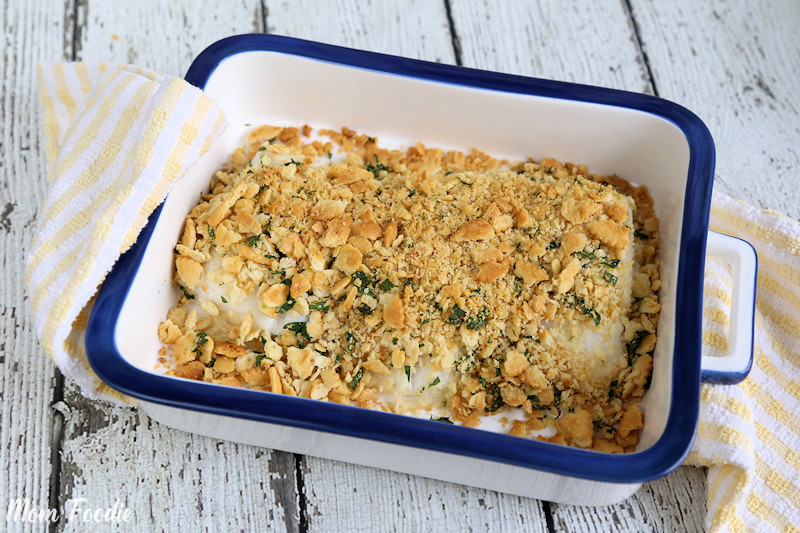 In just about 15 minutes minutes, the cod is fully cooked when the fish flakes easily and the cracker topping is crispy browned and delicious.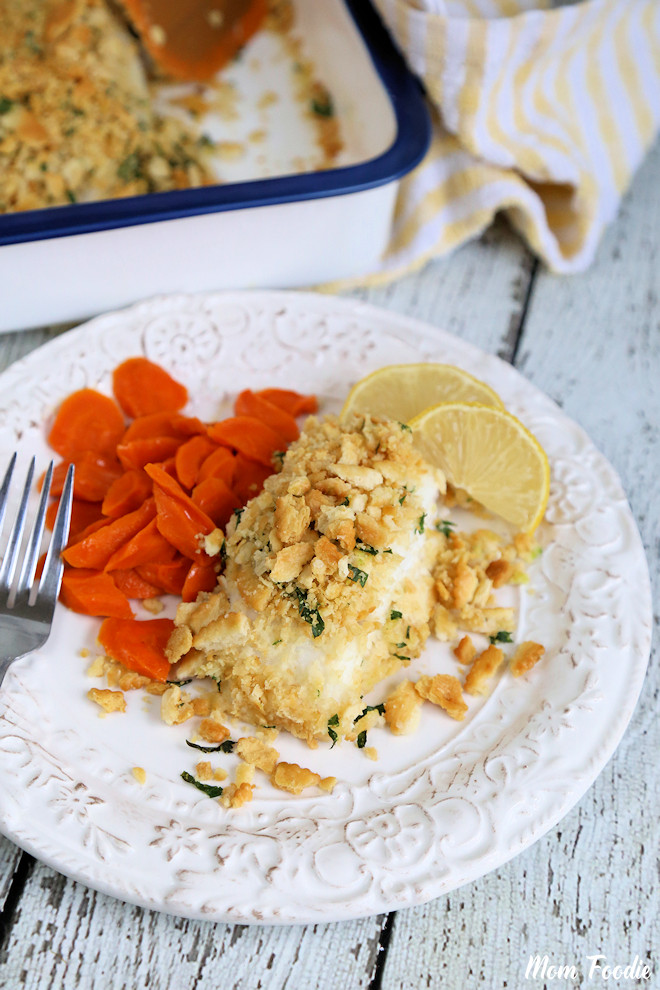 Potato Chip Crusted Cod
For a fun twist on the classic baked cod, try topping the fish fillets with crushed potato chips. This also omits the need to use butter.
You will need a ½ cup of crushed chips to top the cod well.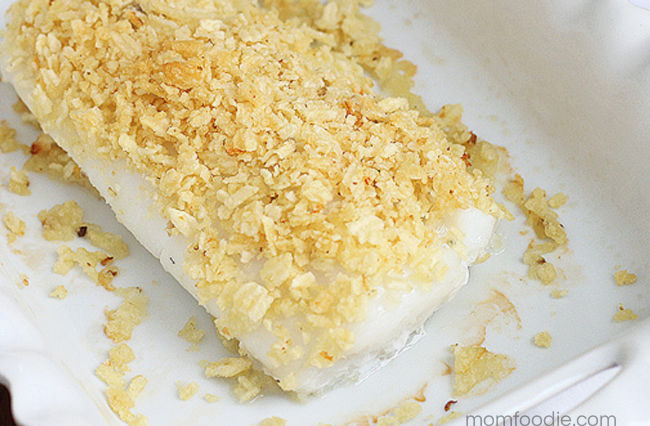 Looking for a lower carb option? Try my Lemon Baked Keto Cod Recipe.
Serve the baked cod with simple sides, such as baked asparagus spears or glazed carrots. Oven roasted potatoes are also a good choice or try making mashed potatoes in the crock pot.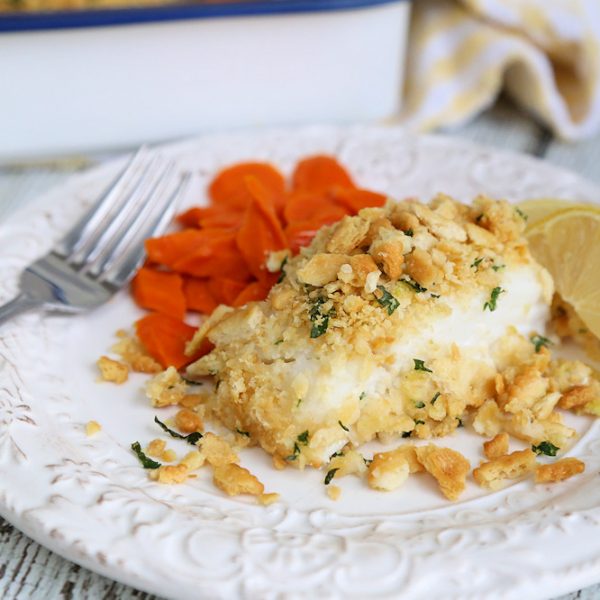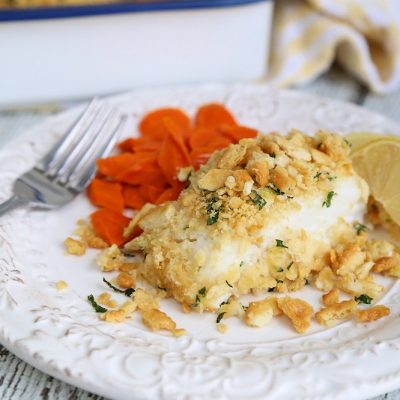 Baked Cod Recipe with Cracker Topping
A Baked Cod recipe covered with a buttery Ritz Cracker Topping that is quick and easy to prepare.
Print
Pin
Rate
Ingredients
1

pound

cod fillets

2

tablespoon

butter

softened

2

tablespoon

chopped parsley

25

round butter crackers

**optional** add 1 clove of garlic

crushed/ finely minced to crumb mixture for Italian Style
Instructions
Preheat your oven to 375 degrees and coat baking dish or oven safe non-stick skillet with cooking spray.

Mix parsley into the softened butter (along with garlic, if you are using it), then crush the crackers in plastic a bag or food processor and mix together well with the butter.

Pat the cod fillets dry if necessary and arrange the fish in the baking dish by placing snugly together. Fold under any thin edges (this keeps fish moist)

Scoop the topping mixture over the fish. Make sure to cover the fish well. Gently pat to adhere the topping.

Bake for 15-17 minutes, until the cod is cooked through (until translucency of fish is gone) and cracker topping is nicely browned and crisp.

Serve with fresh lemon wedges.
Nutrition
Calories:
236
kcal
|
Carbohydrates:
12
g
|
Protein:
21
g
|
Fat:
10
g
|
Saturated Fat:
4
g
|
Cholesterol:
64
mg
|
Sodium:
278
mg
|
Potassium:
501
mg
|
Fiber:
0
g
|
Sugar:
1
g
|
Vitamin A:
385
IU
|
Vitamin C:
3.6
mg
|
Calcium:
50
mg
|
Iron:
1.4
mg