This Grapenut Custard Pudding is a great recipe to have on hand with the holidays coming up. It is an old fashioned dessert and a New England classic! So many of us have fond memories of eating grape nut pudding with loved ones over the years.
Older folks will love this delicious grape nuts pudding, and so does everyone else. I usually make the diabetic-friendly version of this pudding, so that is included in the recipe.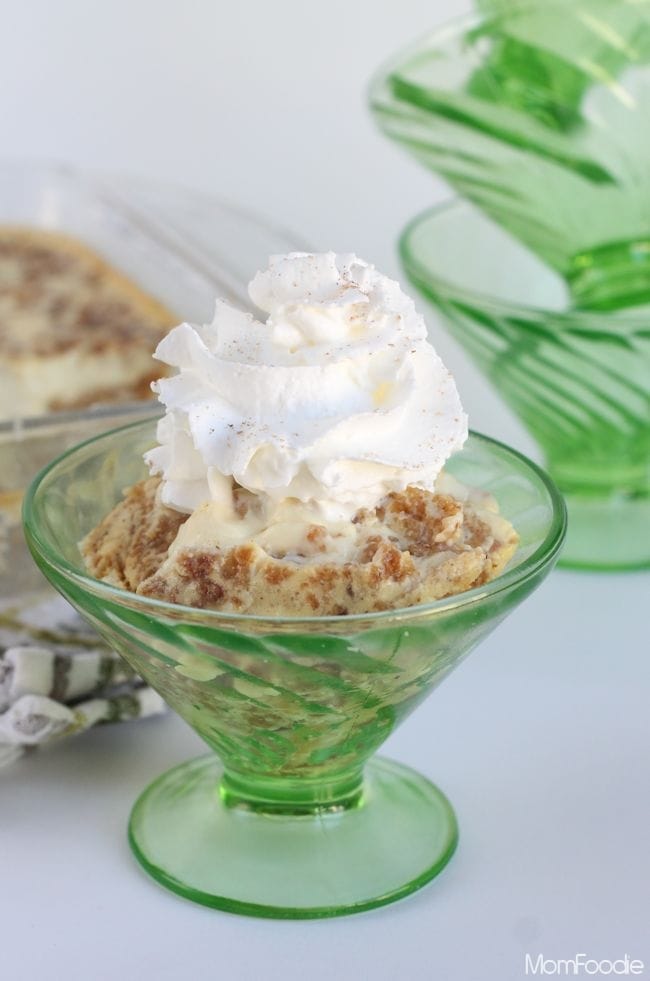 Grape Nut Pudding
Old fashioned Grapenut Pudding is a simple custard pudding featuring a layer of Grape Nuts that nestle on the bottom of the dish.  It is a dessert staple around here in the Southern New England area.
I live in Rhode Island, where it is incredibly popular with the older folks, and is on most traditional family restaurant menus.  It is also common in the eastern CT, Massachusetts (particularly in the cape cod area) and even parts of southern NH.
While the original recipe is pretty healthy as far as desserts go, I tweaked it a little to add a diabetic friendly version.
Diabetic Grapenut Custard Pudding Version
Grape Nuts cereal is packed with fiber and is a good source of protein, team that with milk & egg protein, and things are already looking good for this dessert.  By substituting a zero calorie sweetener that measures like sugar (erythritol), I made the dessert diabetic friendly, while cutting calories.
I just used milk and did not add any half and half, which sometimes used for this recipe. I find the custard is rich enough with calories and fat. I'd rather save those fat calories for a nice dollop of whipped cream on top myself.
These simple recipe alterations have actually made this pudding a viable healthy option for a quick breakfast too, not just dessert.
How to Make Grapenut Pudding
A simple visual walk through of making the grape nut pudding. Find print recipe below.
prep 10 min | baking 50 min | total time 1 hour
Makes 10 servings
Ingredients to Make
4 cups milk
4 large eggs
1/2 cup sugar (or erythritol)
2 teaspoons vanilla extract
1/4 tsp Kosher salt
1/4 tsp ground nutmeg
1 cup grape nuts cereal
Preparation (Visual)
Pre-heat oven to 350 degrees F. Coat the interior of a casserole dish with non-stick cooking spray.
Scald the milk by placing in saucepan over high heat, but remove from burner just as it is about to boil.
Beat eggs together with nutmeg in a large bowl, then beat in the scalded milk, sugar, vanilla and salt. Pour the eggs mixture into the baking dish.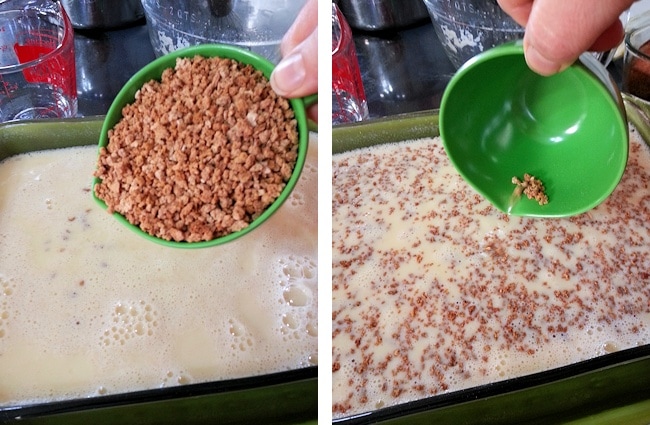 Just dump the Grape Nuts over the custard.  Most will sink and create a sort of crust, but a few will float and add a little texture to the top.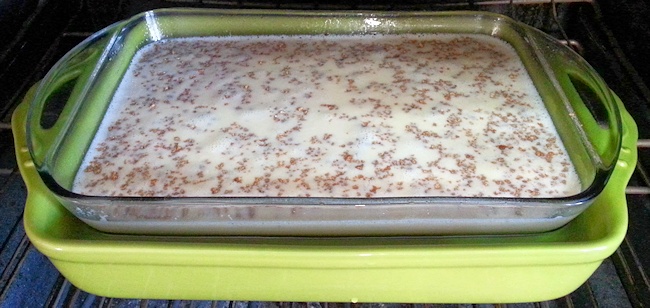 A hot water bath keeps the pudding tender, so select a baking dish that you can fit in another.  Here I have a 2 quart 8×11 baking dish cradled in a 3 quart lasagna dish, but a roasting pan would work well. The water should reach halfway up the side of the dish.
If you don't have such a large pan pick up a disposable aluminum roasting pan. Put a sheet pan under it to stabilize and not spill water. It won't get dirty, so can be rinsed and reused.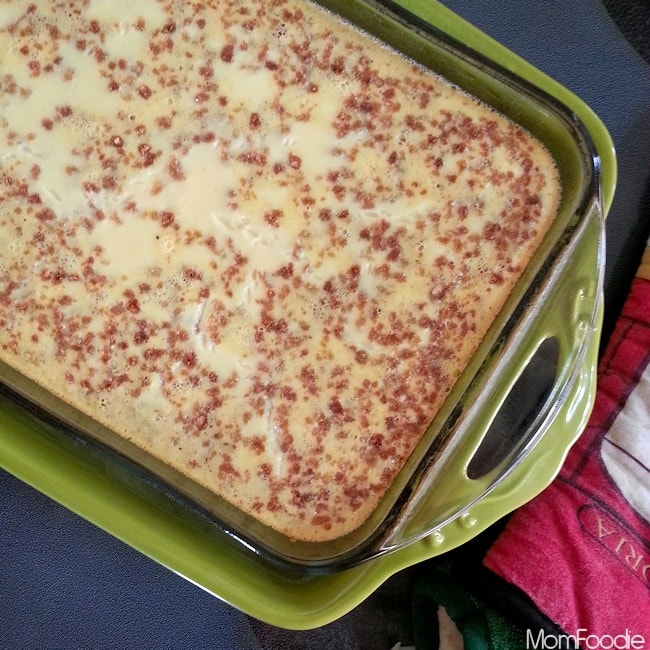 After about 50 minutes, the grape nut pudding should be done.  A knife inserted into the center will allow you to check if it is done.
Let cool.
It is served both warm or cold.  My personal preference is cold with a dollop of whipped cream.  My in-laws are lovers of their grape nut pudding hot, with copious amounts of whipped cream on top.
Storing
Do not leave out at room temperature more than 2 hours. Refrigerated this will last 3-4 days. I do not recommend freezing.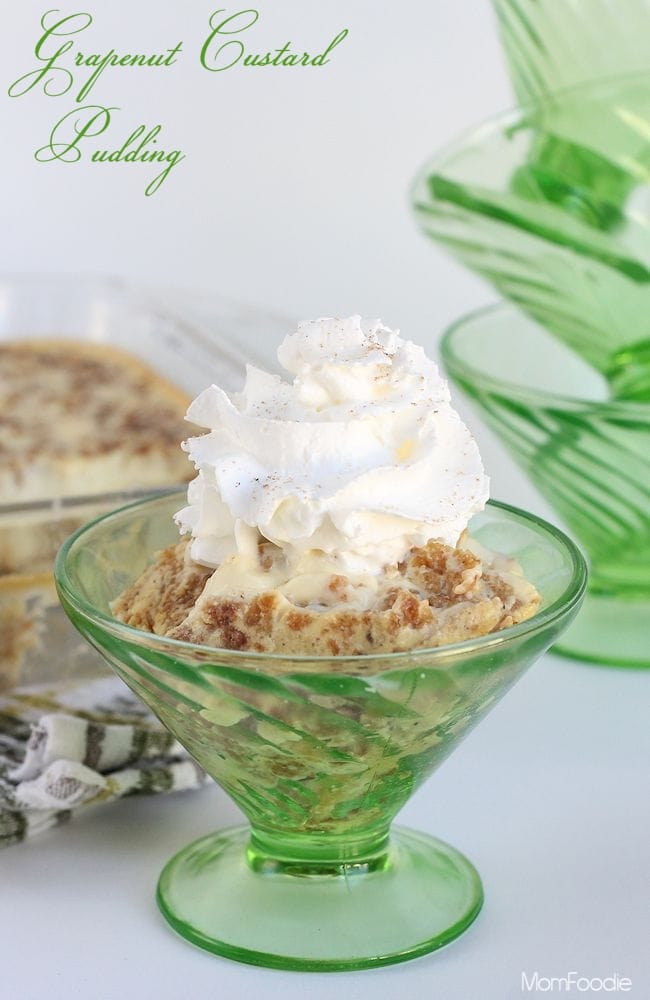 Enjoy this easy to make New England favorite with your family for your next gathering.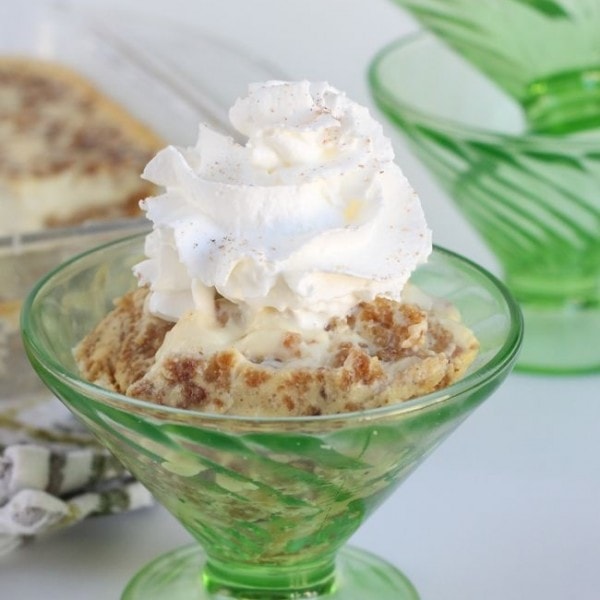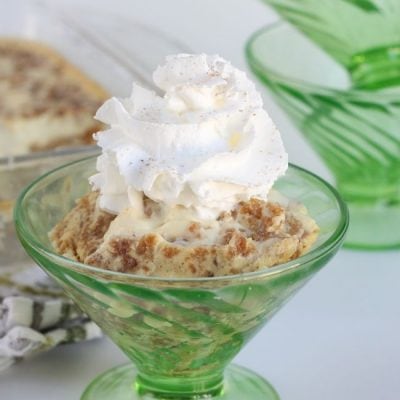 Grapenut Pudding Recipe
Grapenut Custard Pudding is a traditional New England dessert. It is a custard featuring Grape Nuts cereal. This includes a sugar-free version and is reduced fat.
Print
Pin
Rate
Ingredients
4

cups

milk

4

large eggs

1/2

cup

erythritol

(or sugar)

2

tsp.

vanilla extract

1/4

tsp

ground nutmeg

1/4

tsp

Kosher salt

1

cup

Grape Nuts cereal
Instructions
Preheat oven to 350 degrees.

Scald the milk. (Heat, but stop just as it is about to boil)

While heating the milk, beat eggs, sugar substitute, vanilla, nutmeg and salt in large batter bowl.

Once milk has scalded, whisk a little into eggs to temper, add a bit more, whisk, then add remaining milk and give it a final whisk.

Coat interior of baking dish with cooking spray or thin coating of butter or oil. Pour in the custard, then pour Grape Nuts over the top evenly.

Place the custard dish in roasting pan. Pour water in larger pan until it comes halfway up the inside baking dish or slightly higher.

Bake for approximately 50 minutes. Center will still jiggle, but be mostly set when done. A knife inserted in center comes out clean at this point.

Let cool. Serve warm or cold, with or without whipped cream.
Notes
*Nutritional info based on using zero calorie sweetener.
Net carbs are lower, as the fiber and sugar alcohols would be subtracted when using erythritol. I estimate they are around 11 or 12 per serving.
Nutrition
Calories:
129
kcal
|
Carbohydrates:
15
g
|
Protein:
7
g
|
Fat:
5
g
|
Saturated Fat:
2
g
|
Cholesterol:
75
mg
|
Sodium:
184
mg
|
Potassium:
200
mg
|
Fiber:
1
g
|
Sugar:
7
g
|
Vitamin A:
458
IU
|
Calcium:
125
mg
|
Iron:
5
mg