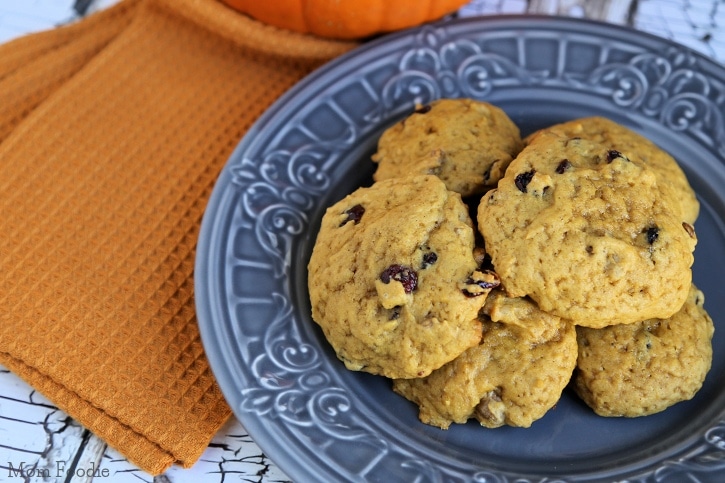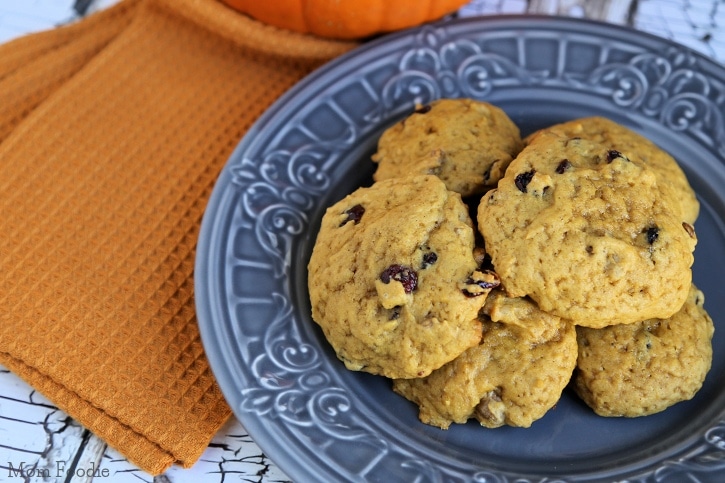 With Thanksgiving and Christmas coming up cookies and other desserts are on a lot of people's minds. If you are like myself and trying to actually lose some weight during the holiday season and eat healthy, but still want to make goodies for your family these, soft Cranberry Walnut Pumpkin Cookies may be just the recipe for you. The ingredients are natural (I have my daughter on a mostly organic diet), and while not exactly "diet food", the amount of fats and sugar in these is somewhat mitigated by the ample quantities of pumpkin, cranberries and walnuts. They are sort of halfway between a cookie and a muffin. In moderation, they won't blow your diet, and at least you will feel like you "ate something" after enjoying one of these rather than the standard sugar cookie.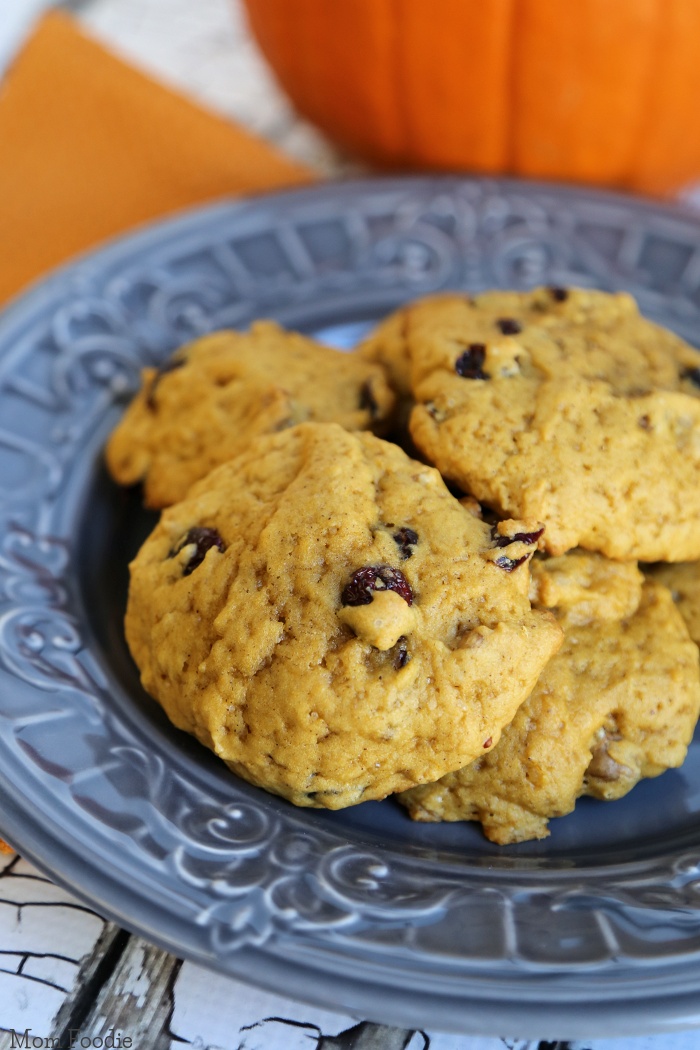 The cookies are quite like a muffin top, and go great with coffee. Of course, the cranberry, walnut, spices and pumpkin in these cookies are a perfect pairing with pumpkin spice and other seasonal coffee flavors.
Print
Cranberry Walnut Pumpkin Cookies Recipe
Cranberry Walnut Pumpkin Cookies are soft cookies. They are sort of like muffin tops and make a great snack with coffee.
Author:

Robin Gagnon

Prep Time:

14 mins

Cook Time:

11 mins

Total Time:

25 minutes

Yield:

3 dozen

Category:

Dessert

Cuisine:

American
Ingredients
1/2 cup butter, softened
1 cup sucanat or turbinado sugar (pure cane sugar is fine if you prefer)
1/2 tsp sea salt (or Kosher salt)
1 tsp pure vanilla extract
1 large egg
1 cup pureed cooked pumpkin or squash (canned is fine)
1 tbs orange zest
2 1/4 cups flour
2 tsp baking powder (preferably aluminum-free)
1 tsp baking soda
1 tsp pumpkin pie spice
1/2 tsp cinnamon
1 cup dried cranberries
1/2 cup chopped walnuts
Instructions
Preheat oven to 375 degrees and grease two cookie sheets (I used coconut oil).
Cream together the butter, sugar and salt.
Mix in vanilla, egg, pumpkin and orange zest. Mix well, to give the larger granules of sugar and salt a chance to start dissolving.
Add the flour, baking powder, baking soda, pie spice and cinnamon. Mix well.
Fold in the cranberries and walnuts to evenly distribute.
Drop dough in tablespoon size dollops on baking sheet. Leave a bit of space between, but they don't spread outward too much.
Bake for 10-12 minutes. Allow to rest for a minute or two before removing cookies from sheet with spatula. Place on racks to fully cool.
Notes
Leftover cookies freeze very well. I stored them in small bags of two to grab for a snack or dessert. I actually enjoy grabbing one or two of them straight out of the freezer, as an afternoon snack with coffee. They are not hard to bite through when frozen.