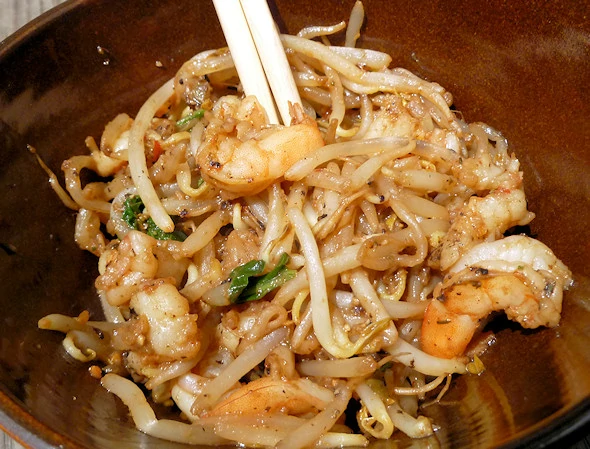 This low calorie shrimp and bean sprout ("noodles") stir fry, is under 150 calories.  Lately,  I've been eating several mini-meals through out the day, rather than a more typical meal plan, and it has helped me successfully drop a few pounds.  I try and keep most of these mini- meals under 200 - 300 calories, and avoid adding many beverage calories.
In this Shrimp and "Noodles" dish, bean sprouts take the place of real noodles, so this would work well for those on a low carb diet, as well.  I was surprised the first time I made a bean sprout stir fry, how much they reminded me of noodles, when cooked relatively dry.  Other than a splash of soy sauce, and a minimal amount of sesame oil, a dry seasoning blend is used.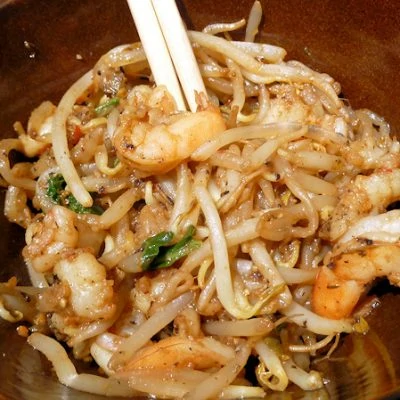 Ingredients
½

bag of bean sprouts

3

oz.

shrimp

bite size pieces

2-4

leaves

of basil

Thai or lime basil would be ideal, but regular sweet basil is fine

½

teaspoon

sesame oil

splash of soy sauce

I use low-sodium version

generously season with salt free seasoning blend

I used Mrs. Dash Caribbean blend
Instructions
Place non-stick wok or skillet on med-high heat.

Put in sesame oil, bean sprouts and salt-free seasoning blend. Stir frequntly.

Once bean sprouts are nearly cooked add the shrimp and soy sauce.  Tear the basil up and drop into the pan.

Stir fry until shrimp are cooked through.

Serve with soy sauce, a splash of citrus juice or a little sriracha hot sauce.
Notes
you will notice that just 3 oz. of shrimp is used in this recipe, while a standard portion of this protein is 4 oz.  This was done because it is a mini-meal, but if you wish to go with the full 4 oz.  the calorie difference will only be +25, so go for it.
Nutrition