Roasted turnips are a great alternative to potatoes. If you are ready to explore more seasonal ingredients, particularly root vegetables beyond potatoes and carrots, turnips are a good place to start.
In addition to instructions on how to roast turnips, we will also discuss the nutritional benefits of turnips vs potatoes.
Roasted Turnips
These easy roasted turnips are perhaps the best swap available for roasted potatoes. While cauliflower stands in pretty well for mashed, that veggie isn't convincing in this type of cooking. Golden brown turnips are a delight on any plate and good for you too!
Make roasted turnips with your next dinner. You won't regret the choice.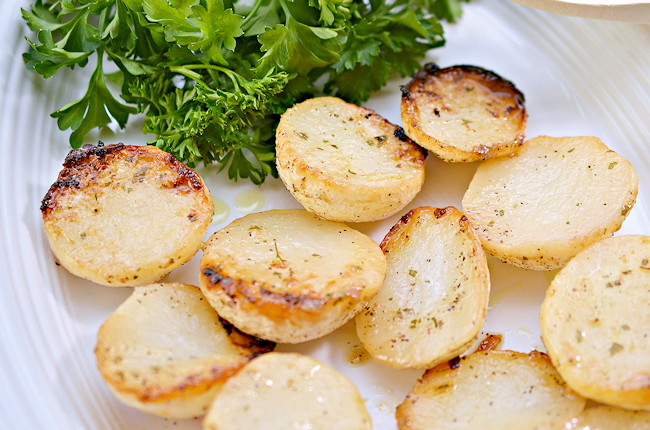 Turnips vs Potatoes
Turnips and potatoes look pretty similar once cooked, but are turnips a good substitute for potatoes?
Both turnips and potatoes are great sources of dietary fiber and a good source of Vitamin C.
What is better about turnips:
Net carbs are lower - Per cup there are about 4 grams of carbs in turnips. Potatoes have roughly 15 net grams of carbohydrates per cup. When checking the glycemic index, turnips score 10x lower on glycemic load.
Calories in turnips are approximately 36% of the amount in a serving of potatoes (28 calories vs 77 calories)
More calcium and more Vitamin E.
Advantages of potatoes:
Better source of protein, potassium, iron, magnesium, B vitamins and a host of other trace minerals.
Conclusion: If you are trying to lose weight and getting the nutrients provided by potatoes from other sources turnip is a smart substitute for potatoes. A more general healthy diet definitely has room for both of these root vegetables though. Turnips and potatoes provide an array of different nutrients.
Besides the roasted vegetables, mashed turnips can be swapped for mashed potatoes on the dinner plate. You could even make fries or swap them into skillet meals like this polish sausage recipe.
Other root vegetables, such as parsnip or celery root are great choices too. They are also good sources of dietary fiber.
How to Roast Turnips
Here is a visual walk through of the process of roasting turnips. Cooking turnips is easy, and the healthy side dish is great for those on low carb diets. Full printable recipe below.
Ingredients you will need:
turnips (small or baby turnips)
melted Butter or light olive oil
Garlic powder
Onion powder
Sea or Kosher Salt and fresh ground black pepper to taste
Supplies:
vegetable peeler or paring knife
large baking dish or sheet pan
Directions:
Preheat oven to 400 degrees F.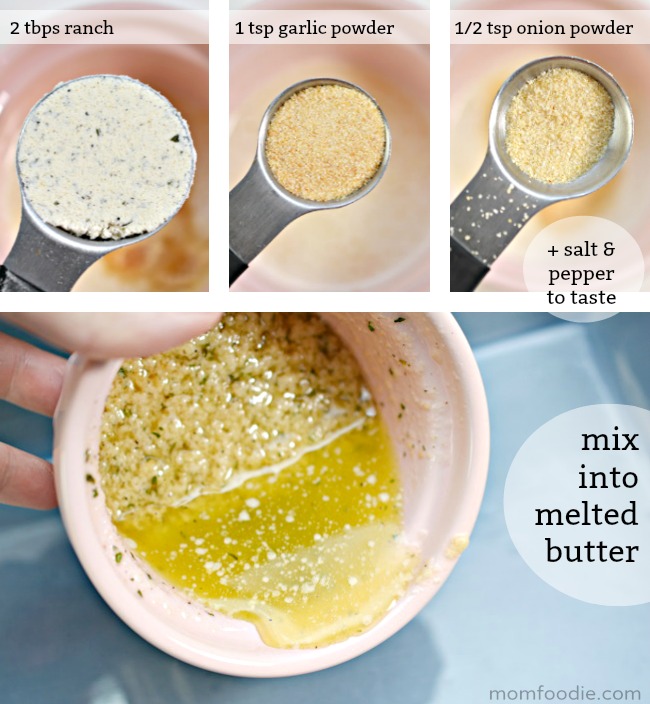 Seasoning the butter or olive oil used to roast the turnips is important if you want them to satisfy family members who are accustomed to potatoes. Let's make this transition a breeze.
Homemade Ranch Dressing Mix, along with a little extra garlic and onion powder and salt and pepper do the trick.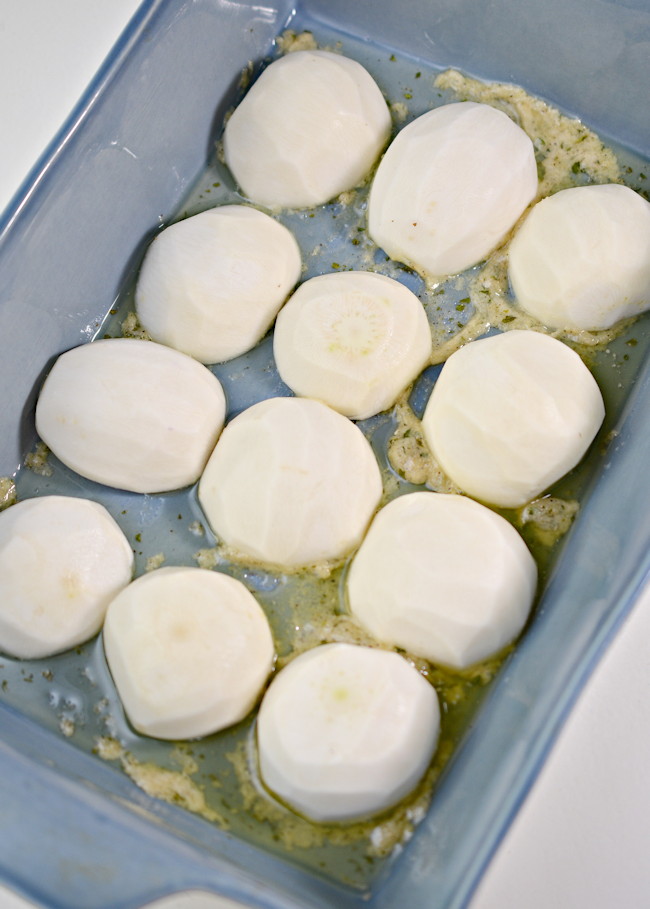 Peel turnips then cut turnips in half. Place face down on baking sheet or pan and baste with seasoning oil.
While you can of course dice turnip into bite sized pieces for roasting, we simply peeled each small turnip, sliced in half, and roasted flat side down. Larger turnips should be cut up.
If you opt to dice, toss turnips in the olive oil and seasoning then spread out in a single layer on a parchment paper lined baking sheet and reduce the roasting time accordingly. The oven roasted turnips should be crispy tender when done.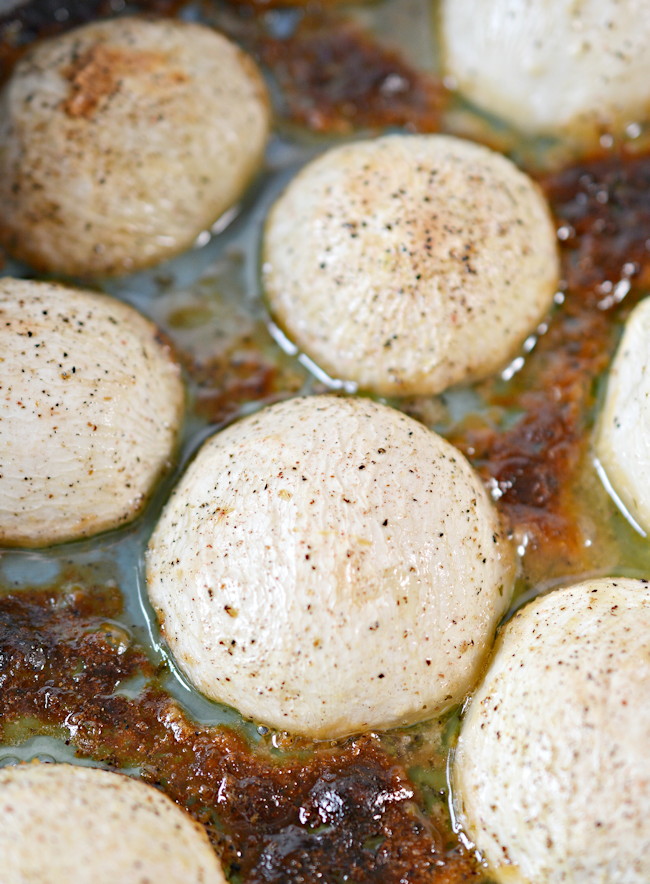 Make sure the turnips are well coated in the seasoning and roast until nicely browned at edges.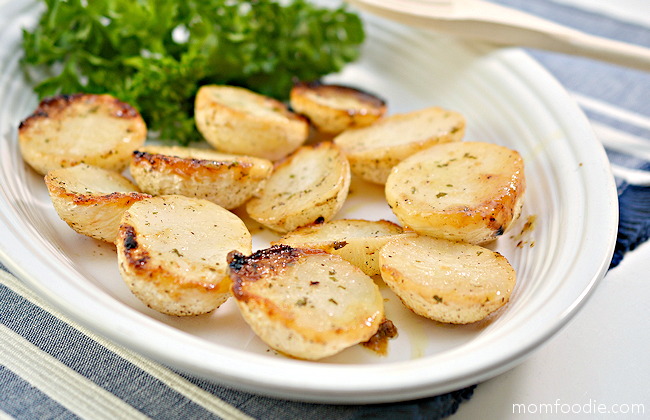 Serve along with any dish you would pair with potatoes for a lower carb and fewer calories meal.
Storing Leftovers
If you have leftover roasted turnips (or cooked them ahead as meal prep), seal them in an airtight container after they have cooled. They will last in the fridge for 3-4 days.
You can also opt to freeze the leftover cooked turnips. They will be good in the freeze for up to 3 months.
Roast Veggies!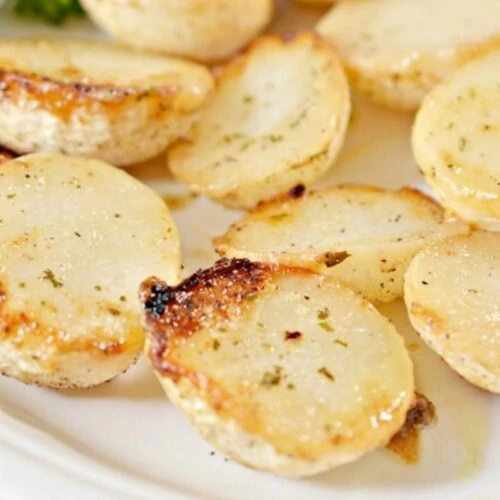 Roasted Turnips in Ranch Seasoning
These roasted turnips are a delicious alternative to potatoes. They are lower in carbs and have fewer calories.
Print
Pin
Rate
Ingredients
6

Small turnips

3

tablespoon

melted Butter or olive oil

2

tablespoon

Ranch seasoning

1

teaspoon

Garlic powder

½

teaspoon

Onion powder

Sea Salt and fresh ground black pepper to taste
Instructions
Preheat the oven to 400 degrees.

Peel the turnips and cut in half.

In a mixing bowl, combine the melted butter, ranch seasoning, garlic powder and onions powder. Stir to combine well.

Add the turnips to the bowl and toss the turnips to coat in the seasoned butter.

Place the turnips cut side down into a casserole dish or rimmed baking sheet. Pour the remaining butter mixture over the turnip and shake to evenly distribute the butter.

Add salt and pepper to taste on the turnips.

Bake for 30 minutes to 40 minutes until the turnips are softened and browned.

Serve immediately. Garnish with fresh chopped parsley if you like.
Notes
Nutrition calculated based on small turnips, ⅔ butter retention and ¼ teaspoon sea salt. As always, the data provided is just an estimate.
Nutrition
Calories:
75
kcal
|
Carbohydrates:
9
g
|
Protein:
0
g
|
Fat:
3
g
|
Saturated Fat:
2
g
|
Cholesterol:
10
mg
|
Sodium:
470
mg
|
Potassium:
180
mg
|
Fiber:
1
g
|
Sugar:
3
g
|
Vitamin A:
120
IU
|
Vitamin C:
19.2
mg
|
Calcium:
27
mg
|
Iron:
0.3
mg