This Butternut Squash Lasagna recipe is the perfect go-to solution for a hearty fall meatless meal. Keep all your guests happy with this vegetarian butternut squash lasagna.
This fall casserole dish a perfect choice for Thanksgiving.  Many families in my area make both turkey and lasagna on the holiday anyway.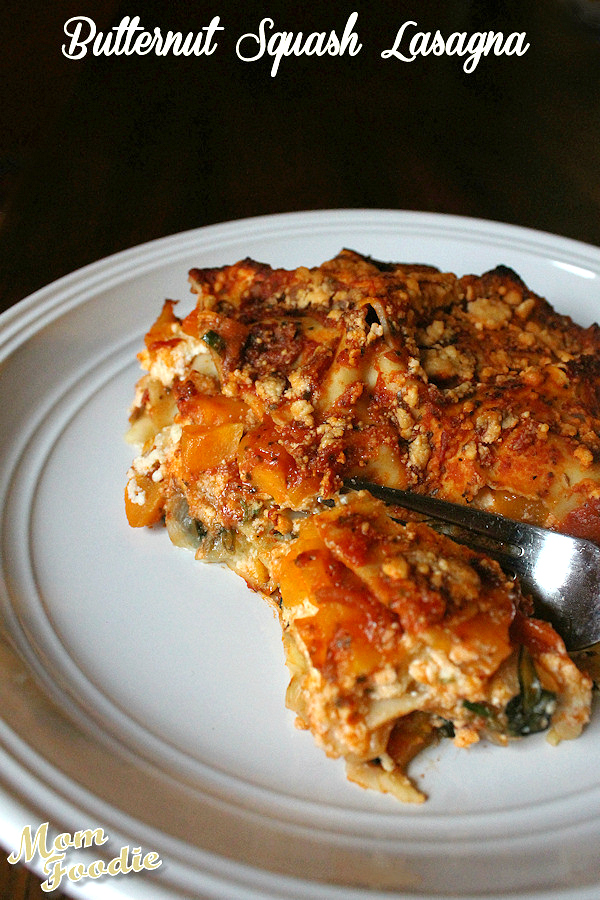 I have been up to my eyeballs in renovations around here the past couple weeks, so there is some appeal to making a light meatless recipe with many servings like this Butternut Squash Lasagna.  I still have a few days of painting left in my kitchen and pantry, so being able to zap a healthy homemade meal will come in very handy.  The recipe is an older (2003) one from Cooking Light, which seems appropriate since they are celebrating the 25th anniversary of the magazine .  Here is a link to the original recipe.  I made a few adjustments to the recipe, such as sauteing in olive oil, swapping chives for parsley , baking in one large pan, and a few other minor changes, but the recipe is still quite similar to the original.
Butternut Squash Lasagna: Recipe Tricks
I used jarred sauce, and added a teaspoon of smoked olive oil rather than making the Smokey Marinara sauce for the recipe.  I doubt many readers have smoked oil on hand, so I would suggest using the Smokey Marinara Sauce recipe that Cooking Light suggests.
This Butternut Squash Lasagna was rather tasty.  I will make it again.
If you are looking to create a hearty vegetarian holiday spread consider making this along with my Eggplant Casserole, Beet and Dandelion Salad, Puff Pastry Pizza with Vegetables and Potato Leek soup.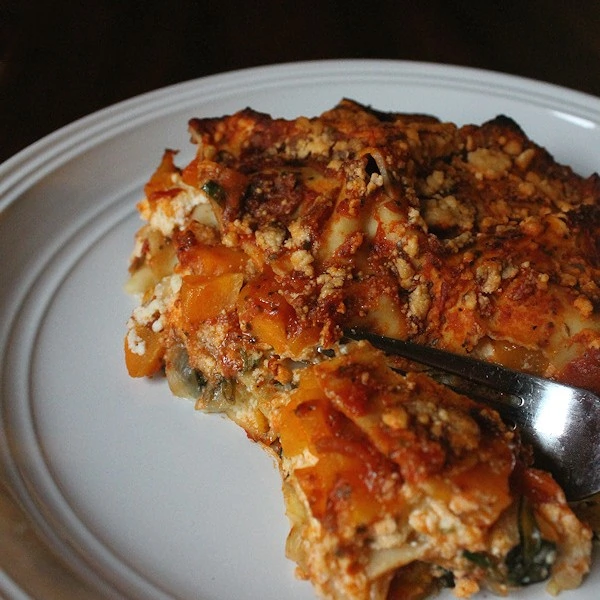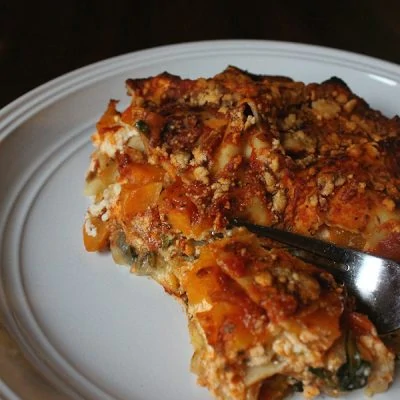 Ingredients
½

tbs

olive oil

1

large sweet onion

chopped

1

clove

garlic

minced

leaves

off 2-3 sprigs of fresh thyme

½

teaspoon

Kosher salt

¼ + ¼

8

oz.

bag fresh baby spinach

¼

lb.

sharp provolone cheese

shredded, or chopped deli slices

¼

cup

chopped chives

1

teaspoon

salt

½

teaspoon

freshly ground black pepper

2

large eggs

1

32-ounce container part-skim ricotta cheese

3

cups

diced peeled butternut squash

6

cups

Smoky Marinara

I used jar sauce and added smoked olive oil to it, but the sauce looks good & most people don't have smoked olive oil in their pantry

12

oven-ready lasagna noodles

such as Barilla

¼

cup

grated Parmesan cheese
Instructions
Preheat oven to 375°.

Place large deep pan such as a Dutch oven over medium-high heat.

Once hot, add onion, garlic, thyme & ¼ teaspoon Kosher salt. Sauté until tender (4-5 min).

Add spinach, sauté until wilted. Remove from burner & set aside.

Combine provolone, chives, ¼ teaspoon Kosher salt, pepper, eggs, and ricotta in a large bowl and mix well.

Place squash in a microwave-safe bowl. Cover and cook on high 5-6 minutes or until tender.

Coat the bottom and sides of a deep 9x13 baking dish with cooking spray.

Spread Marinara in the bottom of dish.

Arrange 3 noodles over sauce.

Spread about ½ the cheese mixture over noodles.

Spread the spinach-onion mix, over cheese evenly.

Top with a couple scoops of sauce.

Add a noodle layer.

Spread remaining cheese on noodles. (Be mindful of height, and don't use it all if the room isn't there. You still have more to add)

Arrange squash over cheese mixture and spread sauce over squash.

Add final layer of noodles and top with sauce.

Sprinkle generously with grated Parmesan cheese.

Cover pan with foil.

Bake for 30 minutes.

Uncover and bake an additional 30 minutes.