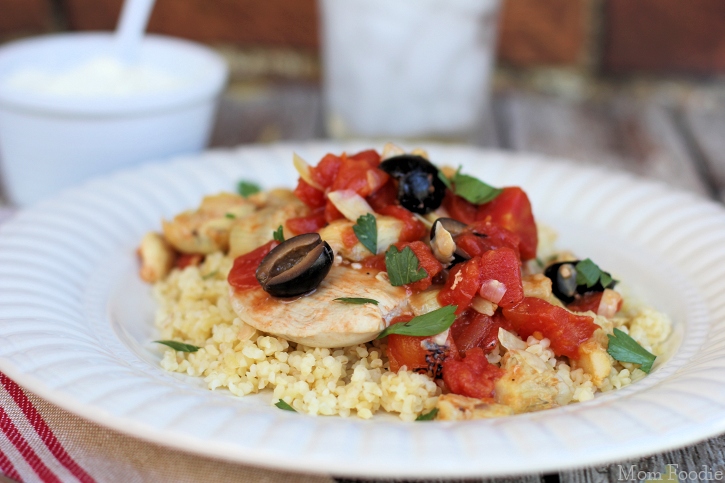 This article is brought to you by Cans Get You Cooking. Recipe and opinions are my own.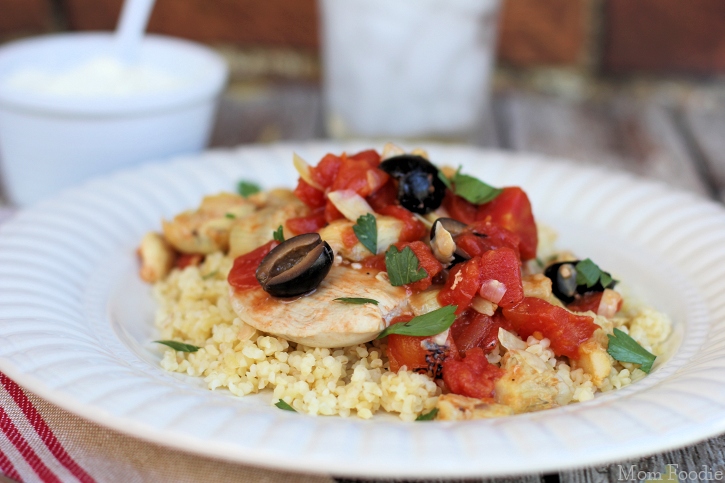 Chicken Artichoke Olives and Tomatoes over Wheat Bulgur Recipe
I always have a pretty good stock of canned goods on-hand (especially beans and tomatoes… I always seem to have a crazy amount of those).  So when the opportunity to share a recipe featuring canned foods came along, I was happy to be counted in on the fun. I put on my thinking cap, ran out to the store and returned with groceries and an idea in mind.  The thing was… I was hungry by the time I got home, and what I was planning was time consuming to make… and of course I would have to take pictures before eating…
I decided to throw together a quick lunch before getting to work.  There was chicken in the fridge that needed to be used soon.  It was tossed in a pan with a little oil and garlic, then I opened up a few cans.  As I was tossing some oregano into the pan, it suddenly dawned on me.  The recipe I had been planning was not what I was looking for.  This right here in the pan was.  An easy balanced meal, that would be on the plate in about 15 minutes.   The perfect showcase for why I actually use canned foods in daily life.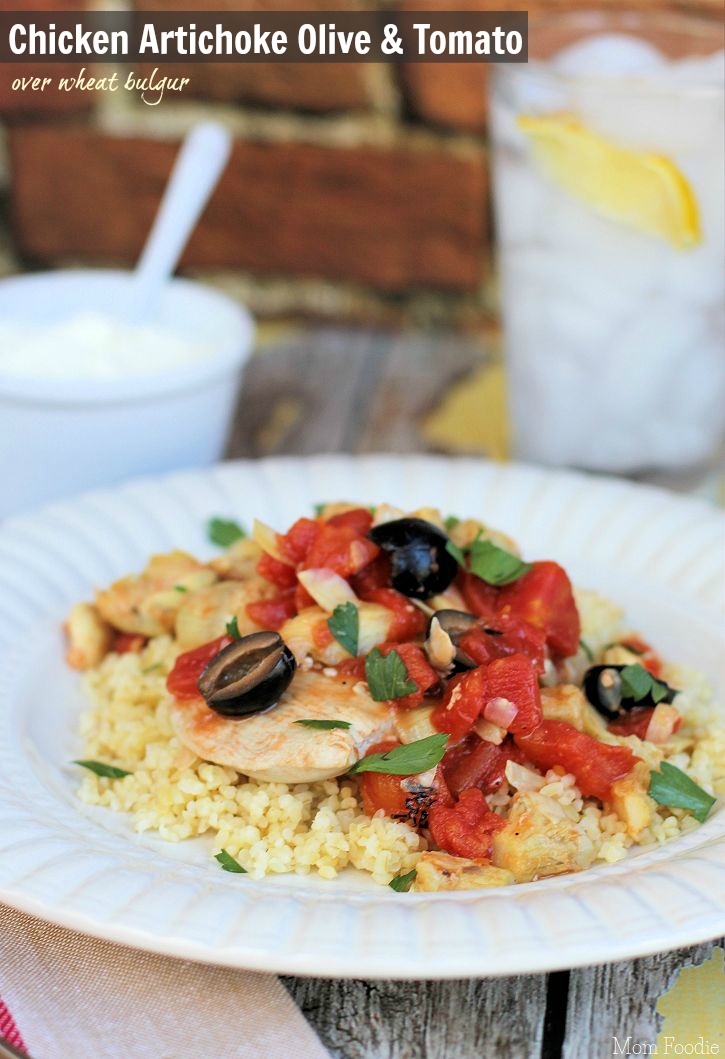 This Chicken dinner with Artichoke Olive & Tomato over wheat bulgur provides lean protein, healthy fats, plenty of veggies and a full serving of fiber and nutrition rich whole grains.  The chicken could also be served over other quick options like angel hair pasta or instant brown rice if you prefer.  For more great recipes featuring canned foods visit  http://cansgetyoucooking.com/recipes.html
So grab your can opener and get cooking!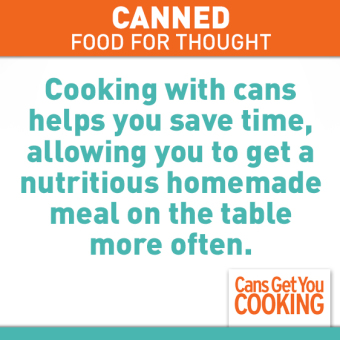 Print
Chicken Artichoke Olive & Tomato over Wheat Bulgur| Quick & Easy Healthy Recipe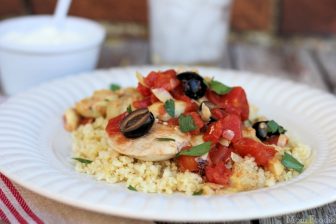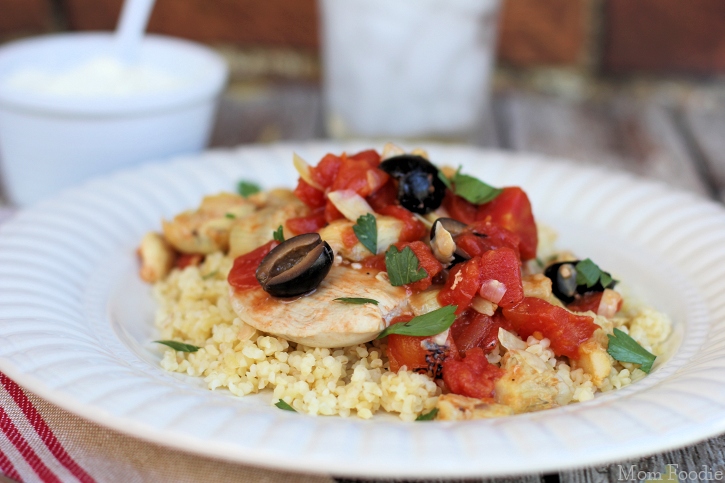 Author:

Robin Gagnon

Prep Time:

2 mins

Cook Time:

13 mins

Total Time:

15 minutes

Yield:

4
Ingredients
1/2 tbs olive oil
1 cup wheat bulgur, dry
1 pound chicken breasts, thin sliced & trimmed
1 garlic clove, minced
14-15 oz can fire roasted diced tomatoes
14-15 oz can quartered artichoke hearts, packed in water – drained
1/2 can large black olives, sliced in half
1/4 tsp dried oregano
Instructions
Place bulgur in small pan with 2 cups of water. Place over medium heat and cover, once it starts to boil reduce to low simmer until water is all absorbed. While it is cooking prepare the chicken.
Heat oil in skillet or dutch oven over med-high heat. Once hot add the chicken and garlic. Get a light sear on each side of the chicken.
Add the remaining items to pan. Stir. Once it starts to bubble, reduce to low and simmer for 6-8 minutes.
Serve the chicken and sauce over the bulgur. A spoon of grated cheese or sprinkle of crumbled feta is a nice way to finish this dish off.
Cans Get You Cooking on Farmville
This month, Cans Get You Cooking is going mobile … mobile gaming that is! The campaign partnered with Zynga's hit mobile game, FarmVille 2: Country Escape. New in-game features allow you to harvest fruits and vegetables…and then can your harvest to lock in freshness, flavor and nutrition! In addition, you can also create recipes, which can then, in turn, be canned. FarmVille 2 is a one-of-a-kind learning experience, which allows you to interact with game characters to learn more about Cans Get You Cooking and the benefits of canned foods and the canning process. But be sure to can while you can. The Cans Get You Cooking gaming features can be seen from now through October 5.
How to do canned foods help you get a nutritious meal on the table? What are your favorite foods to buy canned?