Old-fashioned pea salad is a classic cookout side dish and the recipe is easy to make. Your bowl of delicious green pea salad will stand out on the picnic table among all the potato and pasta salads. After all, when was the last time you went to a barbecue or potluck and saw a bunch of pea salads on the table.
The cheddar cheese and bacon pea salad is also hearty enough to serve as a quick cold dinner. Have some leftover cold pea salad for lunch!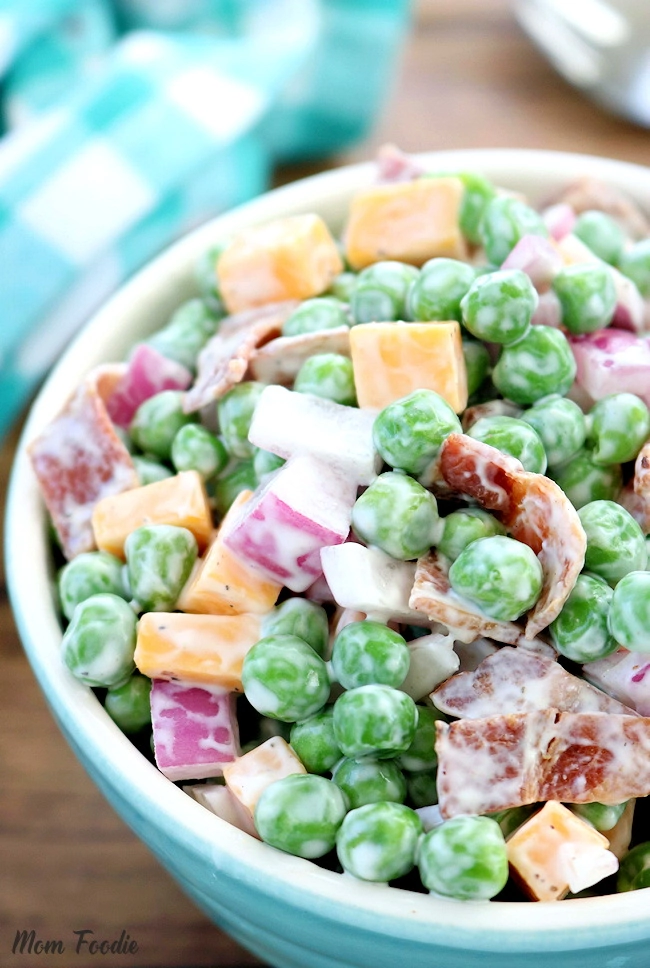 Classic Pea Salad with Bacon and Cheese
Sweet peas are one of my mom's favorite vegetables. She loves putting peas in her macaroni salad, but I thought I'd make a batch of creamy pea salad in honor of her rather than her old stand by.
The easy pea salad recipe is loaded with plenty of green peas along with sharp cheddar cheese cubes, crispy bacon and red onions in a creamy dressing.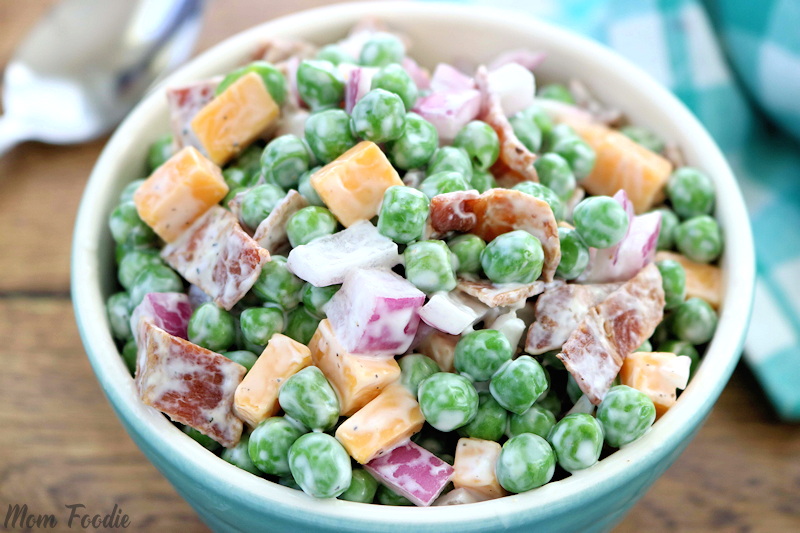 The recipe uses frozen peas and a simple mayonnaise and sour cream based dressing. Rather than store bought bacon bits, crispy fresh cooked bacon is chopped up and added for better flavor and slight crunch. I think it really steps the salad up a notch. Cubed cheddar is also used rather than shredded cheese, as I feel it stands up better when the salad is out for a while at a picnic or cookout.
Some add chopped hard boiled eggs to their version of the salad. While I didn't here, it is a tasty addition. Top with chopped green onions or fresh herbs when serving if you like. They are nice additions to sweet pea salad.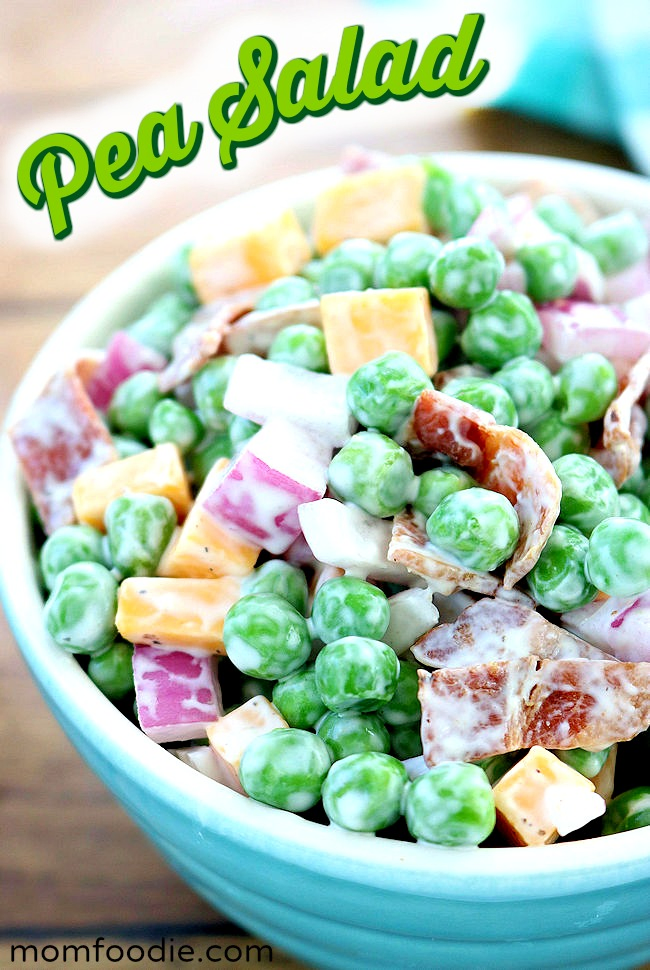 How to Make Pea Salad
This cold salad side dish is an easy to make perfect side dish for large gatherings in the summer months. Here I'll show you how to prepare the creamy pea salad recipe yourself. Find the free printable Recipe Card below.
The recipe makes 8 servings.
Prep Time: 8-10 minutes
Classic Pea Salad Ingredients: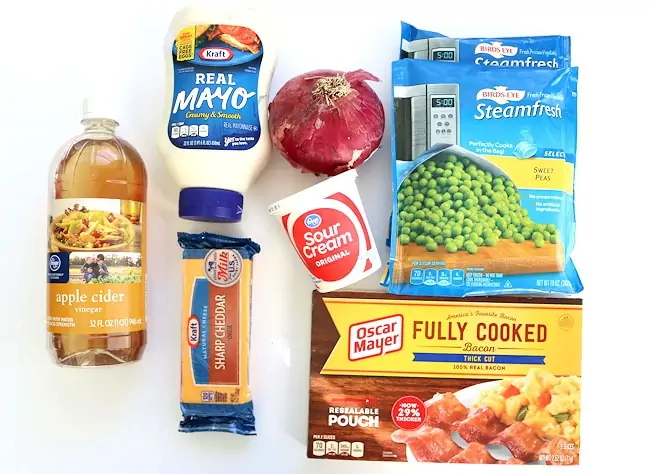 4 cups Frozen Peas thawed
10 slices bacon, cooked crispy or ½ cup of diced ham
½ Red Onion, diced
8 oz Sharp Cheddar Cheese
Homemade Dressing
¼ cup Mayonnaise
¼ cup Sour Cream
1 tablespoon Apple Cider Vinegar or red wine vinegar
¼ teaspoon Kosher salt
¼ teaspoon ground Black Pepper
¼ teaspoon granulated Sugar
Preparation of the dish:
Place the thawed frozen peas in large bowl. Thaw under running cold water and drain well if still frozen.
No you do not need to cook frozen peas for this recipe. Simply thaw and add peas.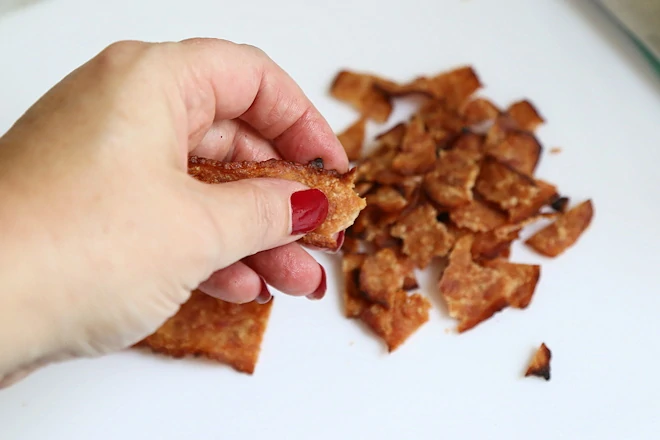 Crumble or chop the crispy bacon strips into bite sized pieces and add to the bowl.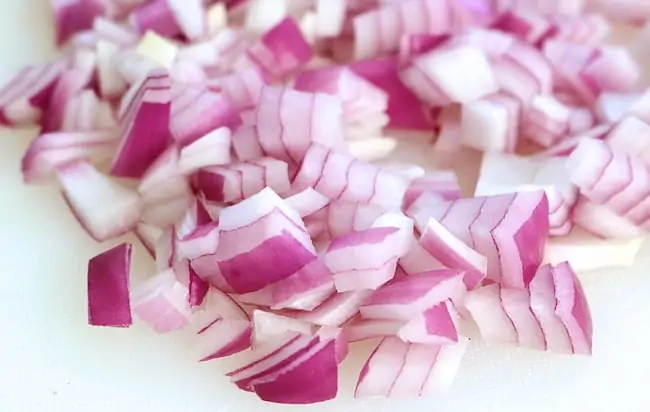 Add the diced red onion into the bowl.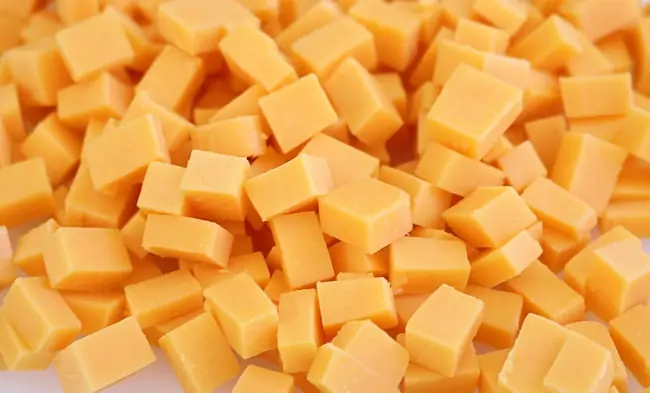 Cut the cheese into quarter inch cubes and also add to the mixing bowl.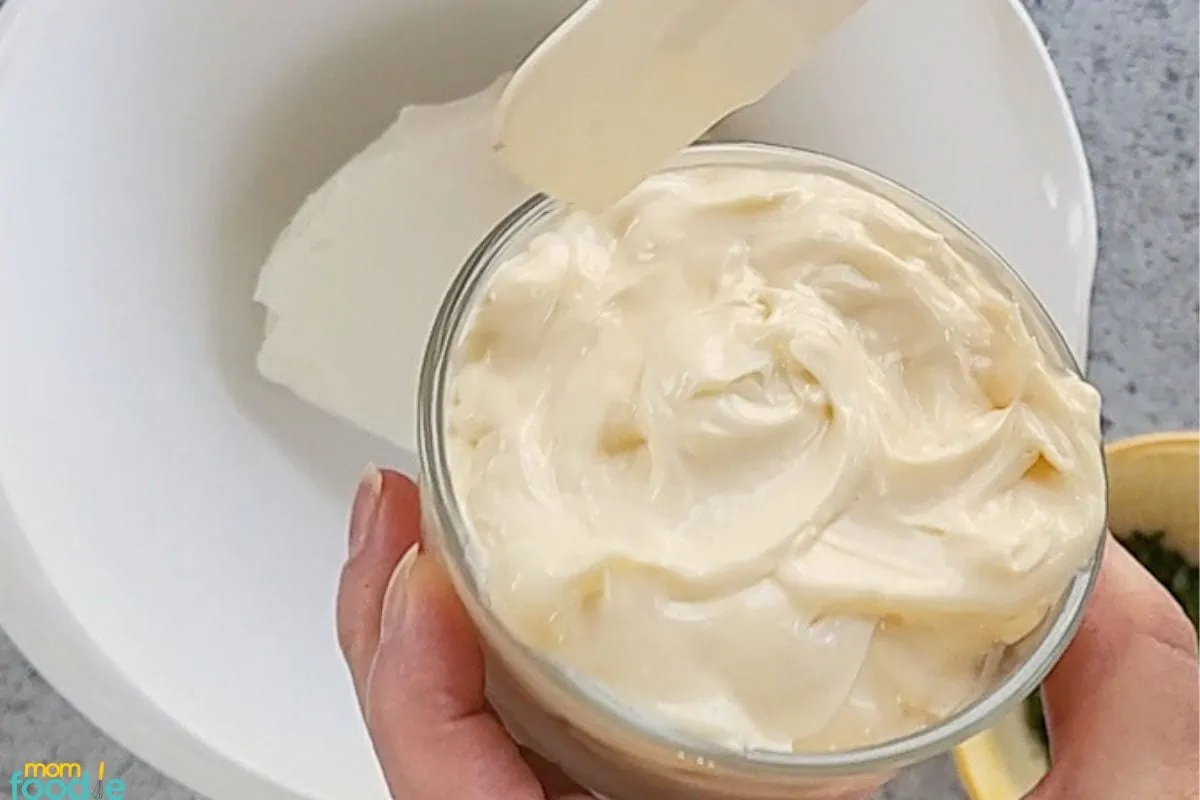 In a separate small bowl, mix the plain mayo and sour cream then whisk in the other ingredients for the dressing.
Gently stir the dressing into the larger bowl of ingredients until the sweet peas and rest of the salad is well coated. Season with salt and pepper as directed or adjust to suit your family.
Chill for at least one hour. Serve cold.
How to Serve
The easy salad makes a fantastic cold side dish to serve with grilled meats, sandwiches or even hot dogs and hamburgers. Of course, you could also enjoy this delicious pea salad as light lunch itself if you like. It is pretty hearty.
Try teaming this cold side dish with my Blackened Salmon or Grilled Boneless Chicken Thighs in Turmeric Greek Yogurt Marinade. The creamy pea salad will cool the palate while eating these spicy dishes.
Variations to Make the Best Pea Salad for You!
As I mentioned above chopped hard boiled egg is a popular addition to this easy pea salad. It is a great recipe to get adventurous with. More yummy add-ins or swaps are:
Chopped leftover ham is a great swap for bacon if you have some on hand. It is used in many pea salads.
Don't eat pork? Use plant-based or turkey bacon.
Add finely chopped fresh herbs such as dill or scallions.
Swap feta or blue cheese for the cheddar, though I would reduce the quantity to ½ to ⅔ depending on how pungent your choice is.
Ranch dressing can stand in for the mayo in this salad. For those who don't care for creamy salads, an Italian or Greek vinaigrette could be used as dressing.
Plain yogurt or Greek yogurt can stand in for the sour cream if you wish to give the green pea salad a little extra protein and boost of tangy flavor.
If you have a large crowd, consider extending the recipe by adding cooked macaroni. Simply increase the amount of dressing and mix it into the sweet pea salad along with the cold pasta.
Some swear by wild additions, such as: Fritos, crab, almonds, avocado, apples and green olives.
To extend the pea salad without more peas, try tossing in some chopped raw cauliflower, a bag of thawed mixed frozen vegetables, diced bell peppers or sweet corn.
Add a ¼ teaspoon of garlic powder or a minced clove to the creamy apple cider vinegar dressing, if you are a garlic lover.
Like it a little sweeter? Use Miracle Whip in place of the mayonnaise or up the sugar to a ½ teaspoon.
Give this crowd favorite some Greek flair, by using chunks of feta instead of cheddar.
Storing Green Pea Salad
If storing the whole bowl of pea salad prior to a summer barbecue, simply cover snuggly with plastic wrap and keep in the fridge until serving time. Store leftovers in an airtight container and seal well.
The pea salad will last in the refrigerator for up to three days. The sooner you eat it the better though, the texture starts to deteriorate (particularly the cheddar cheese).
TIP: If you want to make this a day ahead, simply mix the dressing and pea mixture apart and keep covered and separate. Just mix it all together the day you are serving. This will ensure a pleasing texture to the salad.
Q&A
Can I use fresh peas in this salad instead of frozen green peas?
Yes you can use either fresh or frozen peas, but how you treat them will depend on the quality and age of the peas themselves. You will have to bite one to test. If they are tender young sweet peas, you can toss them right into the salad raw. If you try one and it is starchy, give the peas a quiche blanche, drain and cool before using for your pea salad.
Can I freeze pea salad?
I really don't recommend it. The texture will not fare well and the sour cream dressing is likely to break.
Refreezing thawed frozen peas is also against food safety guidelines.
I hope you enjoy this delicious addition to your family dinner table. If you are looking for more picnic salads that are less common, try my Asian Cucumber Salad or grilled corn and tomato salad.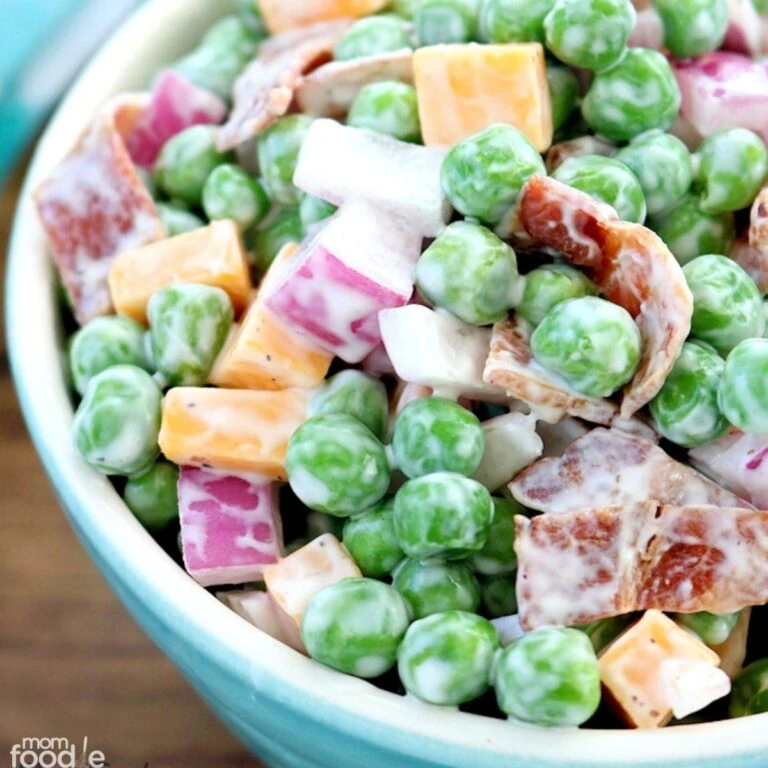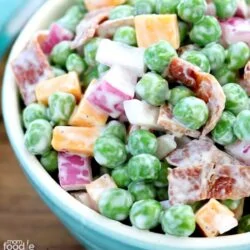 Pea Salad Recipe
This cold green pea salad with mayonnaise, bacon and cheese is a cookout classic.  Make this delicious old fashioned pea side dish for your next summer party!
Print
Pin
Rate
Ingredients
4

cups

Frozen Peas

thawed

10

slices

cooked Bacon

or ½ cup of diced ham

½

Red Onion

8

ounces

Cheddar Cheese
Salad Dressing
¼

cup

Mayonnaise

¼

cup

Sour Cream

1

tablespoon

Apple Cider Vinegar

¼

teaspoon

Salt

(Kosher or Sea salt)

¼

teaspoon

Black Pepper

¼

teaspoon

granulated sugar
Instructions
Place the thawed frozen peas in large bowl.

Chop the bacon into bite sized pieces and add to the bowl.

Dice the red onion and add.

Cut the cheddar cheese into quarter inch cubes and also add to the pea mixture.

In a separate small bowl, whisk together the dressing ingredients, then combine the dressing with the rest of the ingredients until the pea salad is well coated. Add more salt and pepper if needed.
Notes
Store in a well wrapped bowl or airtight container until ready to serve.
Add 2 chopped hard boiled eggs if you like.
Nutrition
Calories:
273
kcal
|
Carbohydrates:
12
g
|
Protein:
15
g
|
Fat:
19
g
|
Saturated Fat:
9
g
|
Cholesterol:
45
mg
|
Sodium:
463
mg
|
Potassium:
275
mg
|
Fiber:
4
g
|
Sugar:
5
g
|
Vitamin A:
883
IU
|
Vitamin C:
30
mg
|
Calcium:
232
mg
|
Iron:
1
mg