Today, I'm sharing with you how to make homemade Ranch Seasoning. This dry ranch dressing mix stores well and goes great in so many recipes.  Simply swap out two tablespoons of this powder for a packet of ranch seasoning. The ranch dressing mix recipe is gluten-free and has no preservatives.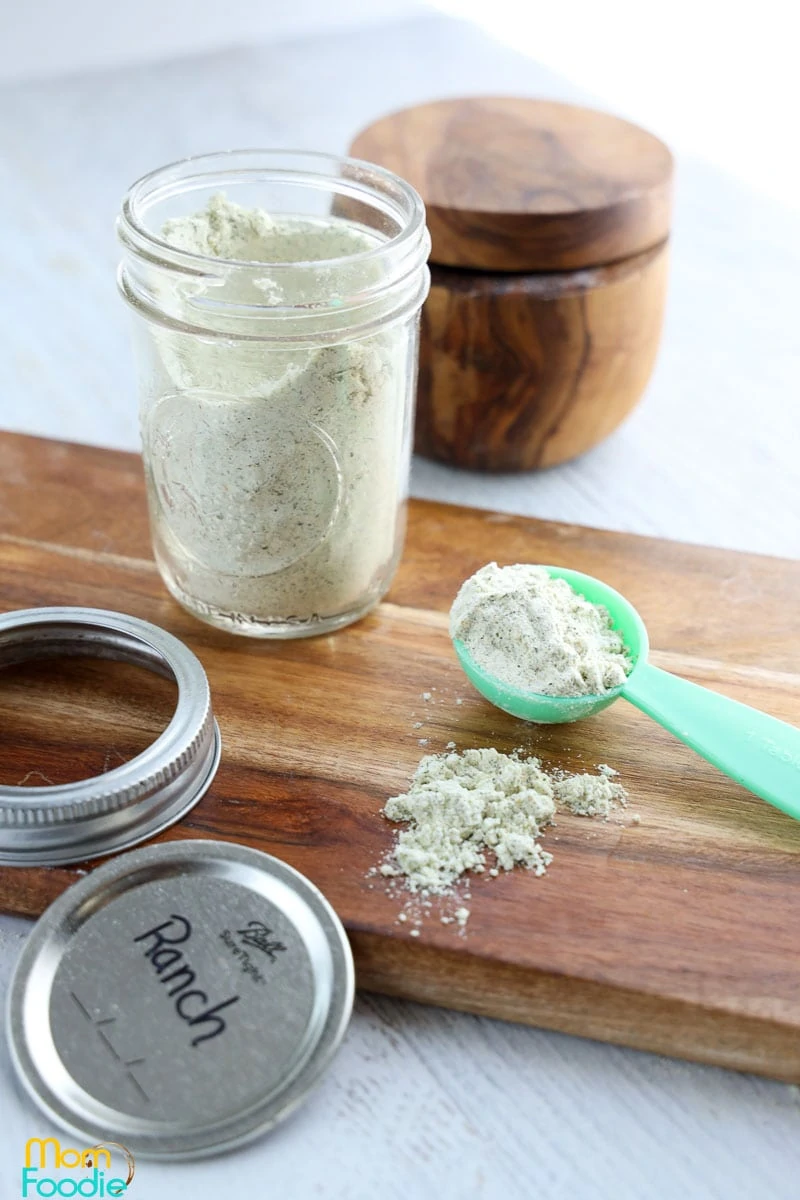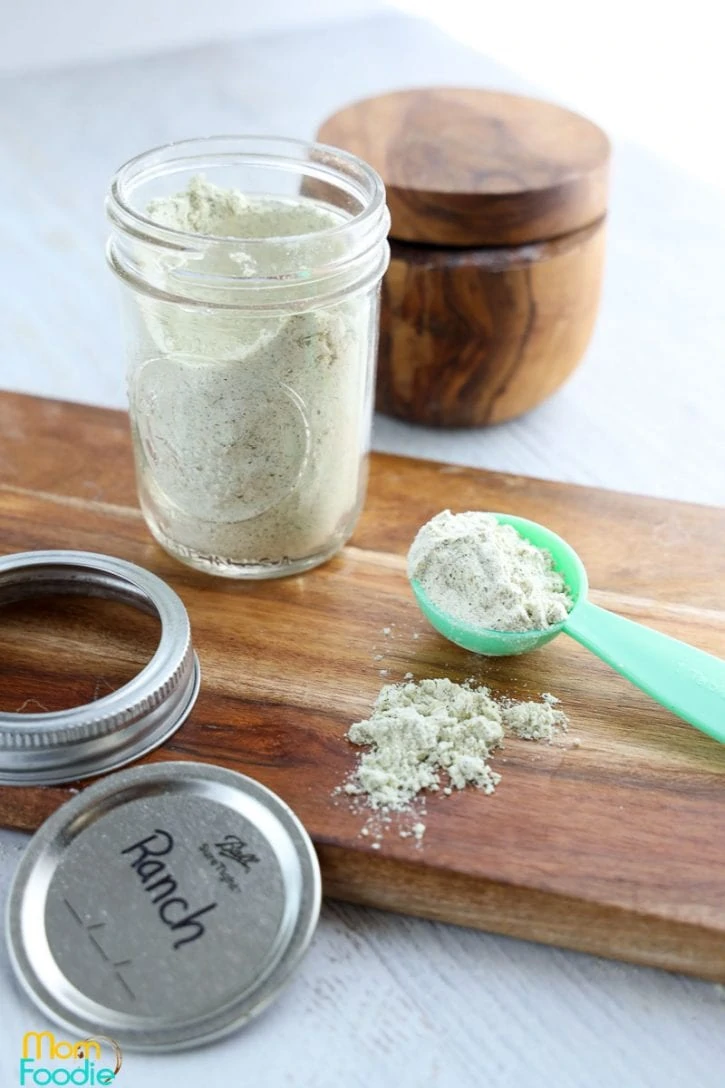 Ranch Seasoning, for More than just Dressing!
We are sort of ranch junkies around here, so having a jar of dry ranch seasoning on hand comes in mighty handy.  It is a pantry staple for us and I prefer the homemade over store bought.
If you have a recipe that requires a packet of Ranch, simple swap 2 tablespoons of this homemade ranch dressing mix.
Other than just making dressing, dips, roasted vegetables, crock pot chicken dishes and seasoning crunchy snacks are some uses of the Ranch Dressing mix.
My daughter loves this ranch seasoning on her oven roasted potatoes and mixed into her pasta salad (as well as on buttered pasta).  I like to add the dressing mix to mashed potatoes and use it to coat chicken, as well as vegetables.
Try this homemade ranch dressing mix in place of packets in my Ranch Black Bean & Veggie Tortilla Casserole Recipe , Chicken Bacon Ranch Casserole or Cheesy Ranch Mini Potato Croquettes Recipe.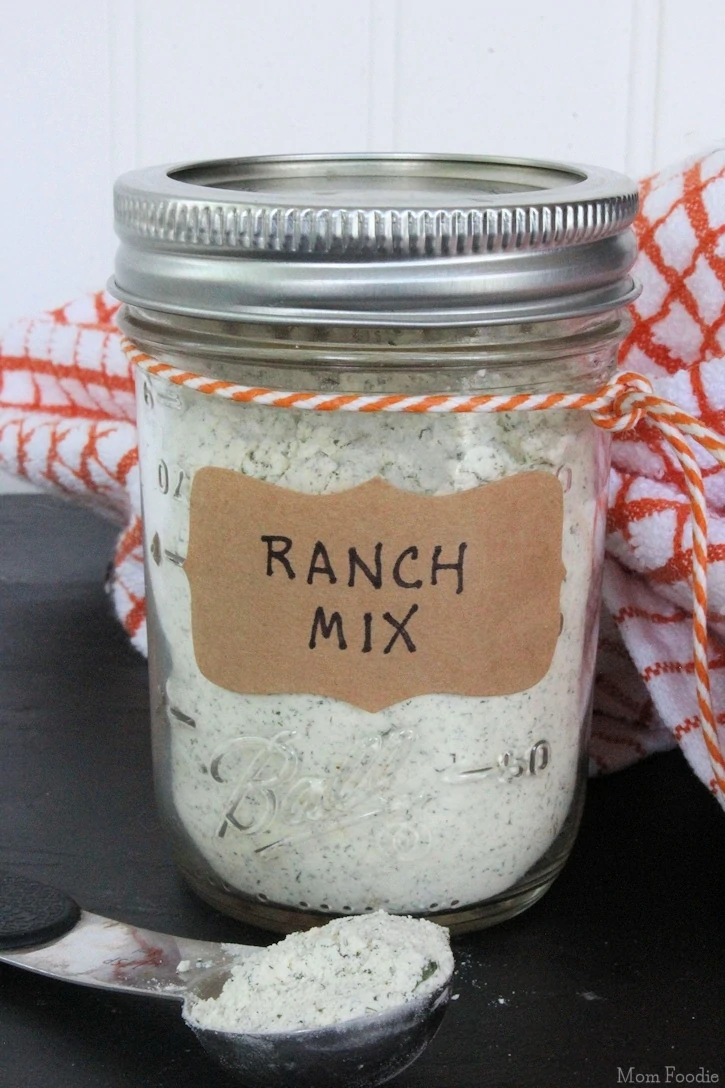 Homemade Ranch Dressing Mix: Benefits
Use a lot of Hidden Valley Ranch seasoning packets in your household? You may just find it worth making your own homemade Ranch dressing mix. This is especially true, if you don't always use the entire packet.  Resealing a packet, usually works well over the sort term but during humid weather can become unusable sooner than you like.
If you use a lot of Ranch Seasoning in your household for various recipes, you will find making your own is more cost effective.  I am a big proponent of using up your spices too. Don't hoard them. They don't last forever.
For those avoiding certain ingredients due to allergies or other concerns, making your own  gluten-free seasoning mix may be essential.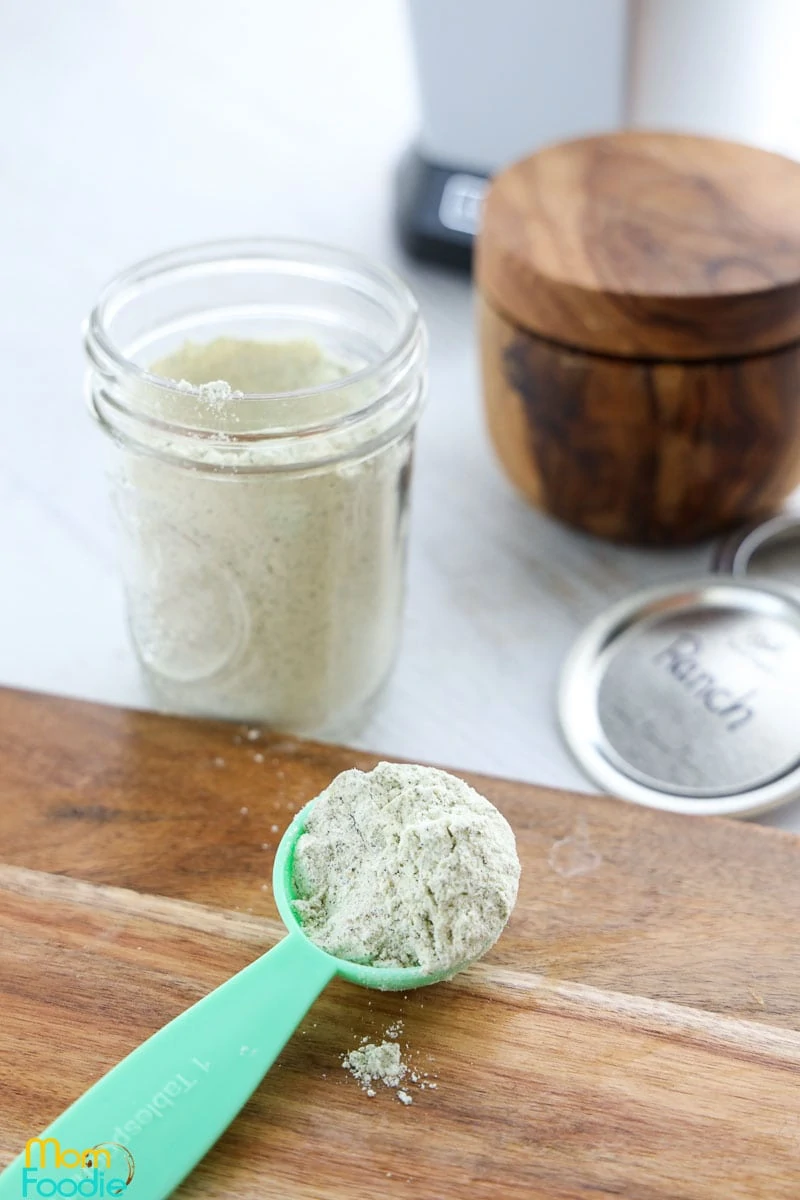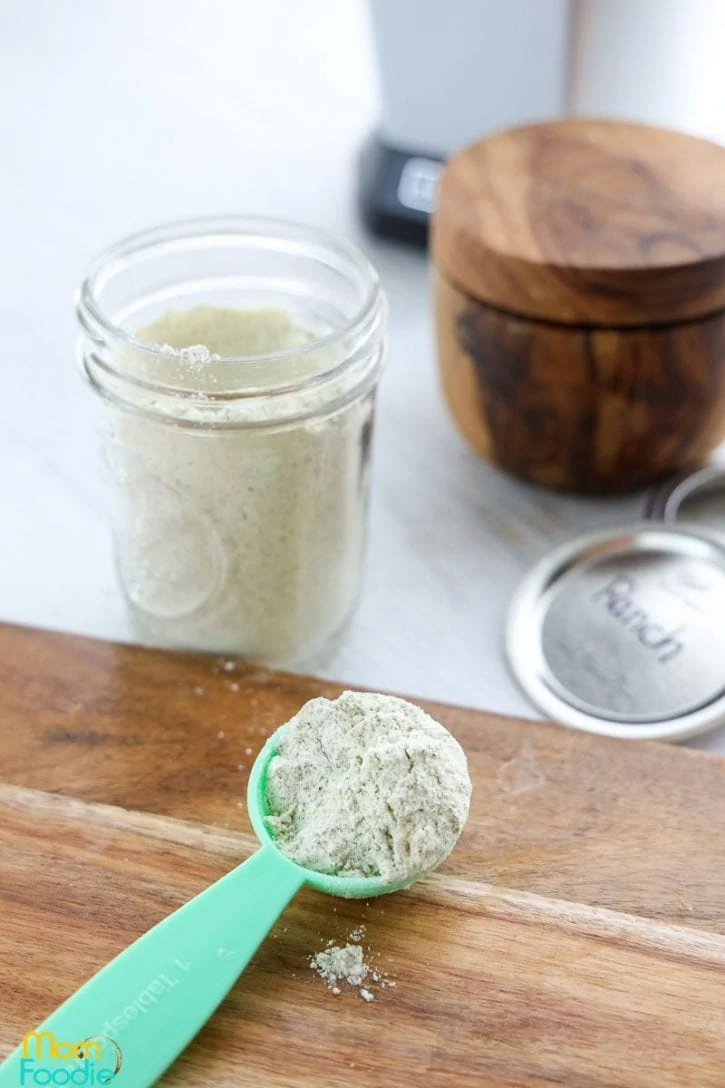 How to Make Ranch Seasoning
This is really easy, and fits perfectly in a jelly jar.  It fills right to the 6 oz line, so there is room to scoop the seasoning out. The printable recipe card can be found below.
Ingredients for the Dry Ranch Dressing Mix
Here is all you need to make this versatile ranch seasoning.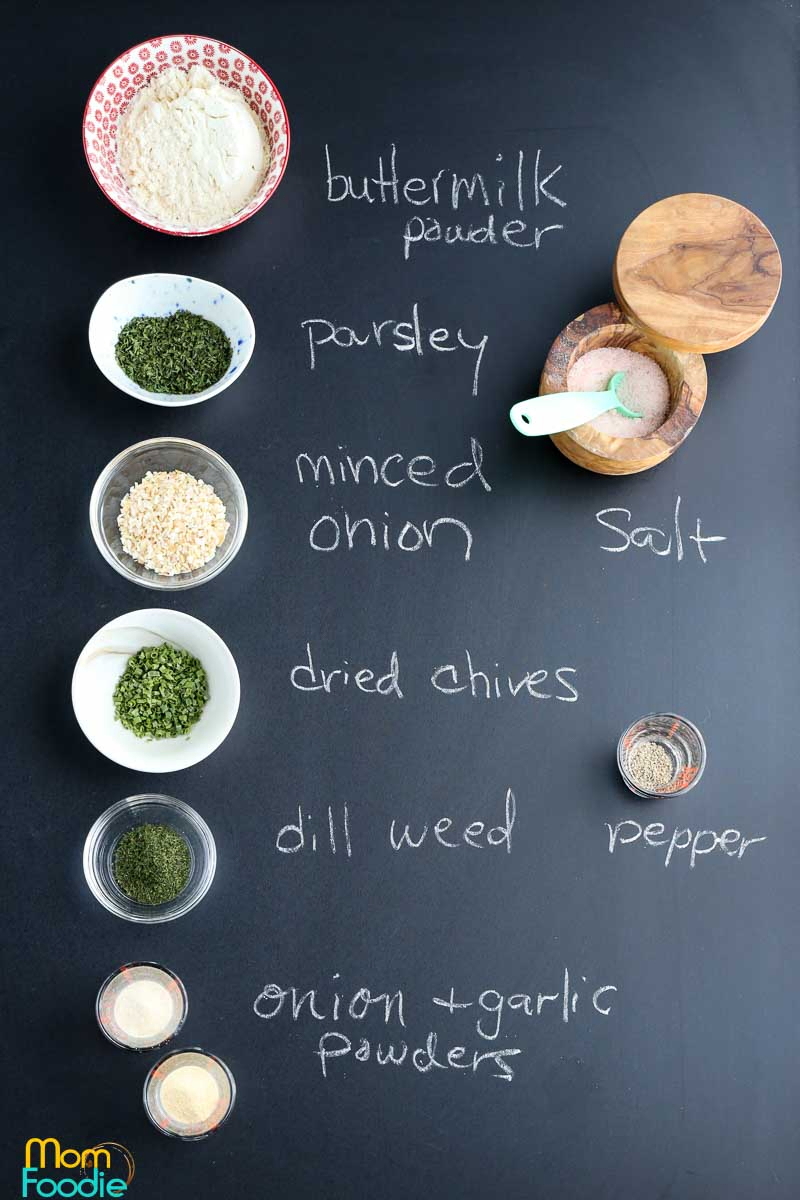 ½ cup dry buttermilk powder
2 tablespoons dried parsley flakes
1 tablespoon dried minced onion
1 tablespoon dried chives
2 teaspoons dried dill weed
1 teaspoon onion powder
1 teaspoon garlic powder
1 teaspoon Sea Salt
½ teaspoon ground black pepper
Preparing and Storing the Seasoning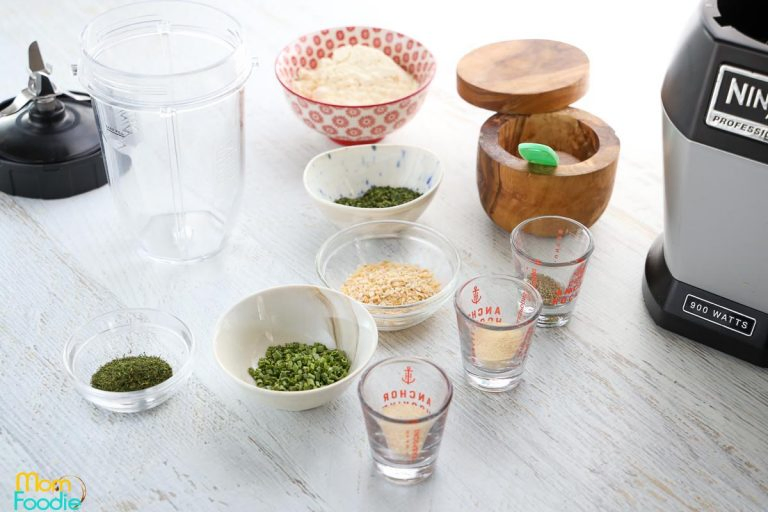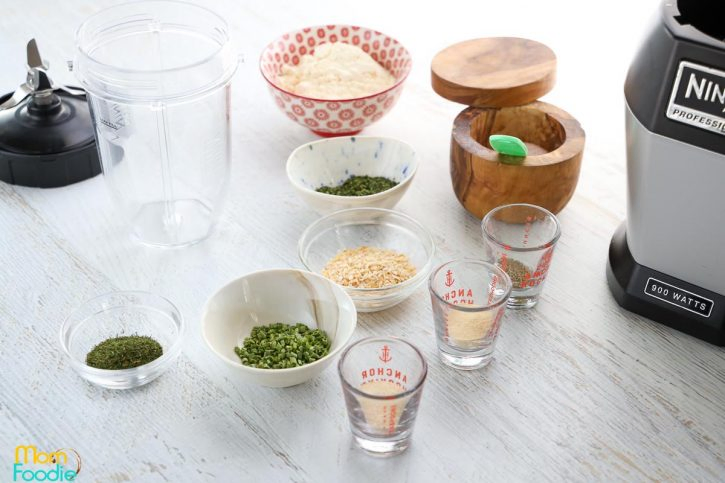 Simply dump the powdered milk and all the herbs and spices in a food processor or blender.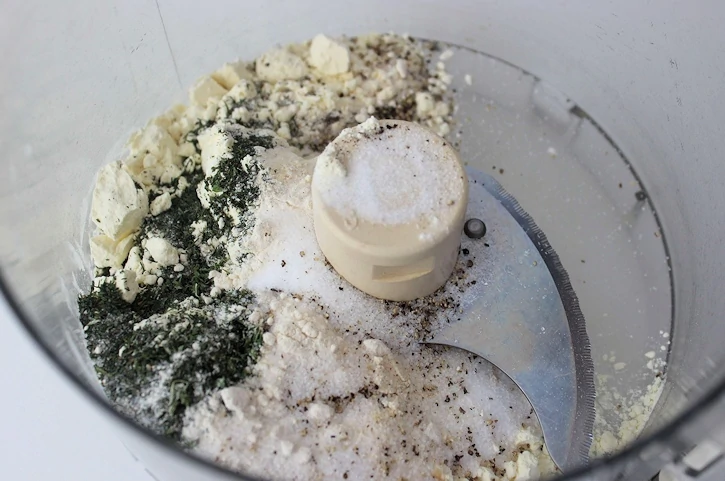 Pulse until smooth.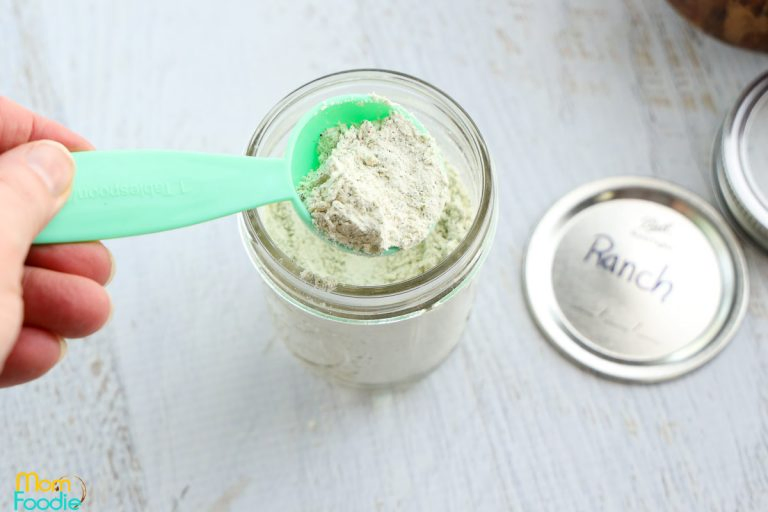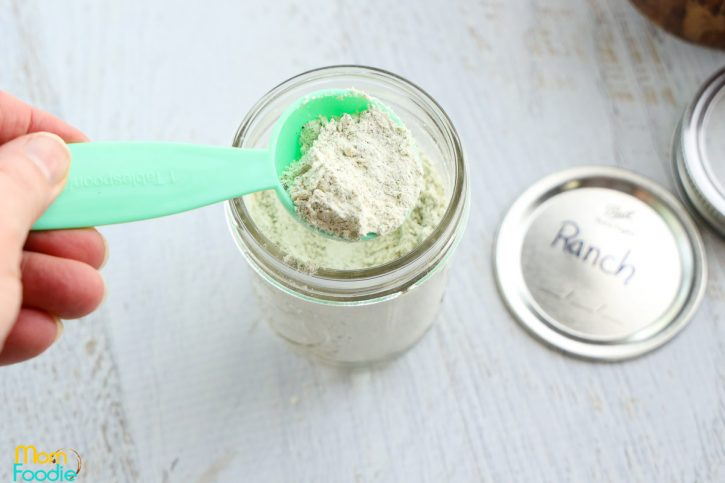 Storing Homemade Ranch Seasoning
This dry ranch seasoning recipe can be stored in an air tight container for 2-3 months, and can readily be adjusted to suit your personal taste.  Now I just have to remember to keep this on a high shelf so my curious daughter doesn't try to "cook" with it, which typically results in a messy floor and a messy grinning child.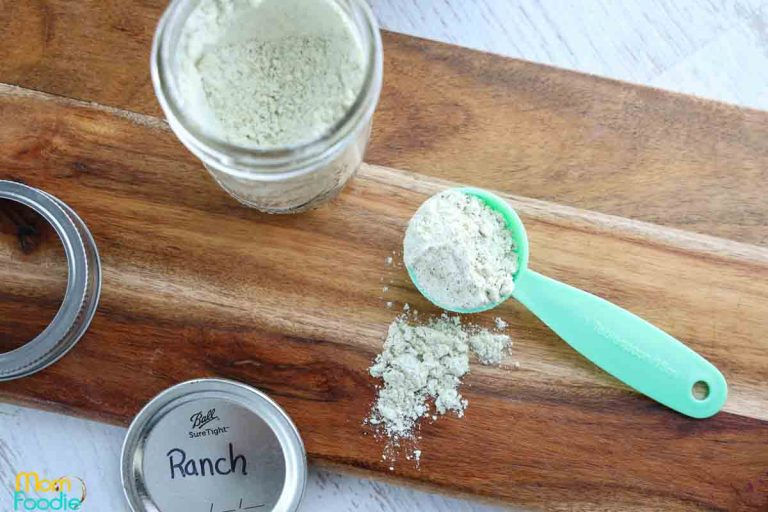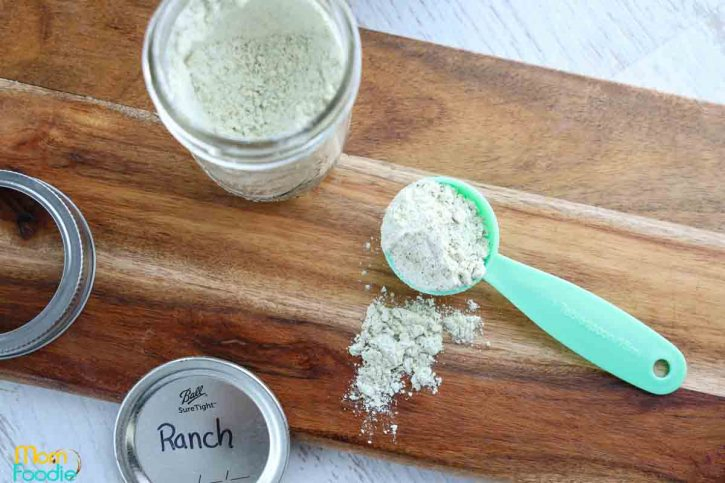 Make It Into Ranch Salad Dressing
When you want to make a batch of salad dressing the basic recipe is to stir 2 tbs of the ranch seasoning mix into a half cup of mayonnaise and whisk in milk until you reach your desired consistency.
Dips
For easy Ranch dips, simply mix with sour cream, yogurt and/or mayonnaise.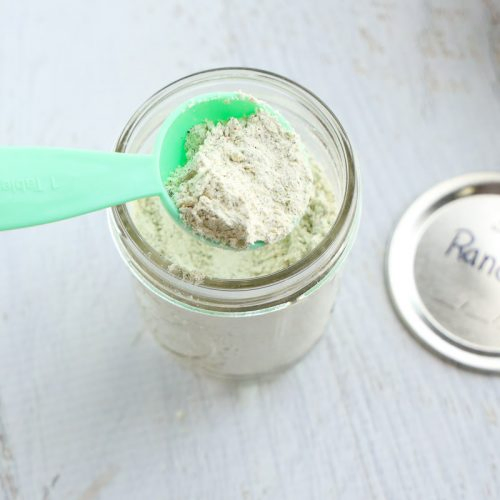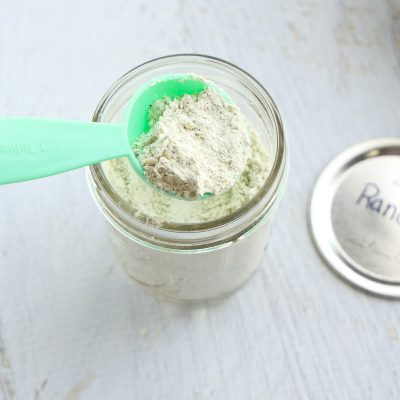 Ranch Seasoning
Easy homemade ranch seasoning recipe that makes a 6 oz jar of dry ranch dressing mix.
Print
Pin
Rate
Servings:
36
teaspoon servings
Ingredients
½

cup

Dry Buttermilk

2

tablespoon

Dried Parsley Flakes

1

teaspoon

Dried Minced Onions

1

tablespoon

dried chives

2

teaspoon

Dill Weed

2

teaspoon

Onion Powder

2

teaspoon

Garlic Powder

1

teaspoon

Sea Salt

(Kosher or Himalayan Pink are good too)

½

teaspoon

Pepper
Instructions
Place all ingredients in blender or food processor. Pulse until well mixed.

Store in air tight container.

When recipe calls for 1 packet of mix, replace with 2 tablespoon of this.
Notes
To make it into dressing: Put 2 tbs of mix into ½ cup of mayo. Whisk in milk until you have desired consistency.
Note: This is an updated streamlined version of the recipe.  If you made the older version in the past and are looking for that version here is the ingredients list: 
½ cup Dry Buttermilk, 1 tablespoon Dried Parsley Flakes, 1 teaspoon Dried Minced Onions, 1 teaspoon Dill Weed, 1 teaspoon Garlic Salt, 1 teaspoon Onion Powder, 1 teaspoon Garlic Powder, ½ teaspoon Salt, ½ teaspoon Sugar, ¼ teaspoon Pepper
IF YOU ARE USING 2 TABLESPOONS TO SWAP FOR PACKET HERE IS THE NUTRITION DATA FOR THAT
Changes to these values can be made after confirming with the blue button.
Nutrition
Calories:
8
kcal
|
Carbohydrates:
1
g
|
Protein:
1
g
|
Fat:
1
g
|
Saturated Fat:
1
g
|
Cholesterol:
1
mg
|
Sodium:
74
mg
|
Potassium:
35
mg
|
Fiber:
1
g
|
Sugar:
1
g
|
Vitamin A:
9
IU
|
Vitamin C:
1
mg
|
Calcium:
22
mg
|
Iron:
1
mg