This is a sponsored post written by me on behalf of The Frozen Food Foundation for IZEA. All opinions are 100% mine.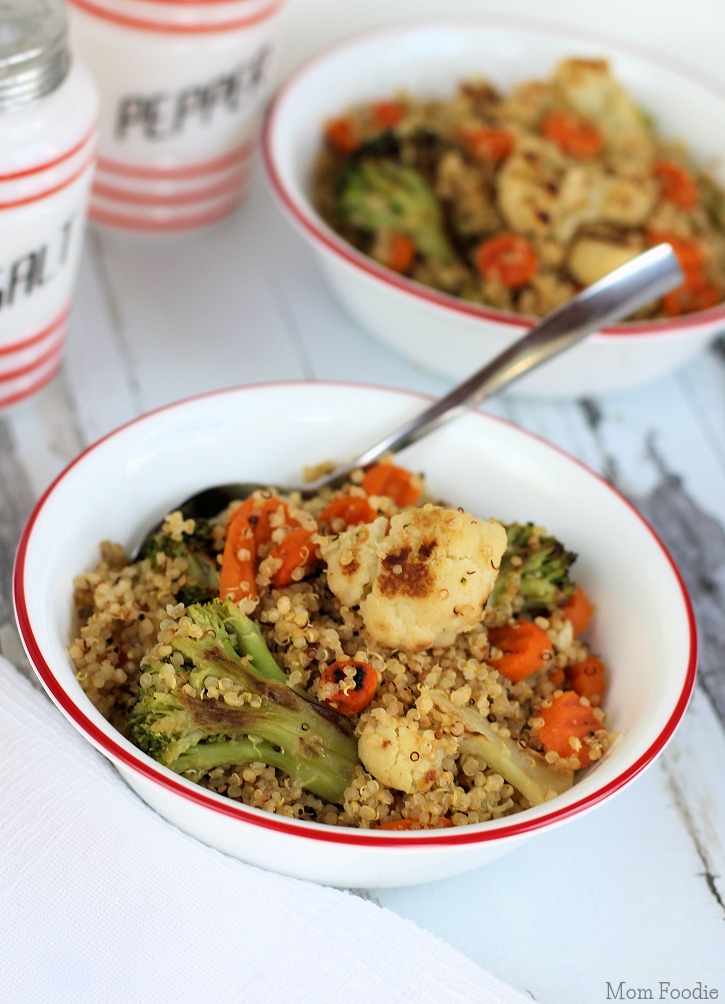 I am a big fan of roasted vegetables, but don't make them as often as I like, especially when in a hurry, because of prep time. Perhaps, it may have occurred to some of you already, but I had never tried roasting frozen vegetables before. The veggies were already prepped, and the freezing process locks in nutrients, so if it worked, I would have a very handy little trick. My freezer is always pretty packed with frozen fruits and vegetables.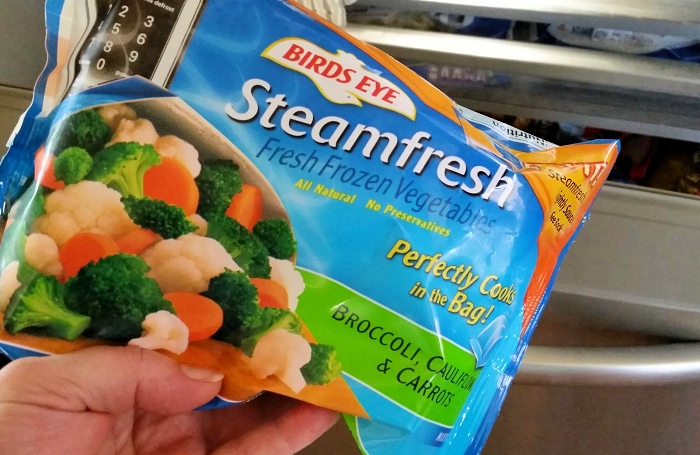 Since I love the combination of quinoa and roasted vegetables, and had a mixed bag of Broccoli, Cauliflower & Carrots conveniently in my freezer already, I decided an easy Roasted Vegetable Quinoa recipe would be lunch this day.

Here are pics of the frozen vegetables, before and after roasting. It worked out great, the quinoa was just about ready for them to be added when they came out of the oven. This makes for a nice quick vegetarian meal. It has 3 of my most favorite vegetables to roast in it, and can be on the table in less than a half hour.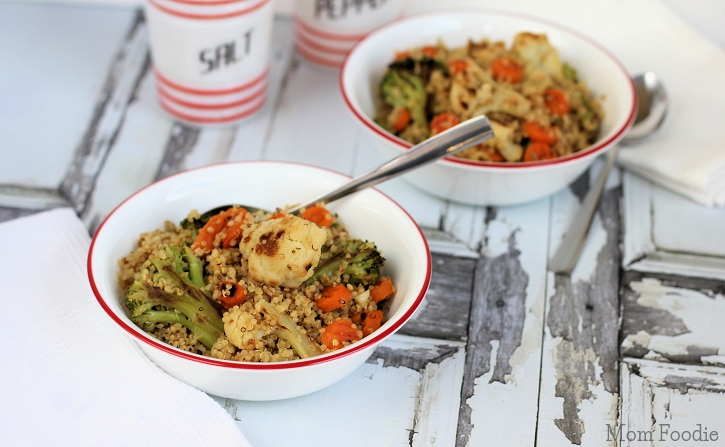 The recipe yielded two hearty meal sized bowls of Roasted Vegetable Quinoa. I would say it would be good for about 4 sides, counting for both vegetable & starch.

Why Cook with Frozen Fruits & Vegetables?
In addition to being both convenient to have on hand, without concern for spoilage, and saving us prep time in the kitchen, there are other benefits to frozen produce. The University of California, Davis, in partnership with the non- profit Frozen Food Foundation conducted a study comparing frozen fruits and vegetables to fresh ones. The study discovered that frozen fruits and vegetables are generally as just as rich in nutrients, and often even more so than fresh. It seems that freezing fruits and vegetables effectively locks in their nutrients. This is great news for those of us who want nutritious produce (especially one's that don't happen to be in season), without spending a small fortune. Buying frozen also cuts down on waste. I think we have all been guilty of forgetting a bag of produce a little to long, only to find something "lagoonish" at the bottom of the bag. I am not fond of making high priced compost. Eating a diet rich in a variety of colorful fruits and vegetables has been shown to be beneficial to our health in many ways, especially at reducing the risk of chronic diseases. Frozen is a great way to include these nutritious ingredients in our family's diet both conveniently and cost effectively. See these cherries in my freezer, I don't even want to think what decent fresh ones would cost right now … and I would still have to pit them. Yeah, I love frozen. Want to keep up with the information and tips coming out from this foundation, follow them on the Frozen Food Foundation Facebook page and/or the Frozen Food Foundation Twitter account.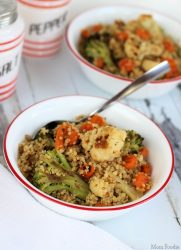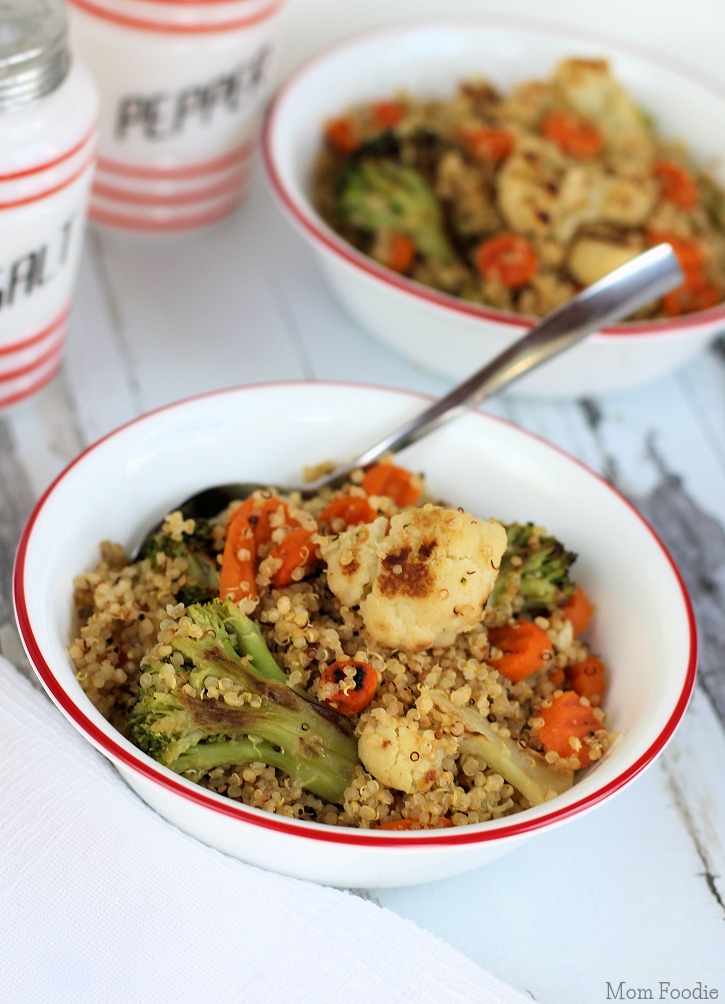 Easy Roasted Vegetable Quinoa Recipe
Easy Roasted Vegetable Quinoa Recipe made with frozen vegetables
Ingredients
1

bag of frozen broccoli

cauliflower & carrots blend

1

tbs

olive oil

2 tsp for vegetables, 1 tsp for quinoa

1

cup

golden quinoa

dry

1

clove

of garlic

minced

2

cups

chicken or vegetable stock

1

tsp

toasted sesame oil
Instructions
Preheat oven to 425 degrees.

Empty the bag of frozen vegetables into a large mixing bowl. Use a piece of paper towel to wipe out any significant frost (don't be too fussy about this). Add 2 tsp of olive oil and toss.

Spread out on a baking sheet and roast for 9-10 minutes, mix the vegetables around and return to oven after about 6 more minutes, retoss then roast a few more minutes (total roasting time about 20 minutes).

While the vegetables are roasting, place a small skillet over med-high heat, add 1 tsp olive oil, quinoa and garlic, stir regularly until quinoa is toasted, but garlic is not burnt.

Add stock, reduce heat to med-low, cover and simmer until liquid is absorbed (about 20 minutes).

Add the roasted vegetables to the skillet and drizzle sesame oil over them. Gently toss until evenly mixed.

Serve with your choice of condiments. (My faves are either a a combination of sriracha, lime and soy sauce or just a generous sprinkle of Parmesan cheese.)