These mini potato croquettes are great as either a bite-sized appetizer or finger food side dish. The soft potato and cheese filling is Ranch seasoned then coated with a crispy breadcrumb crust. YUM!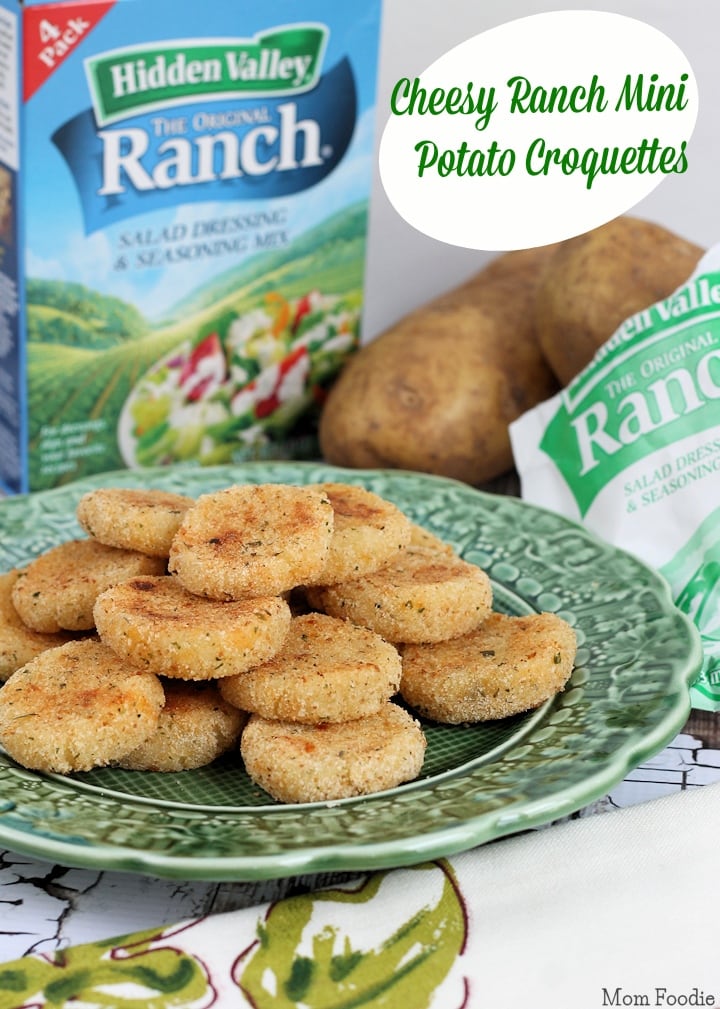 I love cheese and potatoes and Ranch Dressing, so they are the stars in today's recipe, and they make one great team. Perhaps, I was channeling some mid century housewife, or Julia Child, but I decided some easy potato croquettes would be a fun and delicious way to put the three together. They are tender crisp on the outside and creamy smooth on the inside. The cheese and seasoning Mix really boost the flavor in these, so they make a great appetizer, side or even snack.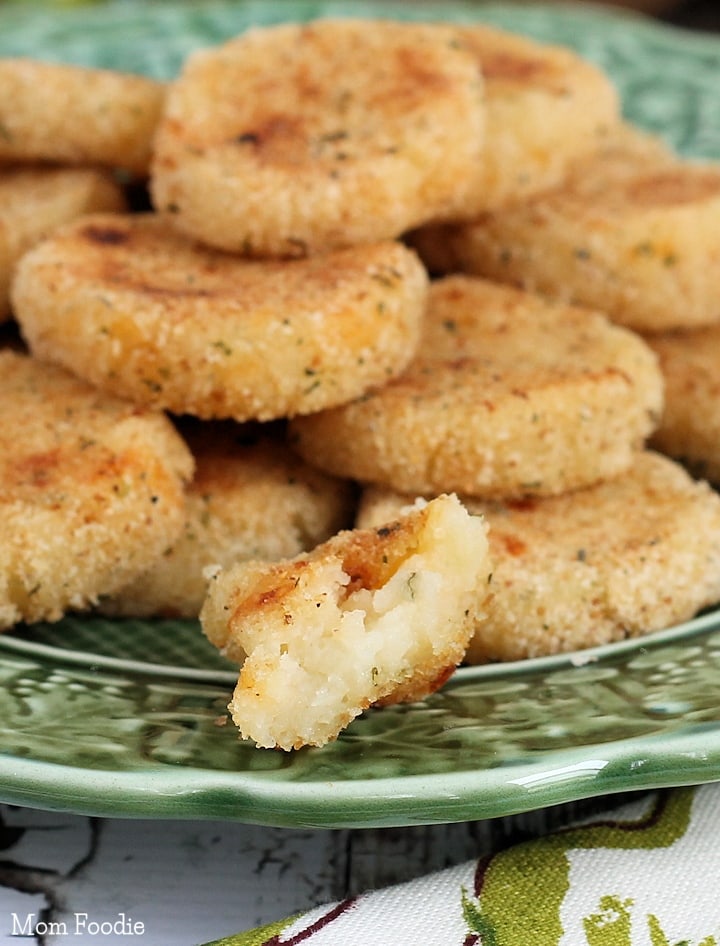 When preparing the dressing mix in the past, I took not of how it absorbed liquid and thickened what I put it into. In this potato croquette recipe, I have taken full advantage of this quality. The powdered dressing both flavored and improved the consistency of the potatoes. The potato mix is like a tasty softer version of play dough, which of course gives me other ideas... I did buy a 4 pack of the dressing mix.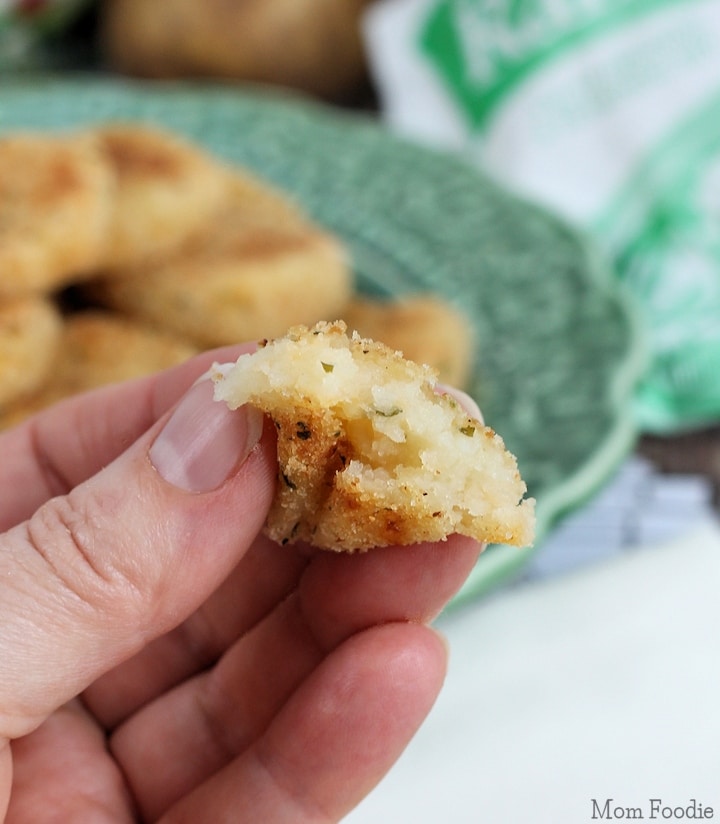 The Cheesy Ranch Mini Potato Croquettes could be pan-fried or deep fried, with a bit of care, but I decided to oven fry mine and they came out just fine and don't add extra unnecessary calories. Of course you could always add some crumbled bacon to make up for the calorie savings 😉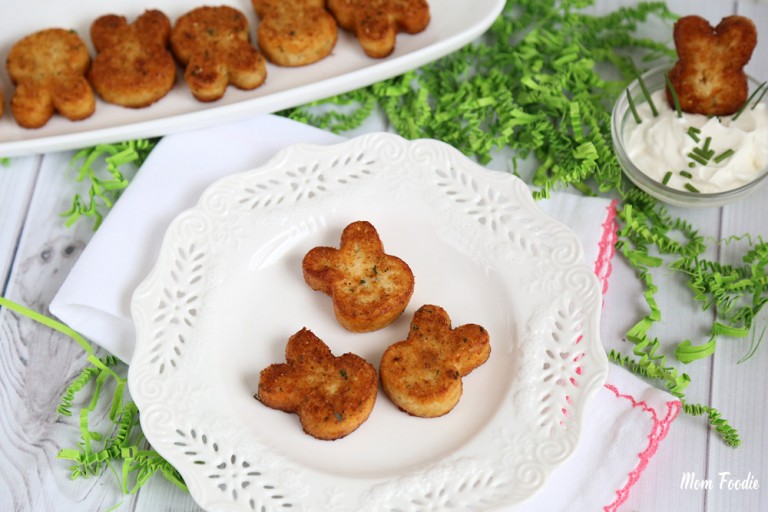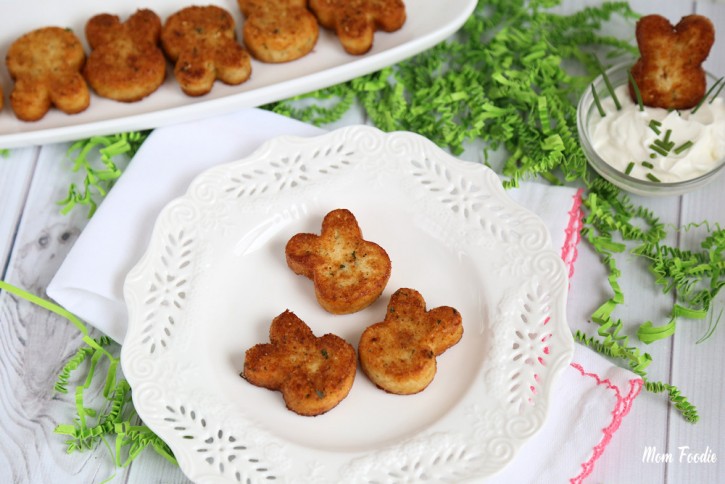 I also made another version of potato croquettes that is geared toward being made in fun shapes. See my Easter Bunny Potato Croquettes Recipe.
Try dipping these croquettes in Yum Yum sauce, seasoned sour cream, Greek Yogurt Ranch Dip with Avocado or even homemade Chick-fil-a sauce!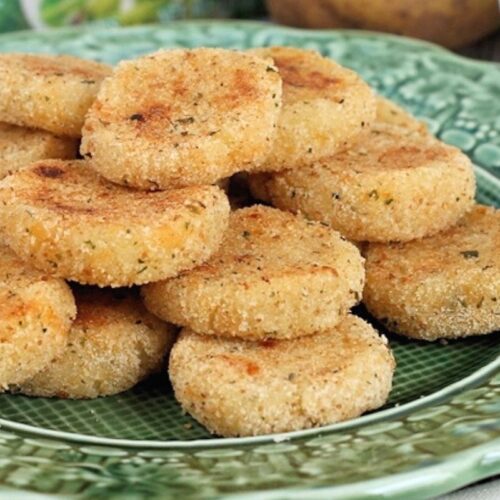 Cheesy Ranch Mini Potato Croquettes Recipe
These Cheesy Potato Croquettes baked and seasoned with Ranch are delicious and versatile. Serve as a side dish or appetizer!
Print
Pin
Ingredients
4

cups

cooked russet potatoes*

3

tbs

softened butter

1

packet of Ranch Dressing Mix

reserve 1 tbs for coating

¾

cup

shredded sharp cheddar cheese

¾

cup

bread crumbs

oil
Instructions
Preheat oven to 400 degrees F.

Mash together the potatoes, butter and all but one tbs of dressing mix. Once smooth, mix in shredded cheddar.

Mix together the bread crumbs with the tablespoon of ranch dressing mix you reserved earlier.

Take small dollops of the potatoes (a tablespoon or a little less), and roll them into balls. Drop a few balls at a time into the crumb mix. Roll around and gently press down to from chubby little croquette patties.

Place the patties on parchment lined baking sheets and spray or baste will oil. Make sure to coat them well, so you will get a crispy crumb coating.

Once both sides have a coating of oil, bake for approximately 9 to 10 minutes until bottoms are crisp, then gently flip and bake for another 8-9 minutes.

Serve warm.
Notes
*if you have leftover mashed potatoes they will work fine, just don't add more butter