Is the daily hustle bustle of life leaving you all worn out? You might be tempted to reach for that can of energy drink, but wait and listen up! Swap that for one of these 6 all natural energy booster drinks for a quick pick me up. They'll leave you feeling fresh and energetic, ready to take on what the day has for you.
Team these clean natural beverage choices with healthy eating and you will be feeling more fit and energetic in no time.
All Natural Energy Drinks
Save money and avoid artificial and potentially dangerous ingredients with these energy boosting healthy drink choices.
Chia Smoothie
You probably guessed this one was coming- chia seeds have been one of the most popular superfoods for a long time now, and when added to smoothies, they can really take its nutritive value up a notch. These seeds are packed full of protein and rich in nutrients, both of which are essential when it comes to providing your body energy. In fact, they are also used by athletes to replenish their bodies after a workout.
Read more about the health benefits of chia seeds or try one of these smoothies:
Kombucha
Kombucha is a popular fermented tea that has gained a lot of popularity in the recent years. Apart from giving you an instant energy boost, it also helps detoxify your body naturally and heal it from within. Plus, with its probiotic content, it is great for your digestive system too! Need we say more?
Beetroot Juice
Beetroot juice is another powerful natural energy boosting drink, and is especially great when it comes to boosting your stamina. Studies have found that it helps do just that by reducing the amount of oxygen that your body spends during exercise (or during a fast paced day), and keeps you from getting tired easily.
Try this recipe... Mango Beet Juice Recipe
... or skip the mess and try beetroot powder. Just add it in your drink or smoothie.
Coconut Water
Think of coconut water as nature's very own sports drink- sipping on it is one of the quickest ways to boost your energy levels. Coconut water contains many important electrolytes including potassium, and the water content is best if you forget to get your 7-8 glasses a day and need to keep yourself hydrated. The next time you feel low or drained, just sip on this and you'll see how quickly it makes you feel fresh and energetic.
Green Smoothie
A good old green juice or smoothie is another excellent natural energy booster drink to consider. With all the chlorophyll content it packs in, you'll notice better energy levels and an improvement in your mental alertness. Some great green leafy veggies to add to your smoothie are kale, spinach, celery, parsley and cucumber. To add a bit of flavor and zing into the mix, squeeze a lemon and add some grated ginger into it!
Banana Smoothie 
Banana smoothies are well known as a post workout drink, but that doesn't mean you can't drink them if you don't work out. The unbeatable combination of bananas (packed with magnesium and potassium) and the milk and yogurt (with the protein and carbs) is just perfect when you've got a hectic day at work and need something extra to keep you fueled. 
Try the banana smoothie pictured above from Know Your Produce.
Feeling peachy? Try my Banana Peach Smoothie version.
Next time you need a pick-me-up and skip that Red Bull and have of these natural energy drinks. Skip all the artificial crap.
Q&A
What do you personally drink for an energy and focus boost?
Green Tea
Personally, I love a nice glass of iced green tea with a generous dose of lemon and some stevia or honey in the afternoon.  It is a great way to increase energy and really  helps break that afternoon slump. Lemon is alkaline too which helps keep your body in balance.  I use matcha powder, which can simply be stirred into the water.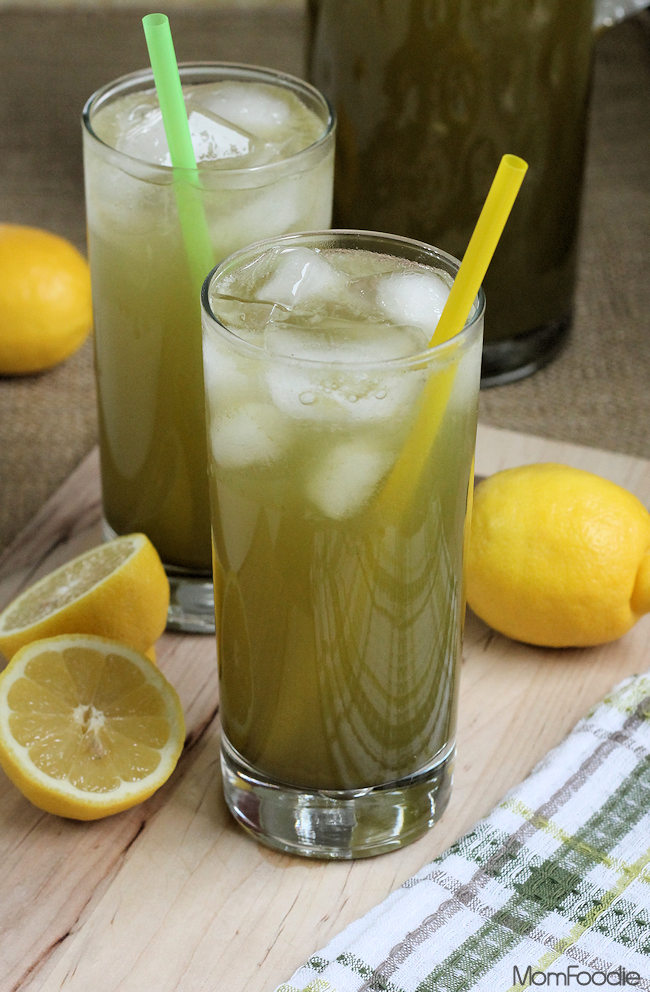 Try my Green Tea Lemonade or Green Tea Egg White drink (made with powdered egg whites).
Powdered Drink Mix
While everything else here is made straight from natural ingredients, I do use one powdered mix. It replaces electrolytes. I happen to be on the keto diet and maintaining both hydration and electrolyte balance is essential to staying healthy and active on a ketogentic  dietary plan.
Electrolyte Replenisher Drink
I drink a stevia sweetened electrolyte replenisher. I have been happy with Ultima Replenisher. I get the raspberry and the lemon. The lemon actually mixes in green tea as a mention above well. I keep a small tub at the house and buy packets to carry in my purse. My preference is to drink it at half strength, so I add it to most of my water throughout the day.