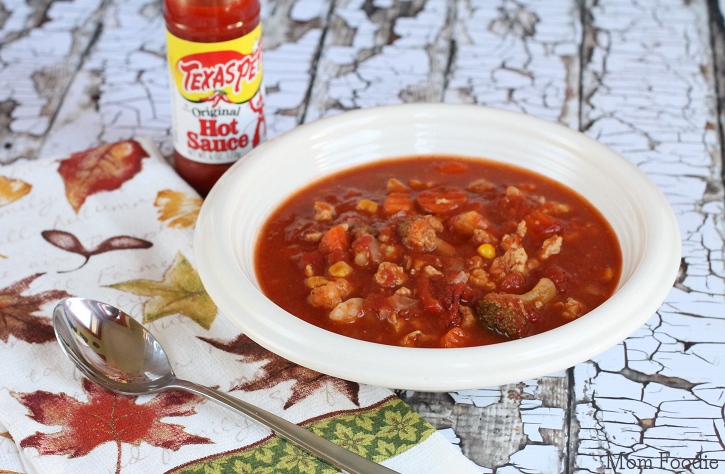 This post brought to you by Texas Pete. All opinions are 100% mine.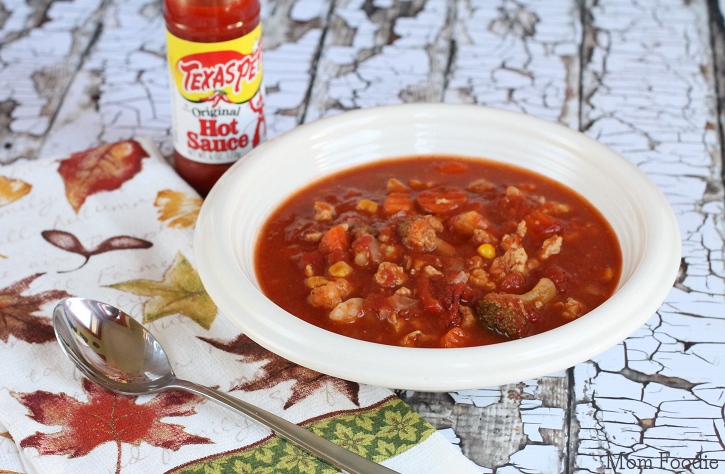 Like half of America I'm trying to drop a few pounds before the holidays take hold, and we are plied with goodies around nearly every corner. I'm not on any specific diet, just trying to eat healthy by avoiding empty calories and maintaining a balanced diet. While I haven't banned anything, sugar and other refined carbs are something I am avoiding. Lucky for me, I have a secret ingredient that has been helping me keep my dishes flavorful without ticking up the calorie count…. Texas Pete Hot Sauce
The Texas Pete Original Hot Sauce that I used in this recipe, actually doesn't add any calories, and their CHA! sauce which I have recently become addicted to only has 5 calories per teaspoon, so I can douse to my hearts content on my eggs, noodles… well pretty much everything 🙂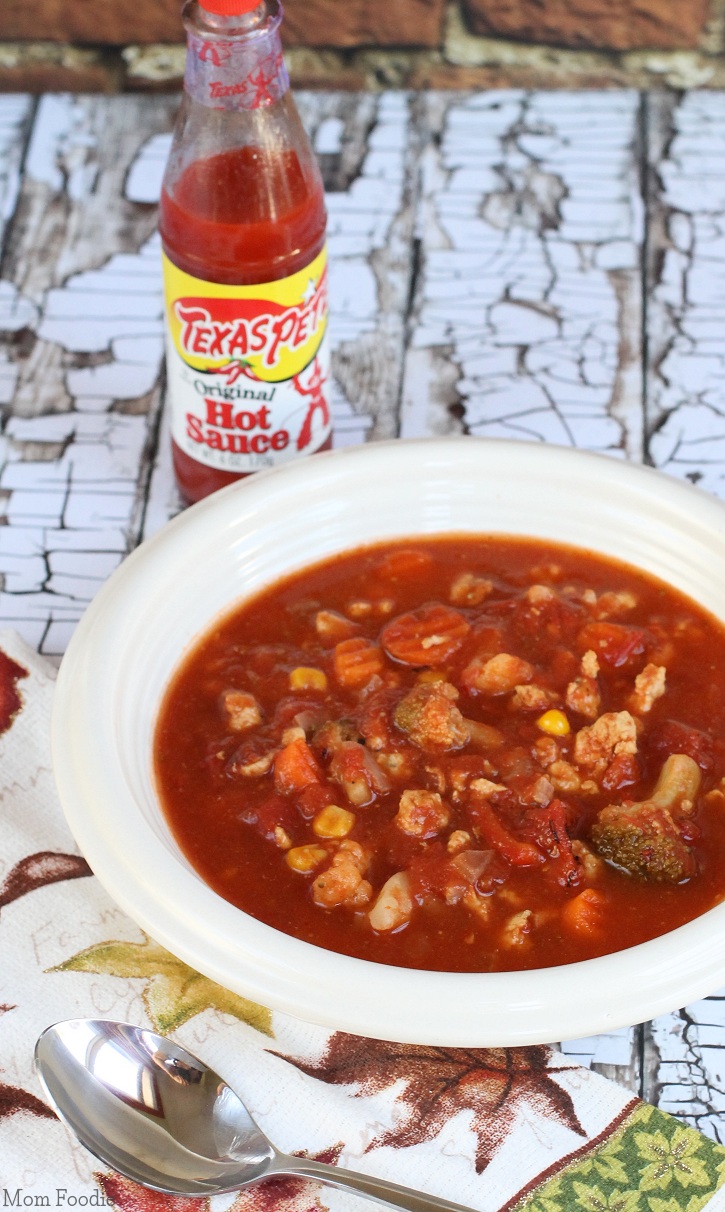 Now if you are not a hot and spicy lover, don't worry. The hot sauce in this recipe adds a subtle kick it is not particularly hot at all. I just accented the flavor of the soup with it, since more can be splashed in at serving time.
Where to Find Texas Pete Hot Sauce
Want to pick up a bottle of the Original, try out their new CHA! or one of their many other products? Follow this link to find Texas Pete Hot Sauce in your area.
Want More Recipes?
While I am sharing my Turkey & Vegetable Tomato Soup recipe right here, there are so many more things you can do with the great hot sauces from Texas Pete. Stop by their website for many more Texas Pete Hot Sauce recipes, or why not try your hand at coming up with your own.
Print
Turkey & Vegetable Tomato Soup Recipe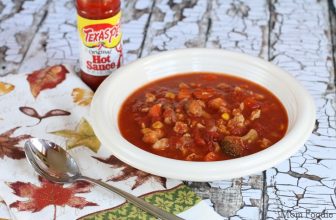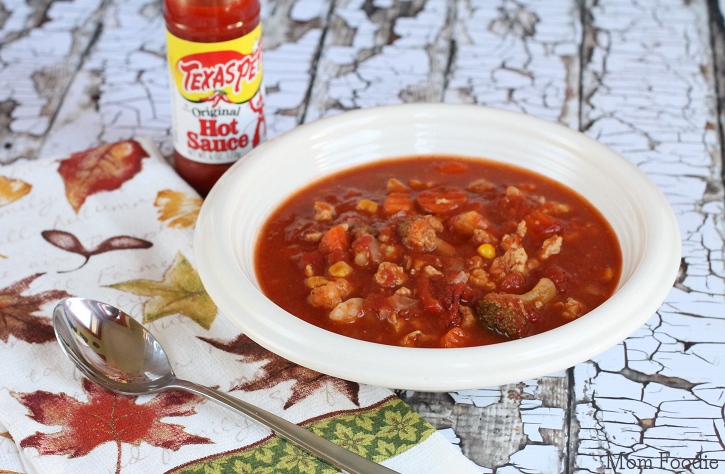 Author:

Robin Gagnon

Prep Time:

5 mins

Cook Time:

25 mins

Total Time:

30 minutes

Yield:

8
Ingredients
1/2 tbs olive oil
1/2 large sweet onion, diced
1 pound lean ground turkey (or lean ground meat of choice)
1/4 tsp dried oregano
4 cups low sodium chicken stock
2 tbs Texas Pete Hot Sauce – Original
1 tbs balsamic vinegar
28 oz can crushed tomatoes
14-15 oz can fire roasted tomatoes
2 bay leaves
12 oz bag of frozen mixed vegetables (I used mix with Broccoli, corn, carrots, cauliflower & red pepper)
Kosher salt to taste
Instructions
Place a Dutch oven or large sauce pan over med-high heat. Add oil. Once hot toss in the diced onions, ground turkey and oregano. Break up and stir until cooked through.
Add the stock, hot sauce, vinegar, both cans of tomatoes and bay leaves. Stir.
Once the pot starts to bubble, reduce to med-low, cover and simmer for 10 minutes.
Add the frozen vegetables and simmer another 10 minutes
Serve with a splash more of Texas Pete Original Hot Sauce or grated Parmesan cheese.
Nutrition
Serving Size:

approx. a cup

Calories:

169

Sugar:

8

Fat:

1

Carbohydrates:

17

Fiber:

5

Protein:

15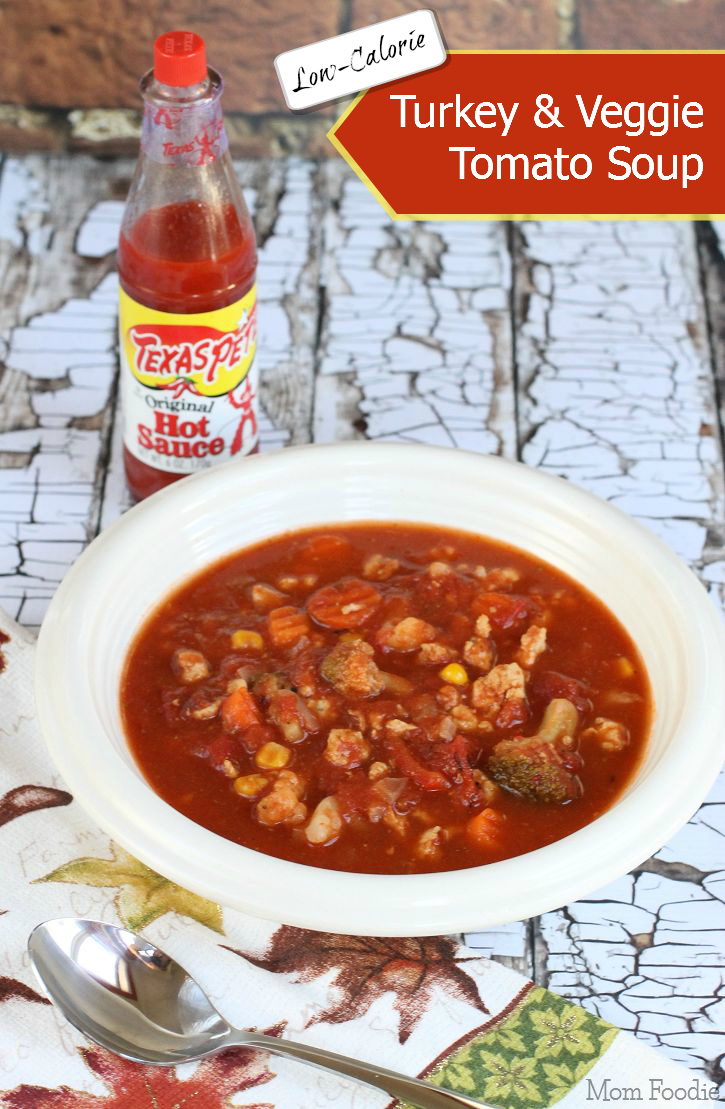 Stay up to date on new products & fun recipes by following Texas Pete on Facebook or @TexasPete on Twitter.