Marigolds (calendula) are much more than just an inexpensive pretty splash of color in your garden or patio containers.  Marigolds have a wonderful variety of uses- from cooking to beauty. Making them a truly useful plant to have on hand.
Here I will go through an array of marigold uses, so your petals will never go to waste whether fresh or dried.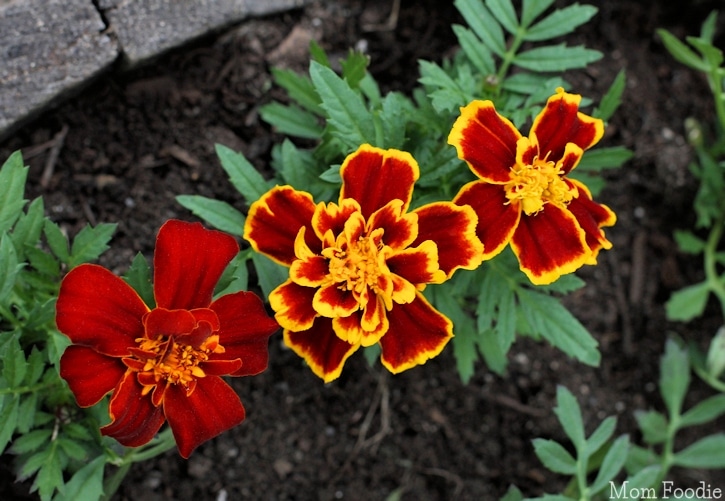 French Marigolds from my garden.
Uses for Marigolds
Using Marigolds in the Garden-They attract beneficial bugs such as bees, butterflies and ladybugs to your garden while deterring garden pests like nematodes. Plant marigolds as a companion plant to tomatoes, potatoes or roses. However, do not plant them with beans, or any member of the cabbage family. It can be planted as a border to deter deer and moles from your garden.  Marigolds can be used to make your own bug spray- throw a handful of flowers, stems, leaves and all into a pot of boiling water. Turn off heat, allow it to cool to room temp. Strain out flowers and pour into a spray bottle, add a teaspoon of castile liquid soap. Spray on flowers and plants for a natural pest control.
Using Marigolds in Cooking- Rich in flavonoids, antioxidants, and vitamin C-Marigolds can used in many dishes from tossing them fresh into your salad to baking them into cakes. They make a pretty topping for cakes and cupcakes, and can be candied in sugar. They are a lovely and fresh compliment to squash, cheese dip , fish and a variety of soup recipes. The flower petals can be used as an inexpensive substitute for saffron and will color your dish and add some peppery flavor. Marigold petals can be steeped to make a tea also- 1 tsp. dried marigold petals steeped in 8 oz. of hot water. Remember only those grown organically, that have not been sprayed with fertilizers, and chemicals are suitable for eating.
Medicinal uses of Marigolds - Marigold is anti-bacterial, anti-inflammatory, an antioxidant, as well as a mild antiseptic.. Petals steeped in hot water to make a tea is commonly used to treat menstrual cramps, indigestion, ulcers. Petals can be rubbed on scrapes and burns to bring about relief, and it promotes new skin growth as well. Make a salve and use it to treat diaper rash as well. Tinctures and creams made with marigold are helpful in naturally reducing acne as a great antiseptic.
Marigolds or Chickens- Chickens love to snack on marigolds, fresh or dried. Toss petals and watch them gobble them up, this will darken their yolk colors and aids in eliminating mites.
Marigolds in Crafts- Use them as a natural dye by soaking petals in hot water- color eggs, fabric, pasta, and more. Dry the petals and add them to potpourri. Stored in container in a dark, cool place your dried flowers can last up to 12 months.