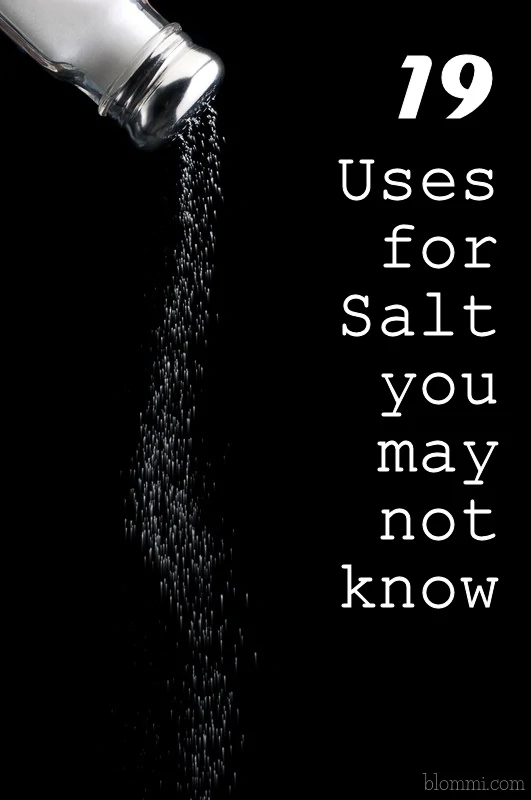 Salt can be used for so much more than cooking in the kitchen. You will be amazed at all the great things salt can do!
Is that old broom ready for a replacement? Before heading to the store to spend your money on a broom try out this little trick. Let your current broom soak in a bucket of hot salt water for about 30 minutes, Allow it to dry over night. In the morning those dull, weak bristles will be good as new! Try this on sponges as well mix three parts water to one part salt and soak the sponge overnight. Also, to keep your toothbrush lasting longer, soak it in a cup of salt water before you use it the first time.
Do you have burned on food, or even worse burnt milk on your pots and pans? Try sprinkling a little salt and getting it a little damp. Wait a few minutes until you see the burnt food or milk begin to loosen, rinse it with some warm soapy water. Salt even helps with those nasty stove top or oven spills. As soon a you can, while it is still fresh, sprinkle it with salt and scrub the mess away. Just be same that the surface is cool enough for you to be safe touching it.
Clean that messy fridge without spending money on store bought chemical cleaning products. Just put one part salt and three parts water in a bucket. Get a sponge and start cleaning the fridge. The salt will help fight odors and will not harm the glass shelves in your fridge.
With summer here the bugs are all out and ready to bite or sting. If you have been stung by a bee right away you need to wet the sting and cover it with salt. This will help ease the pain and decrease the swelling. (If your allergic to bee stings get IMMEDIATE medical attention.) The mosquitoes are horrible outside! To alleviate the itching soak the bite in salt water and then apply a little vegetable oil. This also works for chigger bites.

If you have been camping and accidentally got into poison ivy try soaking it in hot salt water to relieve the itching. If you have it all over you might consider taking a hot salt water bath.

If there is pesky grass or weeds growing between your patio, driveway or sidewalk blocks or bricks just spread some salt carefully in the cracks. Wet it down with some water or you can wait for it to rain.
If your closet is smelling like stinky feet deodorize your shoes by every now and then sprinkling a little bit of salt in the canvas shoes in your closet. This will help soak up the moisture and knock out the odor.
To deodorize your sink drain and to keep the grease from building up just pour a little salt mixed with some hot water down the drain regularly.
In the winter cities usually have trucks that go out and salt the streets from getting icy and slick. Did you know this will also work on your windows? Wipe the windows in your house with a sponge that has been dipped in salt water and let them dry. This will keep them frost-free. For your car windows just keep a little cloth bag filled with salt in your car. When the windows are wet just rub them with the bag. When it snows next your car windows will not be covered with snow or ice!
Is your coffee pot or coffee cups stained. Scrub away those ugly coffee rings by sprinkling a little salt onto a damp sponge and rubbing it in tiny circles around the stain. If it is a persistent stain mix equal proportions of salt and white vinegar and rub with a damp sponge.
Getting splattered by grease when your cooking bacon can be painful and extremely messy. Next time your cooking bacon just add a few pinches of salt to the pan before you begin to fry any food that will splatter. You will be cooking with less mess and no pain!
Waiting for water to boil can be a slow boring process. Next time just add a few dashes of salt to the water. It will make the water boil at a higher temp so the noodles or whatever food your cooking will require less time on the stove.
Making fruit salad in advance can result in browning apples and pears. To keep the apples and pears looking fresh, soak them for a few minutes in a blow of salt water.
Add a tiny bit of salt to a carton of milk or cream and it will stay fresh a few days longer.
Yellow perspiration stains on shirts seem almost impossible to get rid of. Try dissolving about 5 tablespoons of salt in 1 quart of hot water. Take a sponge and soak it in the salt water and rub it on the shirt until the stain disappears.
Slugs and snails eating up your garden? Just take some salt to the garden and saturate the slugs and snails.
Boost your circulation and remove dead skin by giving yourself a massage with salt. Right after you get out of the tub while your skin is still wet massage dry sat into your skin. You can use either regular salt or sea salt crystals.
Add two parts baking soda with one part salt then dip your toothbrush into the mixture and brush like you normally would. If you have sores in your mouth just rinse with a little warm saltwater a few times a day. Gargling the warm salt water will help a sore throat.
Up late with the kids last night or hanging out with friends watching a great movie that had you in tears? Mix a little salt with hot water and apply it to any swollen, puffy areas around your eyes with a cotton ball. The salt will tighten the skin and help draw out the moisture.