Going with a baby artichoke recipe rather than processing full sized fresh artichokes can be a real time saver. The smaller more tender baby artichokes are much better suited to pasta dishes too.
Here the mini artichokes are halved and sauteed with sun-dried tomatoes, lemon and garlic and served over linguini pasta, creating a satisfying vegetarian dish.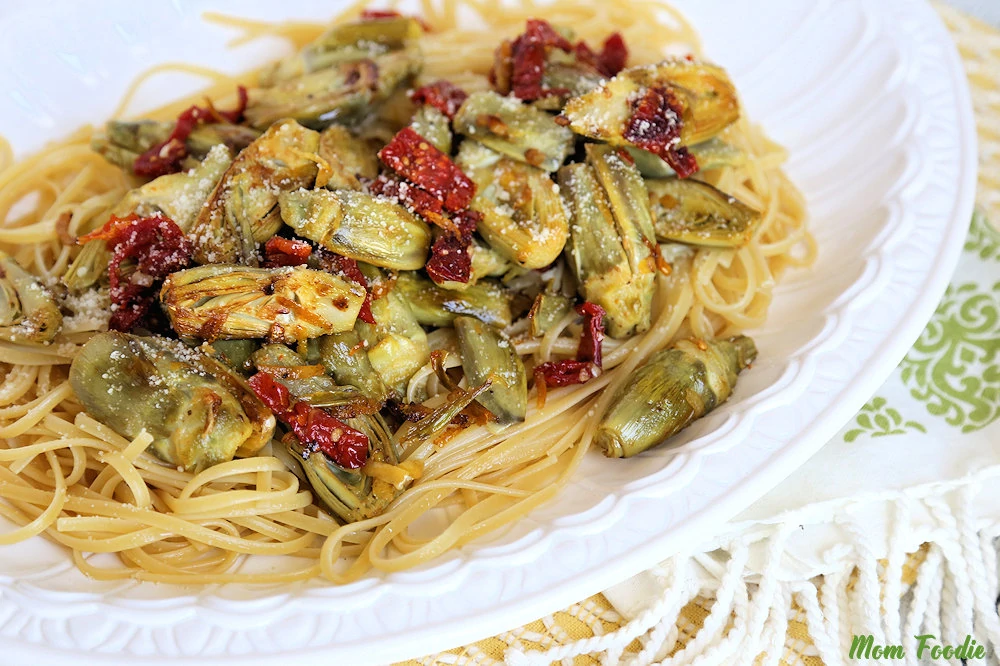 This vegetarian pasta dish is surprisingly hearty and makes a fabulous meatless spring meal. It is also perfect as a pasta course for a holiday meal.
Fresh Baby Artichokes... Don't Be Afraid
Artichokes can be intimidating for many cooks.  Full sized artichokes do require considerable processing, but baby artichokes require far less work.  The furry "choke" part of this member of the thistle family has not yet formed in these smaller buds. There are far fewer sharp spurs on the leaves, and those not peeled off are removed when the top is chopped off.  Baby artichokes are also a lot easier to eat than a traditional stuffed artichoke.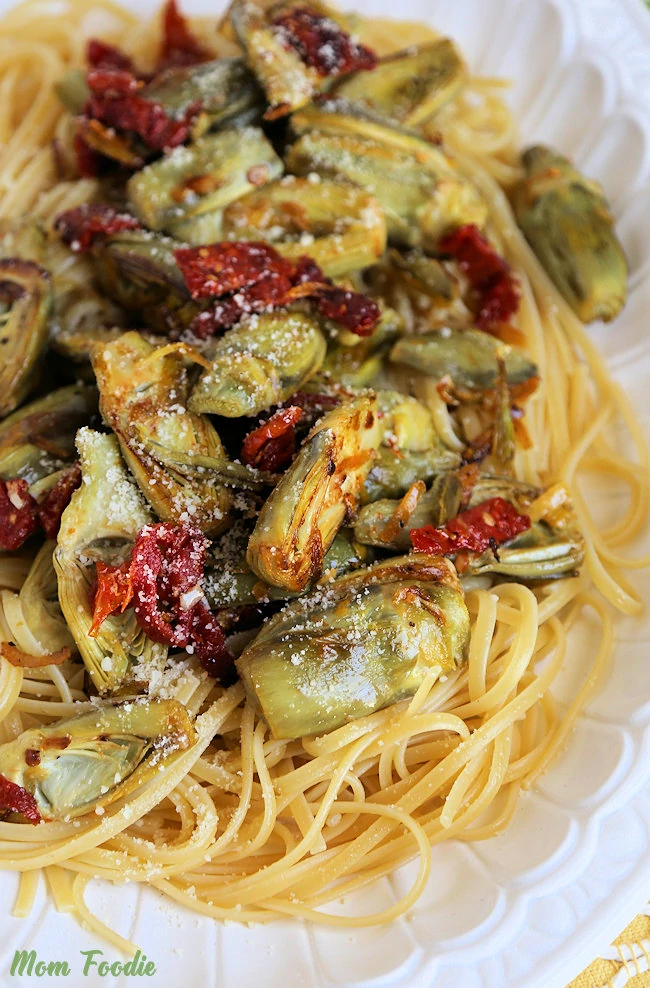 What to serve with Artichoke Pasta
Try a simple spinach salad with Strawberry Vinaigrette as a first course and a Blueberry Lemon Cake Roll or Strawberry Icebox Cake for dessert.
For beverage choice a nice crisp white wine would be perfect. Perhaps a simple Madras Drink, Cape Codder or Strawberry Mimosa if you are more in the mood for a cocktail.
Baby Artichoke Prepartion
When preparing baby artichokes, your first step is to set up either a bath of water with fresh squeezed lemon or as I have done here, a garlic and lemon marinate.  This step is essential, since artichokes oxidize very quickly once cut.  The acid in the lemon stops the oxidation.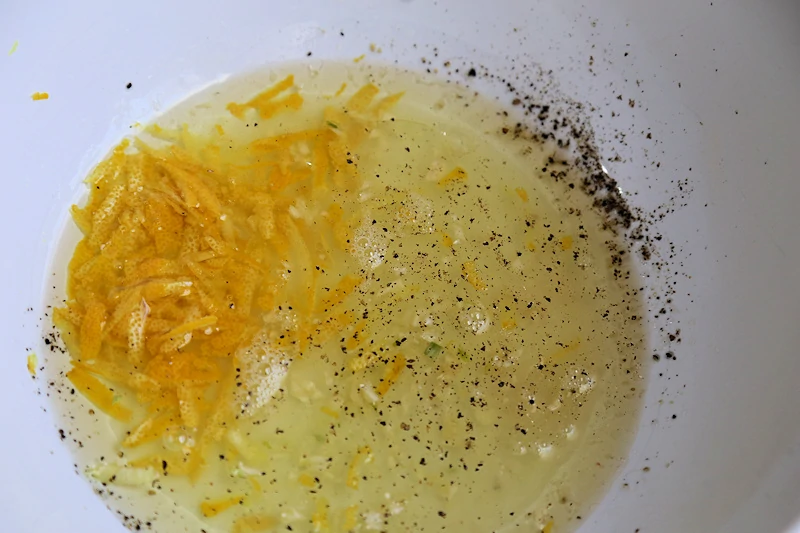 Keep in mind when buying baby artichokes, that the quantity you will end up with is far less than what you started with.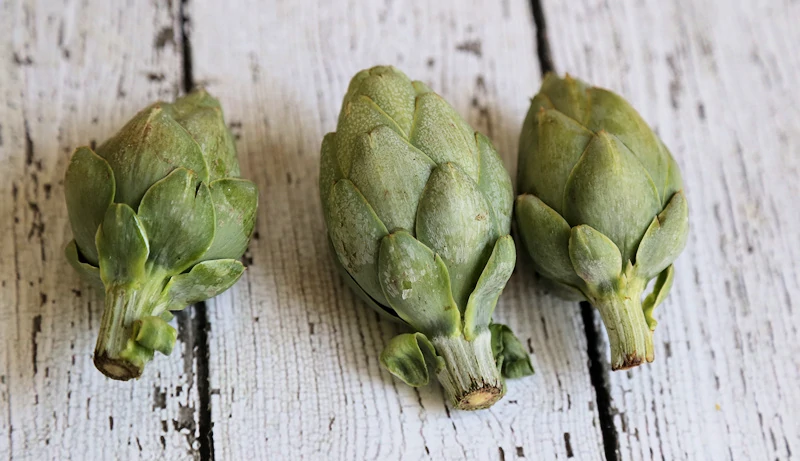 The tops and bottoms of stems will be cut away during preparation, but the greatest volume loss occurs when peeling away the tougher outer leaves to get to the tender light green ones inside.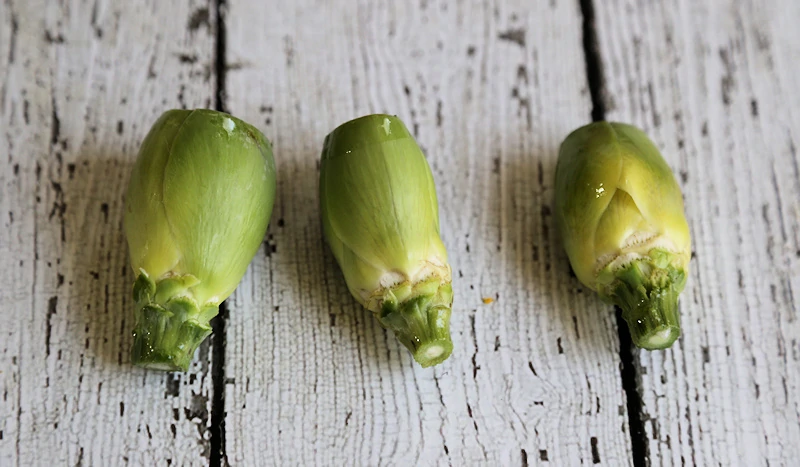 To make the preparation process more clear. View this short video from Cooking Light before starting.
Making Baby Artichokes over Linguine with Sun-dried Tomatoes, Garlic, and Lemon
This is a relatively simple baby artichoke recipe, and one you can easily adjust to your own needs.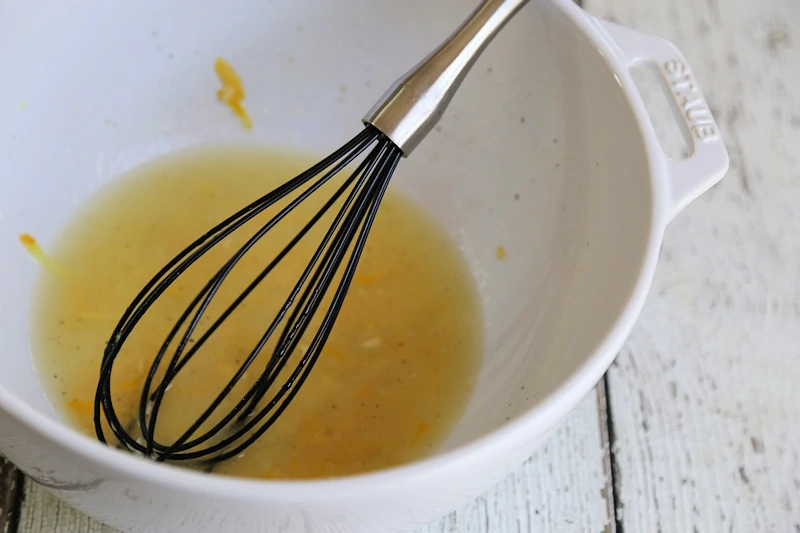 Adjusting the Artichoke  Marinate
The marinate needs olive oil, lemon juice and a little salt. Garlic while important, can be omitted if family members don't care for it. The lemon zest is added as a bitter contrast to the sweet sun-dried tomatoes in this particular recipe. If you are not using the sun-dried tomatoes, I would omit the zest. As mentioned earlier, the baby artichokes need to be tossed in this marinate (or lemon water), as soon as they are prepped and sliced in half.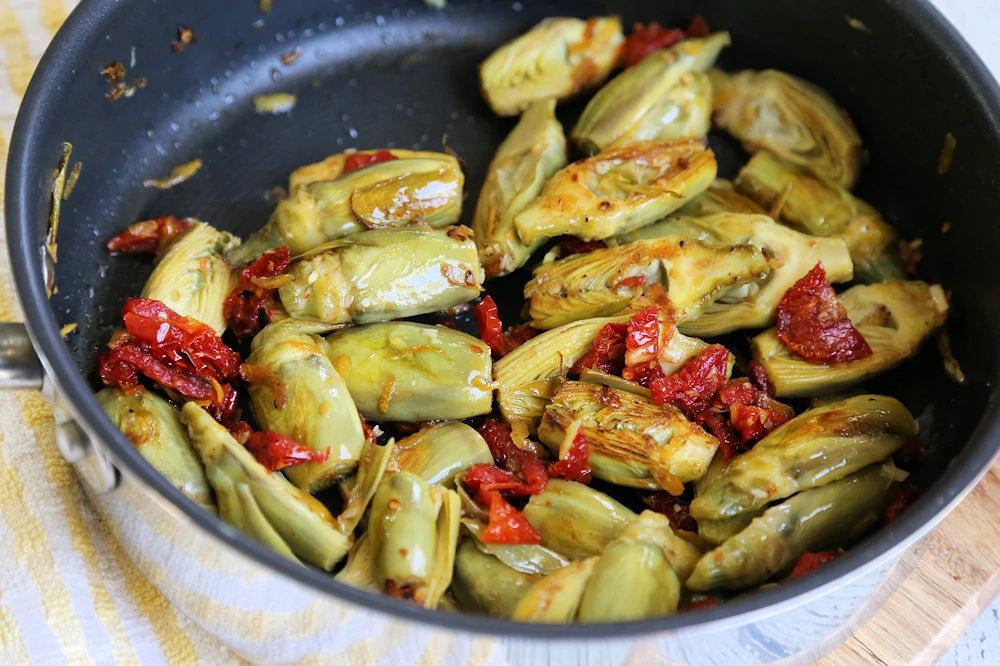 The baby artichoke halves are placed cut side down in a hot skillet along with the marinate and covered.  Once they are lightly caramelized, toss in sun-dried tomatoes, and simmer covered until artichokes are fork tender.  Once cooked, the baby artichokes in garlic lemon sauce can be served as is, or served over linguini (or your choice of pasta).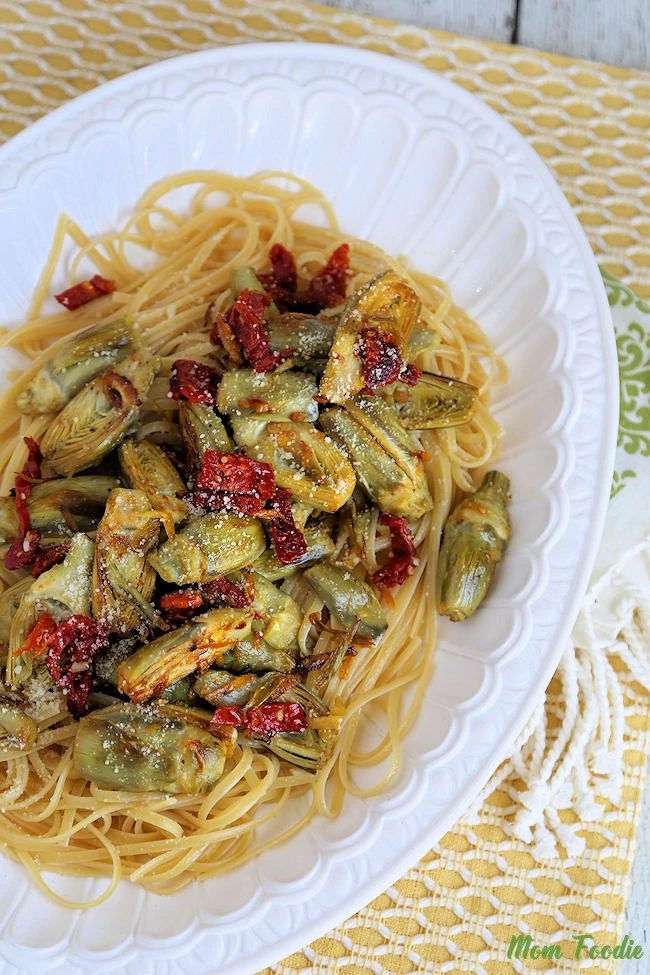 If you have leftover pasta make Pasta Frittata Muffins the next morning.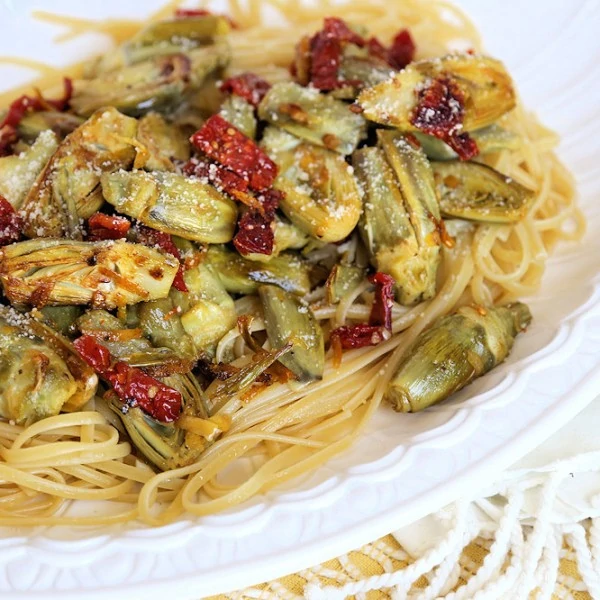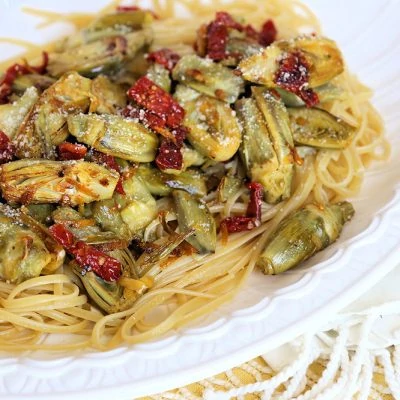 Baby Artichoke Recipe over Linguine with Sun-dried Tomatoes, Garlic, and Lemon
Baby artichokes sauteed with sun-dried tomatoes, garlic and lemon over linguine.
Print
Pin
Rate
Ingredients
2

pounds

baby artichokes

¼

cup

sun-dried tomatoes

chopped

½

pound

linguine

cooked and tossed with a drizzle of extra virgin olive oil
Garlic lemon Marinate
¼

cup

olive oil

zest of ½ a lemon

juice of one lemon

1

clove

garlic

minced

¼

teaspoon

sea salt

fresh ground pepper to taste
Instructions
Remove the zest you need from lemon before squeezing. Whisk together the marinate ingredients.

Pull off the outer leaves of the baby artichokes until you reach tender light green leaves. Cut off the browned part of stem. Cut away about ½ inch of the artichoke top, and slice in half. Promptly, place each in marinate, making sure to coat completely.

Preheat skillet to medium-high heat. (Boil the pasta at this time as well)

Place each artichoke half cut side down in the hot skillet, and add the marinate. Cover and cook until the cut sides are lightly caramelized.

Add the sun-dried tomatoes. Toss, recover and reduce heat to low-med. Cook until the artichokes are fork tender.

Serve over linguini tossed in extra virgin olive oil, and top with grated Parmesan.
Notes
Dish is shown served with grated Parmesan cheese. Omit if vegan.
Nutrition
Calories:
457
kcal
|
Carbohydrates:
73
g
|
Protein:
16
g
|
Fat:
14
g
|
Saturated Fat:
2
g
|
Sodium:
450
mg
|
Potassium:
399
mg
|
Fiber:
15
g
|
Sugar:
8
g
|
Vitamin A:
2085
IU
|
Vitamin C:
21.8
mg
|
Calcium:
106
mg
|
Iron:
5.2
mg