These caramel apple hand pies are a fun grab and go dessert everyone will love. Caramel Apples and Apple Pie are two of the iconic desserts of autumn. Here the two are combined in one easy recipe.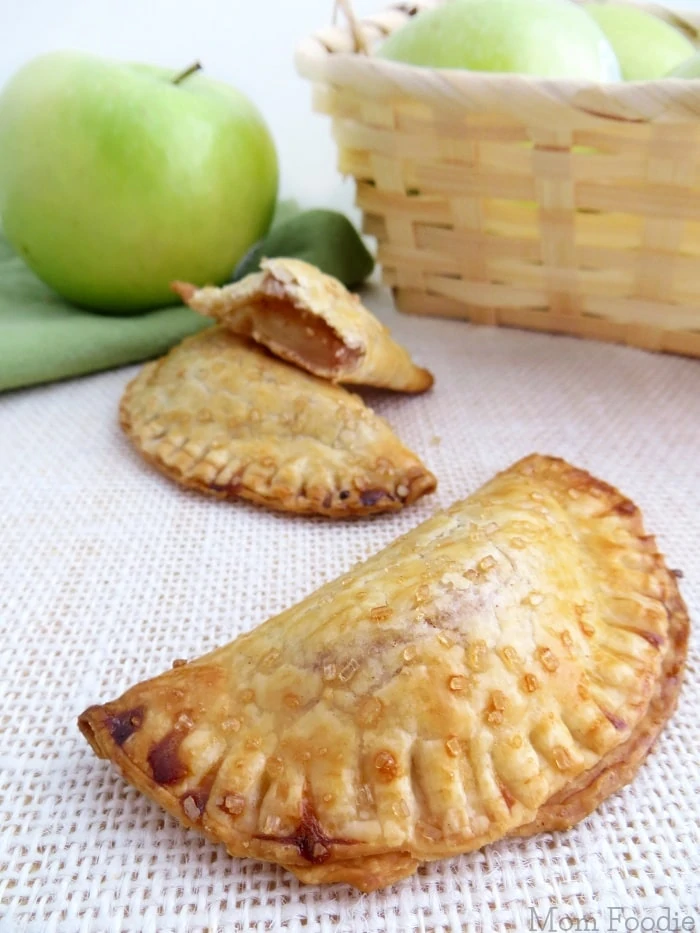 This easy Caramel Apple Hand Pie Recipe can be prepared in just 20 minutes, from start to finish.  The mini apple pies are perfect for an after dinner dessert, but pack in lunches or picnics just as easily.  Enjoy one with a cup of coffee or tea anytime for a burst of fall festivity.

Of course, if you are already looking at this and thinking you don't want to mess with crust, try my Caramel Apple Dump Cake.
How to Make Caramel Apple Hand Pies
Here is a quick visual walk through of the process of preparing this easy fall dessert. Full recipe below.
What you need:
Here are all the ingredients you will need to make the mini apple pie recipe.
Granny Smith apple ( or other decent pie apple)
lemon juice
sugar
cinnamon
nutmeg
sea salt
allspice
refrigerated pie crust
egg
Making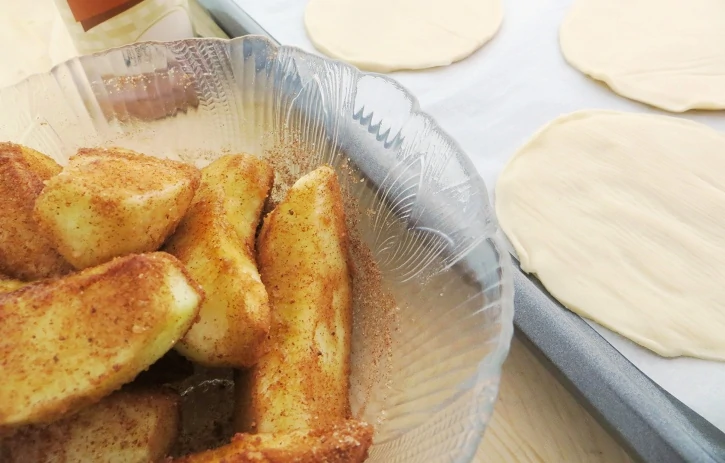 Preheat oven.  Place pie crusts on a floured work surface and cut into 4 inch dough rounds. Gather the dough scraps and roll out to cut more circles.
Toss sliced peeled apples in seasoning, and lay out the pie pastry rounds on a parchment lined baking sheet.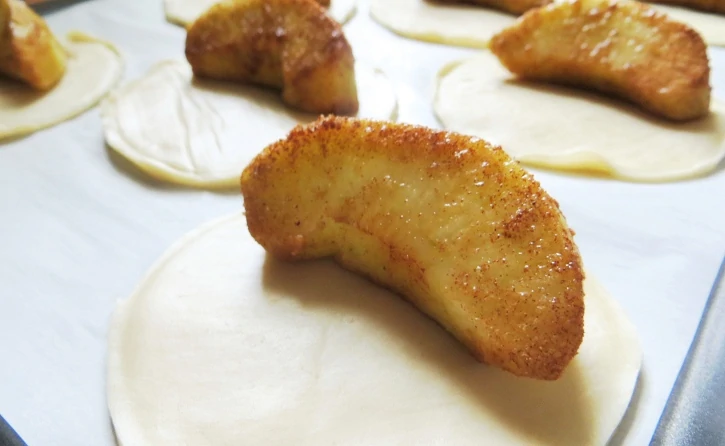 Position each apple slice to one side of the pie dough, then spoon on caramel.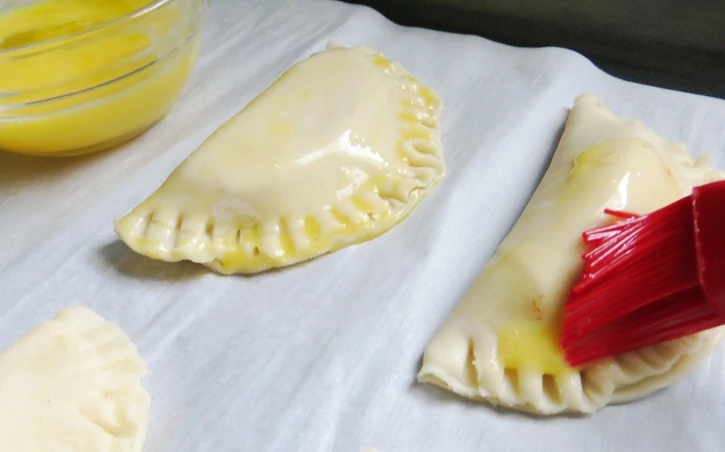 Run wet fingers over the edge of the side without the fruit then fold over the crusts and crimp edges.
Baste with beaten egg wash. Sprinkle with sugar crystals on top.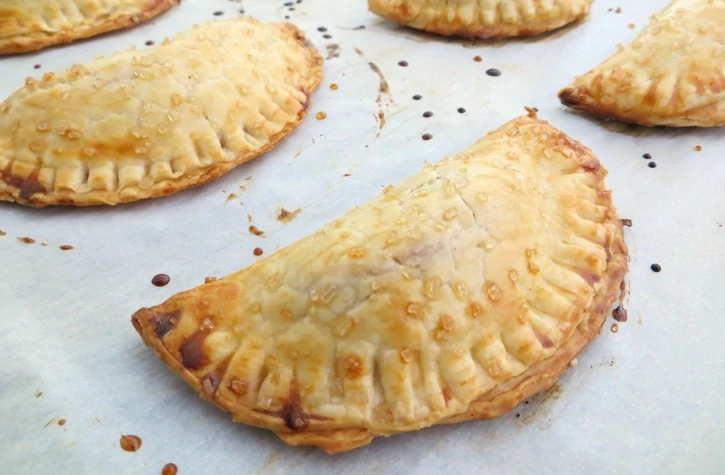 Bake for 10-12 minutes until golden brown at edges.
If you want to double up on your caramel apple fix, serve these little pies with a scoop of ice cream such as my Caramel Apple No Churn Ice Cream or triple it up with Apple Pie Filling and some slow cooker caramel sauce on top.
Variations on the Recipe
There are many small changes that can be made to the recipe depending on your taste and what you have on hand. Here are a few suggestions:
Use apple pie filling if you prefer, just keep in mind not to overfill each dough circle.
Make the hand pies in a round or rectangle shape by cutting out two shapes for each and crimping around the edges once the pie filling is added ( Like I did with my Blueberry Hand Pies). You can also use a large cookie cutter to make a seasonal shape from the pie dough. This may require chopping the apples up in smaller pieces to fit properly.
Try soft caramel candies in place of the caramel sauce in the recipe.
Add some chopped walnuts or pecans along with the apples for a bit of texture.
Salted Caramel Apple Hand Pies
Salted caramel is quite popular these days and it is simple to make this apple hand pie include the food trend. To do this make the pies as usual, but rather than adding sugar crystals to the top drizzle on some caramel sauce and sprinkle with just a little sea salt.
Storage
Once the hand pies have cooled to room temperature they can be stored in an airtight container. Like standard fruit pies they can be kept out for a day or two, unless it is warm and humid, then straight to the fridge. The pastries will be fine in the refrigerator for up to 4-5 days.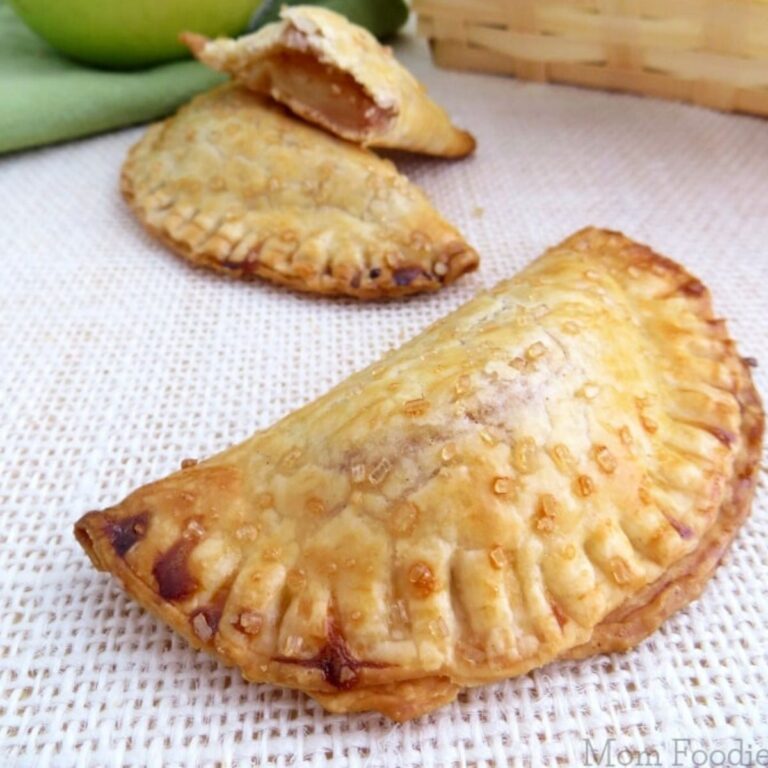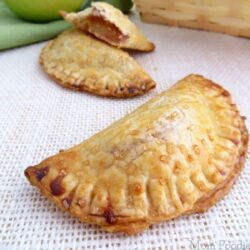 Caramel Apple Hand Pies
These easy Caramel Apple Hand pies are a fabulous seasonal treat that you can make quick. The use of fresh apple, makes them extra festive!
Print
Pin
Ingredients
1

large apple

Granny Smith or Gala preferred

1

tablespoon

lemon juice

1

tablespoon

sugar

½

teaspoon

ground cinnamon*

⅛

teaspoon

grated nutmeg*

generous pinch of allspice*

approx. 1/16th tsp

⅛

teaspoon

sea salt

¼

cup

caramel sauce

1

refrigerated pie crust

or prepared homemade pie dough

1

egg

lightly beaten

Sugar crystals to sprinkle on top
Instructions
Preheat oven to 425°F

Peel and core apple. Then cut into 8 wedges.

Toss the apple slices in lemon juice to coat.

Add sugar, salt and spices to the apples, and mix until coated.

Line a large baking sheet with parchment paper.

Unroll pie crust on a lightly floured surface, and cut out eight 4" rounds.

Arrange the dough rounds on the parchment. and put an apple slice on each slightly to one side. Top apple with a teaspoon of caramel sauce.

Fold over the dough and crimp edges to seal.

Brush with beaten egg wash and sprinkle sugar crystals on top.

Brush the tops of each mini-pie with egg and sprinkle with sugar if desired.

Bake for 10-12 minutes or until golden brown. Allow to cool slightly.

Optional: Drizzle extra caramel sauce on top of each hand pie before serving.