This Chocolate Peanut Butter Spritz Cookies Recipe has a bit of a story behind it. I hope you enjoy.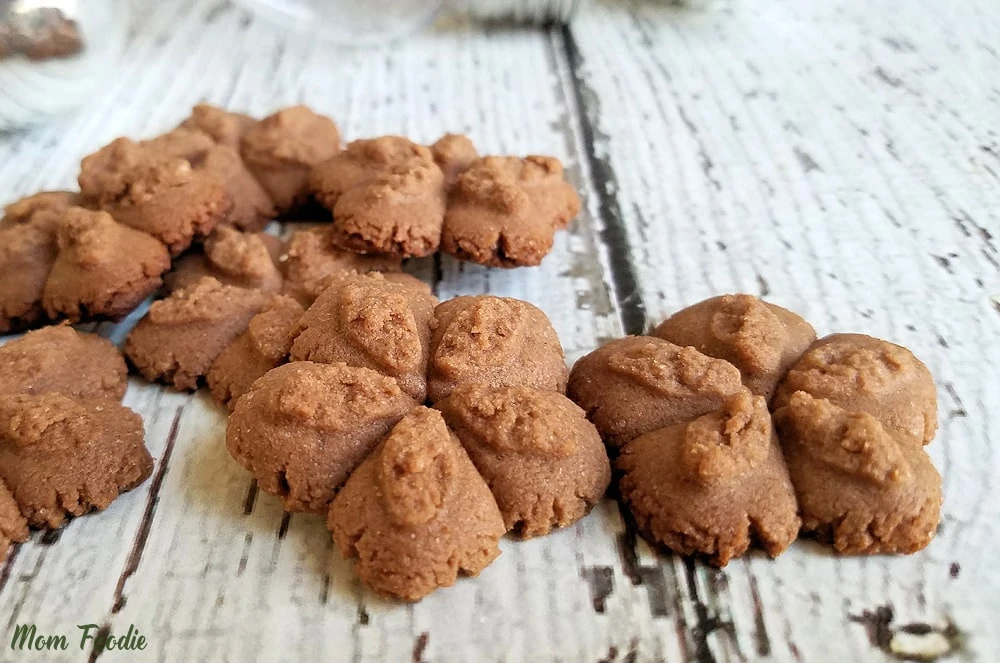 Chocolate Peanut Butter Spritz Cookies
For me, cookies are quintessentially Christmas. I have so many holiday memories involving cookies in one way or another, from baking them with my mother as a child to baking large batches of sugary goodness to fill holiday tins as gifts, back when I worked outside the home. Spritz cookies in particular, have a special place in my heart and darn it they are just plain cute.  Rather than making traditional Christmas spritz cookies, I came up with these Chocolate Peanut Butter Spritz Cookies and they have gone over well. My daughter is quite a fan of these tiny cookies.
Try my Lemon Cream Cheese Spritz Cookies too!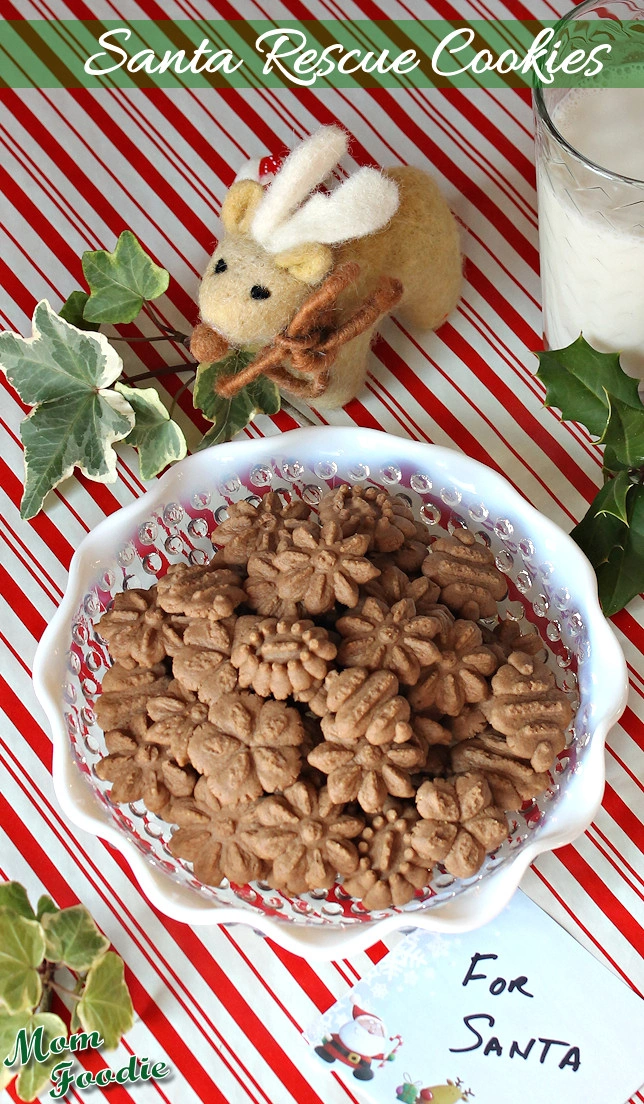 How Cookies Got Santa Kicked Out of the House
Many years ago, my family had one of those Christmas Story
sort of episodes. My younger brother was at that age when kids start to seriously question the validity of Santa, and get all funny and sleuth-like. I was a few years older, and playing dumb, figuring I got more loot that way... conniving lil' critter wasn't I. Despite his best efforts, my brother hadn't managed to "break" anyone, and Christmas morning had arrived. My brother and I raided our stockings, then hit the tree to see what Santa had brought. It appeared despite his best efforts little brother had failed to expose "Santa".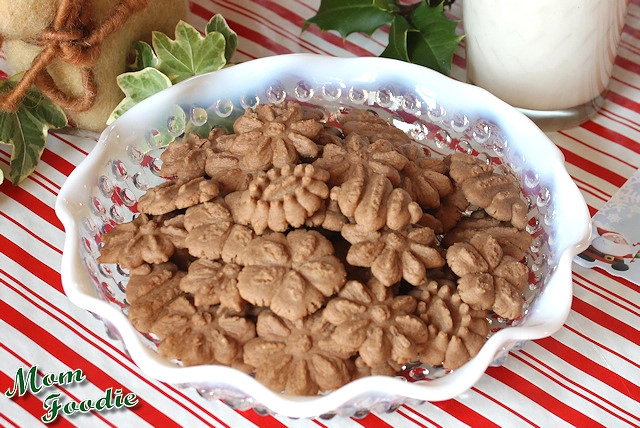 Post gift ravagement, he and I sat on the couch munching on goodies from our stockings. Apparently, my brother wasn't a fan of some of the little Spritz cookies that were in the stockings and shoved them aside (I think they were green). My father got frustrated by this, and scolded him, blurting...  "Don't do that, your mother worked hard making those cookies for you." A sudden silence hit the room. My brother pounced on the faux pas, wallowing in the self-satisfaction of a mystery solved.
That my friends is how cookies kicked Santa Claus out of the house.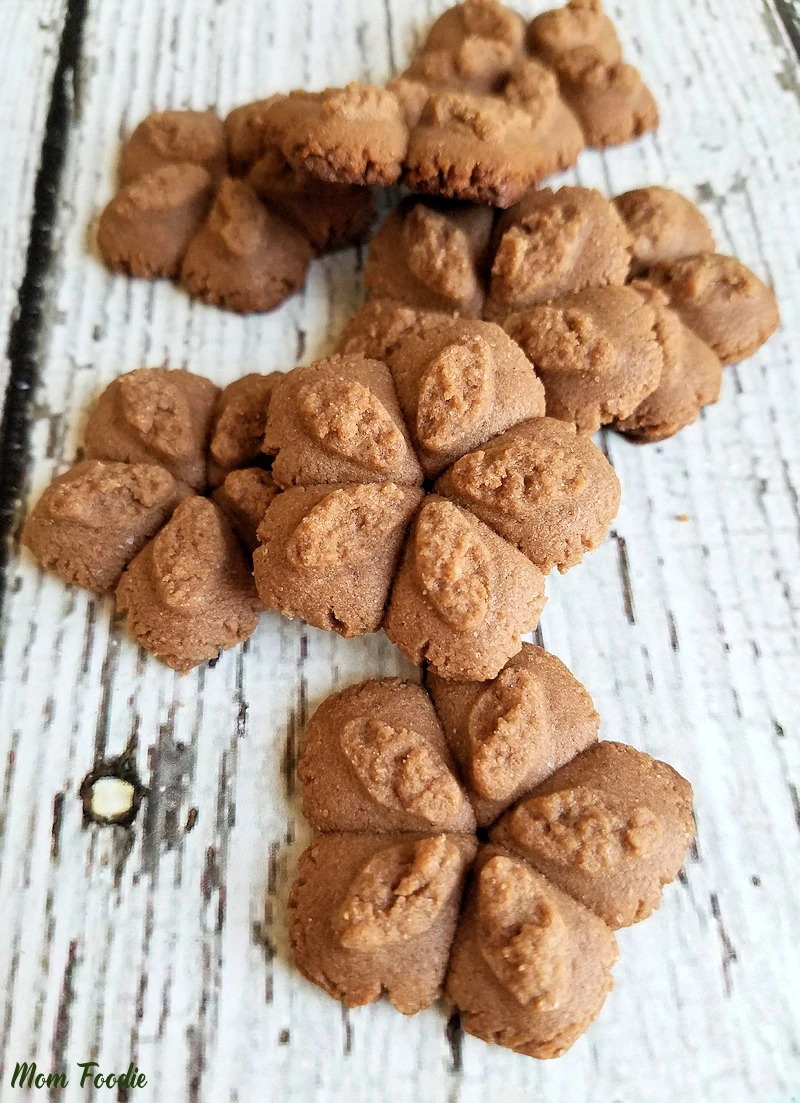 In memory of the infamous Spritz cookie incident, I have a Chocolate Peanut Butter Spritz Cookie recipe for you. Hopefully, this one won't get Santa booted from anyone's house. All you need is the simple ingredients listed and a Spritz cookie press
.
Chocolate and Peanut Butter Lovers Recipes!
If your here I assume you love the combination.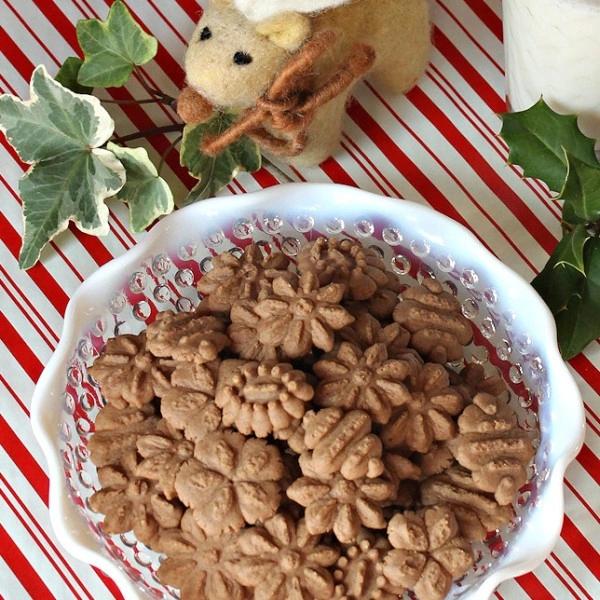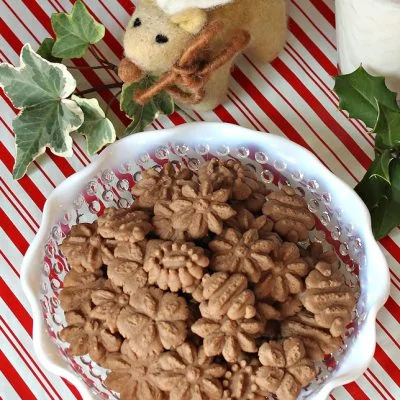 Chocolate Peanut Butter Spritz Cookies
Chocolate Peanut Butter Spritz Cookies
Print
Pin
Ingredients
½

cup

unsalted butter

softened

¼

cup

creamy peanut butter

½

cup

sugar

¼

teaspoon

sea salt

1

teaspoon

vanilla extract

1

large egg

¼

cup

cocoa powder

1 ½

cups

flour
Instructions
Preheat oven to 375 degrees.

Cream together the butter, peanut butter, sugar, and salt. Add the vanilla, egg, and cocoa powder. Mix well, then switch to dough hook or large spoon and add the flour. Mix until dough is smooth.

Fill cookie press with dough and press onto an unlined baking sheet. Press out the cookies, leaving a little space between each. Bake for 6-7 minutes (dark baking sheet 6 minutes, light colored baking sheet 7 minutes).

Cool on rack or kitchen towel.
Nutrition
Calories:
29
kcal
|
Carbohydrates:
3
g
|
Fat:
1
g
|
Cholesterol:
5
mg
|
Sodium:
12
mg
|
Potassium:
12
mg
|
Sugar:
1
g
|
Vitamin A:
40
IU
|
Calcium:
2
mg
|
Iron:
0.2
mg