Lighten Up, America! is the newest addition to the Cooking Light family of cookbooks.  The book is one woman's food  journey through the different regions of our country.  It is a fun cookbook, and has a lot of great traditional fare, that has been "Lightened Up", to suit more modern tastes.
The array of recipes are well selected, and this book would certainly appeal to anyone who enjoys cooking, and also has a taste for travel. The recipes focus on cutting back on unhealthy fats and refined ingredients & using nutrient dense foods when possible.  My only issue with the book is that I would have preferred seeing a little more focus on using whole grains in the recipes.  Of course, that is an easy swap for home cooks (swapping 25% in cakes and breads & 50% in cookies and muffins is generally a safe bet).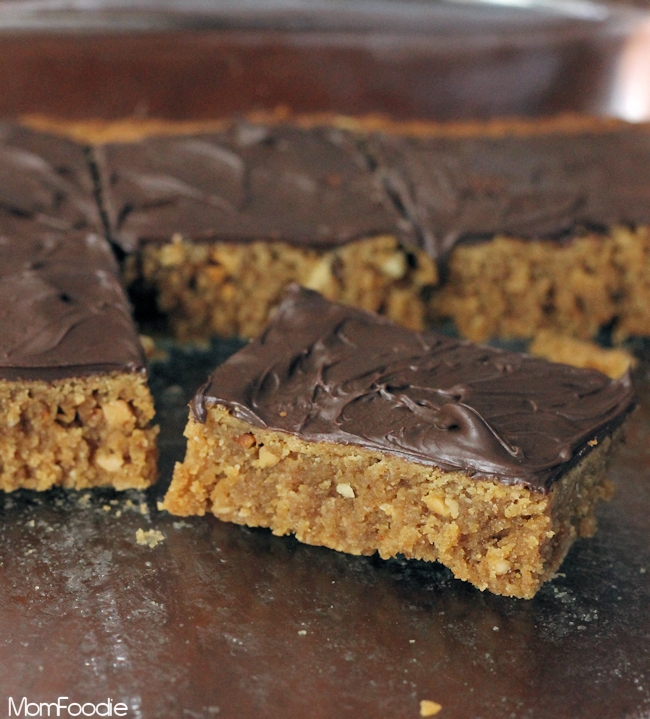 One of the recipes, that I knew would go over well was the Chocolate Peanut Butter Bars.  I'm a use what you have kind of gal, so I did reduce the fats in the recipe to accommodate the Crunchy organic peanut butter I had in the pantry, rather than the reduced fat peanut butter called for. I also swapped half the flour out for whole wheat, because I'm so accustomed to doing it, I'd probably start to twitch if I didn't.  The only other changes, were due to lack of a double boiler and baking pan size called for.  The bars still came out quite yummy & went over great.
Here is my slightly altered version of the Chocolate Peanut Butter Bars (original can be found here or in the Cooking Light Lighten Up, America! cookbook).  Make the one that works best for what you have on hand.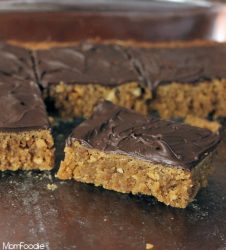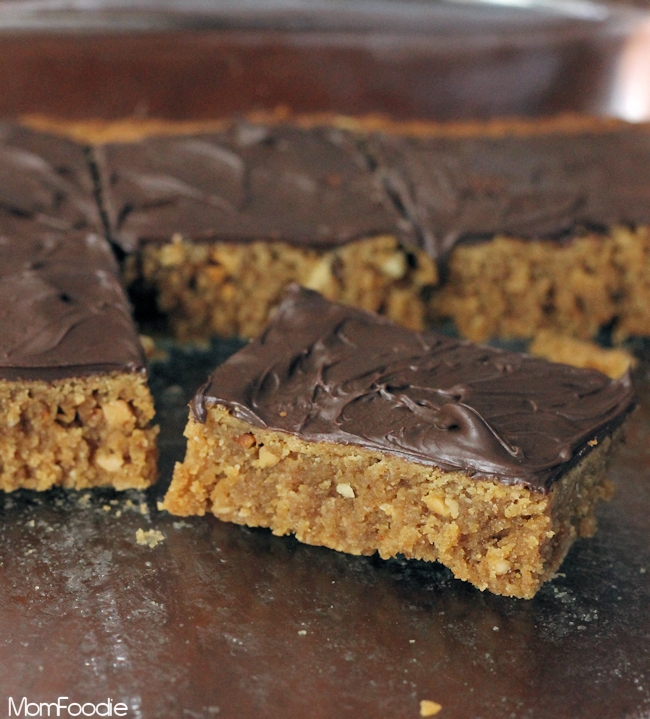 Chocolate Peanut Butter Bars
Chocolate Peanut Butter Bars Lightened Up... Yum.
Ingredients
3/4

cup

granulated sugar

3/4

cup

dark brown sugar

packed

5

tbs

unsalted butter

softened

1

cup

peanut butter

crunchy natural

1

egg

large

1

egg white

large

1/2

cup

all-purpose flour

1/2

cup

whole wheat flour

1

teaspoon

baking powder

1/4

teaspoon

salt

Cooking spray

2/3

cup

semisweet chocolate chips
Instructions
Preheat oven to 350°.

Place sugars and butter in a large bowl; beat with a mixer at medium speed until well blended (about 2 minutes). Add peanut butter, beating well. Beat in egg and egg white.

Combine flour, baking powder, and salt, stirring with a whisk. Gradually add flour mixture to peanut butter mixture, beating until blended (batter will be thick). Spread batter evenly in a 8x11 baking dish coated with cooking spray.

Bake at 350° for 25 to 27 minutes, then allow to cool.

Place chocolate in glass or ceramic bowl, micro wave in 10 second intervals stirring after each, until chocolate is smooth like frosting, not liquified. Spread over bars and cut.
Nutrition Facts
Chocolate Peanut Butter Bars
Amount Per Serving
Calories 246
Calories from Fat 117
% Daily Value*
Fat 13g20%
Cholesterol 17mg6%
Sodium 108mg5%
Potassium 187mg5%
Carbohydrates 28g9%
Protein 5g10%
Vitamin A 115IU2%
Calcium 31mg3%
Iron 1.1mg6%
* Percent Daily Values are based on a 2000 calorie diet.