This Christmas cheesecake idea is sponsored by Tyson Foods, Inc. All comments and opinions are my own.
Christmas Tree Cheesecakes with decorations and even a star on top of each... doesn't that sound like a festive sweet treat for a Christmas party?!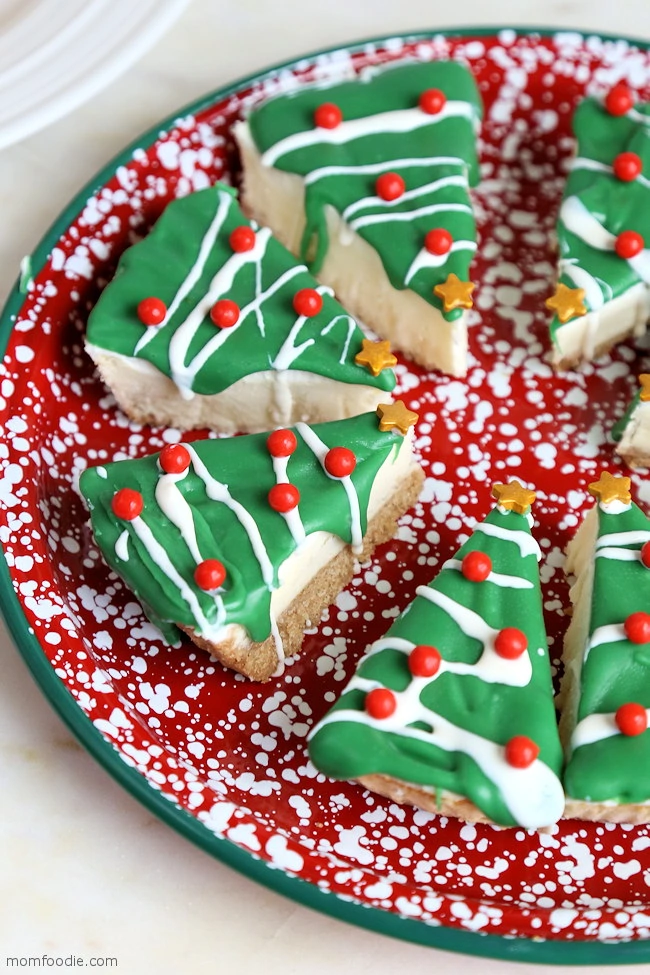 Holiday Hacks
Holiday cooking is more than just the meals served on the actual holiday. There are many gatherings and activities leading up to each holiday. Face it, we are all busy and don't have time to slave over each dish. That doesn't mean we can't put out cute festive dishes though, we can utilize some handy holiday hacks. These Christmas Tree Cheesecakes take roughly10 minutes to prepare, with the help of Sara Lee® Frozen Cheesecake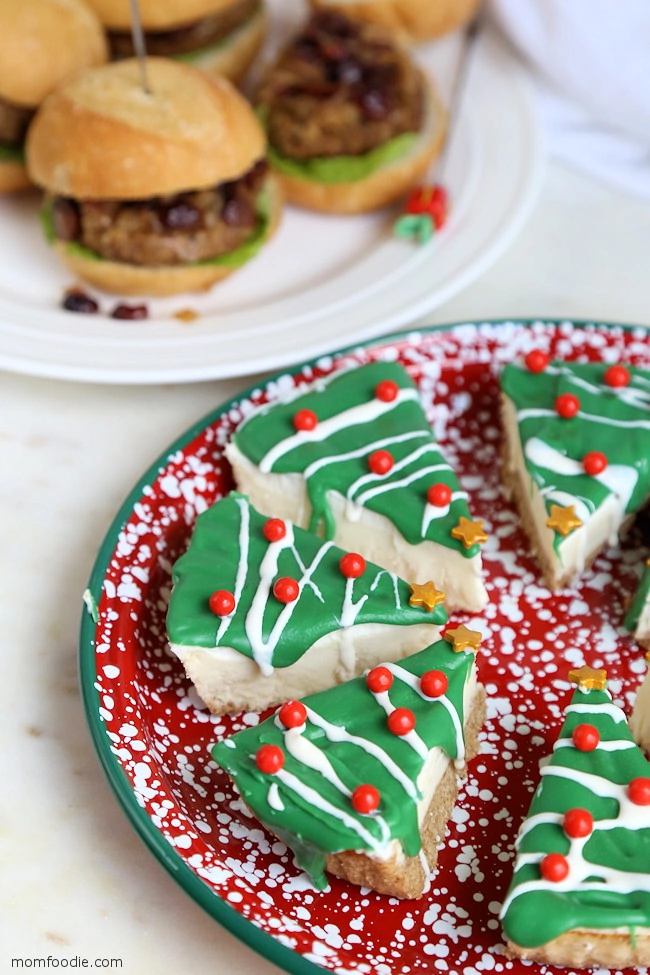 Christmas Tree Cheesecakes
These jolly little Christmas Cheesecakes certainly look like they took longer than they really did. They only take about 10 minutes to make from start to finish. Now that is a crafty holiday hack.
The cheesecake slices are topped with a quick and easy green candy melt ganache, then decorated with a white ganache and candy sprinkles. I think they look cute and very festive!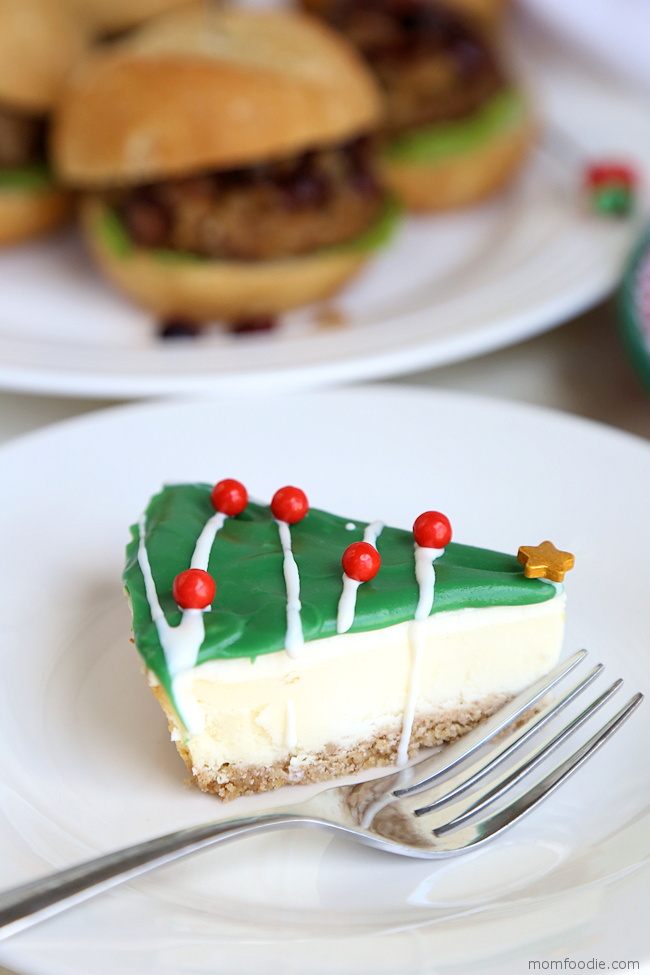 In this holiday hack, we take advantage of the triangular shape of the cheesecake slices and how easily Sara Lee Frozen Cheesecake is to cut and handle when it is frozen as purchased. You can find it right in the freezer section at your local grocer. It's frozen fresh with quality ingredients. AND – did you know it's America's favorite cheesecake?!
How to Make Christmas Tree Cheesecakes
Here is a simple visual walk through of how to make Sara Lee Frozen Cheesecake into Christmas trees.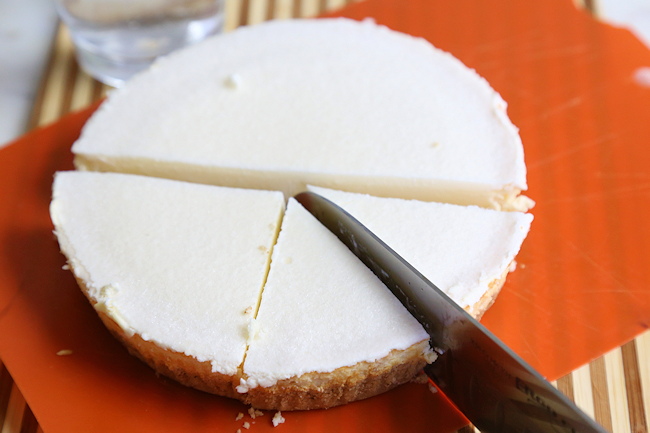 First remove your Sara Lee Frozen Cheesecake from it's packaging. Make sure to leave it frozen. Cut the cheesecake into eight slices.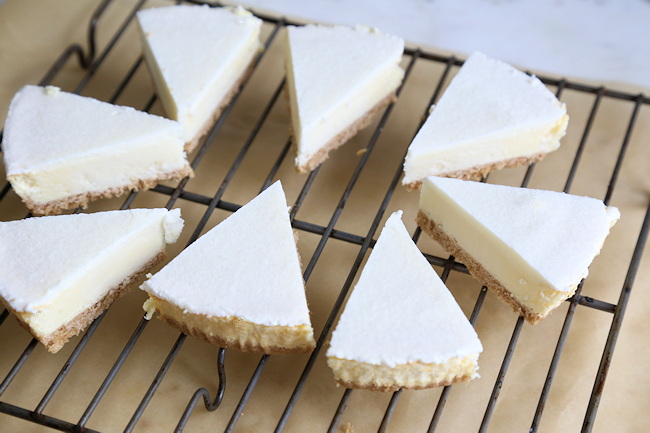 Place the slices on a wire cooling rack over paper or a baking sheet.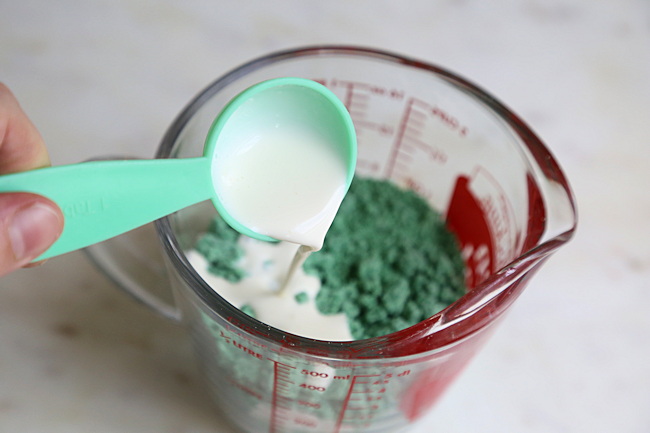 Make your green candy melt ganache. It is simply heavy cream added to candy wafers and then melted. The image above shows them chopped up, as many advise... but, good news, I found the batches made without chopping worked just as well, if not better. I like time savers, don't you? Note: the wafers melt far faster with the cream than alone.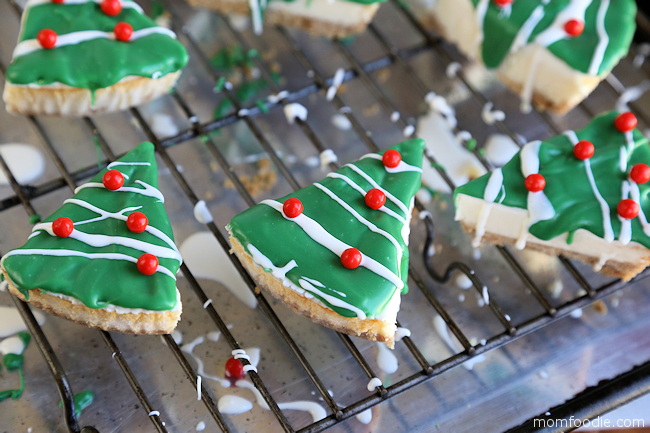 Dollop on some of the green ganache topping and spread over each slice. Then, make the small batch of white ganache and drizzle over the trees to represent garland. A few small candies or sprinkles complete the decorations.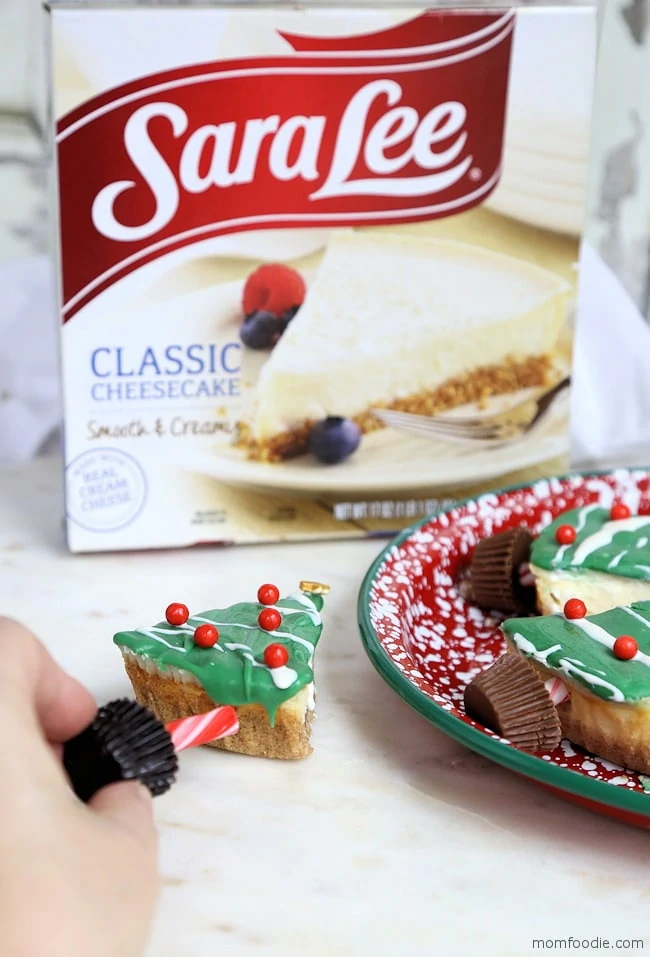 If you are an overachiever, broken candy canes inserted in mini peanut butter cups make great stumps and stands for the little cheesecake trees. This does add some time, and the slices are easier to handle without the addition, but the candy cane stumps and tree stands are rather charming.
This meal was a breeze to make and perfect for entertaining.
More Holiday Desserts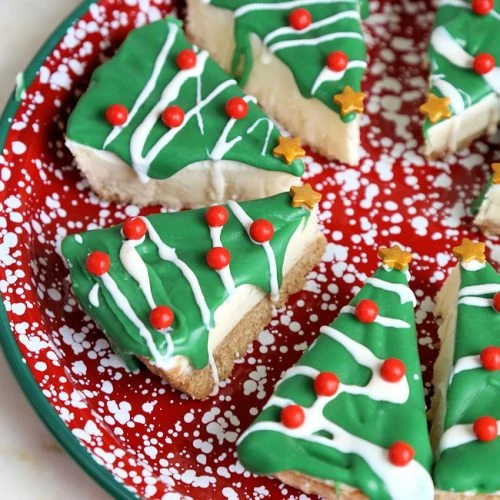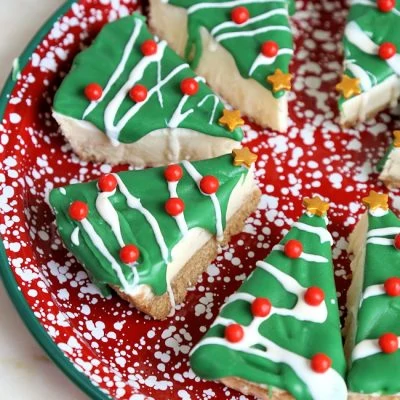 Cheesecake Christmas Trees
These delightful Christmas Tree Cheesecakes are quick & easy to make. .. but oh so fun!
Print
Pin
Rate
Ingredients
1

Sara Lee® Classic Cheesecake

4

oz

green candy melts

3

tablespoon

heavy cream

(divided 2 tablespoon and 1 tbsp)

1

oz

white candy melts

sprinkles or tiny candies

broken candy canes

***optional

8

mini peanut butter cups

***optional
Instructions
Remove FROZEN Sara Lee Cheesecake from it's packaging and cut into eight equal slices.

Place the cheesecake slices on a wire rack over paper or a baking sheet (anything to keep your counter clean will do).

Add 2 tablespoon of heavy cream to 4 ounces of green candy melts in a microwave safe container (I suggest a glass measuring cup). Heat for 20 seconds and stir. Repeat for 10 seconds.

You are just looking for partially melted wafers. Stirring in the hot cream will melt them fully without overheating which will break the candy and make it grainy.

Scoop a dollop on each slice and spread to edges. Do the tree peak first and finish covering each slice before moving to next one.

Add 1 tablespoon of heavy cream to 1 oz of white candy wafers. Melt as above, but this will melt even faster! Take a fork or chopstick dunk in ganache and drizzle back and forth over the tree to create a garland pattern. Decorate with sprinkles or candies.

If you opt to add the bottoms, break straight pieces of candy cane to about 1 ½ inches long. Dunk one end in very hot water for a few seconds then insert into a mini peanut butter cup. Stick the other side into the wide end of cheesecake slice to create trunk and stand.