This super easy Cranberry Dump Cake recipe is perfect for the holidays. Not only is it a great casual Thanksgiving dessert, but it is also a nifty way to use up those leftover cans of cranberry (or when you made too much homemade cranberry sauce).
It is a simple 3 ingredient recipe, comprised of canned cranberry sauce, dry cake mix and melted butter.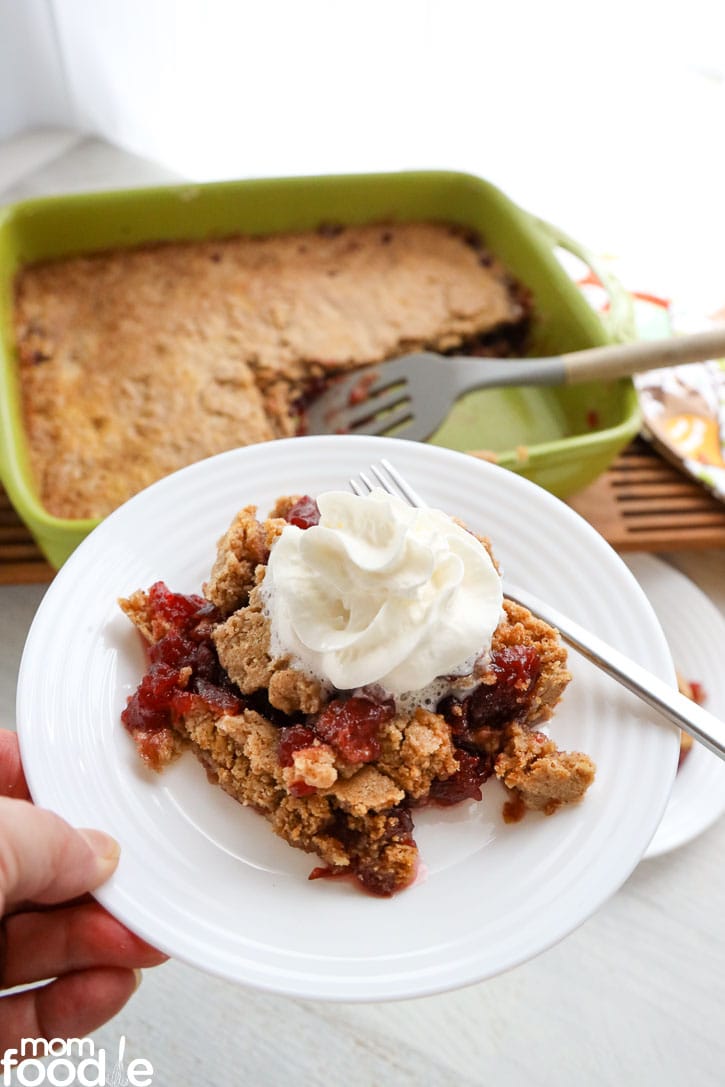 Easy Christmas Dessert
A Cranberry Dump Cake is a great easy dessert for celebrating the season.  If you are watching your budget, the recipe will really come in handy. Why waste those cans of jiggly jellied cranberry no one wanted with their Thanksgiving turkey, when you can make a yummy cobbler style dessert with them.
Cranberry Sauce Dump Cake… really?
Let me start by saying I am firmly on team homemade when it comes to cranberry sauce. I actually loathe the canned stuff.
I originally planned to use a batch of my own cranberry orange sauce, that I had stashed in the freezer, to make this dessert. I knew it would work like a charm. I decided to try using the whole berry canned sauce instead, just to see if I could turn that jellied nasty into something I'd actually eat.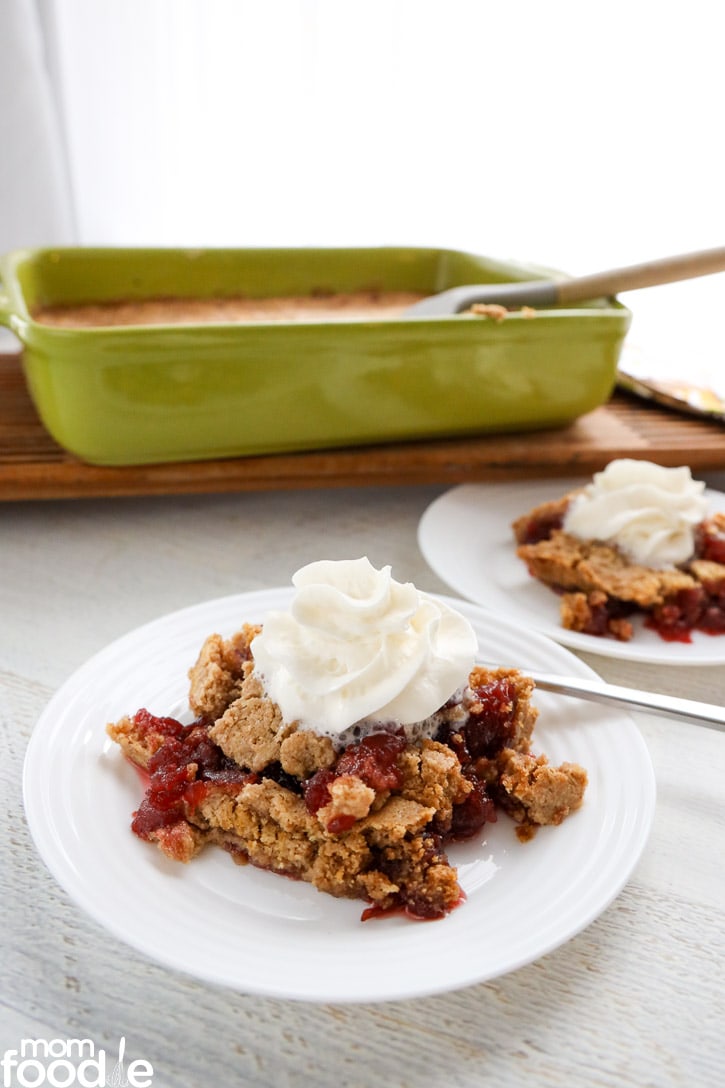 Results
While using fresh homemade cranberry sauce would still be yummier, the canned stuff did work pretty well.  It took a little longer to bake, since the jellied bottom created a little less steam than fresh. If someone who is as adverse to canned as I am liked it, those who enjoy that style of sauce would likely love it.
Holiday Dump Cake Recipes
I personally think dump cakes are a great dessert solution for the holidays. My Caramel Apple Dump Cake and Pumpkin Dump Cake are popular every year and so quick and easy to make as well as serve. Of course, since canned fruits are used, blueberry and peach dump cakes are also great options. You can even get wild with a  Chocolate Cherry or Strawberry version, if your family would prefer.
How to Make Cranberry Dump Cake
Let's walk right through the process of making this cranberry cobbler/cake with pictures. Jump to the print recipe card if you don't need the extra step-by-step help.
What Ingredients you need:
boxed spice or yellow cake mix

canned whole berry cranberry sauce If using homemade sauce you will need at least 3 cups, preferably closer to 4 cups.
melted butter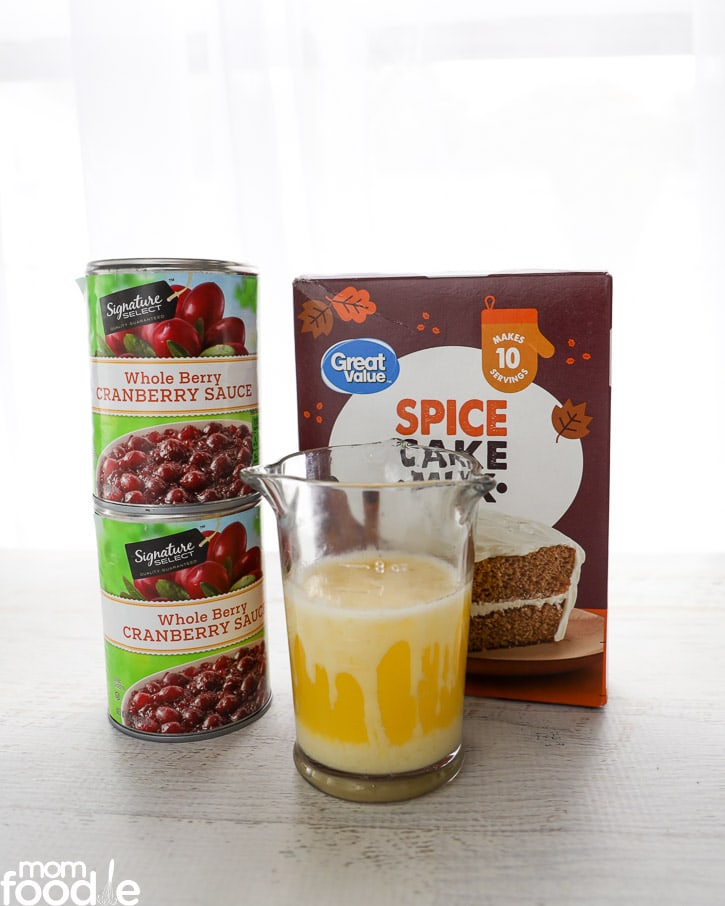 You will also need, non-stick cooking spray and a 9x 13 or 8×11 baking dish. I use the larger size, so you may need a few extra minutes of bake time if you go with the smaller pan.
Process
Preheat oven to 350 degrees F.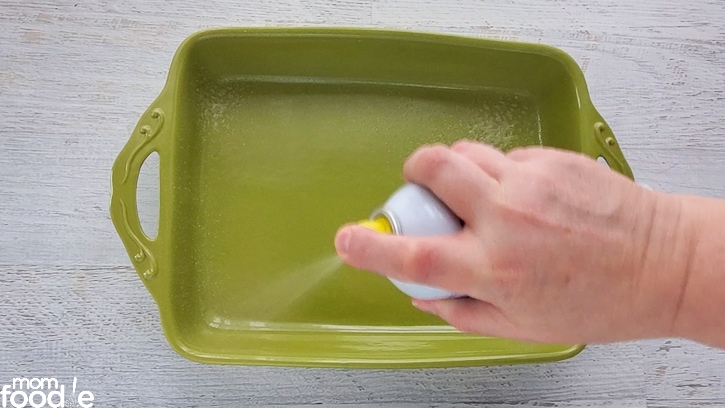 Coat the interior of your baking dish with non-stick cooking spray.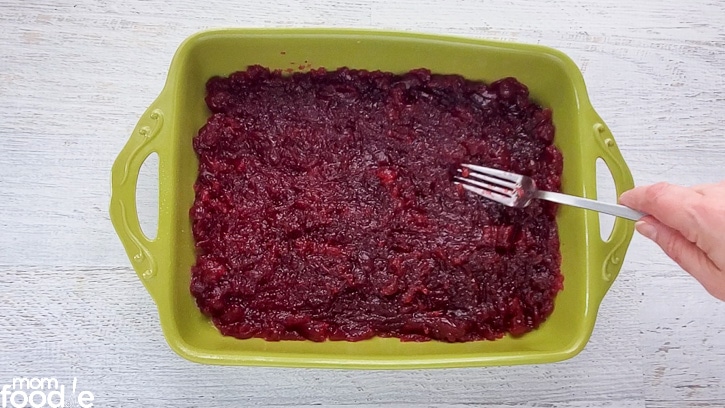 Drop two cans of jellied cranberry into the dish and gently mash down with fork. Spread cranberry to cover the bottom evenly.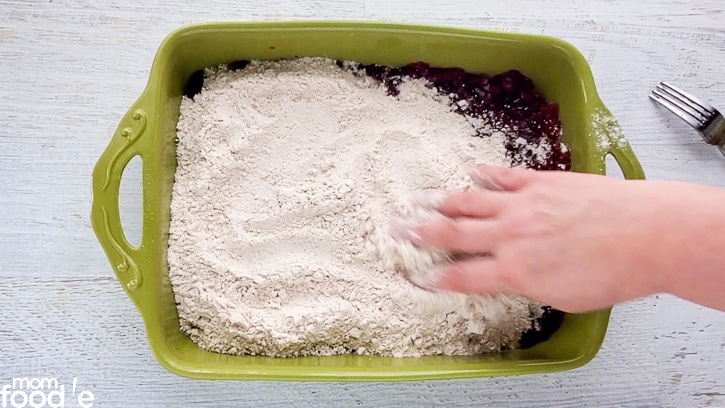 Pour a box of dry cake mix on top and spread out.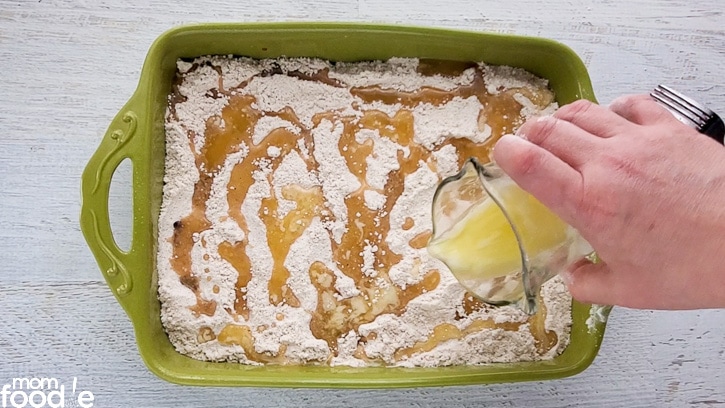 Drizzle the butter over the top.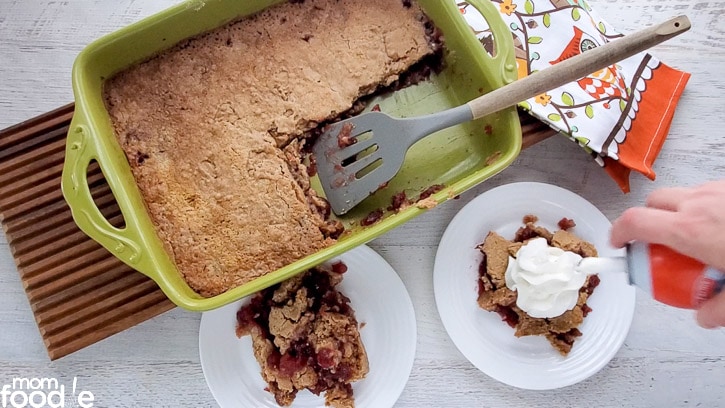 Bake for 45-50 minutes. Fresh sauce version will likely take 40-45 min.
Allow to cool a few minutes before serving, but this cobbler treat is best served warm. Top with vanilla ice cream or whipped cream (as shown).
How Long Does Cranberry Dump Cake Last?
The dish can be left out for up to two days. Make sure it is covers once it has been cut.
If you will need to store it longer keep it in the refrigerator and do not leave out longer than 2 hours at most. It will then be good for up to 5 days.
Can it be Frozen?
While I don't recommend freezing something so easy to make, if you wish to do so it will be good up top 3 months in the freezer.