No this hot pink drink is not artificially colored. It is a Dragon Fruit Smoothie and I have the simple recipe for you today.
Dragon Fruit Smoothie
Pink dragon fruit not only gives this smoothie it's delightfully vibrant color but it's delicious  too. I kept the smoothie recipe to 3 ingredients so you can really taste the dragon fruit and get familiar with it. The recipe is also vegan.

Dragon Fruit
Dragon Fruit is also known as pitaya or pitahaya and is the fruit of a cactus. The fruit comes in both sweet and sour varieties, though the sweet is much more popular and easier to find. The tropical fruit is popular in South America and Asia, but is being discovered by more and more Americans.
Sweet dragon fruit comes in three different color combinations:
pink-skinned fruit with white flesh
pink skin with deep pink flesh (used in this smoothie recipe)
yellow-skinned fruit with white flesh
The fruit has tiny black seeds scattered throughout the flesh, which are eaten, as you would with a kiwi. The vibrant pink dragon fruit I used in this recipe is high in betanin , the same thing that colors beets. It is a great was to color foods and beverages without artificial dyes.

What does Dragon Fruit Taste Like?
The fruit is mildly sweet and the seeds have a slightly nutty taste.
Dragon Fruit Benefits
The benefits of eating dragon fruit are numerous. Dragon fruit is low in calories and packed with nutrients.  100 grams of the fruit (3.5 ounces) has just 58 calories. It is an excellent source of vitamin C (34% RDA per 3 1/2 ounce serving), Iron (11% RDA), and fiber (3 grams per serving). Iron is not always easy for non red meat eaters to get enough of, so this fruit will be particularly appealing to vegans. All that vitamin C is great for the immune system too.
Antioxidants in Pink Dragon Fruit
Those beautiful pigments that draw us to use this colorful fruit are among many antioxidants in this tropical fruit. The deep pink betanin helps prevent the oxidation of LDL cholesterol. The antioxidants in dragon fruit can help reduce your risk of heart disease and may even assist in warding off cancer. Sounds good to me.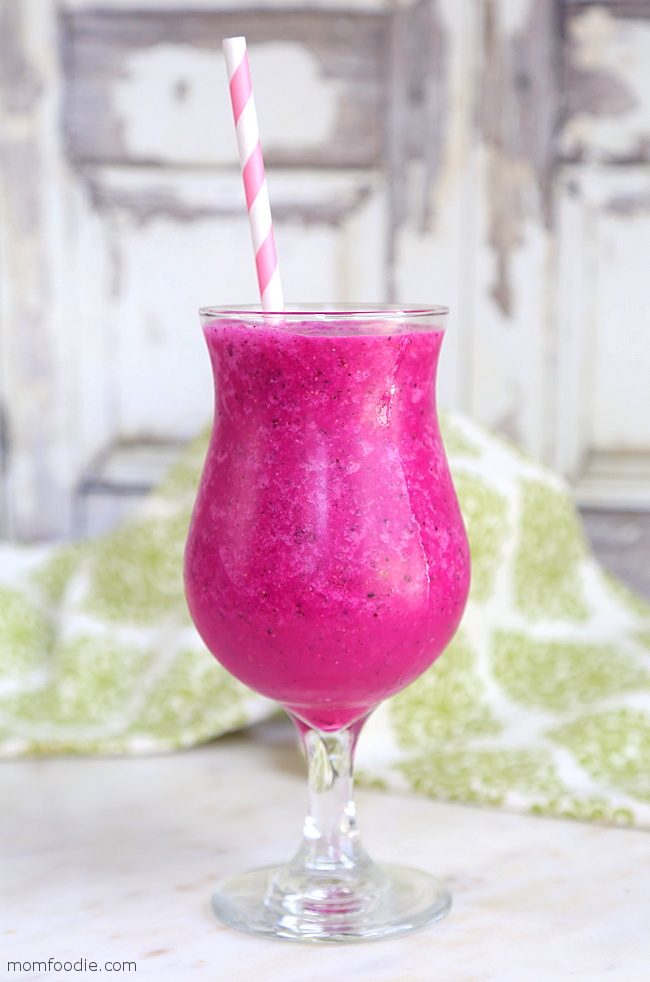 Where to buy dragon fruit?
Fresh dragon fruit
is increasingly available in grocery markets here in the U.S. I prefer to purchase frozen dragon fruit myself, as I find it convenient and consistent in quality. Many local Target stores carry it, that is where I bought mine.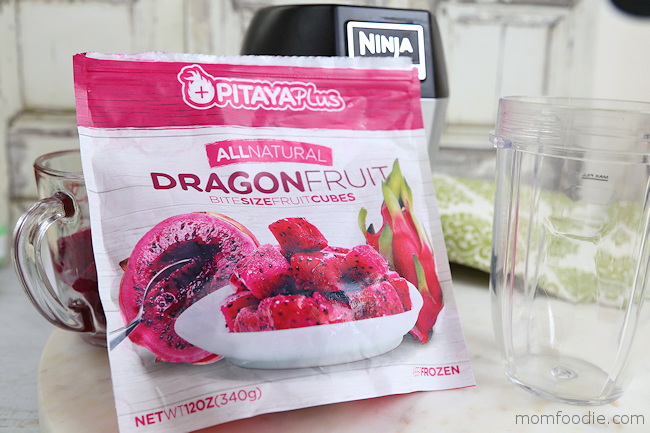 Here is what the bag I buy looks like. The cubes of frozen dragon fruit flesh blend very easily.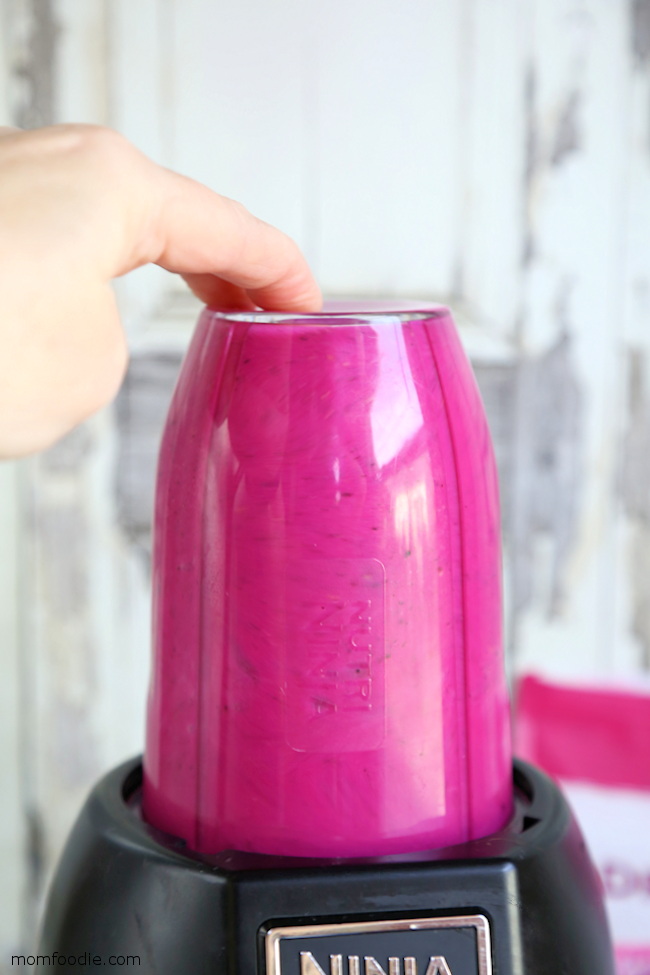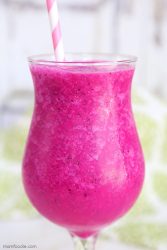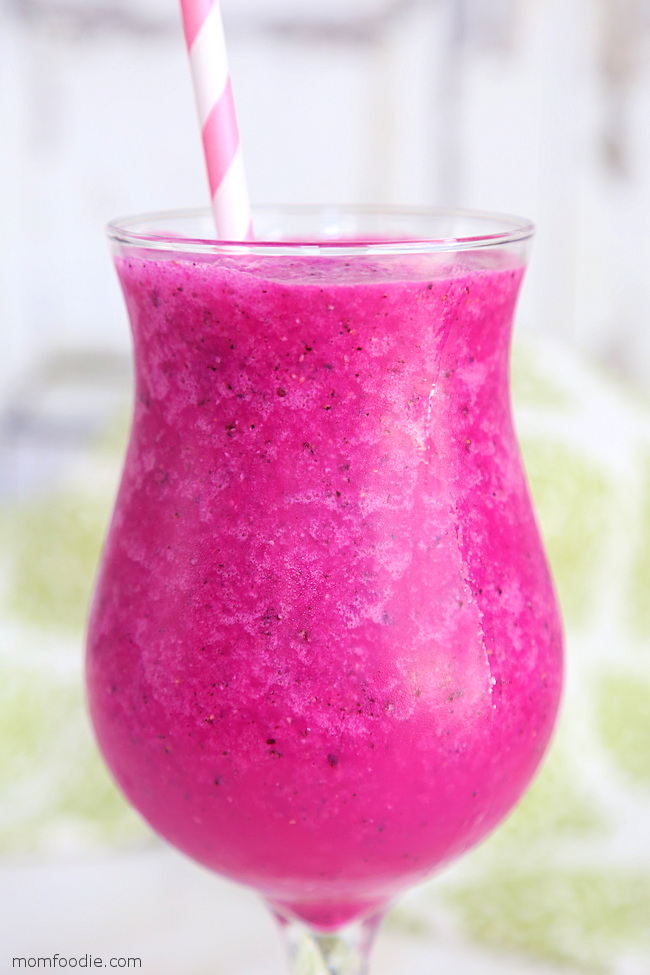 Dragon Fruit Smoothie Recipe
This easy dragon fruit smoothie is delicious and healthy too!
Ingredients
1

cup

frozen pink dragon fruit

1/2

cup

pineapple juice

1/2

cup

almond or coconut milk
Instructions
Add ingredients to your blender cup.

Pulse until smooth. Enjoy!
Nutrition Facts
Dragon Fruit Smoothie Recipe
Amount Per Serving
Calories 140
Calories from Fat 27
% Daily Value*
Total Fat 3g 5%
Cholesterol 0mg 0%
Sodium 224mg 9%
Potassium 153mg 4%
Total Carbohydrates 24g 8%
Protein 1g 2%
* Percent Daily Values are based on a 2000 calorie diet.
More articles you may like…
Juicing vs Blending: Which One's Better?
Matcha Green Tea Smoothie Recipe
Foods High in Iron, that Have More Iron than Beef
Berry Chia Seed Smoothie Recipe