This Fourth of July party article is sponsored by Stop & Shop.  All opinions are my own.
The Fourth of July is one of my favorite holidays. It isn't about gifts or extravagant meals slaved over for hours. It's a no fuss day of celebrating our nation's creation. In fact, you can get everything you need for a Fourth of July party, including décor and party ware, right at your local Stop & Stop!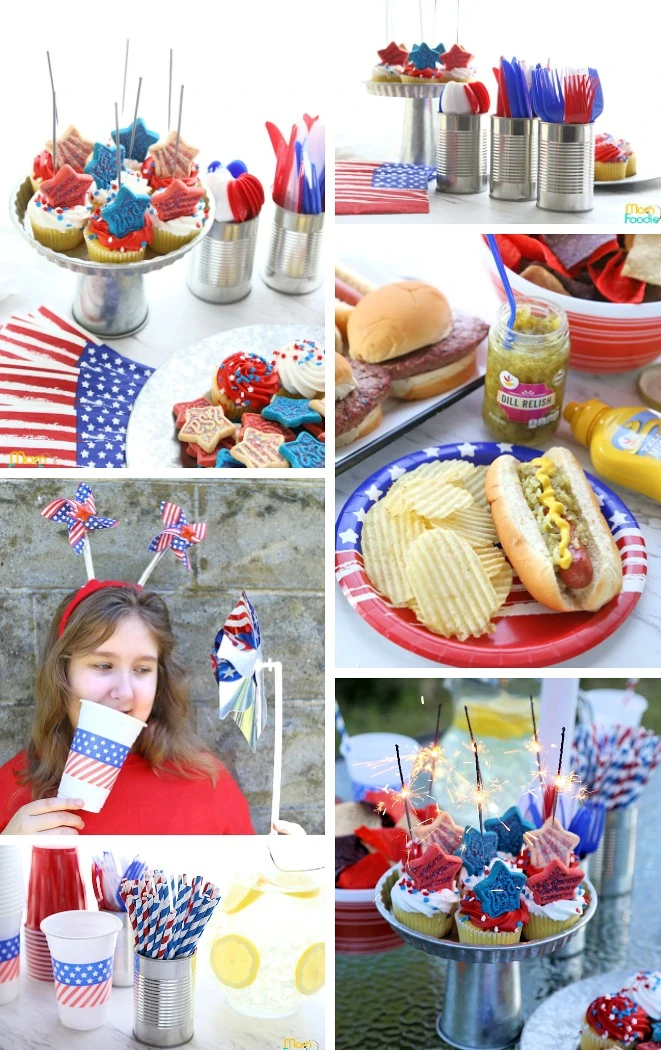 Fun & Easy 4th of July Party!
I'm excited to show you the fun patriotic party I put together in a flash! This stress-free party takes one run to Stop & Shop and just minutes to set up. Clean-up is a breeze too.
Let's enjoy the holiday with our friends and family, not spend our time fussing with lots of cooking and cleaning. I hope some of these 4th of July party ideas come in handy for you.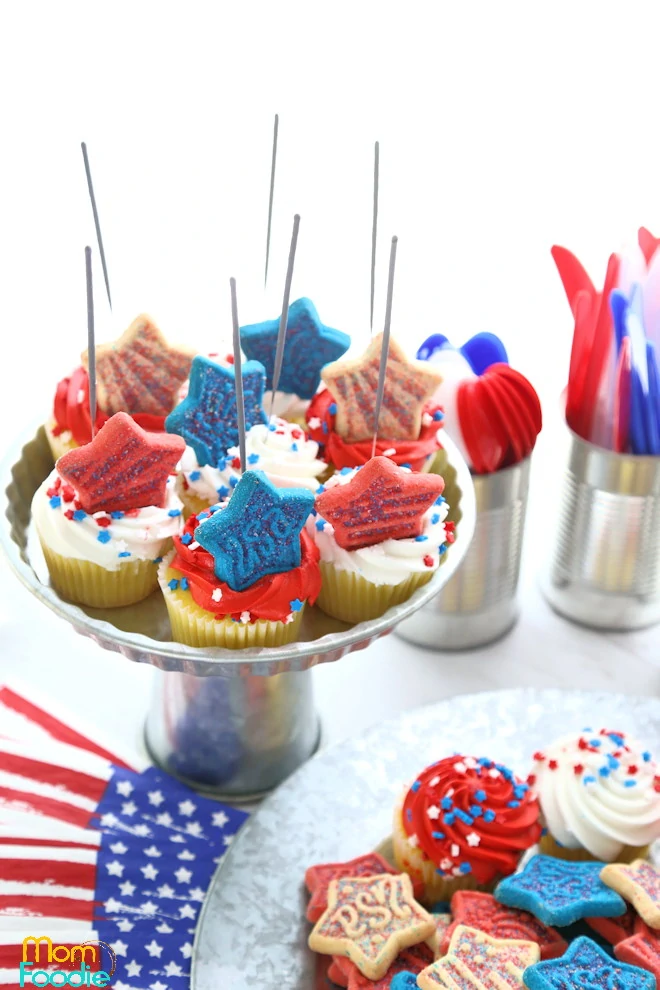 I started by putting together the dessert spread. It only took a few minutes to assemble. Firecracker cupcakes and a red, white and blue cookie tray.
All the red, white and blue party supplies shown in this article were found right at my local store. I even found several sizes of American flags to display. Most of the Fourth of July decor I chose came from the seasonal department, but the utensils were from the regular year-round party section. Being able to get everything in one store is such a time saver.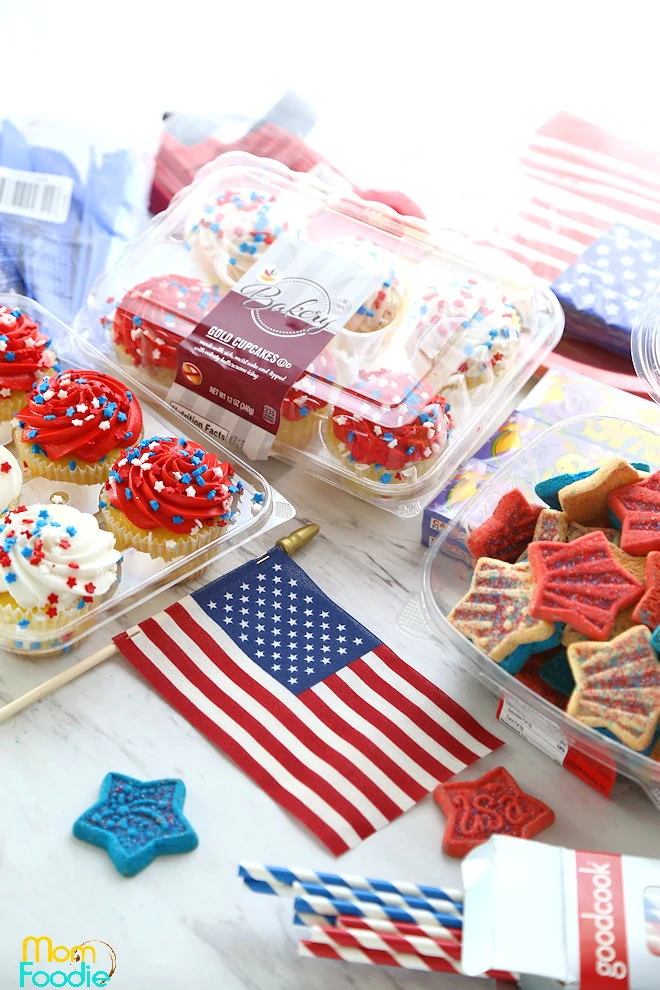 Firecracker Cupcakes
The cupcakes themselves are ready made right from the Stop & Shop bakery department. The Lofthouse star cookies used to decorate the tops were also found in the bakery and there were plenty left to make a cookie tray.  A sparkler is inserted in each cupcake, which makes a fun effect.
Safety Note: Make sure an adult removes the sparklers after they have cooled, it doesn't take long, but they are quite hot right after they go out.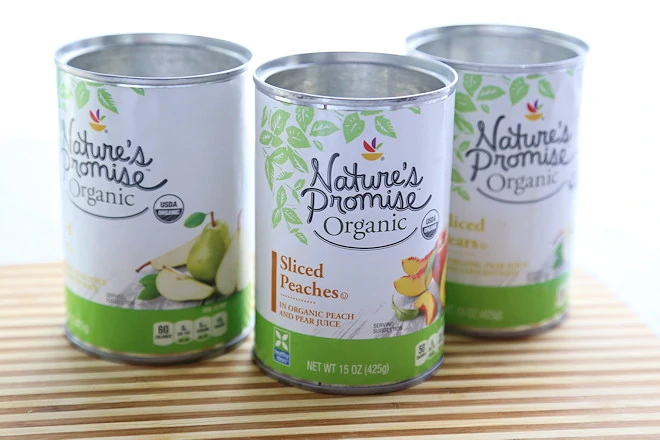 Quick DIY Utensil Holders
I realized I didn't have any utensil holders, but that issue was quickly solved. My daughter's obsession with Nature's Promise canned pears and peaches provided us with some fine utensil holders. I swear my kid must eat a case of these every month. They are US grown organic fruit packed in juice, so I don't mind.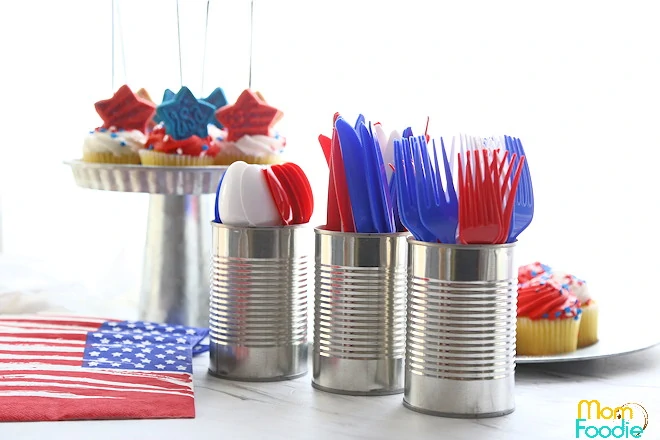 I simply removed the labels from the rinsed cans and wiped off those little ink stamped numbers on the side with nail polish remover. 5 minutes later, I had utensil holders that matched the galvanized metal serving pieces I already had. You can dress them up more if you like, but for me the plain look worked perfectly.
4th of July Drinkware
Next, I set up a drink station. A quick batch of lemonade was set out with colorful cups and paper straws. I chose the flag design cups for non-alcoholic drinks and red cups for adult drinks. We don't want any mistakes happening.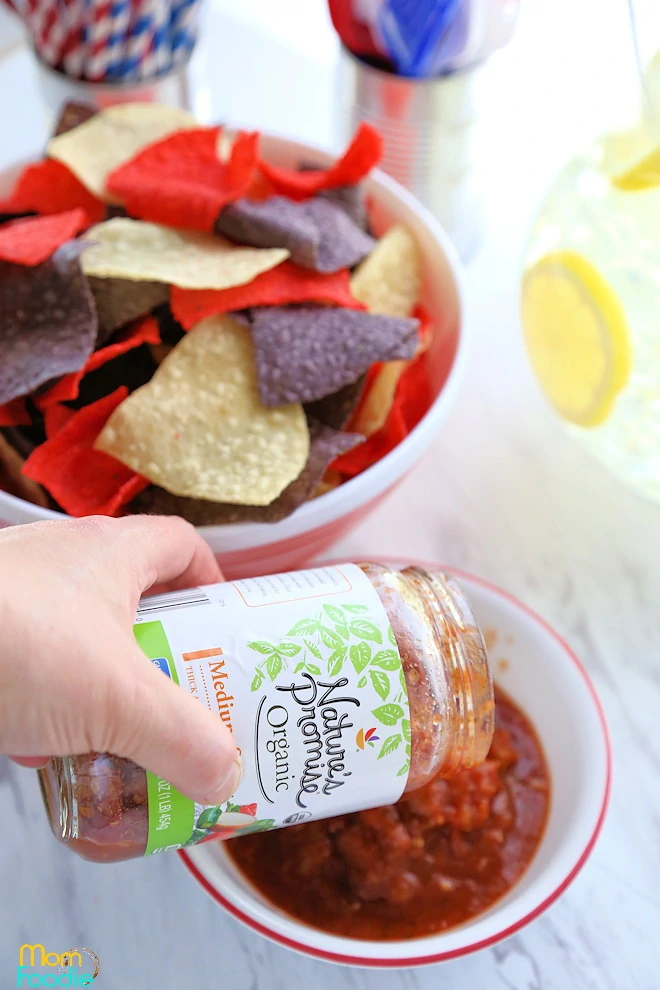 Snacks for Arriving Guests
As soon as friends arrive, put out these vibrant red, white and blue tortilla chips. These are by the produce department and come in a large bag.  Aren't these chips cool. I certainly think they have fun festive flair!
Festive Fun
My daughter got such a kick out of the spinner and headband with spinners I grabbed her while picking up supplies. She is autistic and it is rare anything catches her fancy. I got her some fun 4th of July glow stuff for evening as well.
Time to Grill
The atmosphere is festive, and chips and drinks have been served. Now it's time to get grilling.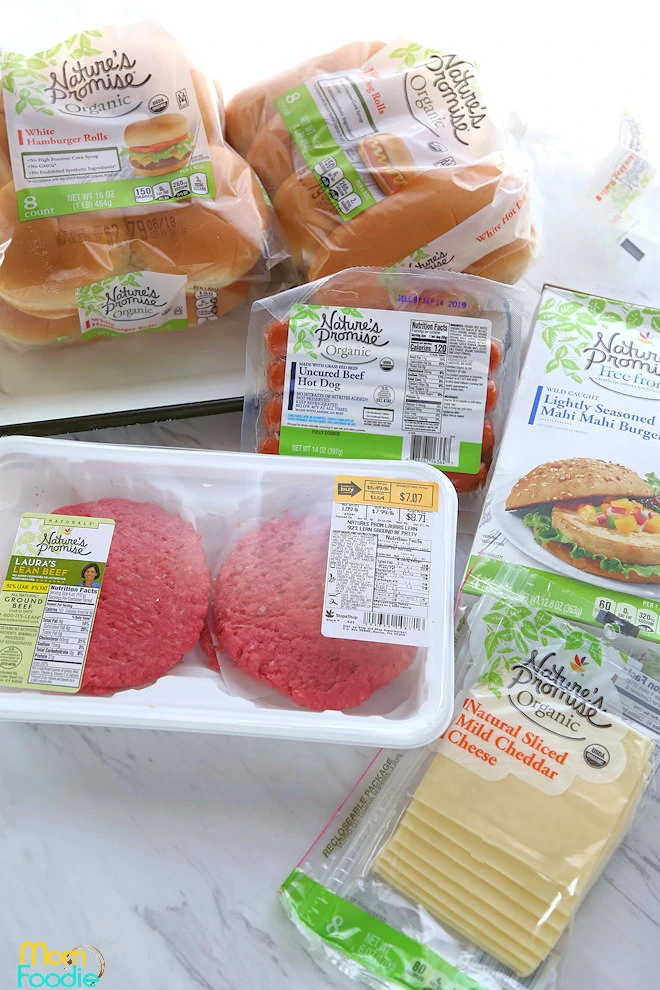 I went with traditional hot dogs and hamburgers, along with some mahi mahi burgers for the non-meat eaters. As you can see, I'm a fan of the Nature's Promise line.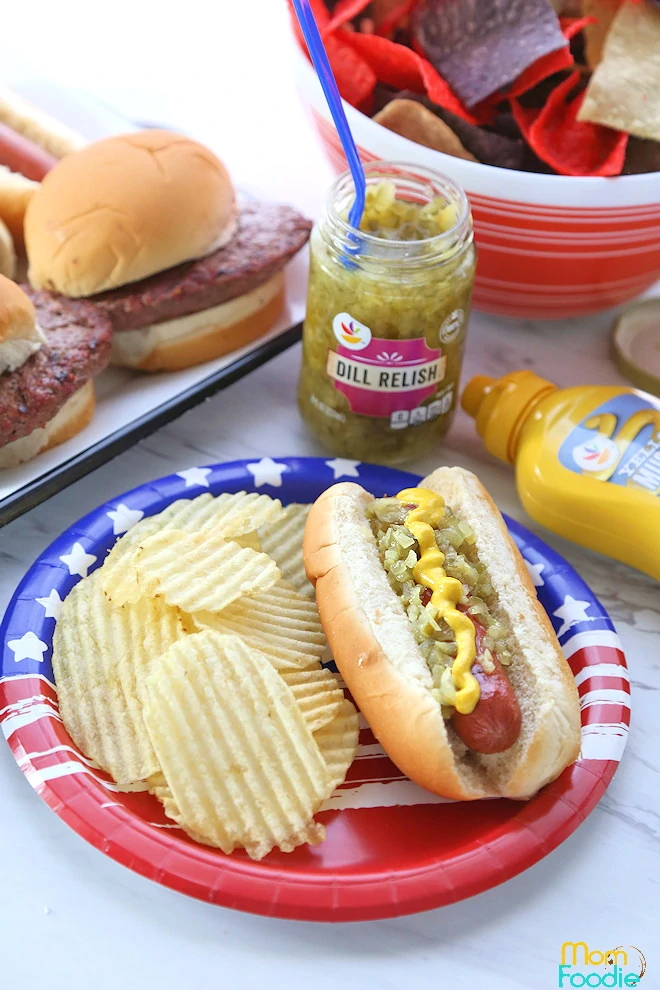 The Nature's Promise Uncured Beef Hot Dogs were a big hit. I had never tried them before, but my daughter really liked them, so they are about to become a regular thing.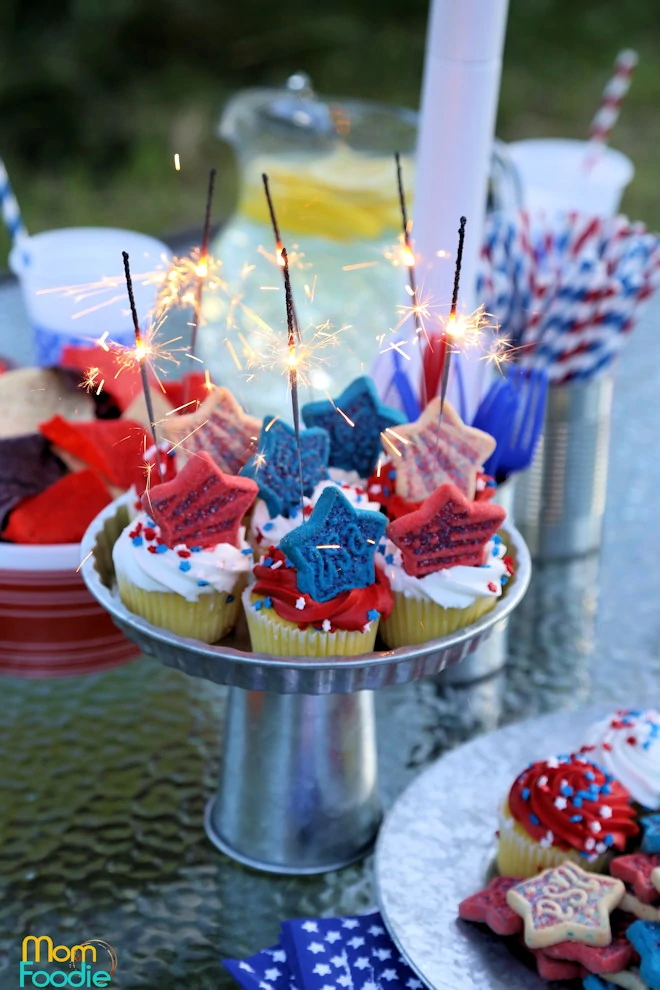 As dusk hit, it was time to serve those Firecracker cupcakes. I had some of the cupcakes set aside on the cookie platter, for those too eager to wait. I thought it was a great way to get everyone primed for the fireworks that evening.
Last Minute Fourth of July
I hope you liked these ideas for putting together a celebration of the 4th in a quick and easy way. Here are a few recipes that can also help.
Have a Fun & Safe Independence Day!