Italian Tuna Salad loaded with fresh vegetables, garlic, parsley and olives. The no mayo tuna salad is perfect for those who are not a fan of mayonnaise in their tuna salad. This low carb tuna recipe is not only delicious and nutritious, it is also Keto friendly.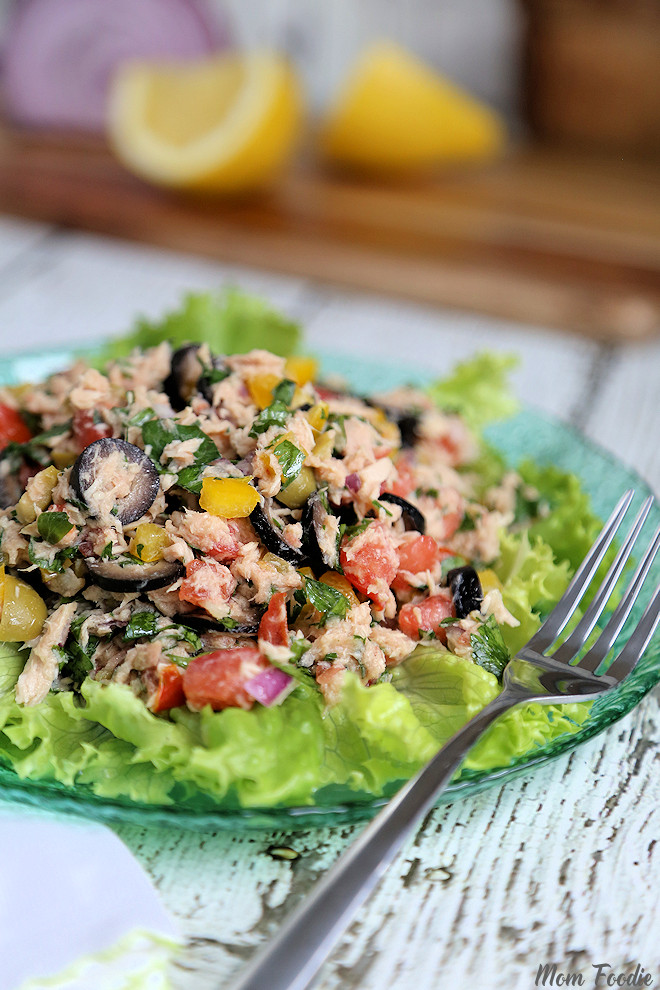 Italian Tuna Salad
When I was asked to create a sponsored recipe with Genova tuna, I immediately knew what I was going to make.  I had been planning to make an Italian Tuna Salad recipe for awhile, and their Yellowfin Tuna would be a perfect choice. In case you are not familiar, Italian Tuna has no mayo, rather it is dressed in oil and and lemon. The tuna salad also features plenty of Italian vegetables and seasoning.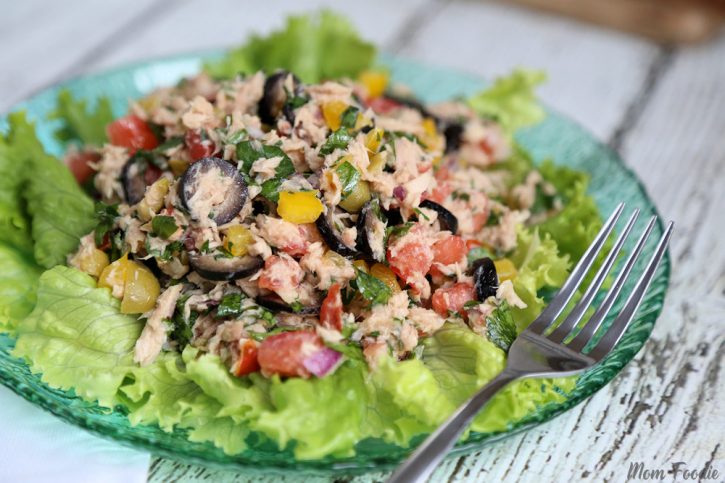 Italian Tuna: Origin
I was first introduced to Italian Tuna Salad many years ago. I was  working at a small Italian owned diner in Providence, RI at the time.  The area in general has a strong Italian culinary heritage, but this particular dish was new to me.  I am monumentally fussy about tuna and it's preparation. While the diner's was a little too fishy for my taste, I would eat it on occasion. The tuna salad was hugely popular with the local clientele.
The restaurant closed several years ago.  While I never did get his Italian tuna recipe, I started making my own "fussy-girl" version recently.  I like mine better 😉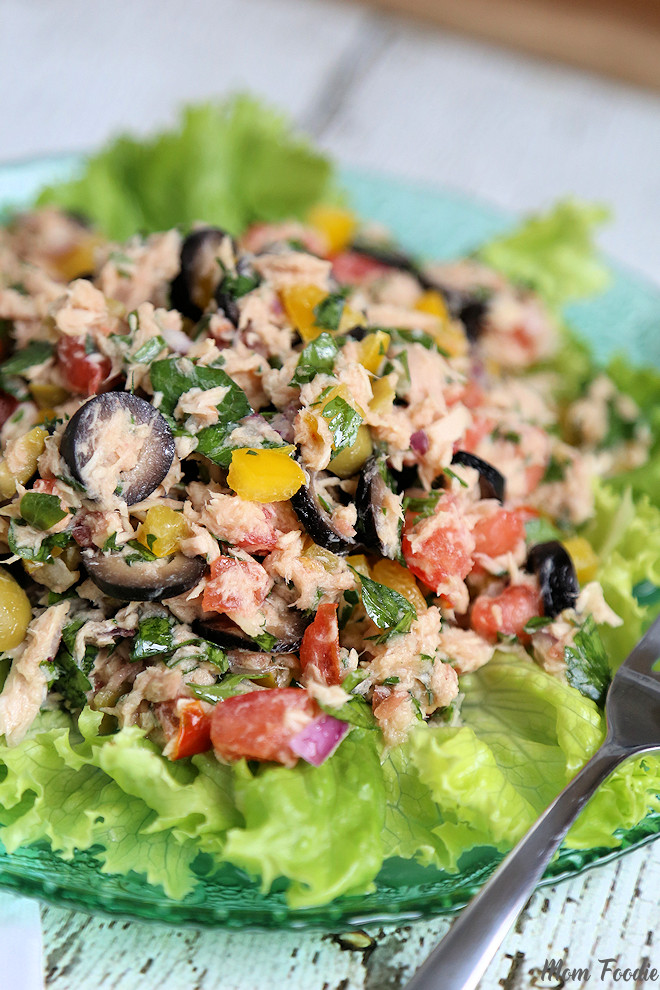 Low Carb Lunch
The tuna salad features fresh chopped vegetables, olives, parsley, lemon juice and olive oil. The salad can easily stand on it's own as a lunch. That is most often how I eat it.
The oil packed tuna has just the right amount of olive oil to dress the salad.  No mayonnaise is used and the vegetables used are not high in carbohydrates. Net carbs for a serving are just 4 grams.
Italian Tuna Sandwich
The recipe also makes a great Italian Tuna sandwich. Whether on crusty ciabatta or nice sliced multi-grain bread, it is a tasty and nutritious lunch.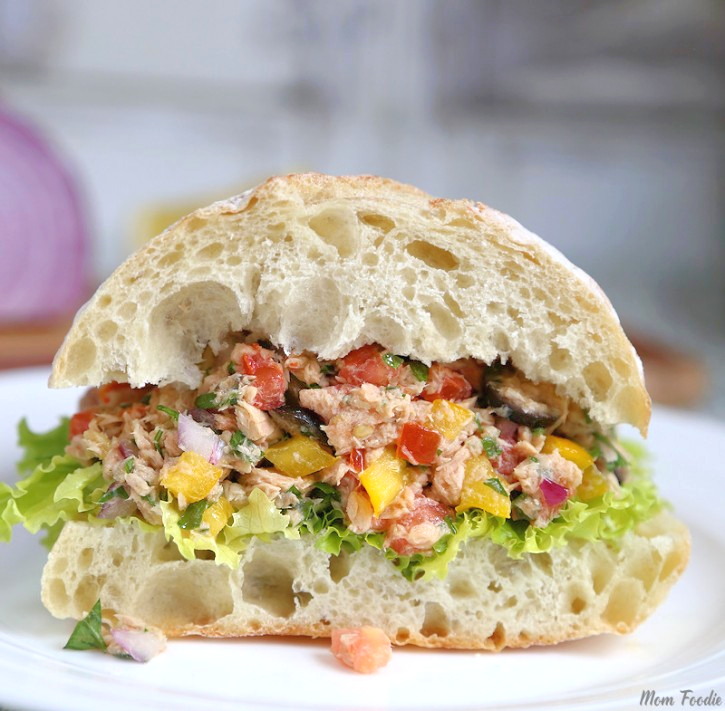 The Genova Yellowfin Tuna was terrific in this no mayo tuna salad.  I will be trying their Albacore tuna soon as well… maybe in a tuna sauce.  This quality wild-caught tuna is readily available right at Walmart.  All in all, a great way to boost the Omega-3 oil and protein in your diet, without additives or preservatives. A great addition to your tuna recipes.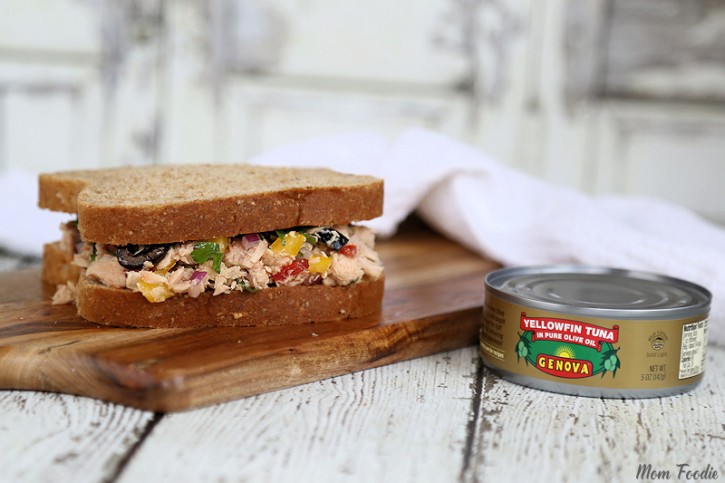 More Recipes you May Like