Thai Smoked Pulled Chicken Sandwiches with fresh carrot pickle. A delicious and unique new sandwich to make in your smoker this summer!
Compensation for this post was provided by Cobblestone Bread Co.™ and Big Green Egg® via AOL Media. The opinions expressed herein are those of the author and are not the sponsors.
Smokey Thai Pulled Chicken Sandwiches are mildly hot & sweet with some traditional Thai flavors.  Chicken thighs are brined, dry rubbed and smoked in preparation for pulling, so the chicken is moist and loaded with flavor... even before the sauce is added.
The quick pickled carrots added to the sandwiches add nice tangy carrot ginger flavor and slight crunch.  The heat is kept mild; so more delicate palates can enjoy along with the heat lovers.  The fire-eaters like myself, can simply add a dose of sriracha to their sandwiches.
The Summer of Grilling
I am dedicated to stepping up my grilling game this summer. Yes, it is time to take things to the next level, be more adventurous and more experimental in my outdoor cooking. Thanks to Cobblestone Bread Co.™ and Big Green Egg® I am off to a great start.
As many of my foodie friends already know, a Big Green Egg® (aka EGG) is sort of an icon of home grilling.   It is able to hold low smoking temperatures, as well as handle high heat grilling like a champ. With the convEGGtor accessory the EGG can even be used as an oven.  As I'm already well familiar with standard grilling, my first skill I'm working on mastering is smoking.
Smoking is done at lower temperatures.  The meat is slowly cooked and infused with the smoke of the smoldering hardwoods beneath it. Temperature can be held remarkably steady in an EGG. It does take a little practice to find the sweet spot to keep the heat where you want it, but the results are well worth it once you do.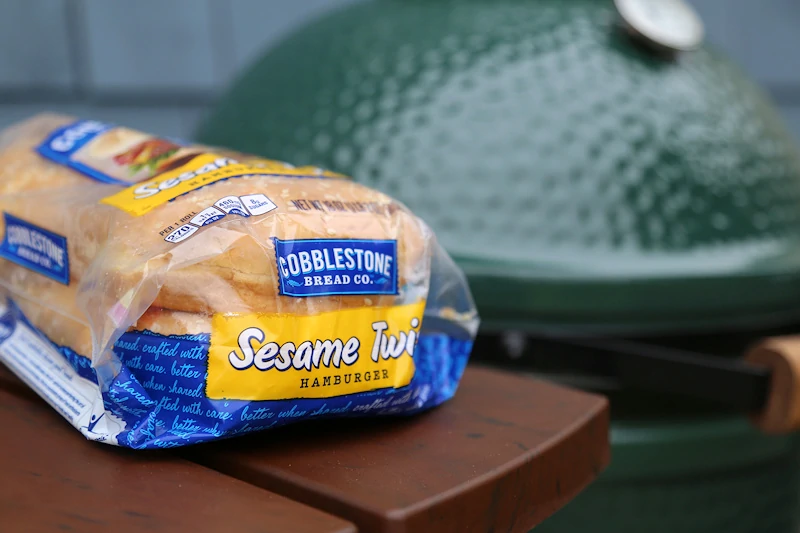 Of course now that I've gained some mad smoking skills, I'm not about to spend my time lovingly brining and slow smoking meat, only to plop my heart's work onto any old bun. No, this kind of cooking belongs on a Cobblestone Bread Co.™ roll.
Making the Thai Chicken Sandwiches
Now we move into the kitchen to finish up the sandwiches.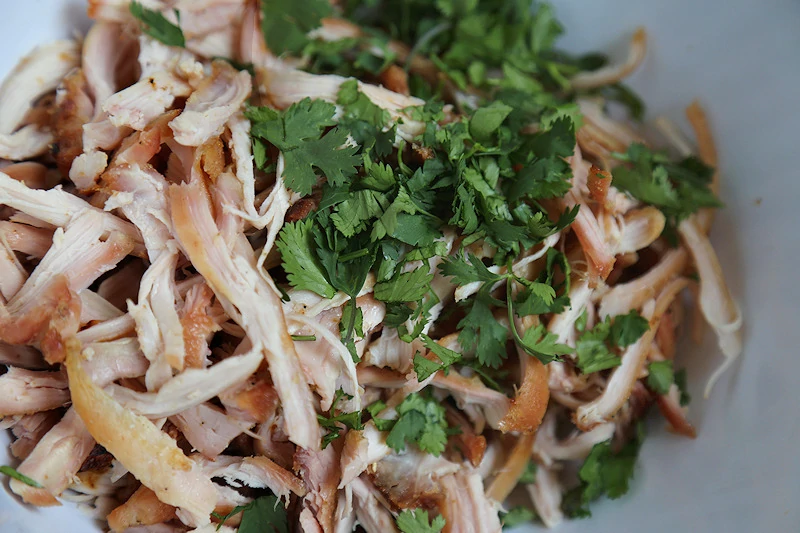 The smoked chicken thighs are pulled and mixed with fresh chopped cilantro.  The pulled chicken is then mixed with a sweet lime sauce, and a splash of fish sauce.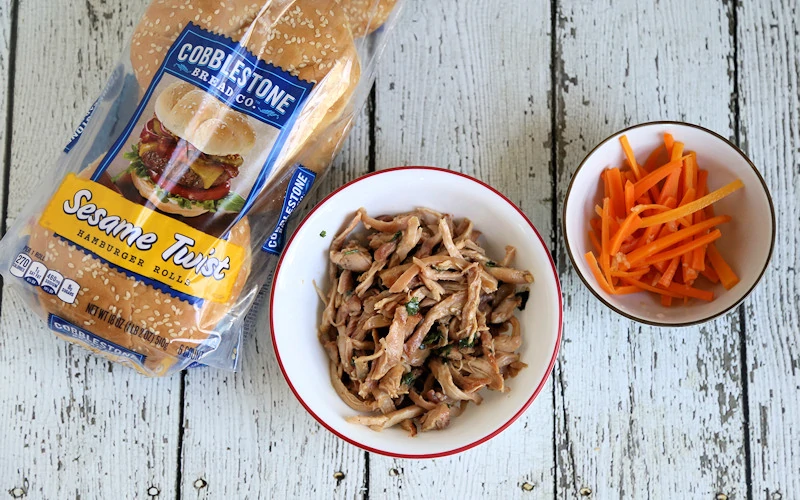 The pickled carrots and Thai pulled chicken are then piled onto a Cobblestone Bread Co.™ Sesame Twist Hamburger Roll, chosen for it's soft yet stable structure, eye pleasing twist and how the sesame seeds make for a uniform Asian theme... not to mention these rolls just taste good.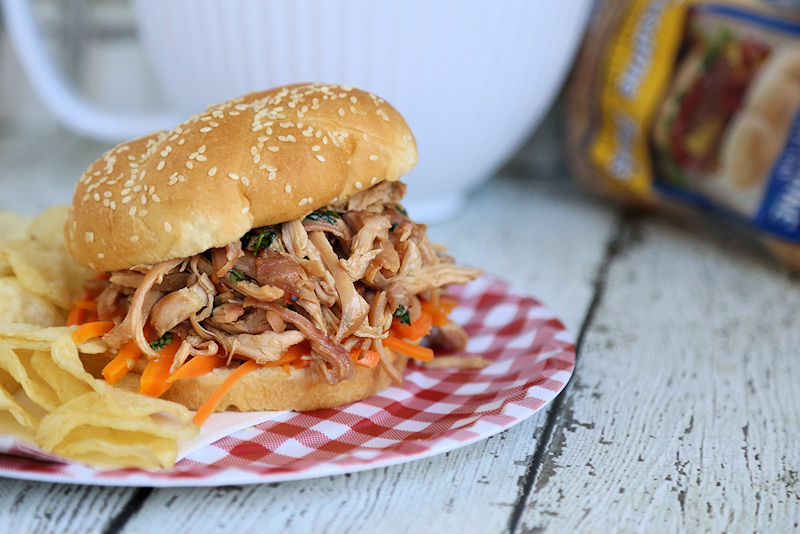 Serve with your choice of side and enjoy!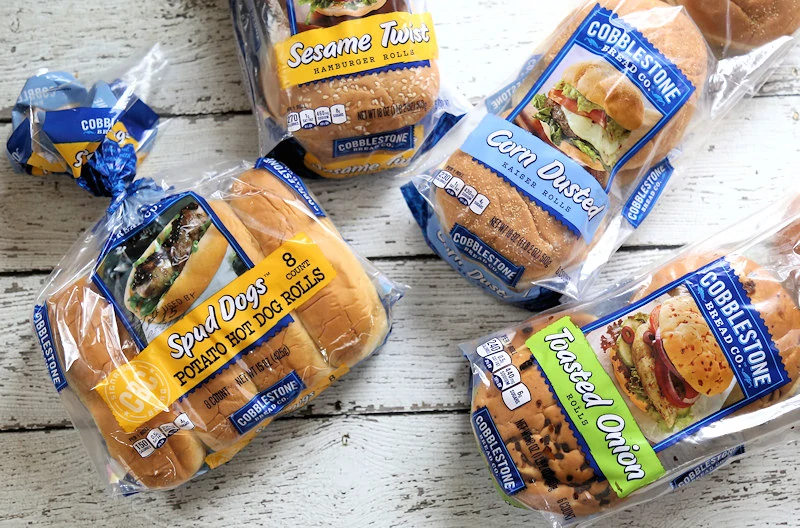 Of course, there is a Cobblestone Bread Co. ™ roll for whatever you are grilling on your EGG this weekend.  All of their baked goods are delicious and some are quite unique.
For dessert, I suggest serving Blueberry Lemon Cake Roll or S'mores Cupcakes.
Other Recipes You May Like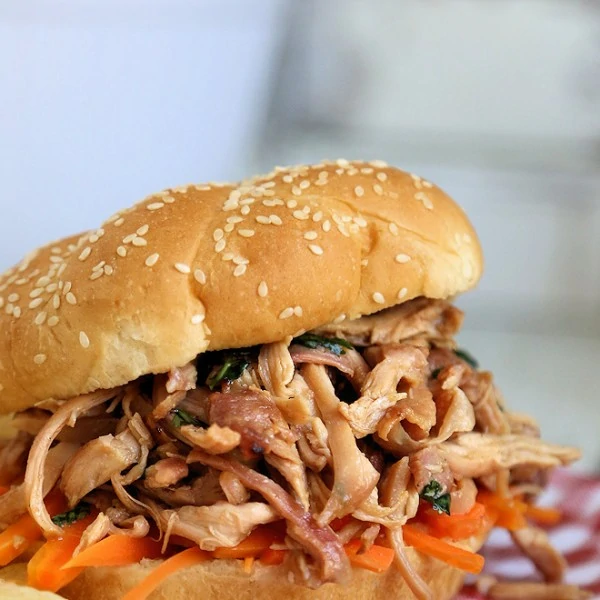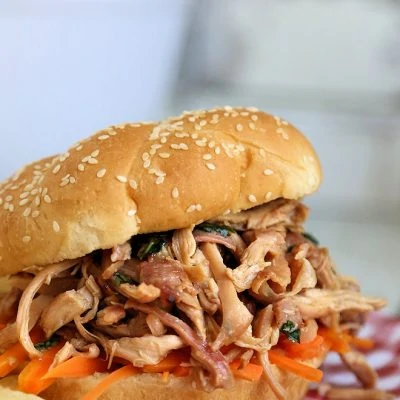 Smokey Thai Pulled Chicken Sandwiches with Quick Pickled Carrots
Print
Pin
Rate
Ingredients
3

lbs

boneless skinless chicken thighs

1

package of Cobblestone Bread Co.™ Sesame Twist Hamburger Rolls

3

tbs

chopped cilantro

quick pickled carrots

recipe below Make while chicken thighs are cooking

*** optional Sriracha sauce
Brine for Chicken Thighs
3

cups

water

2

tbs

pure cane sugar

juice of one lime

2

teaspoon

Thai fish sauce

2

teaspoon

soy sauce

1

tbs

sea salt

1-2

hot peppers

Thai bird or Serrano

2

cloves

of garlic
Dry Rub for Chicken Thighs
1

tbs

pure cane sugar

2

teaspoon

sea salt

1

teaspoon

onion powder

½

teaspoon

ground ginger

½

teaspoon

garlic powder

¼

teaspoon

ground white pepper
Sauce for Chicken Thighs
¼

cup

water

¼

cup

honey

1

tbs

fresh lime juice

2

tbs

soy sauce

1

teaspoon

Thai fish sauce

add while mixing, do not heat
Instructions
Whisk together ingredients for the brine. Add the chicken thighs, making sure they are fully covered. Place in refrigerator for 2-3 hours.

About a half hour before you are ready to grill. Fire up your Big Green Egg®. Once coals are hot, damper down to just a crack on both top and bottom. We are looking for a temperature around 280 degrees.

Whisk together the dry rub ingredients. Remove the chicken thighs from brine, and pat dry. Discard brine. Generously coat the chicken with dry rub.

Place chicken thighs in the EGG. Cook for 1 ½ hours, flipping once after about 50 minutes. Check temperature occasionally to make sure you are not gout over a maximum of 325 degrees, damper more narrowly to reduce temperature closer to 280 degrees.

Prepare the Quick Pickled Carrots while the chicken is grilling (recipe below).

When chicken thighs are removed from the grill, set aside to rest and cool a little, then pull the chicken (discard any fatty bits). Mix in chopped fresh cilantro.

Mix sauce ingredients (except fish sauce) in a small saucepan over medium-high heat. Once it comes to a boil reduce to a simmer. Allow to gently bubble for 2 minutes, then shut off and pour over the pulled chicken. Mix. Add fish sauce and mix again.

Place some of the pickled matchstick carrots on the bottom half of each Cobblestone Bread Co.™ Sesame Twist Hamburger Roll. Top with a generous helping of the Thai pulled chicken (squirt on a bit of sriracha sauce if you like) and cover with top of the roll.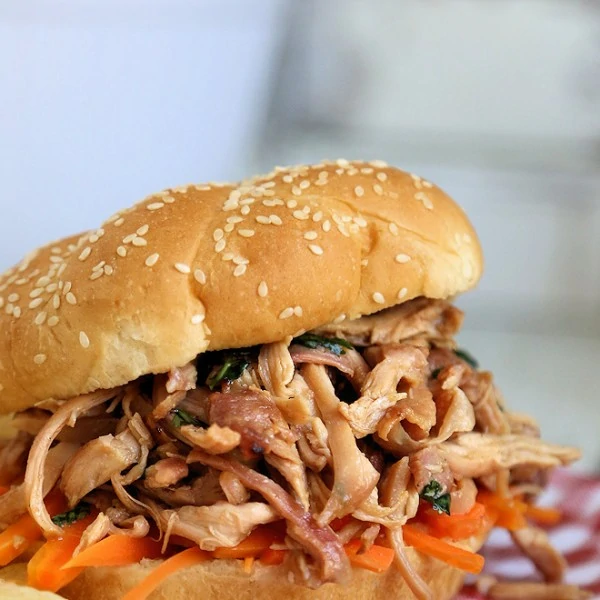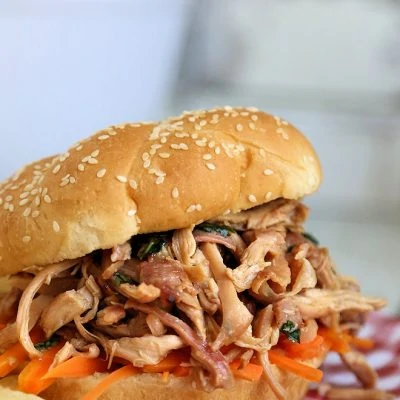 Ingredients
Quick Pickling Brine
2 ½

cups

water

⅔

cup

rice wine vinegar

1

tbs

pure cane sugar

2

teaspoon

sea salt

2

teaspoon

fresh grated ginger
Instructions
Peel and trim carrots, then matchstick slice.

Whisk together pickling brine ingredients in a deep microwave-safe bowl. Microwave for 2 minutes, then whisk again to ensure salt & sugar are dissolved. Add the carrots. Make sure they are fully covered in the brine.

Microwave until the brine come to a quick boil (about 5-6 minutes). Microwave for another minute (you may need to stop it a couple times to avoid boil over). Remove from the microwave and set aside to cool.

When the brine has cooled to room temperature, drain. Refrigerate the carrots until ready to go on sandwiches.