This Mexican Sopes recipe is easy to prepare even with scratch made Sopes. The Sope have become more than just Mexican street food. The versatile dish has become popular with home cooks even outside of the region. Try making them yourself, with my suggested topping or your own selections.
The thick corn tortilla covered with classic Mexican ingredients will soon be a family favorite! It's a great choice whether for a week night dinner, game day or a special treat on Cinco de Mayo!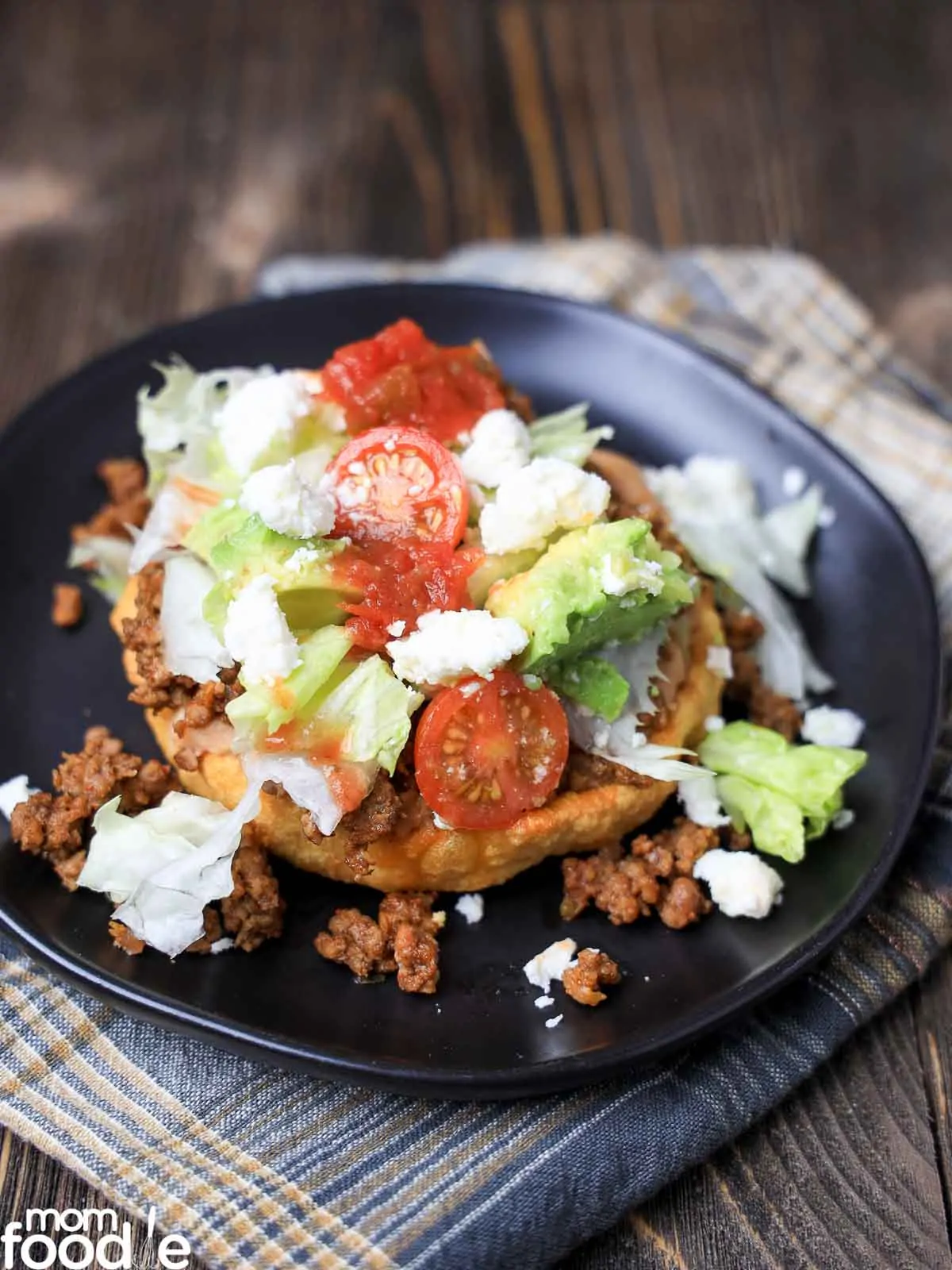 What are sopes?
Sopes are a traditional Mexican dish made from thick corn corn tortillas that are fried or toasted and then topped with various ingredients. The toppings can include refried beans, beef, pork, chicken, cheese, lettuce, tomatoes, onions, salsa and whatever your favorite toppings are.
Mexican Sopes are generally considered a street food and are eaten like an open face sandwich. They can also be served as an appetizer, side dish or they can also be filled with any type of meat you like and served as a main course. Sopes are typically eaten with the hands but can also be eaten with a fork or spoon.
How to Make Sopes
Let's make Mexican Sopes! Follow along here with pictures and tips or hop down to the printable recipe card at bottom of article. I think you will find making sopes easy once you start.
The recipe makes 4 servings (8 sopes, 2 per person)
Prep Time: 20 Mins Cook Time: 20 Mins Total Time: 40 mins
Ingredients:
Here is all you need to make your own homemade Mexican Sopes.
Sopes Dough
2 cups corn masa harina*
½ teaspoon kosher salt
1 ½ cups warm water
vegetable oil for frying (corn oil, canola oil, or melted lard are other options)
Toppings for the Sopes
2 pounds ground beef or 2 cups cooked shredded chicken, shredded beef or pulled pork
2 packets taco seasoning
15 oz. can refried beans
1 cup shredded lettuce
6 cherry tomatoes; halved
2 avocados
½ cup queso fresco cheese, crumbled
spicy salsa or salsa verde
Supplies: paper towels, thermometer for cooking oil
*Make sure to use masa harina and not some other ground corn product. The dried maize corn used for it has been through a process called nixtamalization, where it is soaked in lime water. This softens the kernels and releases pectin. It also changes the taste, look and nutrition of the corn.
Instructions:
Gather your ingredients to get started.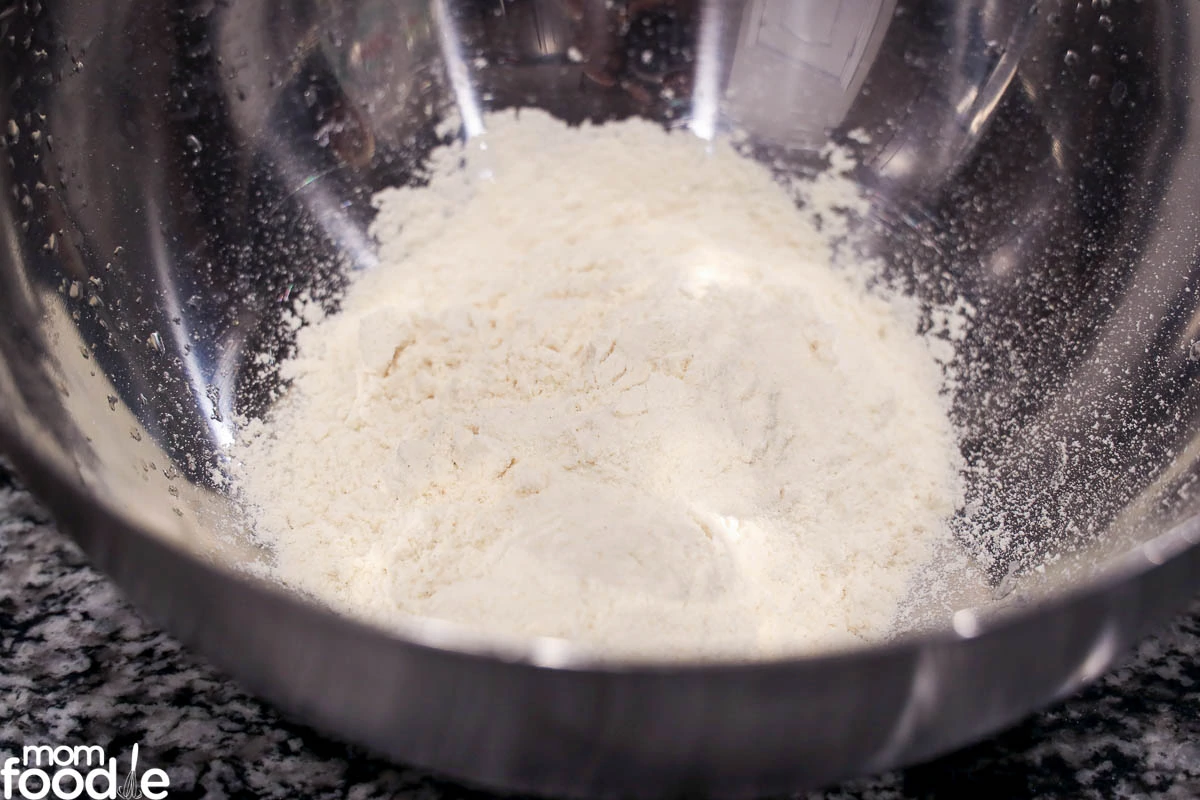 In a large mixing bowl, combine corn masa, salt and water. Add water a little at a time, while mixing with your hands. The dough should have a soft play dough texture and not be sticky.
NOTE: If you make the dough ahead make sure to put it in a well sealed plastic bag with the air pressed out to keep it moist.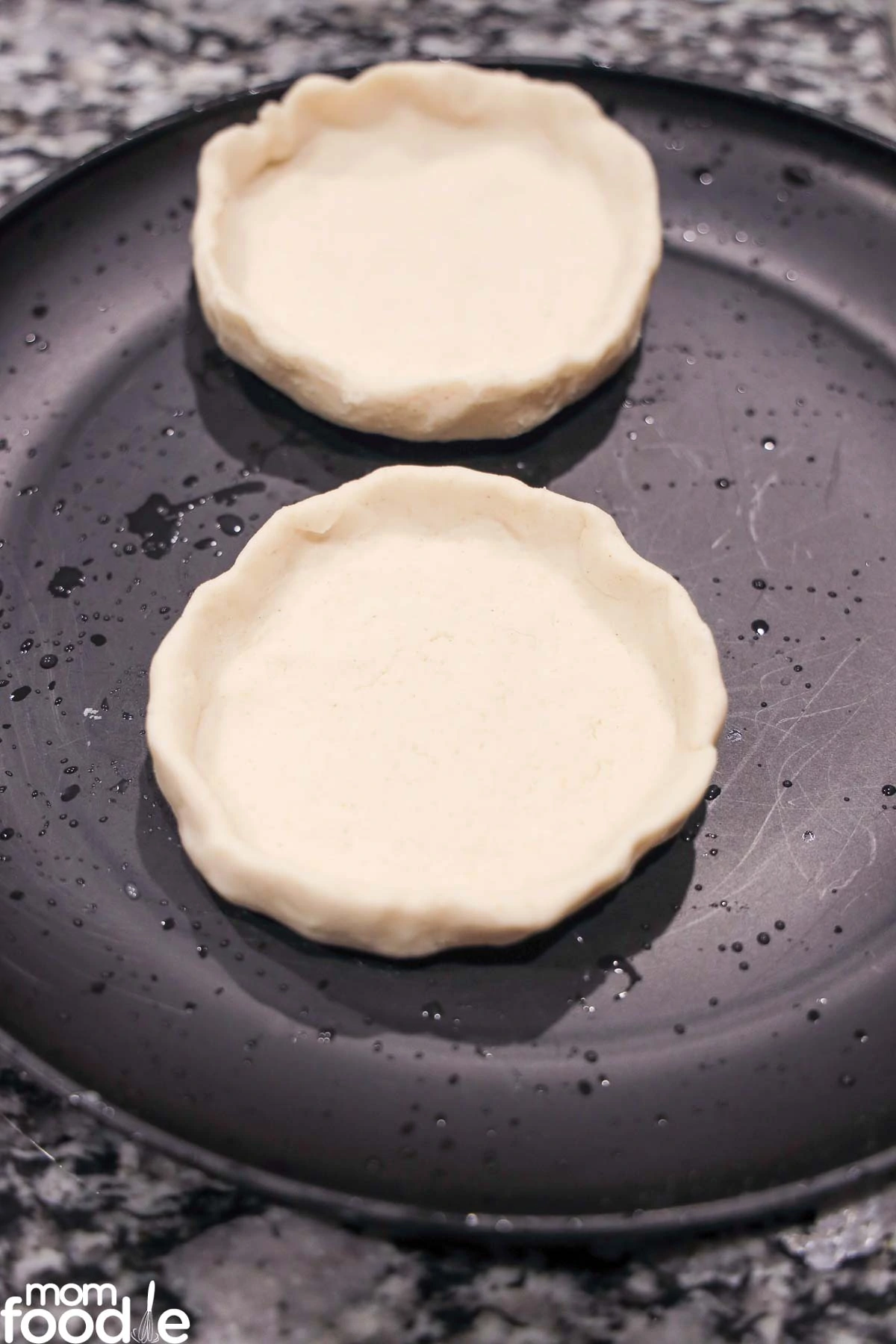 Divide the dough into eight pieces and cover with a piece of plastic wrap or a damp kitchen towel. Keep a small bowl of water out to Wet your hands as you remove the corn dough balls one at a time to form the sopes.
Roll them into a ball of dough and flatten to make small round patties. Then form the edges into a lip to create a shallow bowl shape.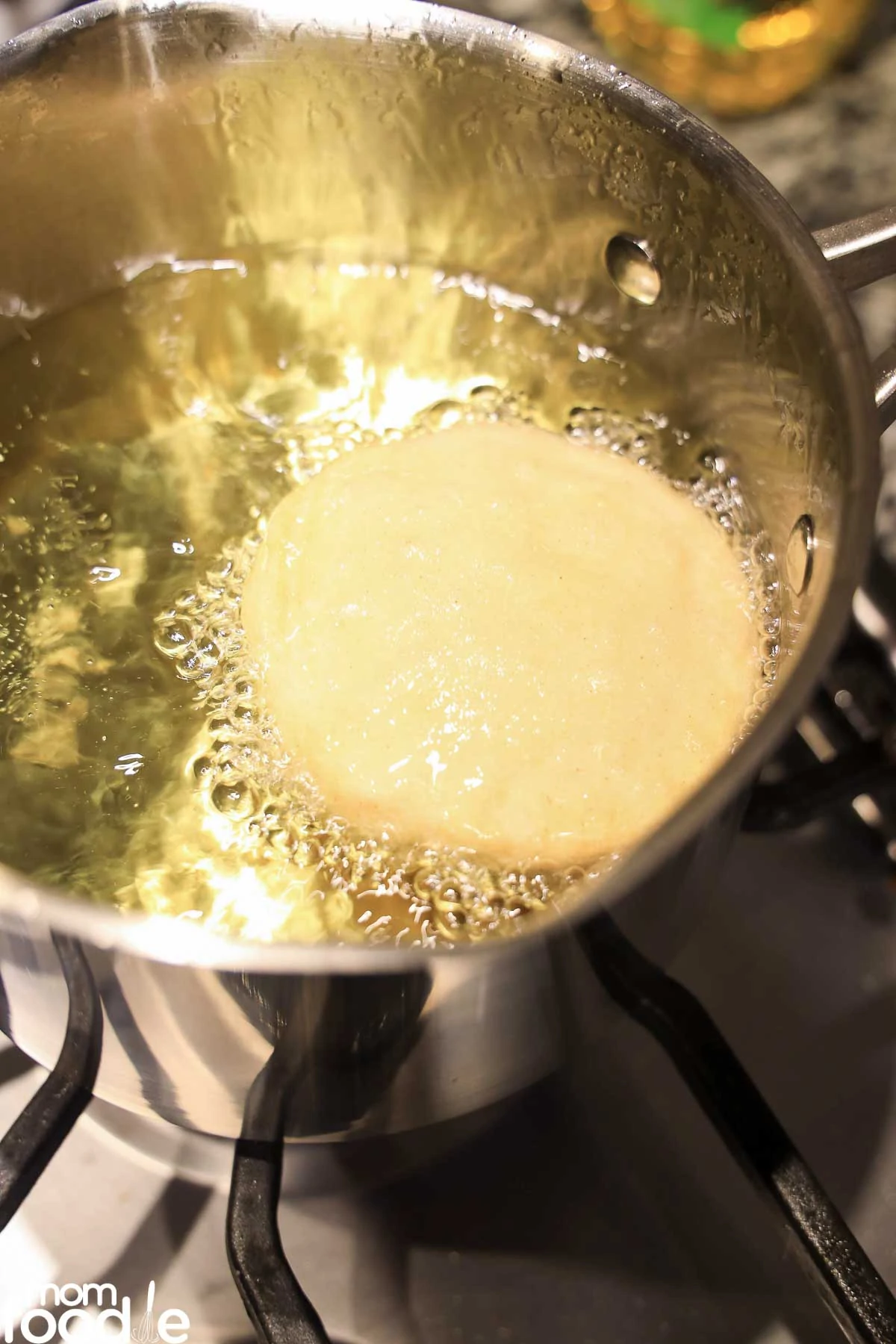 Pour oil into pan a few inches deep. Place over medium-high heat until oil reaches 350 degrees F. (Check temperature with a food thermometer).
Place the sope raised edge side down into the hot oil and lightly fry the dough for about 2 minutes. Flip and fry another minute or two until light golden brown and crispy.
Remove the cooked sopes from oil and set on a dry kitchen towel, paper towel lined plate or wire rack.
NOTE: if you prefer not to deep fry, cast iron skillet or griddle well greased with vegetable shortening or lard can be used to make sopes. The results will not be quite as crisp all around, but still tasty. Rather than forming edges before cooking, they are pressed in after cooking with this method.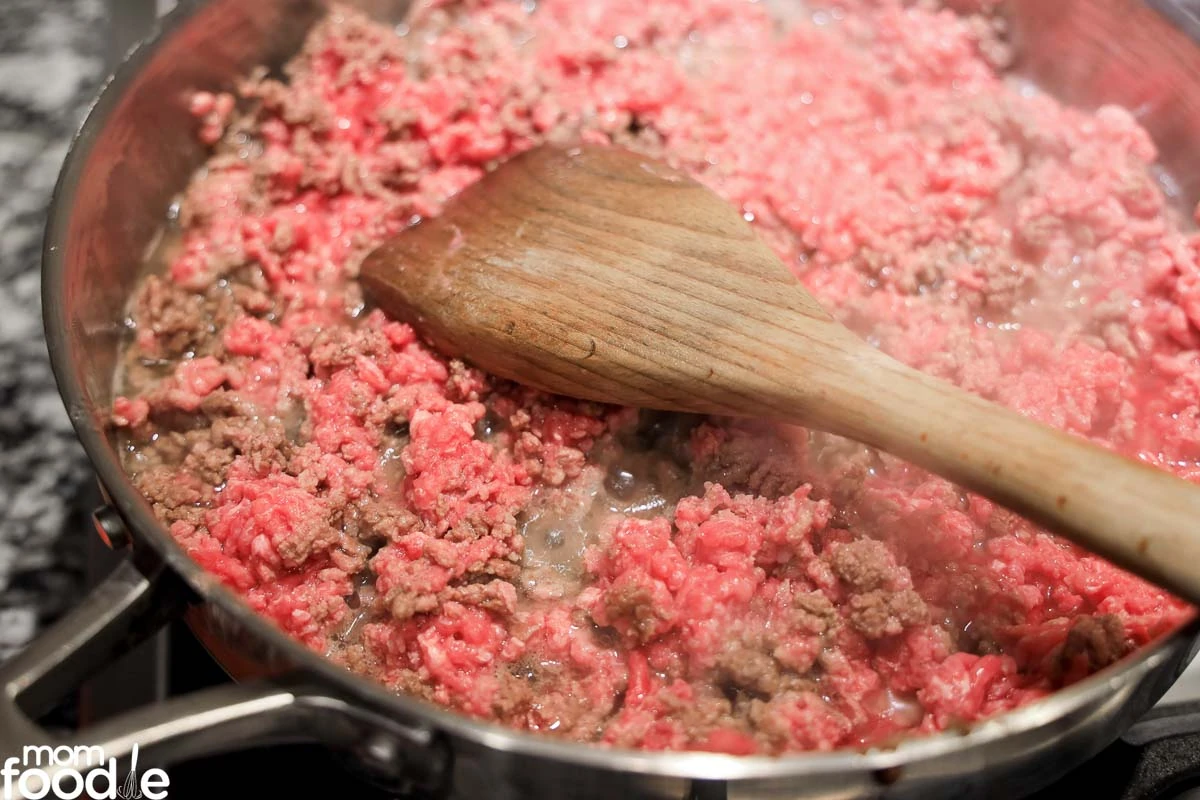 Cook the hamburger in a skillet until lightly browned and crumbled. Drain off the grease and mix in the taco seasoning.
Heat up the refried beans in the microwave or a saucepan on the stove.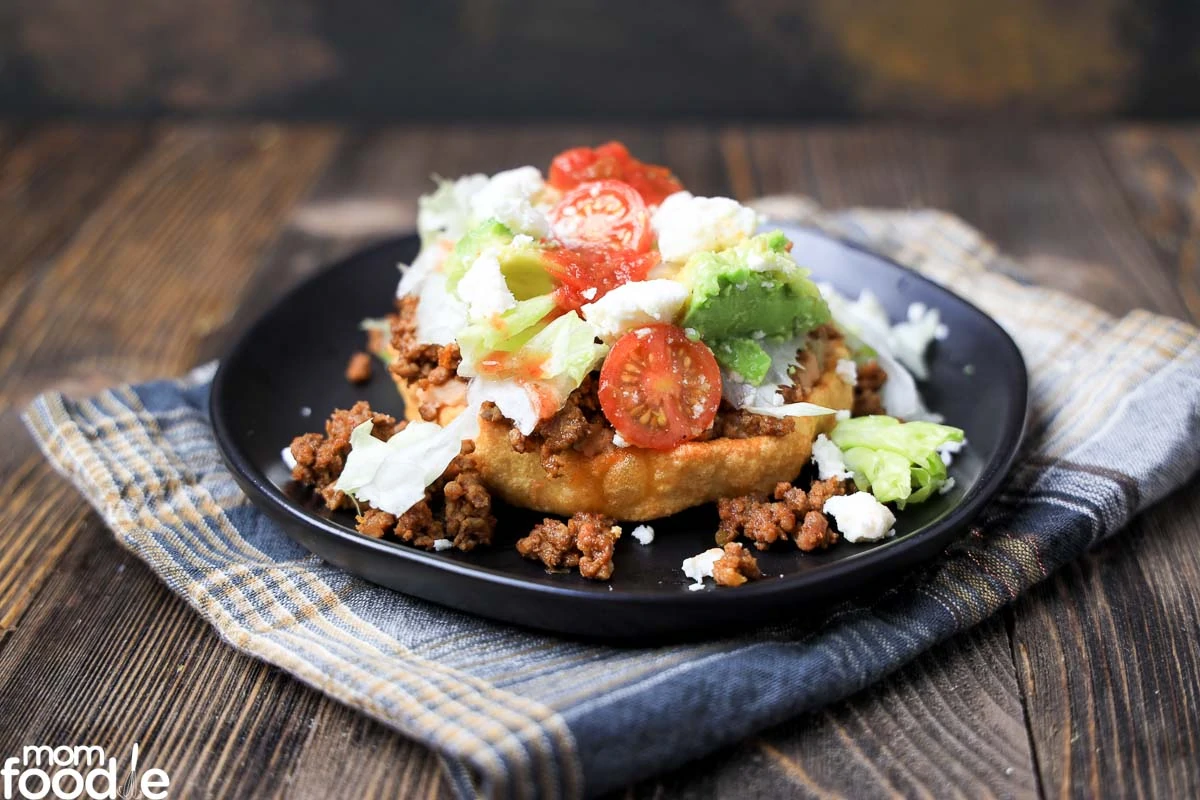 Take each sope smear some beans on it then add the seasoned beef. Top with lettuce, tomatoes, diced avocado, salsa and queso fresco cheese crumbles. Serve warm.
Other Topping Options
There is no need to stick with my choices. Generally the fried corn cakes are slathered with refried beans as a base for other toppings, but even that isn't set in stone. Here are a few for your consideration:
Mexican Crema
Sour Cream or Seasoned Sour Cream
Black Beans or White Beans
Chipotle sauce or hot sauce
Ranch dressing or my Chick-fil-a Avocado Lime Ranch dressing
freshly chopped cilantro
seared shrimp or a firm fish like tuna or Mahi mahi (in place of other meat)
Sliced Blackened Chicken or Blacked Salmon would also be delicious on Sopes
Try some pickles veggies on a sope. Pickled carrots or radish slices are fun choices and a great way to add flavor to vegetarian sopes. See my pickled daikon radishes or quick pickled carrots.
Make vegan sopes, by choosing appropriate beans without animal products and sticking with vegan toppings for your shells. Fried seasoned tofu with a splash of tomato sauce in place of meat or a plant based meat substitute and lots of veggies sounds perfect.
Storage and Reheating
If you want to make fried sopes ahead of time or have leftovers, the best way to store them is in an airtight container in the refrigerator. This will keep them fresh and prevent them from drying out.
You can also freeze sopes for up to three months if you want to save them for a later date. When ready to eat, simply thaw the frozen sopes in the refrigerator overnight.
Reheat Sopes on a hot skillet over medium heat until hot throughout and edges are crisp. They can also be reheated in the oven or an air fryer as well. The microwave is not recommended.
Can sopes be baked instead of fried?
Yes, you can bake sopes! Baked sopes shells are a delicious and easy way to enjoy the traditional Mexican dish, while reducing fat intake.

To make baked sopes, prepare and shape the masa dough. Place the raw sopes on a well greased baking sheet. Bake the sopes in a preheated oven at 375°F for about 10-12 minutes or until golden brown. Then, top each sope with your favorite toppings. Serve the baked sopes warm with your favorite sides and enjoy!
Can I air fry Sopes?
Yes. Preheat the air fryer to 390 degrees. Baste or mist the uncooked sopes shells with oil and place in air fryer basket. Cook for 3-5 minutes until crispy and lightly browned.
Can I use a tortilla press to make sopes?
Yes, of course. If you already have a tortilla press, by all means use it. Just make sure to keep the corn cakes thick. Unless you plan to make large batches of sopes, there is no need to go out an buy a tortilla press just to make this sopes recipe though. Hand shaping is not difficult with these.
Other Mexican Recipes
Here are a few other Mexican or Tex-Mex recipes you may also enjoy separately or served with a sope or two.
For dessert, why not finish the meal with Mexican Fried Ice Cream or Tres Leches Cupcakes.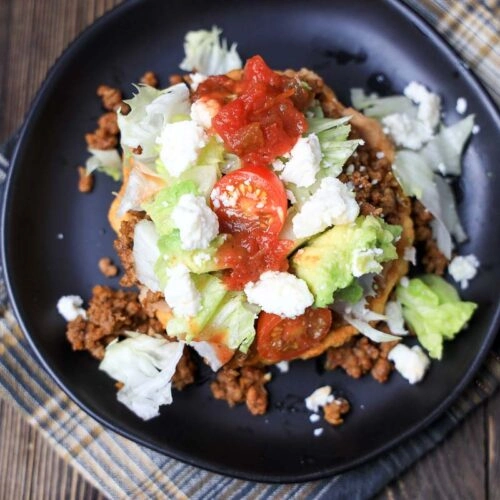 Mexican Sopas
This easy Mexican Sopes recipe is a great way to start making this delicious and versatile Mexican street food at home!
Print
Pin
Rate
Ingredients
Sopes Dough
2

cups

corn masa harina*

corn flour

½

teaspoon

kosher salt

1 ½

cups

warm water

vegetable oil for frying
Toppings for the Sopes
2

pounds

ground beef or 2 cups cooked shredded chicken

beef or pork

2

packets taco seasoning

1 - 15

oz.

can refried beans

1

cup

shredded lettuce

6

cherry tomatoes

halved

2

avocados

diced

½

cup

queso fresco

crumbled (or cotija cheese)

salsa for topping
Instructions
In a medium mixing bowl, slowly combine corn masa and water. Adding the water a little at a time while mixing with your hands. The dough should have a soft play dough like texture and not be sticky.

Divide to dough into eight pieces. Wet your hands and take each piece of the dough roll and flatten into small round patties. Then form a raised lip around the edges, creating a shallow bowl shape. Keep dough covered with plastic wrap while shaping each to keep it from drying out.

Place a deep skillet or saucepan over medium-high heat, Using a food thermometer, heat oil to 350 degrees F.

Place the raw sope lip side down into the oil fry about 2 minutes or till light golden color. Flip and fry another 1-2 minutes until golden and crispy. Remove from oil and set on a plate lined with paper towels or a kitchen towel to absorb excess oil.

Cook the meat in a skillet until browned. Drain off grease and add in taco seasoning. Stir well. Heat the beans in a saucepan or in the microwave.

Take the sope and smear some beans on it then add the crumbled seasoned ground beef. Top with lettuce, tomatoes, avocado, salsa and cheese.
Notes
Nutrition calculated based on a rough estimate of ⅛ cup of oil absorbing into the Sopes cakes and 2 Sopes per serving.
*Make sure to use masa harina, not just any ground corn.
Nutrition
Calories:
1135
kcal
|
Carbohydrates:
67
g
|
Protein:
54
g
|
Fat:
73
g
|
Saturated Fat:
23
g
|
Polyunsaturated Fat:
8
g
|
Monounsaturated Fat:
33
g
|
Trans Fat:
3
g
|
Cholesterol:
172
mg
|
Sodium:
1268
mg
|
Potassium:
1350
mg
|
Fiber:
16
g
|
Sugar:
5
g
|
Vitamin A:
748
IU
|
Vitamin C:
17
mg
|
Calcium:
263
mg
|
Iron:
11
mg