Pani Popo are Samoan coconut rolls. They are soft rolls baked in sweet coconut milk sauce. The result is a fluffy yet moist dinner roll with a sweet, sticky bottom.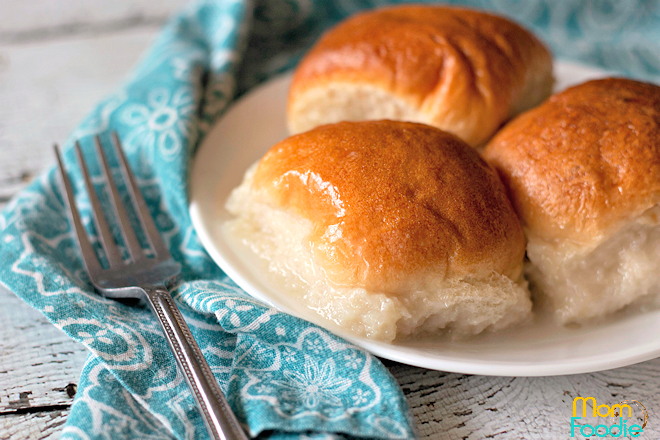 Pani Popo _ Samoan Coconut Rolls
Pani Popo are a great along with dinner or served as a sweet roll for breakfast along with your coffee. They would pair really well with glazed ham for Easter dinner and would certainly make for a unique twist to the meal.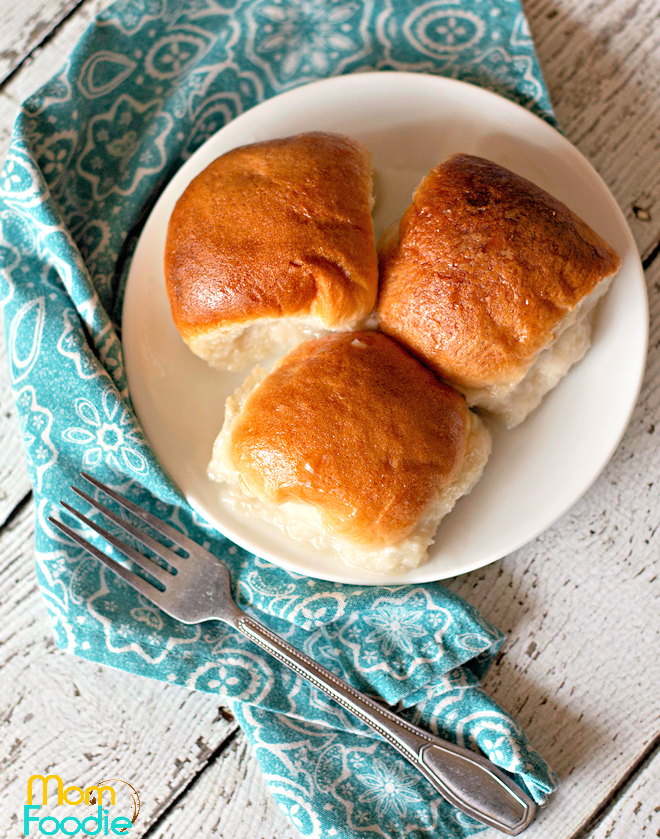 3 Ingredient Pani Popo Coconut Rolls
While I am sure there are more complicated recipes for making these Samoan coconut rolls, this simple 3 ingredient recipe is manageable and the results are delicious. Why fuss when it isn't necessary?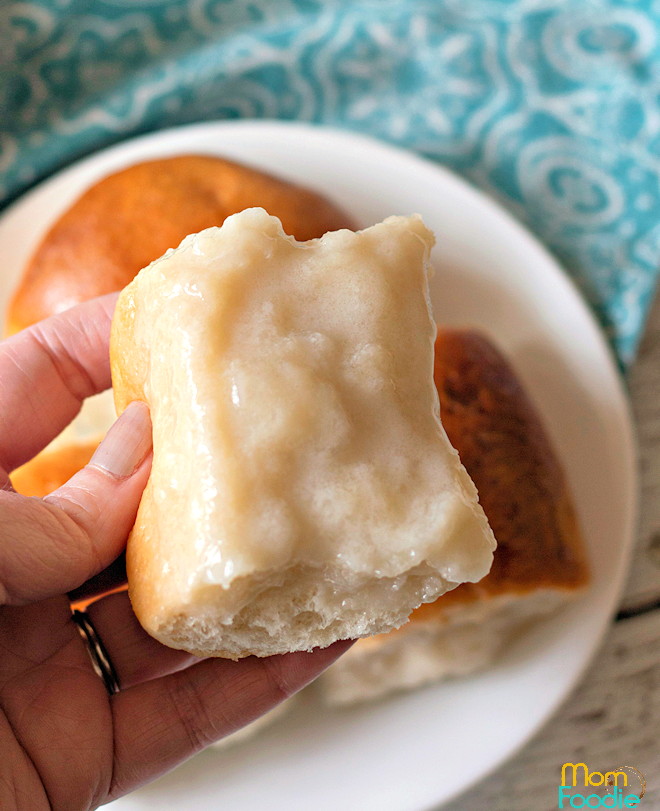 Coconut Sauce Rolls
Here is what makes these easy rolls so unique. The sweet sticky bottoms, that semi-saturate into the rolls. rather than sopping a roll in gravy, it already comes with a sweet coconut sauce pre-applied. Yum! This makes it a fantastic side to serve with drier meats or meals without a sauce or gravy.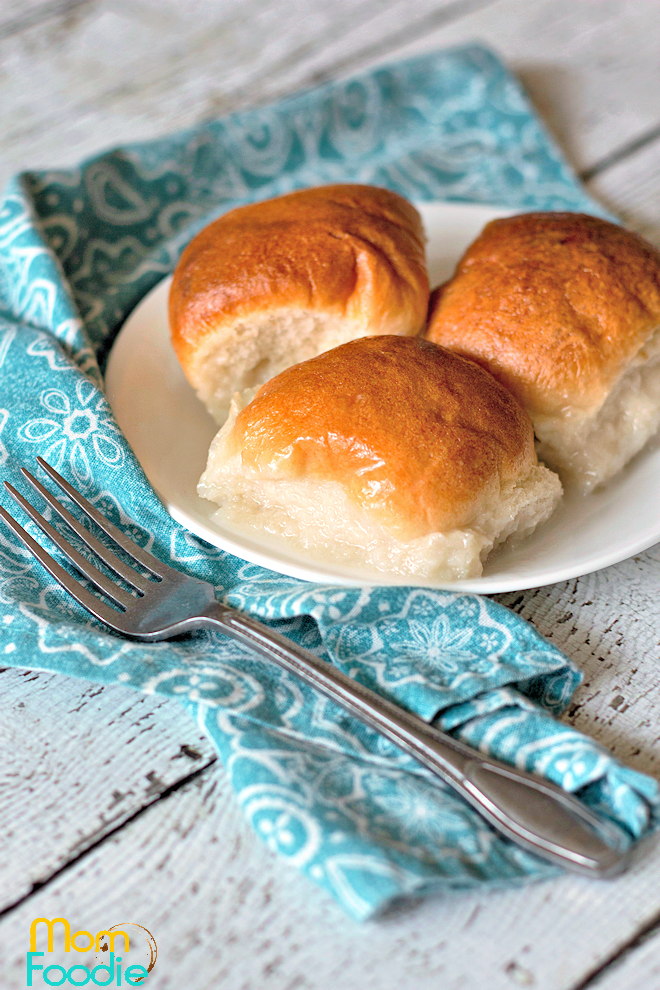 How to Make Pani Popo
Here is a guide to making this Samoan coconut rolls recipe with pictures. I know the dish is new to many of you, so I included more in-depth pictures, despite it being an easy recipe. we want them to come out right the first time. Full printable recipe card can be found below.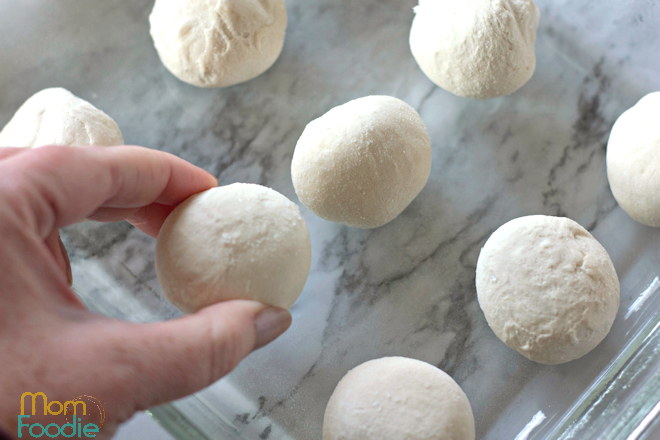 First I want to make it clear, use frozen bread dough type rolls for this recipe. DO NOT USE heat and serve style rolls that are already fully baked.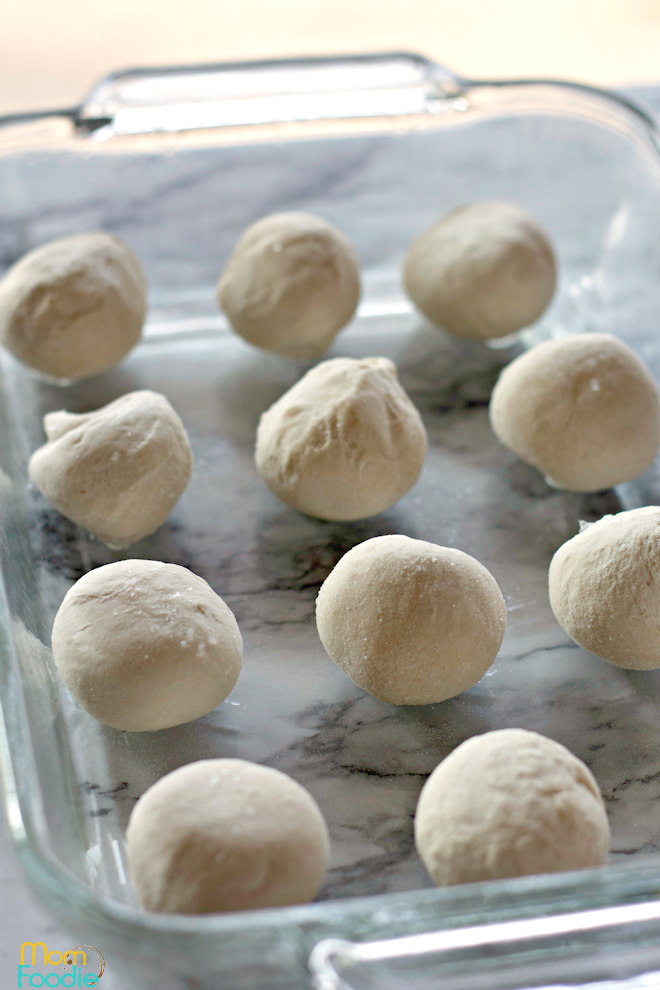 Space the rolls out evenly in a 9 x 12 baking dish which has been prepared with non-stick spray (or greased).
Rise until doubled in a warm oven (150 degrees).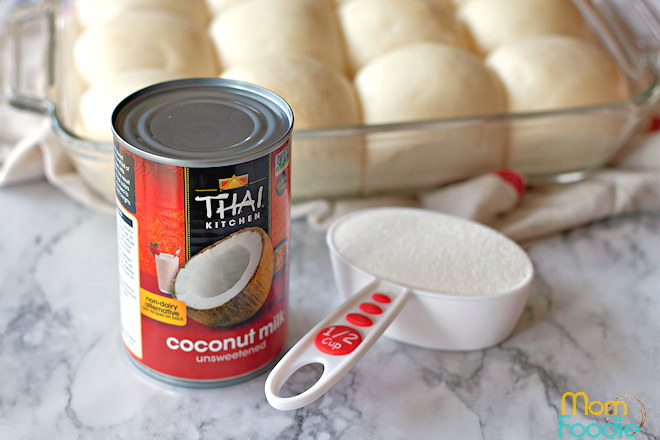 Now prepare your coconut sauce. It is a simple two ingredient mixture.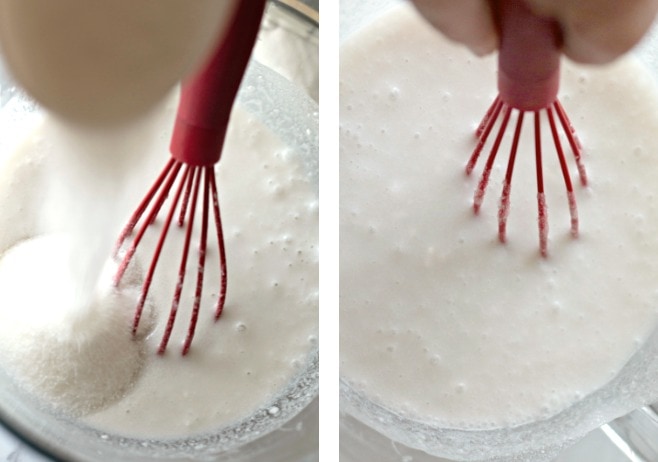 Whisk the coconut milk and sugar together.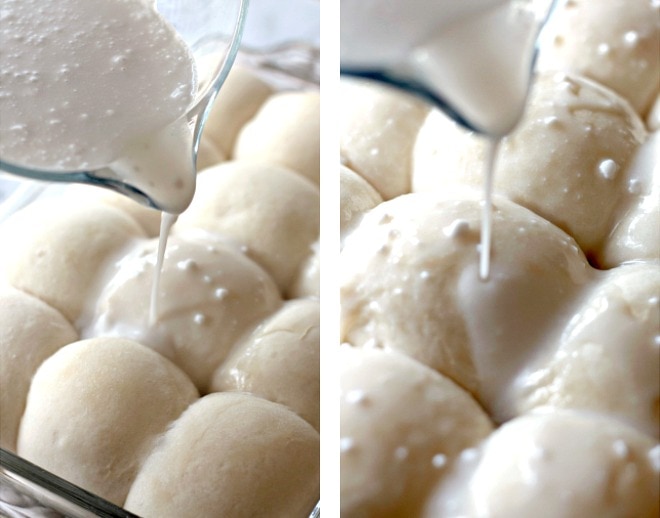 Then pour over the rolls in baking dish. Make sure you cover the entire dish, but don't worry about any tiny clumps in the sauce they will melt in baking.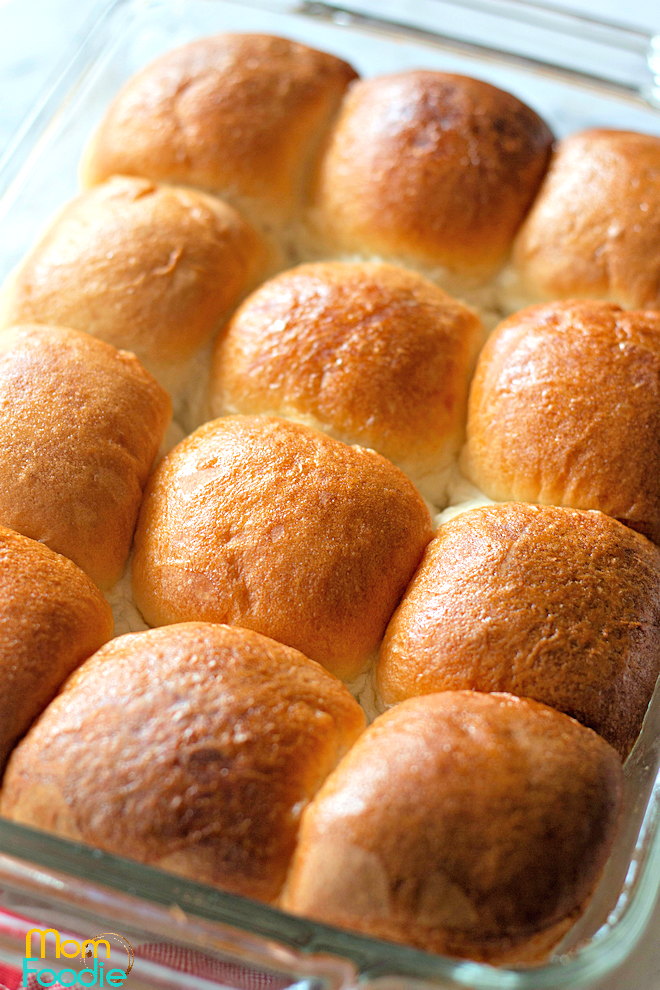 Bake until golden brown. The rolls take about 30 minutes to cook, if they seem to be browning too fast, cover with foil.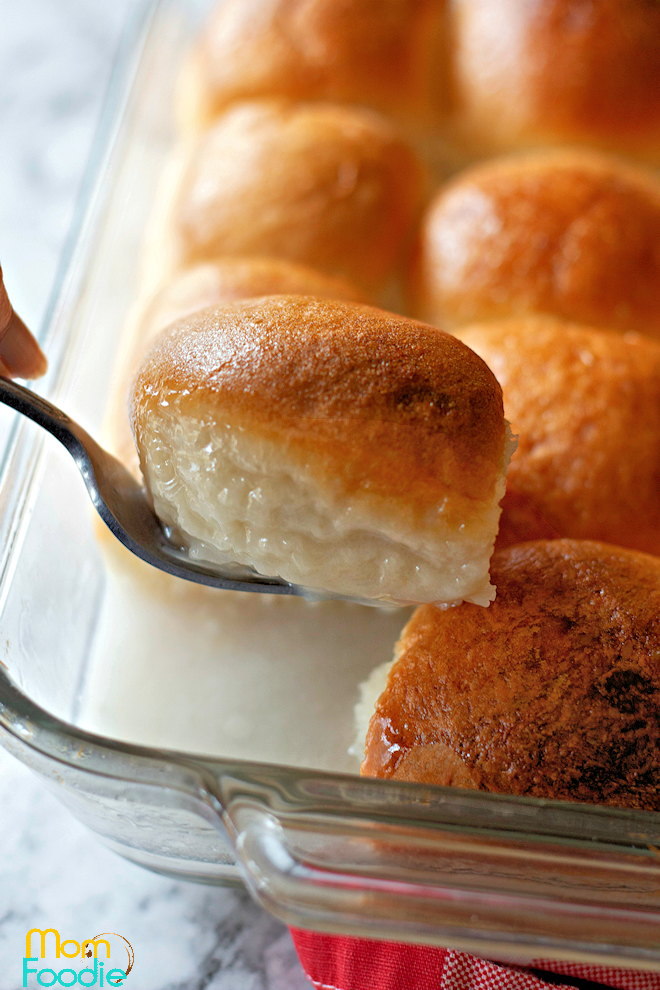 Allow the rolls to cool about 15 minutes before serving.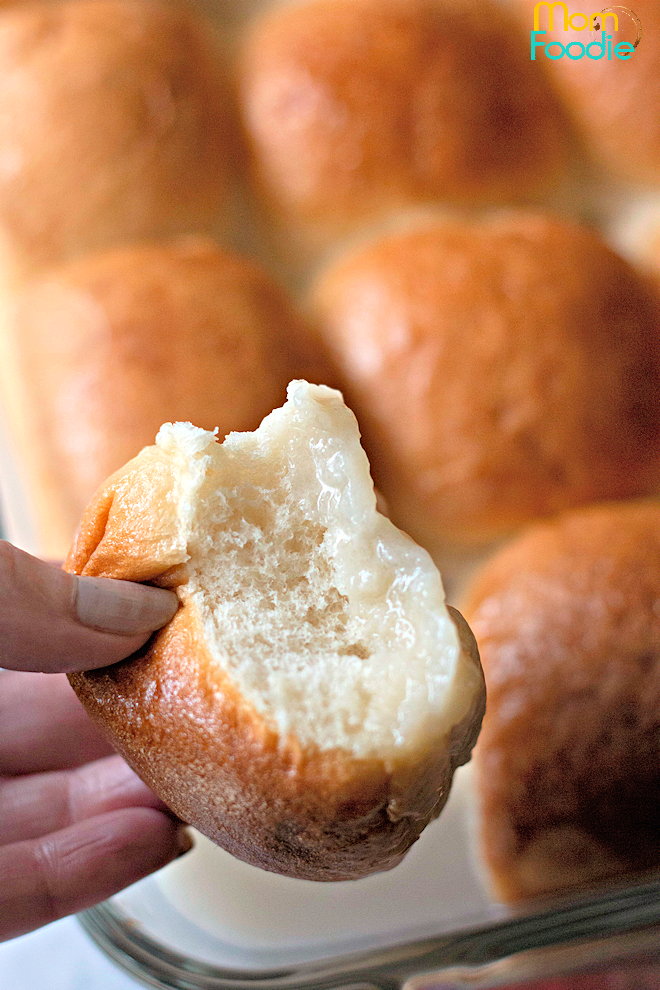 The rolls themselves will be soft and fluffy and the sauce will be syrupy and saturating into the bottoms of the rolls.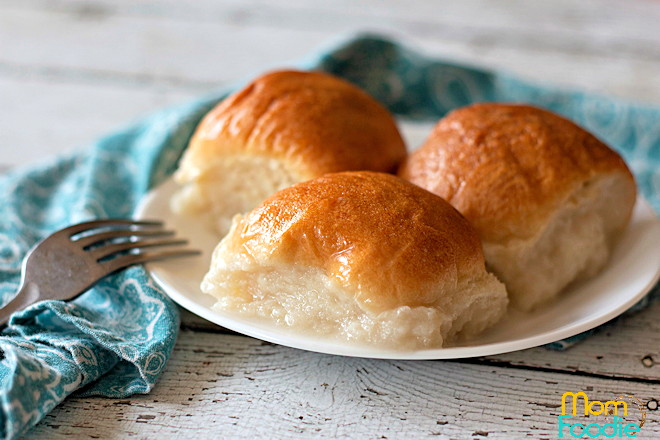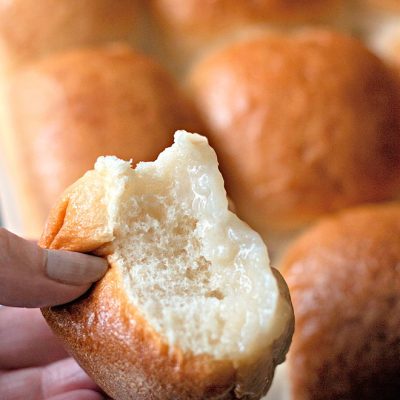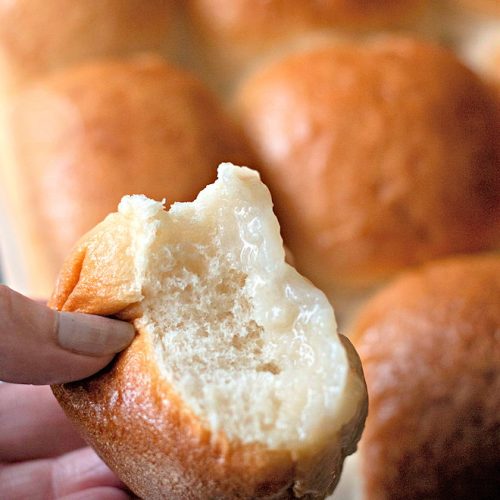 Print
Pani Popo Recipe
Pani Popo are coconut rolls popular in Samoan cuisine. This easy 3 ingredient recipe is simple to make at home.
Ingredients
12

frozen dinner roll dough balls

such as Rhodes "thaw, rise, and bake" rolls

Non-stick cooking spray

14.5

ounce

can unsweetened coconut milk

½

cup

granulated sugar
Instructions
Preheat the oven to 150 degrees F, then turn off.

Grease a 9x12 inch glass baking dish very well with non-stick cooking spray.

Place the 12 frozen dinner roll dough balls into the pan in 4 rows of 3.

Fill a small sauce pan half way with water, then bring to a boil on the stove over medium-high heat. Remove the pot of boiling water from the heat and place in the warm oven on one of the oven racks. This will create a warm, high moisture environment in the oven for the dough balls to thaw and rise.

Place the baking dish of dough balls in the oven uncovered and allow to thaw and rise until the dough balls have more than doubled in size; approximately 2 hours.

Remove the bread dough from the oven and set aside.

Preheat the oven to 350 degrees F.

In a medium mixing bowl, stir together the coconut milk and sugar until well combined. There may still be some very small bits of the coconut cream that does not full incorporate. This is okay and they will melt as the rolls bake.

Pour all of the sweet coconut sauce over top of the dinner roll dough. Be sure the tops of the dough are all evenly coated with the coconut milk.

Bake the Pani Popo for 30 minutes at 350 degrees F. Check the rolls after 20 minutes of baking and if they are getting too brown, lay a piece of foil over the top of the rolls to prevent them from over browning during the final 10 minutes of baking.

Remove the rolls from the oven and cool for at least 15 minutes in the pan. Serve warm or at room temperature.
Nutrition
Calories:
228
kcal
|
Carbohydrates:
30
g
|
Protein:
4
g
|
Fat:
10
g
|
Saturated Fat:
7
g
|
Cholesterol:
0
mg
|
Sodium:
230
mg
|
Potassium:
139
mg
|
Fiber:
2
g
|
Sugar:
10
g
|
Vitamin C:
1
mg
|
Calcium:
81
mg
|
Iron:
2.1
mg