This Crock Pot Meatloaf Recipe with Potatoes and Carrots is the perfect easy comfort food.
Family dinner is so simple and delicious with a crockpot meatloaf. It is topped with a sweet and tangy glaze and the side dishes are right in the pot!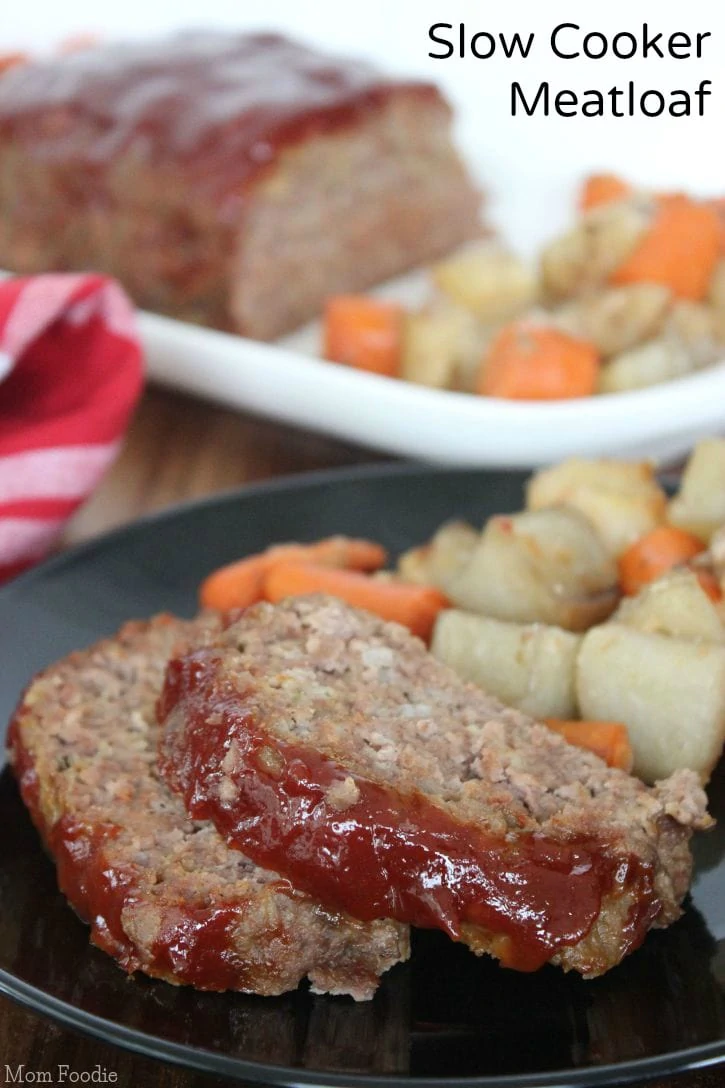 I love that this is a complete meal all right in the slow cooker. For another all-in-one comfort food dinner check out one of my favorite crock pot chicken thigh recipes.
Crockpot Meatloaf
Yes, you can cook a meatloaf in a slow cooker or crockpot.. This easy Slow Cooker Meatloaf Recipe with potatoes and carrots is soon to be a favorite with your family. It is a simple set it and forget it kind of meal that is perfect for busy families.
How to make the Slow Cooker Meatloaf Recipe
Here is how to make meatloaf in a slow cooker. Full recipe below.
Ingredients for Crock Pot Meat loaf
This is all you need to make the meatloaf:
Crock Pot Meatloaf
1 pound ground beef
½ pound ground pork
2 large eggs
¾ cup milk
⅔ cup bread crumbs plain
1 tsp Kosher salt
2 tsp minced dry onions
½ tsp dried thyme
¼ tsp garlic powder optional
Glaze
¼ cup ketchup
2 tbsp brown sugar
1 tsp dijon mustard
1 ½ tsp Worcestershire sauce
Vegetables
1 ½ pound potatoes peeled and chopped
1 pound carrots peeled and chopped
Instructions
Start by coating the interior of the crock pot with cooking spray for easier clean-up.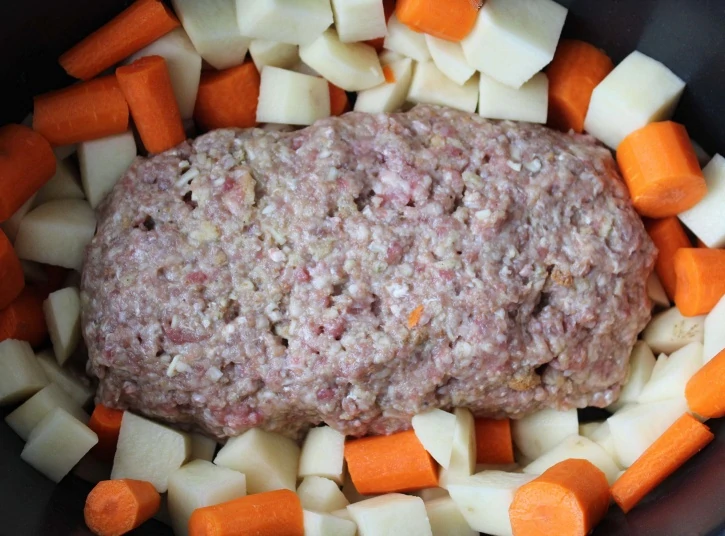 Form the meatloaf mixture into the shape of an oval or rounder if that will fit the shape of your slow cooker. Next, surround the meatloaf with the chopped potatoes and carrots. Cook for 5-6 hours in the crock pot.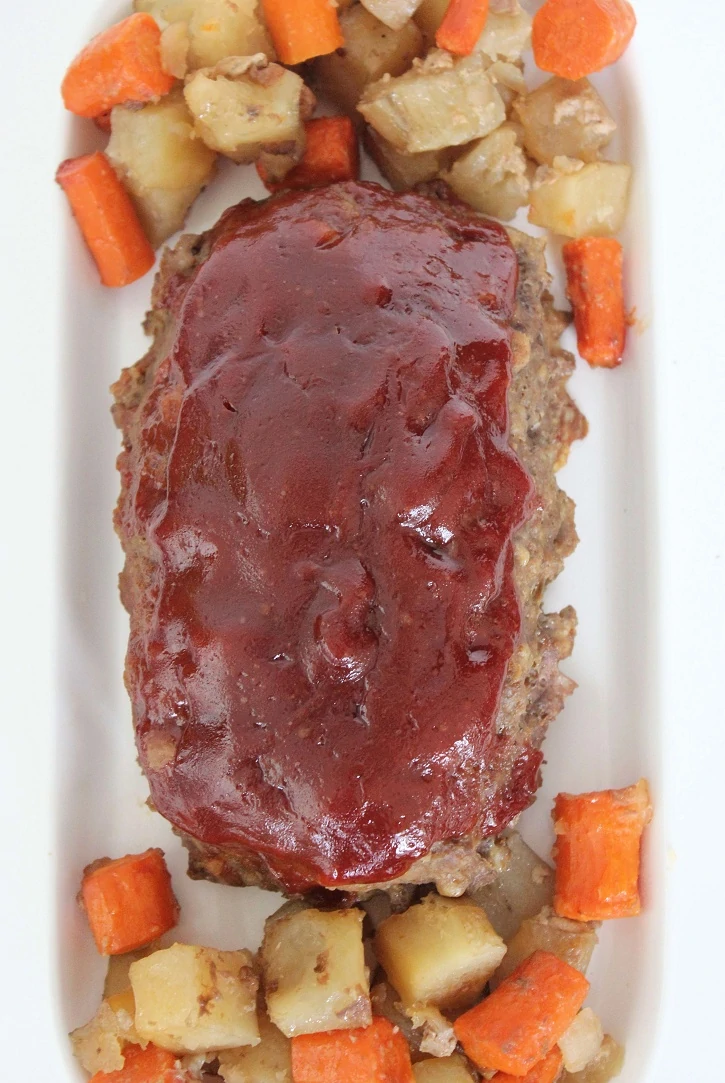 Then baste the top of the meatloaf with the BBQ sauce recipe and leave in the slow cooker
for another half hour on high.
Serve and enjoy!
Tips for Crockpot Meatloaf
Here are a few tips to help with making crockpot meatloaf and potatoes.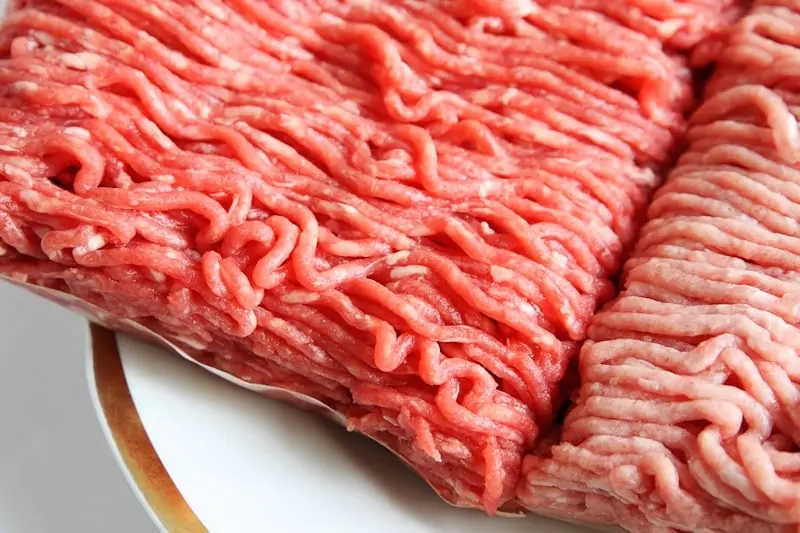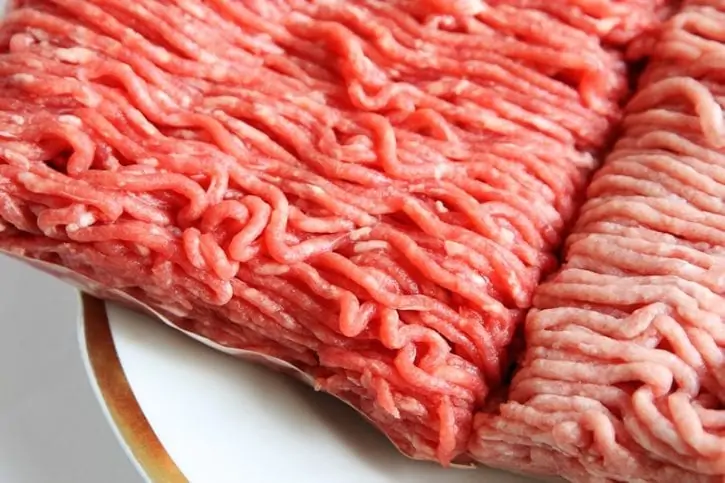 Choosing Ground Meat
While it may be tempting to get very lean meat it is not the best meat for meatloaf. Having some fat in the meatloaf mixture helps it maintain moisture. I prefer an 80% ground chuck, but any ground beef at about this percentage will work. Using a mixture of two or more ground meats is a classic trick for great meatloaf. In the recipe I'm sharing a blend of beef and pork is used. Many markets have meatloaf mix already ground by the butcher, which is convenient.
Making tender meatloaf with leaner meats is possible, but it will require the addition of some fatty meat or some minced vegetables to avoid dry results.
How Long to Cook Meatloaf in the Crockpot
Timing will vary by several factors. The crock pot meatloaf with potatoes and carrots I'm sharing here with you will take longer than a loaf by itself. Varying the size of the meatloaf will of course effect cooking time as well. Temperature will also change this time required. This crockpot meatloaf recipe is cooked at a low temperature. One set to cook on high will be done sooner.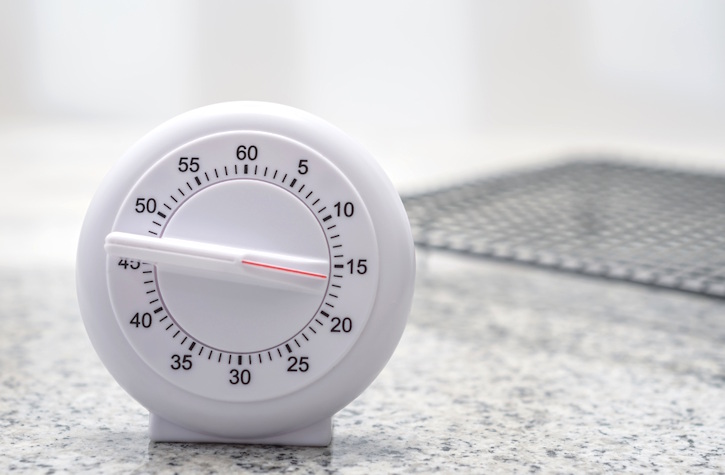 How to Know if Crock Pot Meatloaf is Done
Regardless of how you choose to cook your crockpot meatloaf a meat thermometer
is important to have on hand. Your meatloaf is cooked when it reaches an internal temperature of 165 degrees. This ensures bacteria are killed, while not drying out the meat.
Rest the Meatloaf
Don't forget to allow the meat to rest before serving. This is less of a concern with a meatloaf cooked on low like the recipe below, but even it benefits from a short rest before cutting. This avoids the juices running out.
Storing Meatloaf
When cooking ahead for meal prep or storing leftovers, simple wrap the cooled meatloaf in aluminum foil or plastic wrap. Sealing in an airtight container is also a good option. Refrigerate or freeze promptly once the meatloaf is no longer hot.
Cooked meatloaf in the refrigerator should be consumed within 3-4 days according to the USDA. It will last up to 3 months in the freezer.
Can I make this recipe with ground turkey?
Yes, but keep in mind leaner ground meat will often not be as moist. This is also an issue with extra lean ground beef. The milk added to the dry bread crumbs in this recipe will help a lot though and make sure to apply the meatloaf glaze on top.
What to serve with Crock Pot Meatloaf
The crock pot meatloaf already has carrots and potatoes with it, but maybe serve a nice green salad with Red Wine Vinaigrette Dressing first. Make a batch of Pretzel Rolls and you can make meatloaf sliders out of leftovers.
If you care for a green veggie with the meal I suggest broccoli au gratin, broccoli rabe or some baked asparagus.
Try some Strawberry Fluff, Coconut Bars or Million Dollar Pie for dessert.
I hope you find cooking meatloaf in a crockpot it be a convenient and delicious solution for family dinner.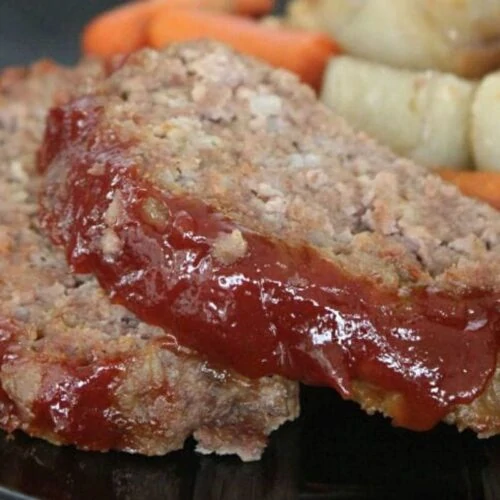 Crock Pot Meatloaf with Potatoes and Carrots
Slow Cooker Meatloaf with potatoes and carrots. Such an easy crockpot recipe for a satisfying family meal.
Print
Pin
Rate
Ingredients
Meatloaf Mixture
1

lb

ground beef

½

lb

ground pork

2

large eggs

¾

cup

milk

⅔

cup

bread crumbs

plain

1

teaspoon

Kosher salt

2

teaspoon

minced dry onions

½

teaspoon

dried thyme

¼

teaspoon

garlic powder

optional
Sauce
¼

cup

ketchup

2

tablespoon

brown sugar

1

teaspoon

dijon mustard

1 ½

teaspoon

Worcestershire sauce
Vegetables
1 ½

lb

potatoes

peeled & chopped

1

lb

carrots

peeled & chopped
Instructions
Coat interior of the Crock Pot with cooking spray, for easier clean-up.

Beat the eggs in a large bowl. Then toss in the milk, bread crumbs, onions, garlic (if using), thyme, salt and pepper and mix well.

Mix the beef & pork together, then add to the rest of the mixture and mix just until even. (over mixing can make it tough)

Form the meat mixture into a loaf sized to sit in the middle of your slow cooker.

Place the potatoes and carrots around the meatloaf in the crockpot.

Cook on low for 5-6 hours.

Mix together ketchup, brown sugar, mustard and Worcestershire to make a sauce.

Baste the sauce on top of the meatloaf and cook for 30 minutes on high.
Nutrition
Calories:
509
kcal
|
Carbohydrates:
39
g
|
Protein:
27
g
|
Fat:
26
g
|
Saturated Fat:
10
g
|
Cholesterol:
138
mg
|
Sodium:
761
mg
|
Potassium:
1177
mg
|
Fiber:
5
g
|
Sugar:
12
g
|
Vitamin A:
12810
IU
|
Vitamin C:
19.5
mg
|
Calcium:
150
mg
|
Iron:
6.8
mg