Chicken Bulgur with Black-Eyed Peas and Sun-Dried Tomatoes is a quick easy recipe that is low in fat and loaded with protein, fiber and complex carbohydrates.  Perfect healthy recipe for getting back on track with the new year.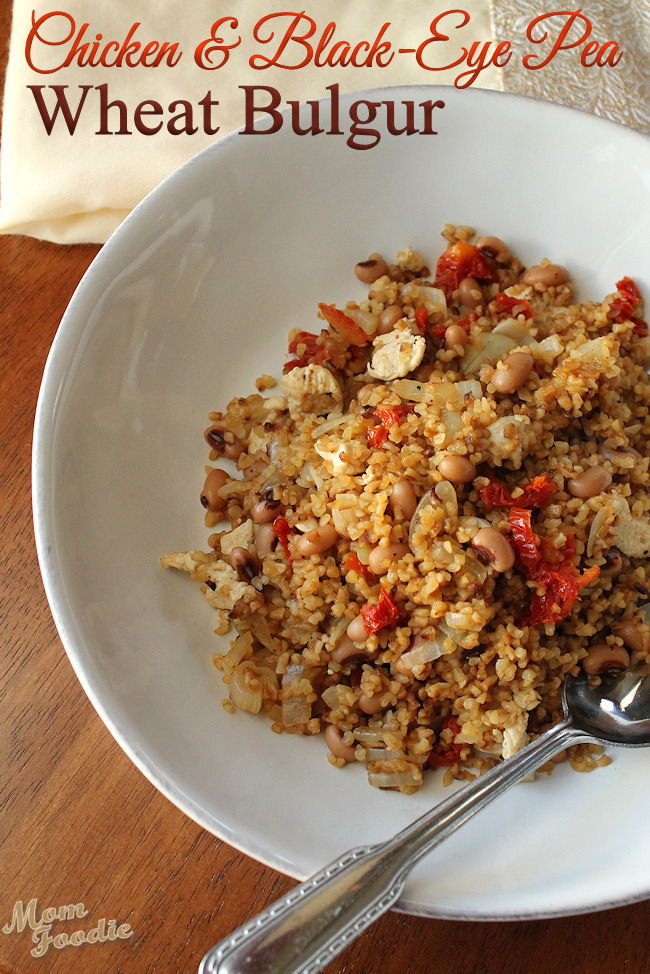 Since this easy recipe is quick to make and doesn't need to be watched over.  I like to make it in batches of one to two servings.  Thus the recipe is based on a per serving format.  I've shared recipes in this format before, and will be more often in the coming months.  They are perfect for singles, small families and lunches for mom when she is trying to lose that baby (or in my case holiday cookie weight).  Multiplying the recipes or changing a few ingredients is easy too, just make sure your liquid to starch ratios remain about that same.
Wheat bulgur is one of my go-to whole grains. It cooks cooks quickly, since it has been parboiled already. Like all wheat it has a good amount of protein for a grain. If you are avoiding gluten substitute quinoa. It has the same grams of protein per serving, is also a good fiber source and cooks nearly as fast.
Using a half portion of Black-Eyed Peas along with a half portion of organic chicken breast adds variety to nutrient profile, boosting fiber and making the dish more satisfying.  The black-eye peas are loaded with folate and manganese too.  It is also a great way to stretch your grocery budget without sacrifice.  The sun-dried tomatoes are a good source of iron, potassium, copper, manganese & vitamins C and K.
More Recipes You May Like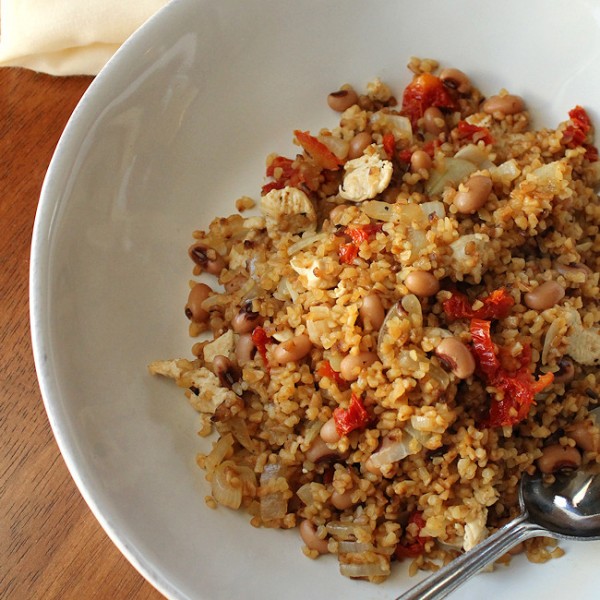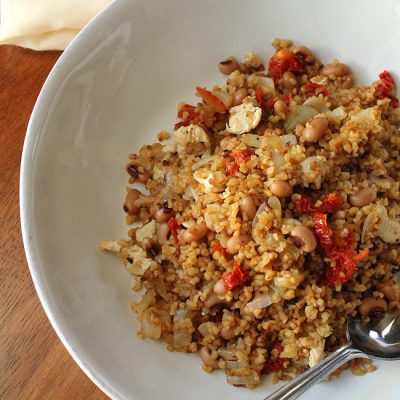 Ingredients
1

teaspoon

olive oil

¼

cup

wheat bulgur

¼

cup

sweet onion

chopped

2-3

oz.

chicken breast

half a portion

3-4

dry packed sun-dried tomato pieces

about ⅛ cup ~ 2 tbs.

⅔

cup

chicken stock

¼

cup

black-eyed peas

canned
Instructions
Put small skillet on med-high heat, and add oil.

Once hot add onions and bulgur, stir over heat until onions are starting to brown and bulgur is nicely toasted.

Add the chicken, and stir until the outside is cooked.

Add sun-dried tomatoes, chicken stock & black-eyed peas. Stir, then cover & reduce heat to med-low.

Simmer until liquid is absorbed (about 10 minutes).
Nutrition
Calories:
335
kcal
|
Carbohydrates:
47
g
|
Protein:
26
g
|
Fat:
5
g
|
Fiber:
11
g