These Smoked Sausage Stuffing Muffins are a fun side dish for your holiday dinner. They're also a festive party appetizer or even a quick meal during this hectic season. These easy-to-make, savory muffins really are amazingly versatile.
Try this sausage stuffing muffins recipe for your next family gathering. Anyone who loves stuffing crunchy bits will love you for it!
Recipe is sponsored by Eckrich sausages.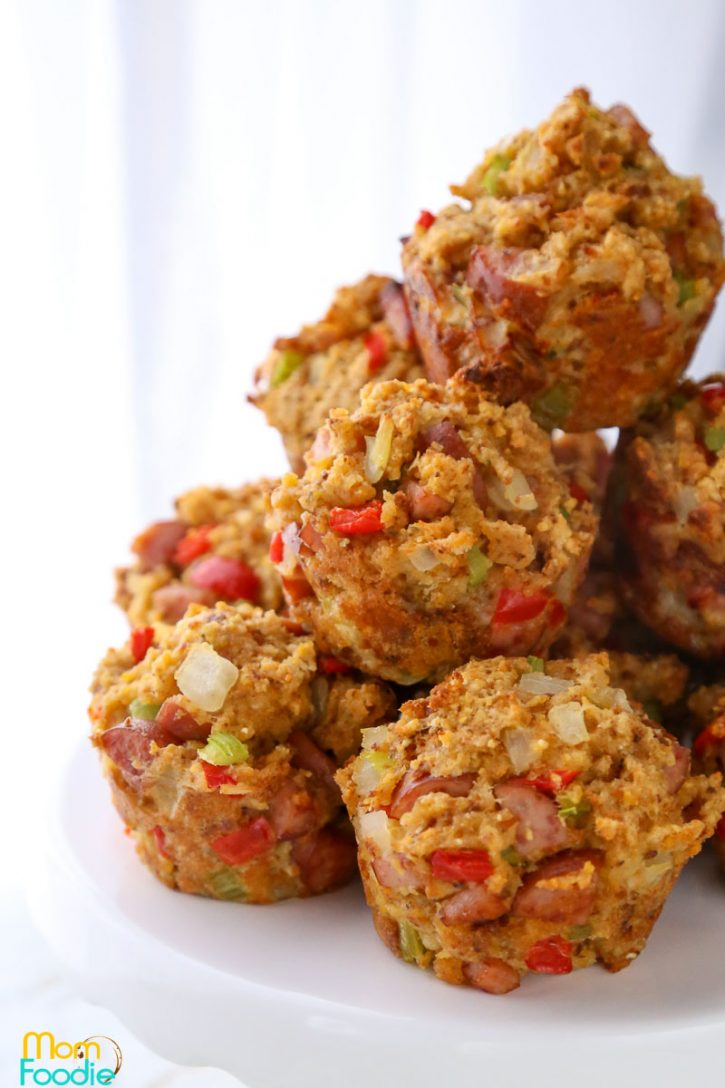 Smoked Sausage Stuffing Muffins for the Holidays
My daughter and I prepared a batch of these stuffing muffins packed with a Skinless Smoked Sausage Rope over the weekend. The ample helping of sausage in these make them hearty and incredibly delicious.
While these savory muffins would be wonderful any time of year, they are perfect for the holiday season. I added vibrant sweet red pepper to the muffins to contrast with the green of the celery and give them some seasonal flair. The peppers and sausage, are course a classic flavor pairing too.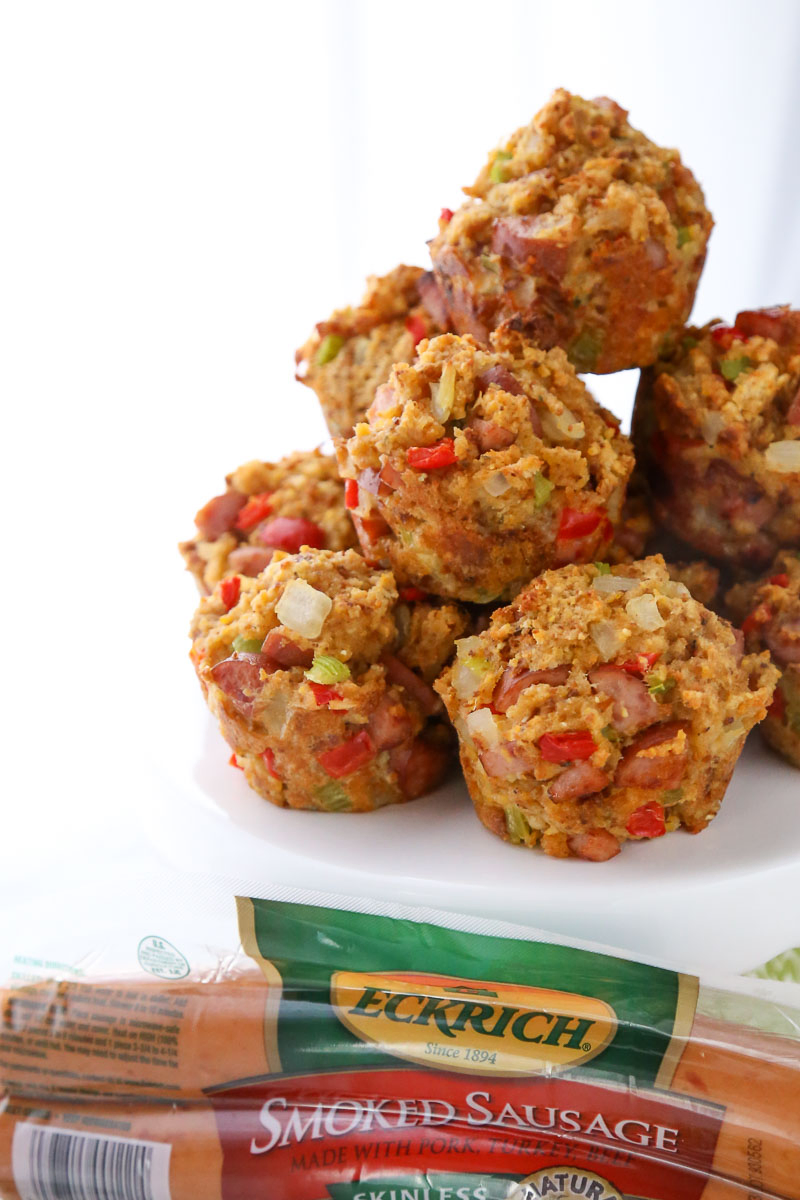 How to Make the Smoked Sausage Stuffing Muffins
These Smoked Sausage Stuffing Muffins are easy to make and kids love to participate. Here is a visual step-by-step guide to making them yourself. Printable recipe card is at bottom of article.
Gather your ingredients
You will need:
14 oz Skinless Smoked Sausage Rope (or Kielbasa Polish sausage)
3 celery ribs
½ large sweet onion
½ sweet red bell pepper
¼ cup butter (½ a stick)
2 cups chicken broth
14 oz bag of cornbread stuffing (or stuffing of choice)
2 large eggs
non-stick cooking spray
You will also need a standard size cupcake pan/muffin tin.
Preparing
Start by preheating your oven to 400 degrees F.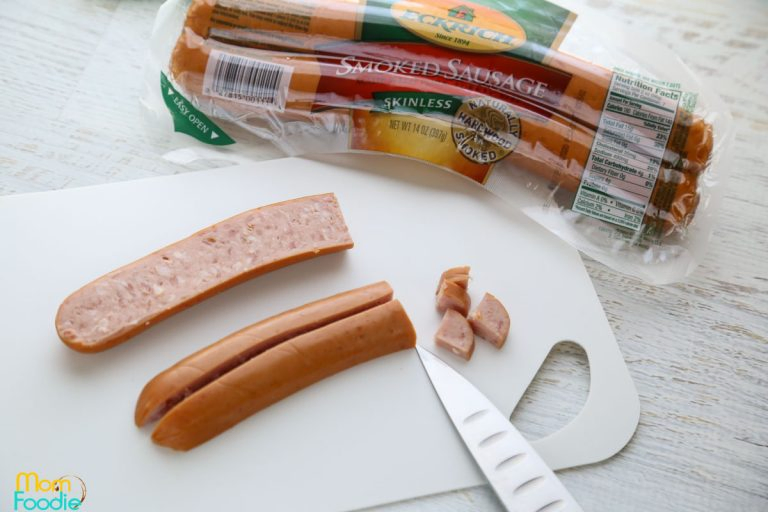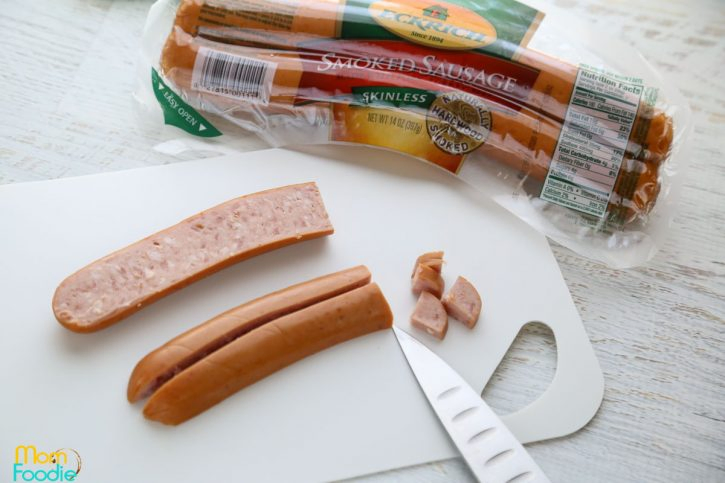 Dice your smoked sausage links and vegetables.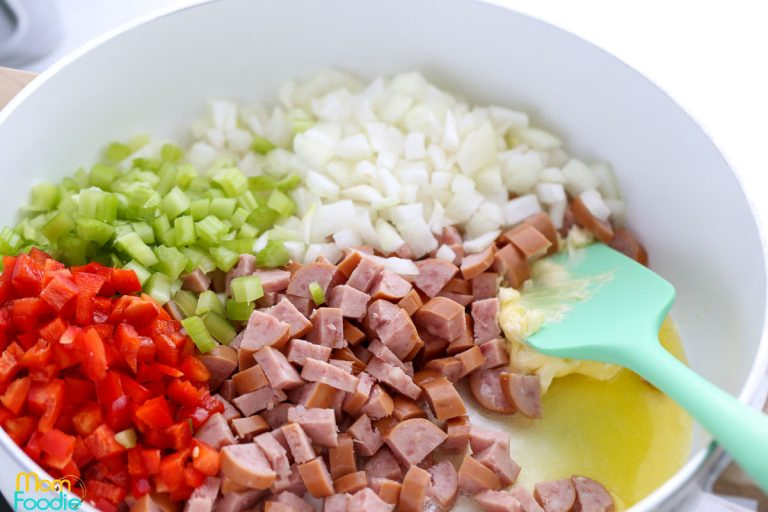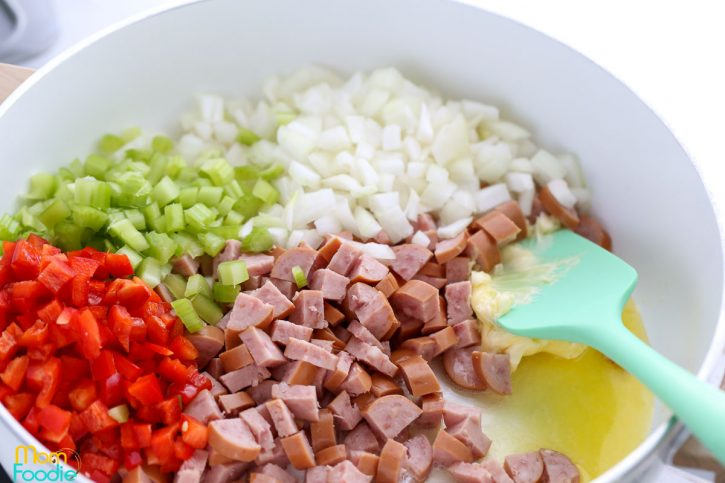 Toss the smoked sausage and vegetables in a large hot skillet (med-high heat) along with the butter. There is no need for further seasonings. The sausage and stuffing mix will cover that.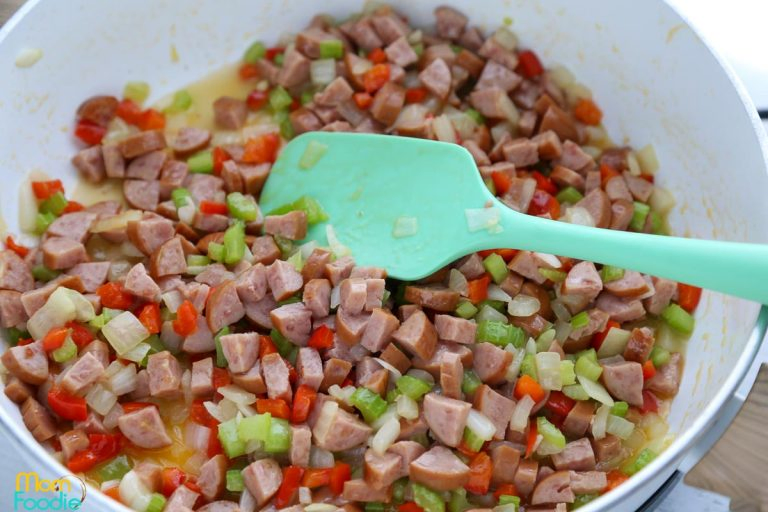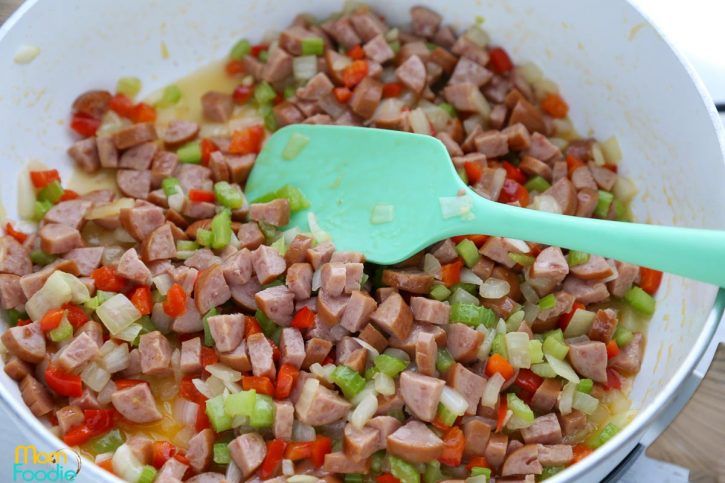 Sauté about 7 minutes, until veggies have softened and fat renders from sausage bits.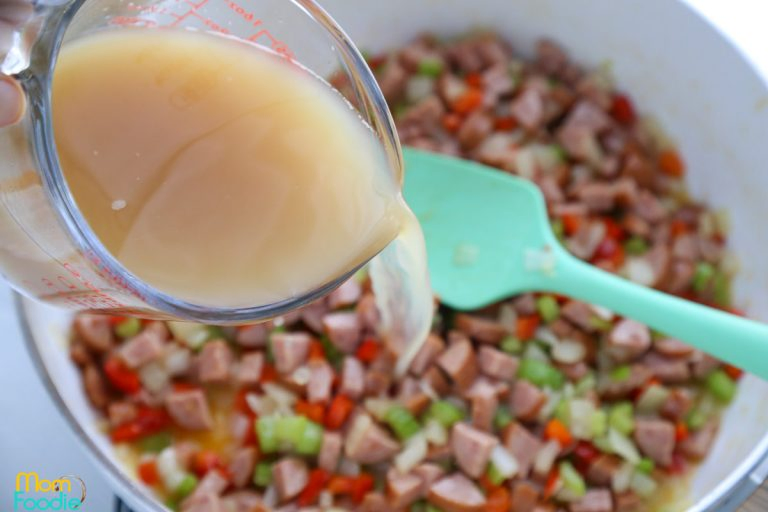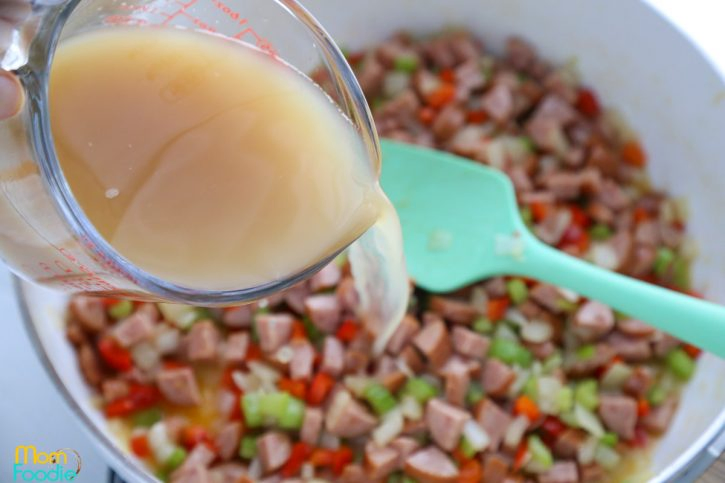 Take the pan off the stove and add the broth.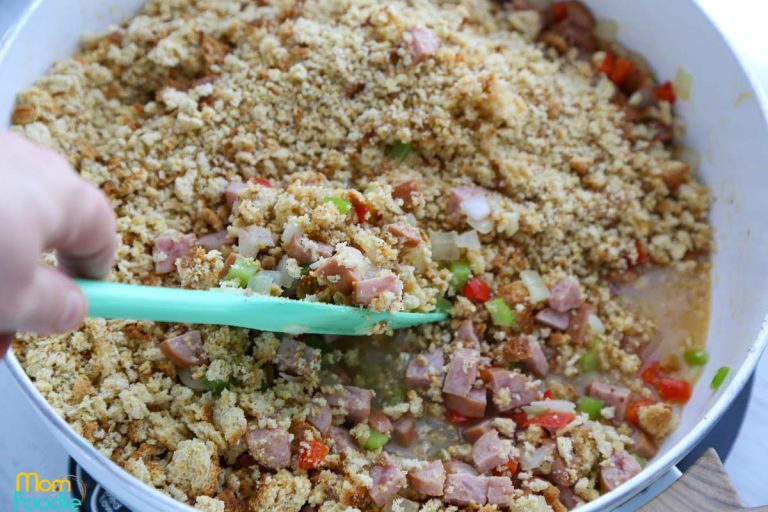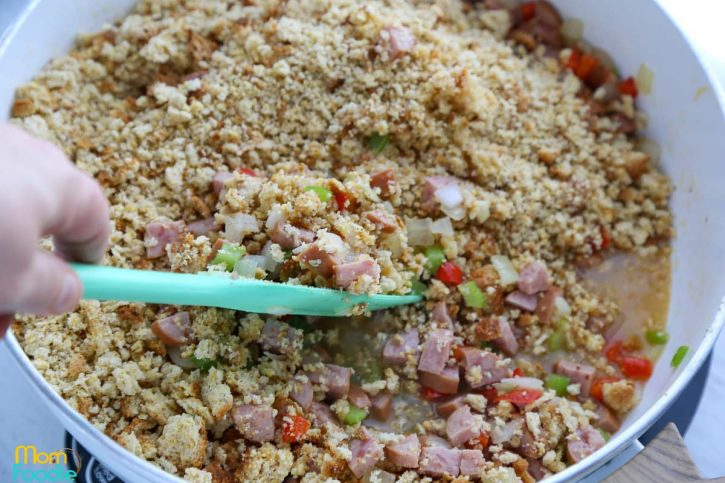 Stir in the stuffing mix and set aside to cool just a couple minutes.
While this is typically done over heat, we want this to cool down fast. No worries, it will be plenty warm enough for the stuffing to absorb the liquid.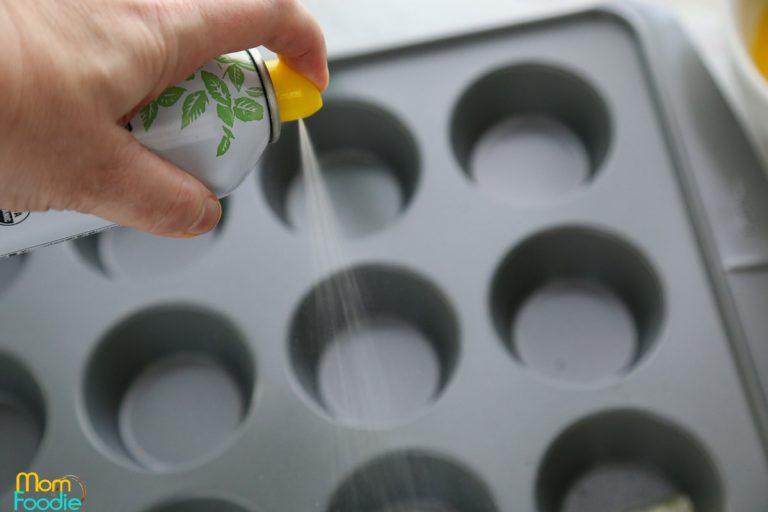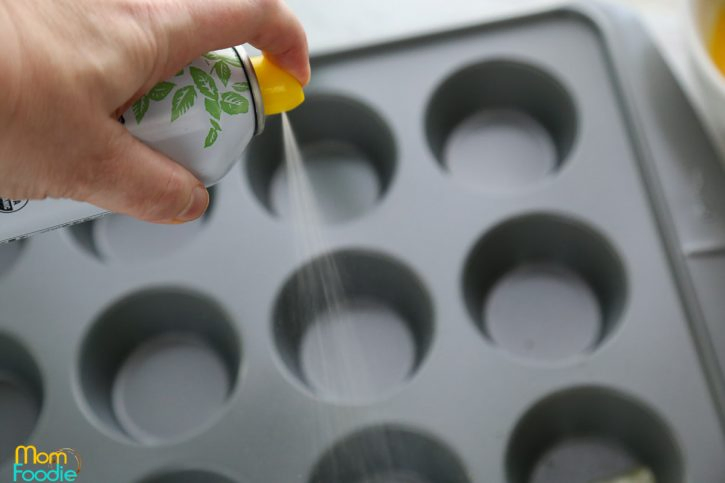 While stuffing is cooling off a little, generously coat the cups in your muffin pan with non-stick cooking spray.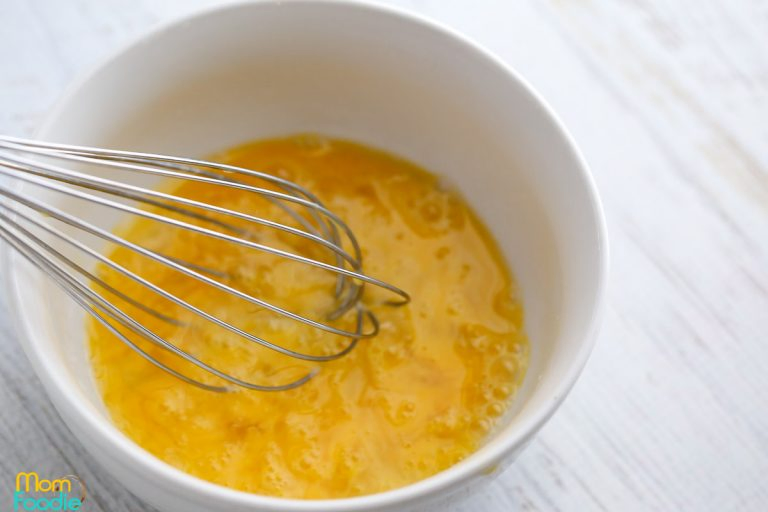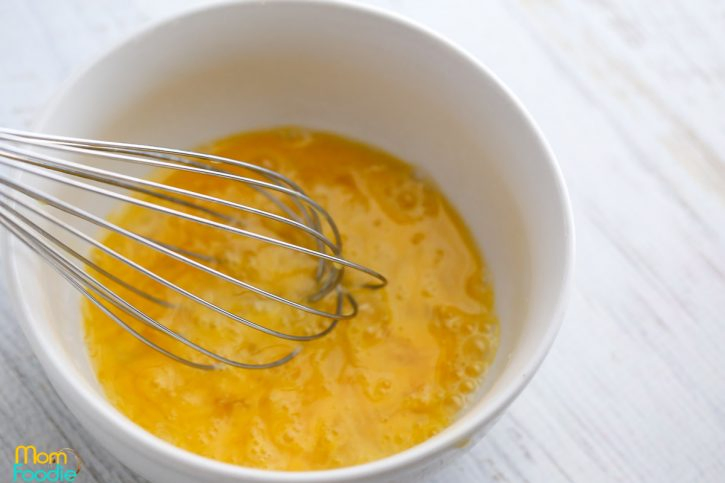 Beat two eggs.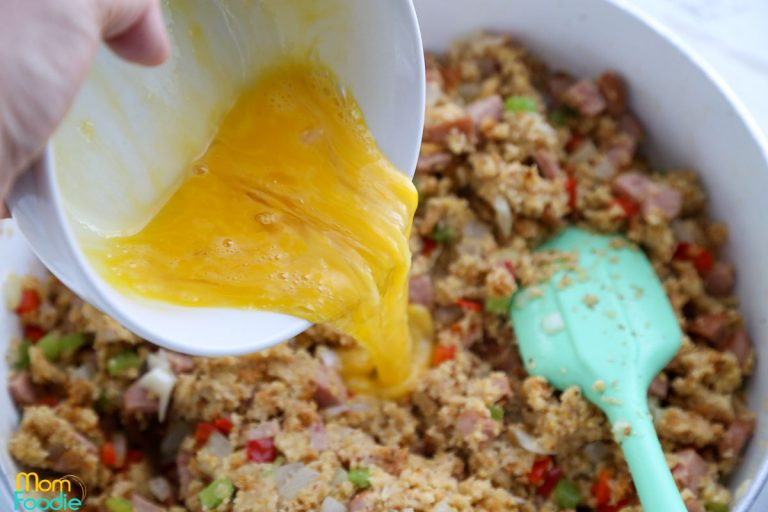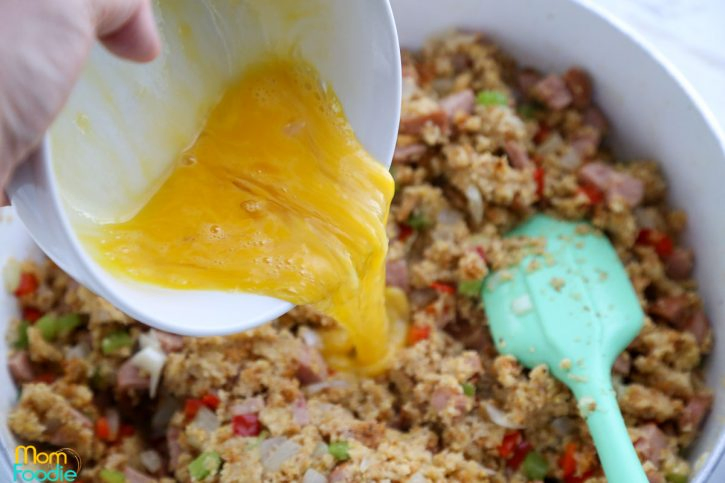 Now mix the beaten eggs into the stuffing mix. It will be warm, but not hot enough to cook the egg.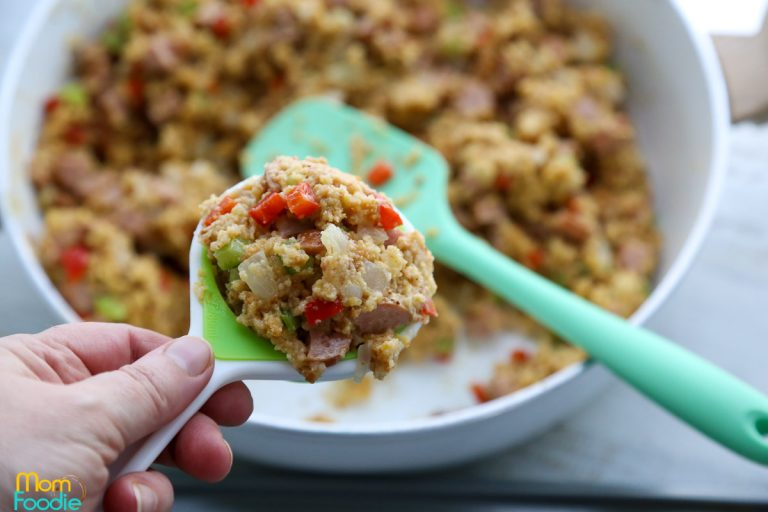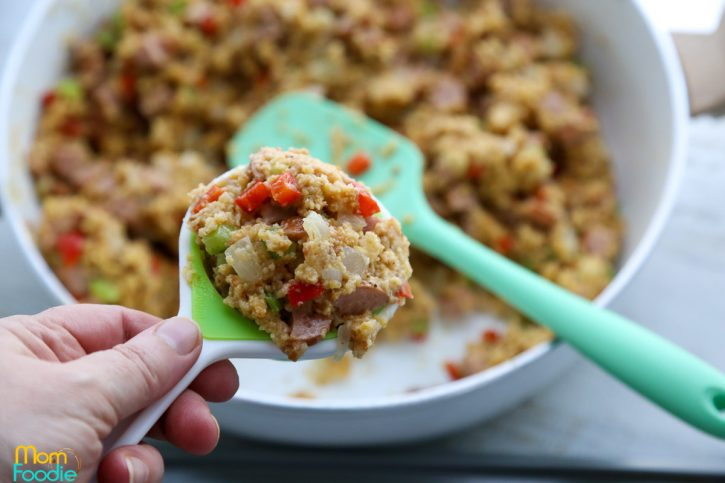 Scoop up the sausage stuffing muffin mixture.
I found a silicone ⅓ cup measuring cup worked perfectly and was easier for my special needs daughter to get the stuffing out of.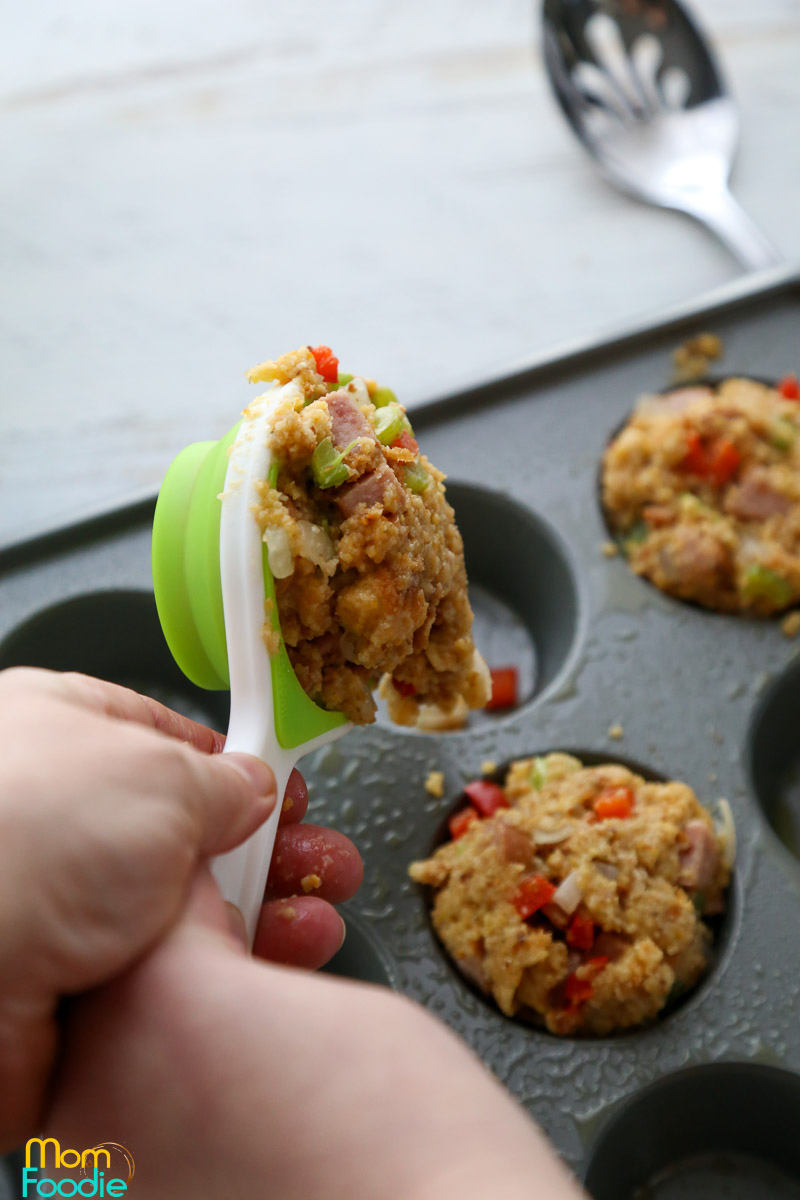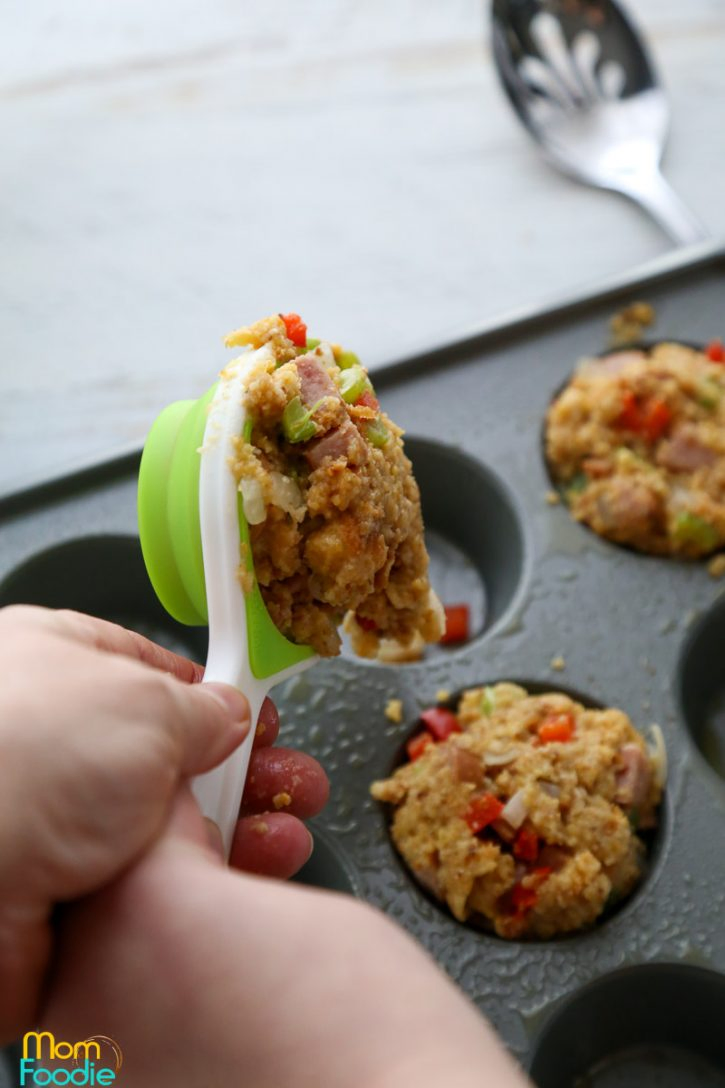 We simply flipped the measuring cup over into the tin to make each muffin. If you don't have silicone measuring cups, just spoon it right in.
Due to her motor coordination issues, we used a hand-over-hand technique for most of the muffins. She started to get the hang of it by the end though and needed very little guidance at that point.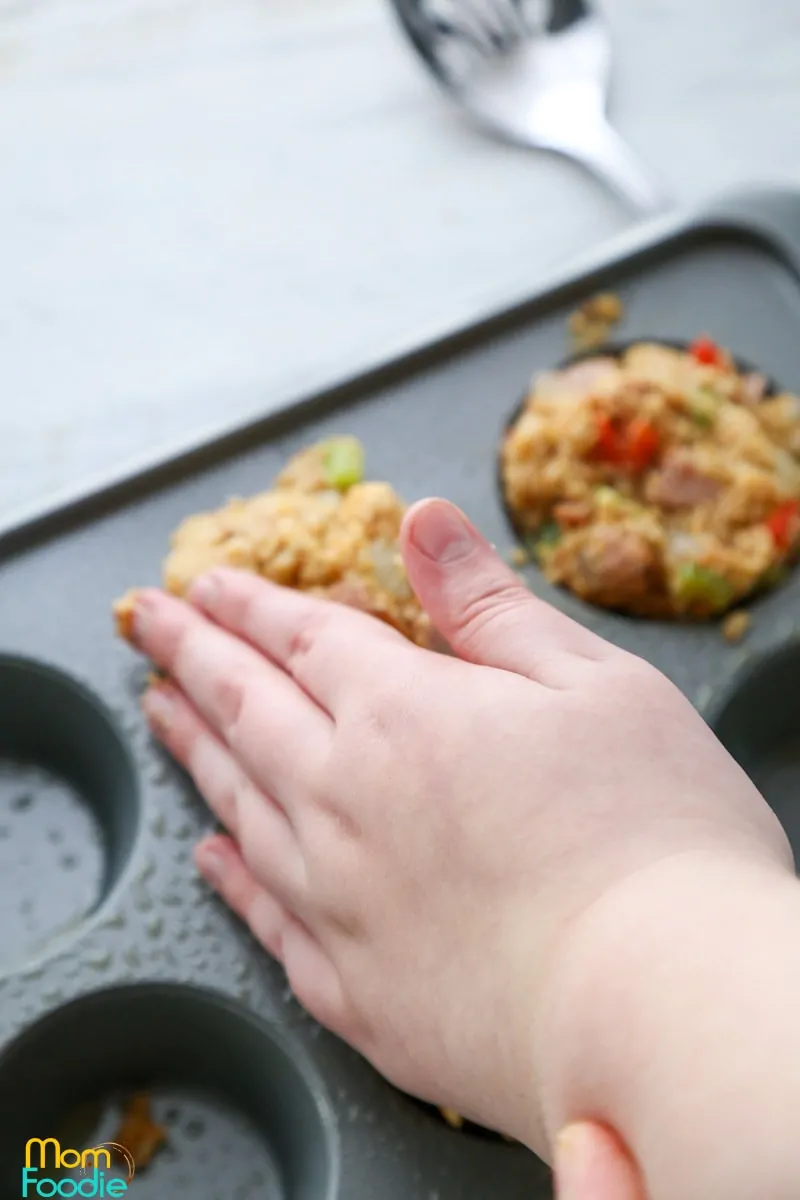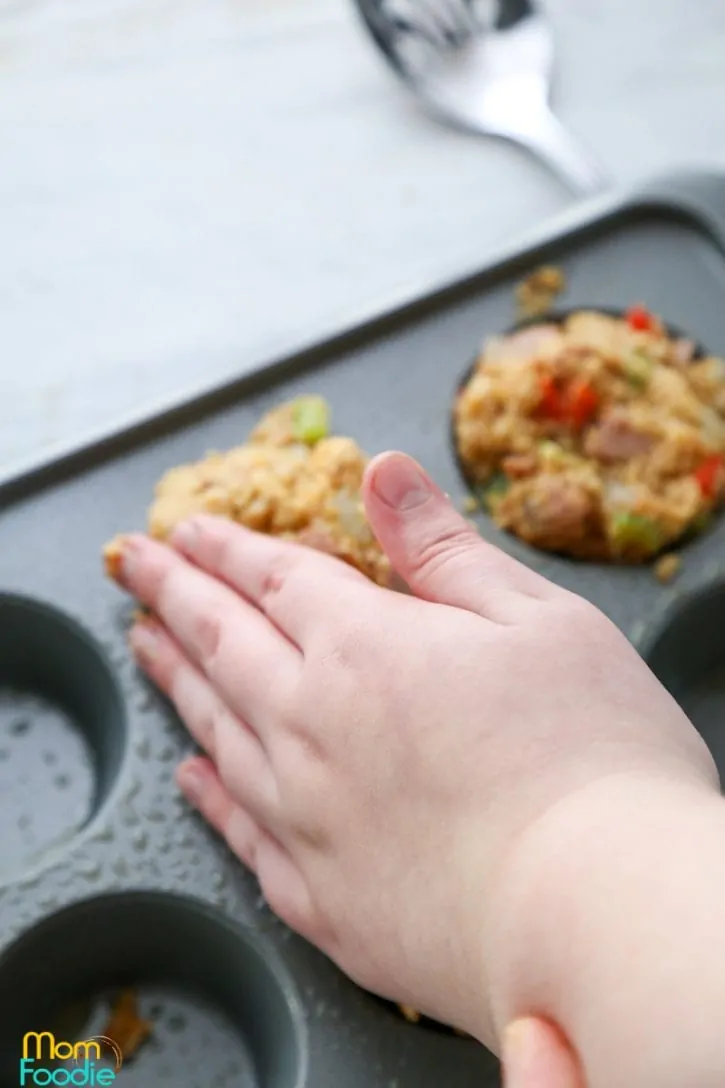 Then gently pat any stray pieces onto the muffins.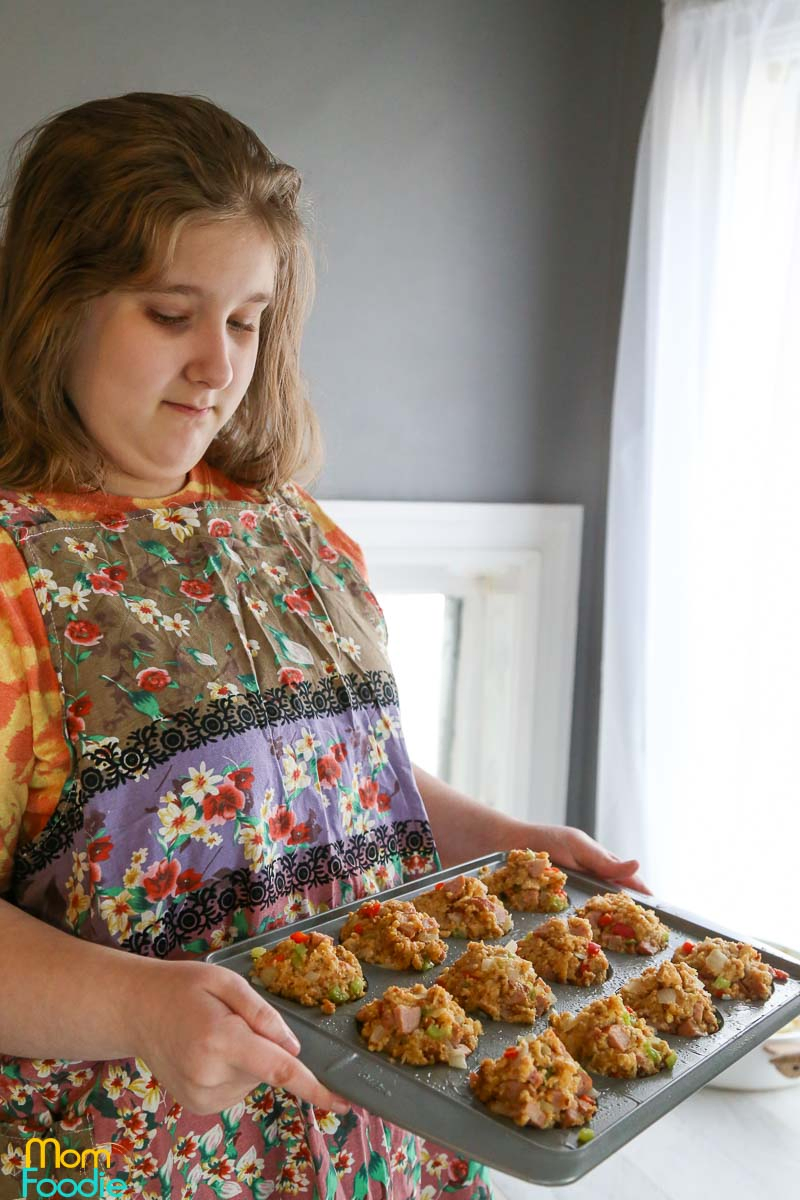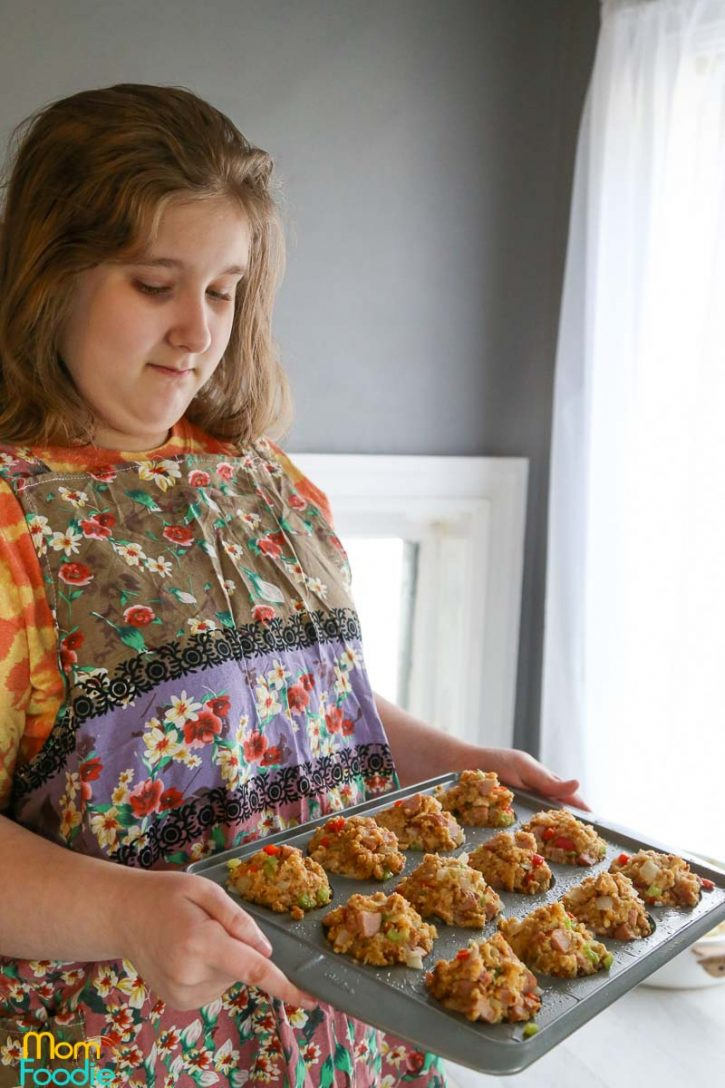 The nicely mounded stuffing muffins are now ready for the oven. Bake them for about 15-20 minutes, until the tops are starting to crisp.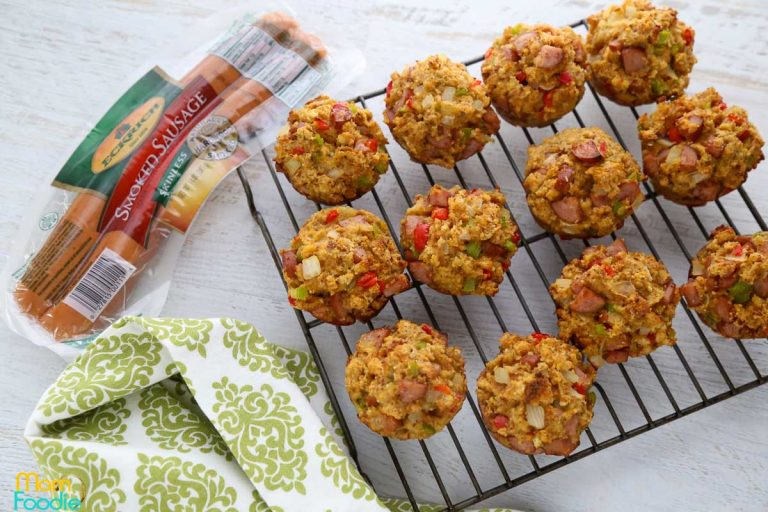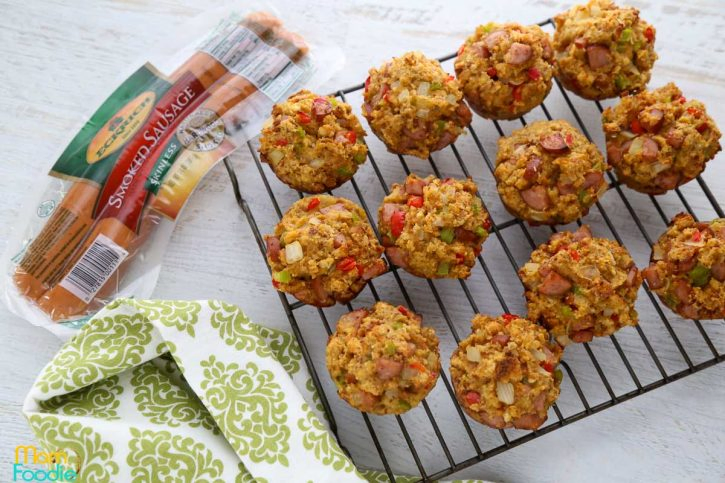 Pop the smoked sausage muffins out of the tin and place on wire rack to cool a little.
Don't leave them in the tin, as the vegetables are still releasing moisture and we don't want soggy muffins.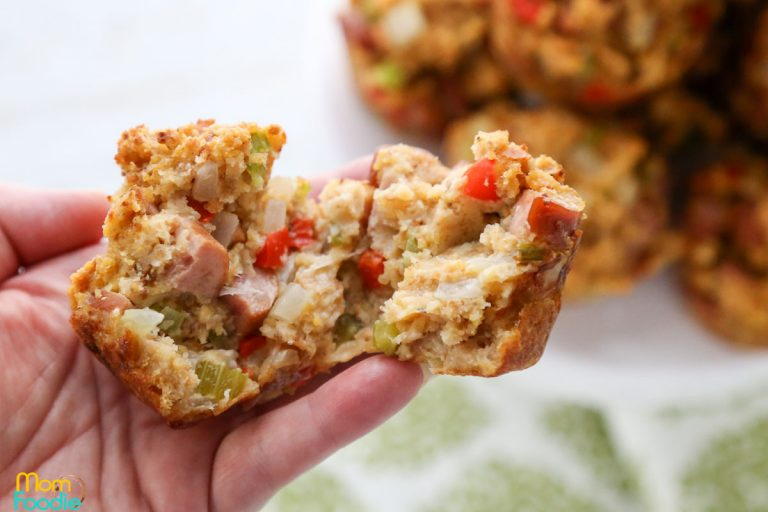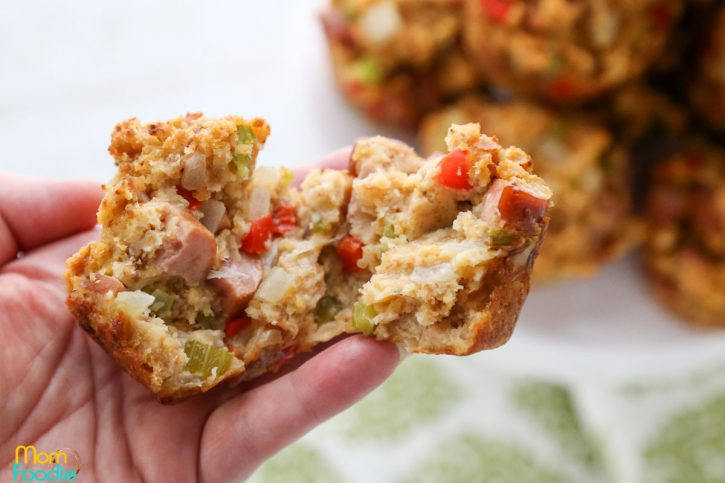 The inside of the muffins have nice moist stuffing, while the outside has those crispy bits so many of us love.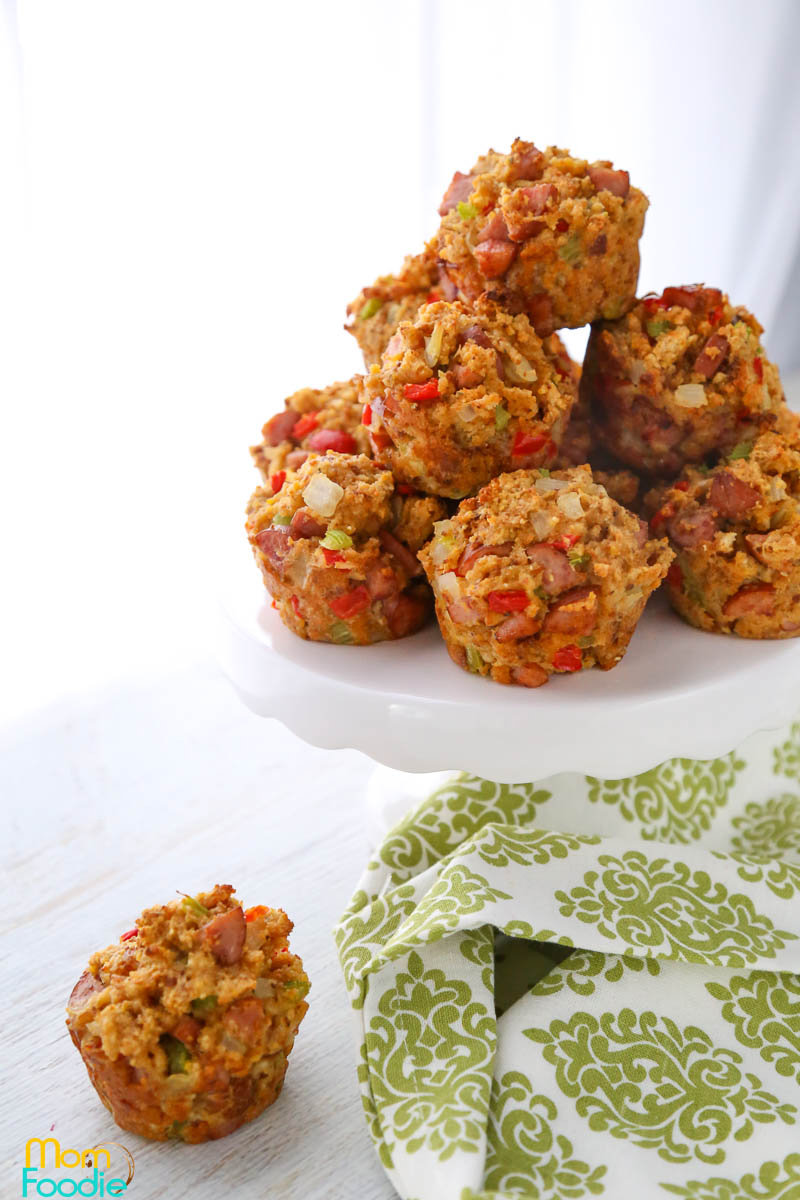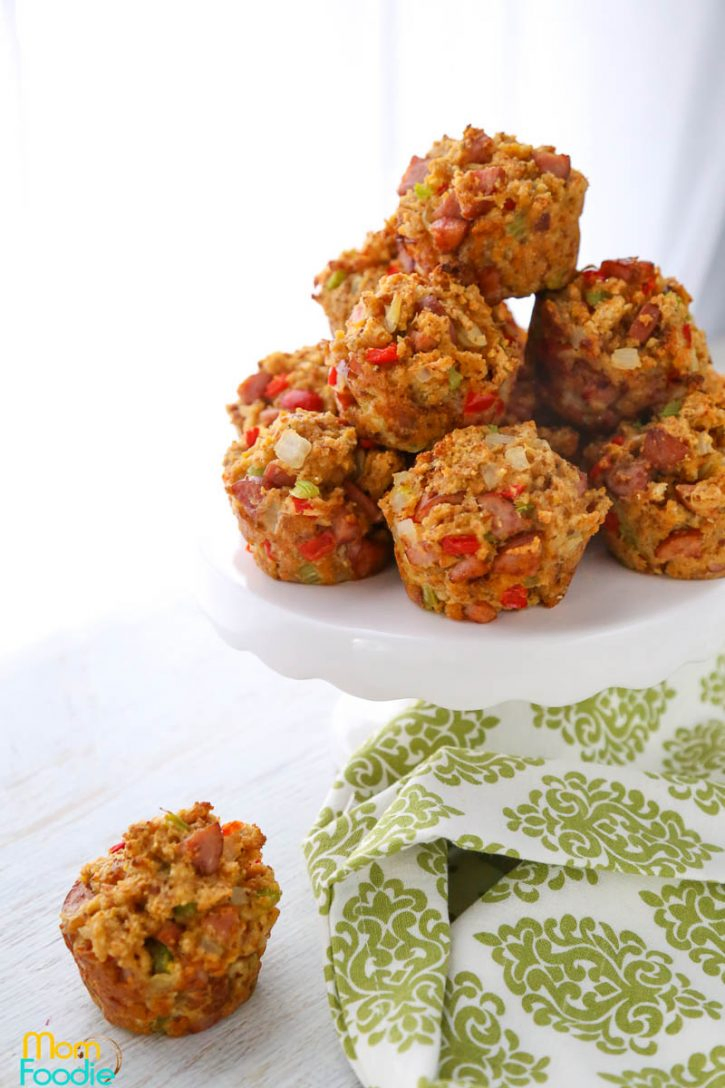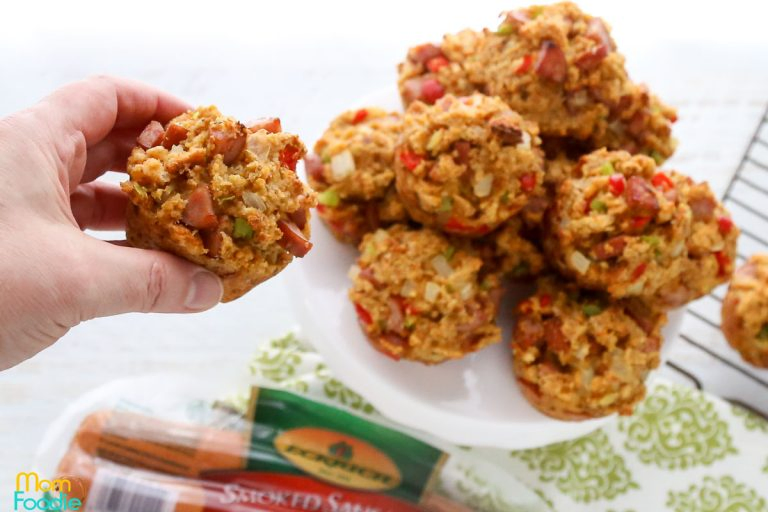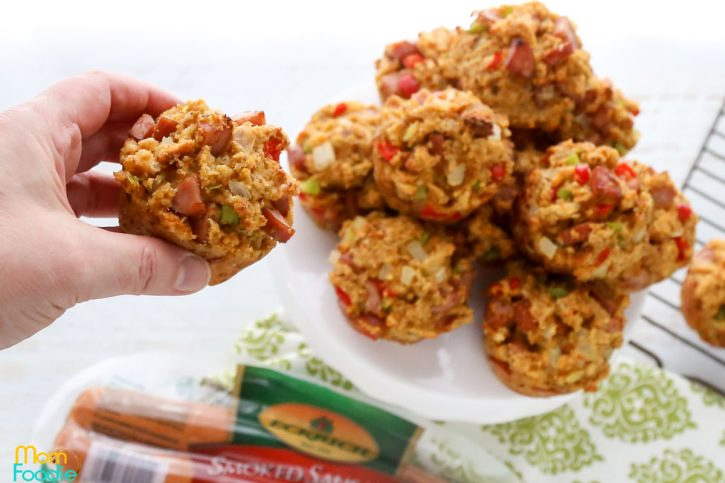 These stuffing muffins are loaded with sausage. They make a hearty appetizer or side dish, but you could certainly make a meal of them as well.

Eckrich Smoked Sausage
Eckrich sausages are incredibly versatile. They can be prepared as links, cut into medallions, diced, cubed, quartered or halved. They are simple to prepare and add fabulous flavor and plenty of protein to your dishes.
The sausages are available in many flavors and varieties beyond the Original Skinless Smoked Sausage Rope I've used here, such as their Cheddar Smoked Sausage Links or Turkey Skinless Smoked Sausage Rope. The brand also has an array of other product offerings, such as their various flavors of deli meat, like Ham Off the Bone or Hard Salami.
For recipe inspiration, product information, and where to buy, visit www.Eckrich.com
More Finger Food Side Dishes
Here are a few more sides you can pick up to eat.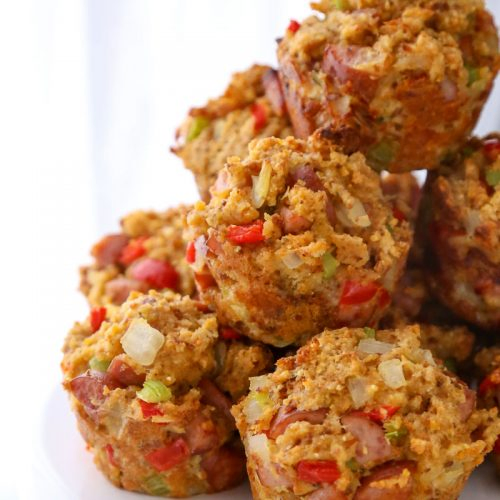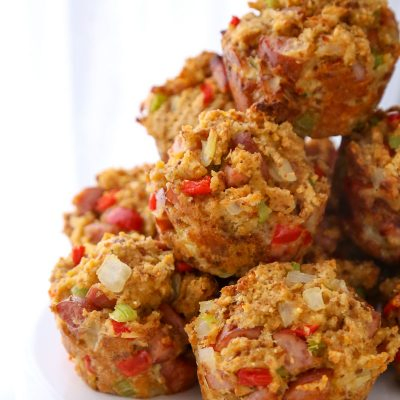 Equipment
Muffin pan or cupcake pan (standard size with 12 cavities)
Ingredients
14

oz

Smoked Sausage

, diced

3

celery ribs

, diced

½

large sweet onion

, diced

½

sweet red bell pepper

, diced

¼

cup

butter

(½ a stick)

2

cups

chicken broth

14

oz

bag of cornbread stuffing

(or stuffing of choice)

2

large eggs

, beaten

non-stick cooking spray
Instructions
Preheat your oven to 400 degrees F.

Place a large skillet or Dutch oven over medium-high heat. Once it is hot add the diced smoked sausage and vegetables along with the butter. Sauté for about 5-6 minutes until the vegetables have softened.

Remove the pan from the burner. Pour in the chicken broth and stir in the stuffing mix. Set aside.

Coat the cups in a muffin tin with non-stick cooking spray.

Beat two eggs and gently stir into the muffin mixture.

Scoop the mixture into the muffin cups. Use you hands to tuck and stray pieces in.

Bake for 15-20 minutes, until top is starting to crisp.

Remove the stuffing muffins from the pan and let them cool a few minutes before serving.
Nutrition
Calories:
280
kcal
|
Carbohydrates:
27
g
|
Protein:
9
g
|
Fat:
15
g
|
Saturated Fat:
6
g
|
Cholesterol:
61
mg
|
Sodium:
935
mg
|
Potassium:
212
mg
|
Fiber:
1
g
|
Sugar:
4
g
|
Vitamin A:
318
IU
|
Vitamin C:
10
mg
|
Calcium:
45
mg
|
Iron:
2
mg