Blueberry Cheesecake ice cream is an easy to make decadent frosty dessert that is perfect for warm weather celebrations. Get all the flavor of a churned ice cream in this easy no churn ice cream freezer recipe.
Kids love helping with making this delicious blueberry cheesecake ice cream, and of course eating it! The perfect ice cream flavor for summer. You don't need an ice cream machine to make it either.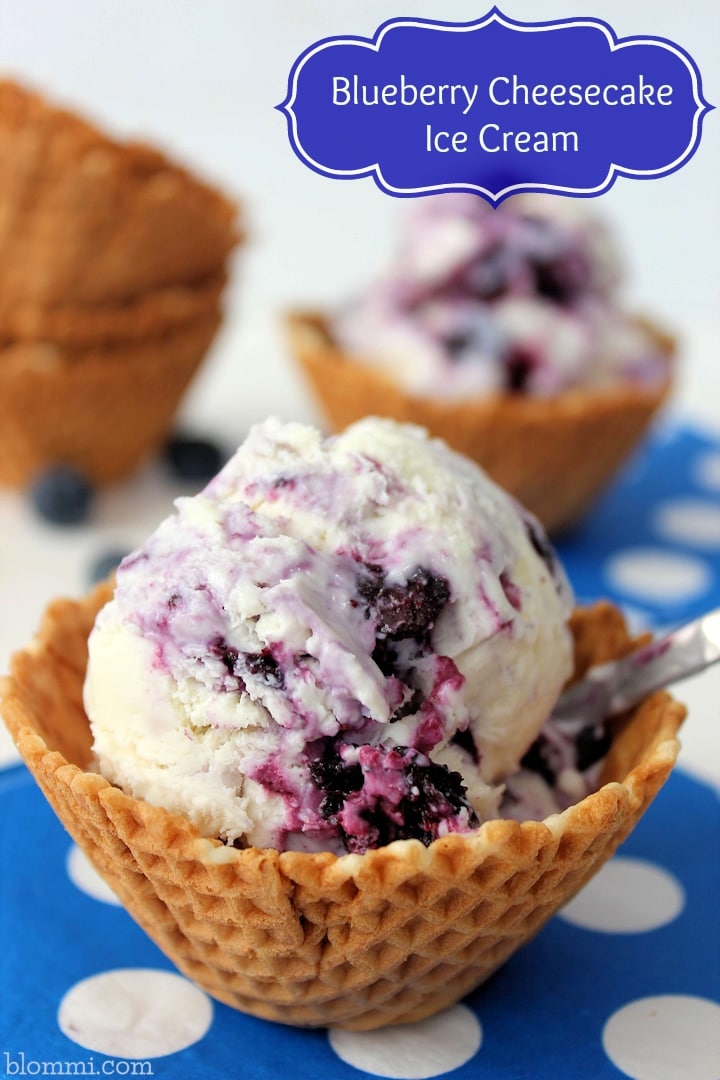 Who doesn't love a nice scoop of decadent ice cream? When you team it with the flavors of blueberry cheesecake, can any resist? While blueberry cheesecake ice cream seems like a gourmet flavor you would need to get from a specialty ice cream stand, you can make it right at home!
Have a scoop after enjoying a Blueberry Brie Grill Cheese w/ Basil and Cinnamon Brown Sugar or Blueberry Chicken Salad.
Blueberry Cheesecake Ice Cream
Today, I have a Blueberry Cheesecake Ice cream recipe for you that does not require an ice cream maker. Now I have a fancy schmancy ice cream machine, but honestly, the thing weighs a ton and I hate dragging it out. I also know, many of you don't have one.
This recipe uses fresh blueberries, but by all means, if you have frozen blueberries, swap them in. If you want to save a few calories, use Neufchatel over standard cream cheese in the ice cream.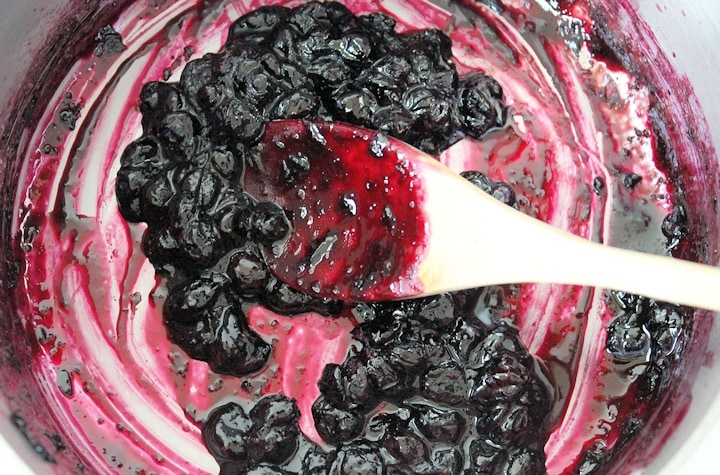 Make the blueberry compote sauce. You will first cook the blueberries with sugar, lemon juice and salt in a small saucepan. Stirring constantly. Then cool a bit before you refrigerate. Make sure to allow the berries to cool completely before adding to the ice cream mixture.
Crushed graham crackers is an optional ingredient, but does give the ice cream more of an authentic cheesecake feel. You can buy crumbs or simply crush up some graham crackers, which is what I prefer. I like the random sized bits in the ice cream.
You will then beat the cream cheese, condensed milk and vanilla together until smooth. Then add heavy cream and beat until peaks form.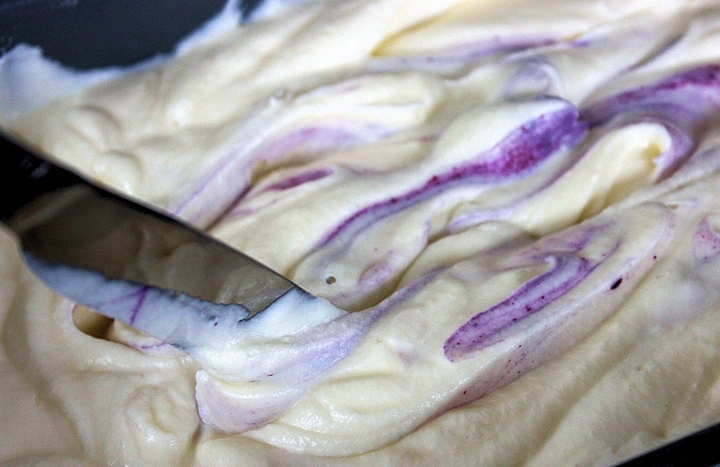 Spread half the cheesecake ice cream into bottom of freezer safe container. Then cover with the blueberry sauce and finally a top layer of the ice cream. Stir the ice cream with swirling motion using a knife or chopstick.
Cover and freeze.
Here you go, a Blueberry Cheesecake Ice Cream recipe, with no churning required.  Scoop it into a cone or a bowl with whipped cream on top and enjoy. Why not try it over my easy Blueberry Dump Cake recipe!
Not in the mood for blueberries? No problem try my Cherry Cheesecake Ice Cream recipe (it is also no-churn).
Can I make blueberry cheesecake ice cream in my Ice cream maker?
Yes. The cheesecake ice cream base can be made the same, but not whipped. Pour the mixture into the ice cream freezer cylinder and churn according to your ice cream machine's instructions. While still semi-soft, stir in your blueberries and graham crackers (if you are using them). Finish firming the ice cream in the freezer.
Serve this scrumptious homemade ice cream after a classic dinner like Crock Pot Chicken Alfredo or my Kielbasa and Potatoes Recipe. It would also be a nice finale for a dinner of Yum Yum Chicken or an easy seafood recipe like Garlic Baked Tilapia.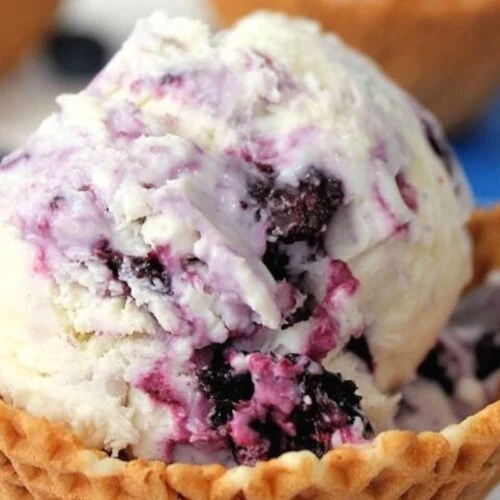 Blueberry Cheesecake Ice Cream Recipe (No Churn)
A no-churn recipe for  Blueberry Cheesecake Ice Cream that is sure to delight your family and friends!
Print
Pin
Rate
Ingredients
2

cups

Fresh Blueberries

or frozen

3

tablespoon

Sugar

2

tablespoon

Lemon Juice

¼

teaspoon

salt

8

oz

package Cream Cheese or Neufchatal

softened

14

oz

can Sweetened Condensed Milk

2

teaspoon

Vanilla extract

2

cups

Heavy Whipping Cream

½

cup

graham cracker crumbs

optional
Instructions
Place the blueberries, sugar, lemon juice and salt in a small saucepan over medium high heat. Stirring frequently.

Bring it up to a boil. Muddle the berries to crush and release juices. Cook until thickened.

Remove the pan from burner and set aside to cool. Once cool enough, move to refrigerator for about 1 hour to cool completely.

Beat the cream cheese in a large bowl until creamy and smooth.

Using a electric mixer, add condensed milk and vanilla, beating until smooth

Add heavy cream. Whisk on high speed until soft peaks form.

Spread half of this creamy mixture into a loaf pan.

Spoon chilled blueberry sauce over the whipped mixture. If adding graham cracker crumbs add them now or on the top.

Top with remaining cream mixture, spread it evenly.

Use a knife to swirl the blueberry mixture into the cream mixture.

Cover the pan with foil and freeze for 6 hours or until firm.