These low carb keto appetizers feature chicken, cheese, sun-dried tomato, and basil wrapped in crispy pepperoni. YUM!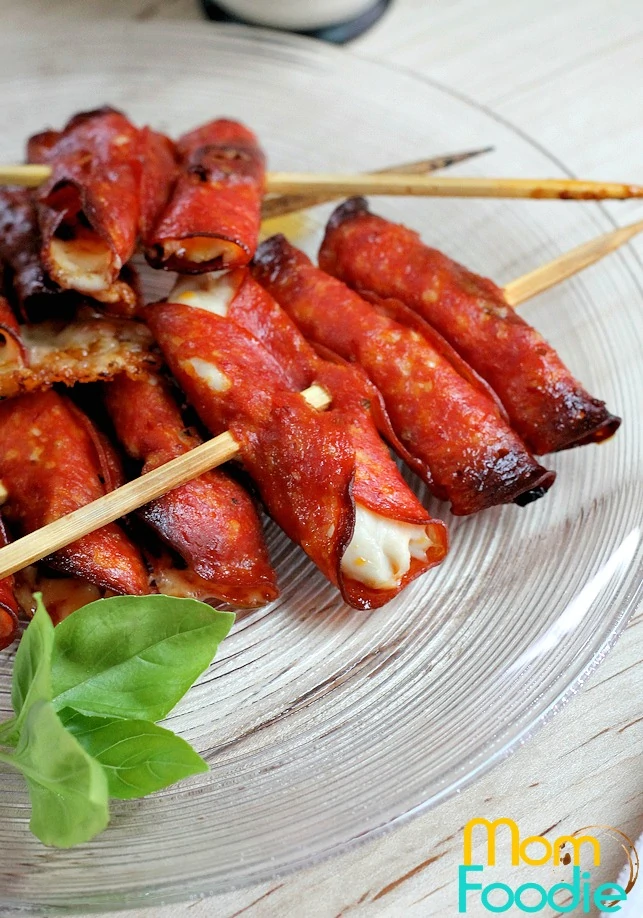 Pepperoni Chicken Bites (Chick-a-Roni)
I don't know about you, but I've sort of got a thing for the pepperoni and cheese that gets a little extra crispy on a pizza.  It is hard to resist picking those delectable morsels off, when a pizza sort of drools off the edge of it's crust Frankly, I don't even try to resist.  It would be futile.  Now crust and sauce are nice too, but when you are trying to drop a few pounds I have this theory that paring it down to what you're REALLY craving and going straight for it with precision targeted accuracy will get you over it, so you can move on.
Nope this isn't low fat, nor low in calories.  It is low in carbs and high in protein though, so you'll feel satisfied and if you figure that most of grease will end out in the pan instead of soaking into your pizza you may start to see this as bordering on diet food yourself.
Anyway enough of the diet or not diet self debate, these wee pepperoni purses each lovingly cradle a bite sized chuck of chicken, a sliver of sun-dried tomato, a couple basil leaves and a matchstick of sharp cheddar.  Bite sized heaven on a stick.  Nosh on them as is, slosh em' around in warm marinara, plop on top of a salad or over some pasta... whateva'. Yum!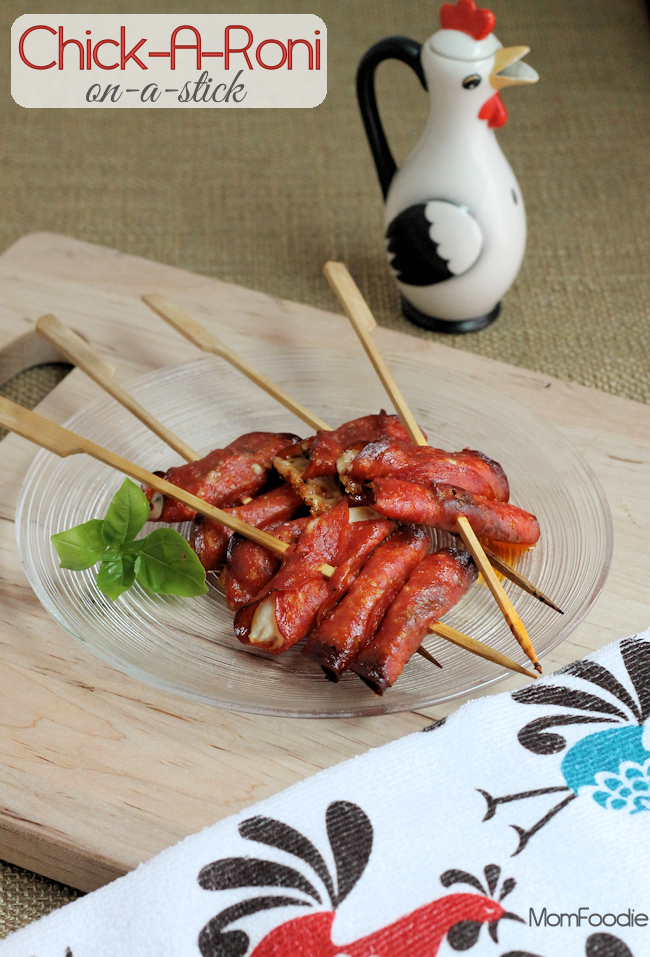 Wha'??  Don't even tell me she is trying to pass this pepperoni wrapped chicken off as some sort of diet food.  The chick has finally gone completely off her rocker.
Keto Appetizer
If you are on a ketogenic diet these pepperoni wrapped chicken bites are perfect Keto Appetizers! I created the recipe before the keto diet took off. Since then it has become very popular with those following the diet.
Eat them just as they are right off the stick or serve with a low carb marinara sauce or try them with my Keto Yum Yum sauce!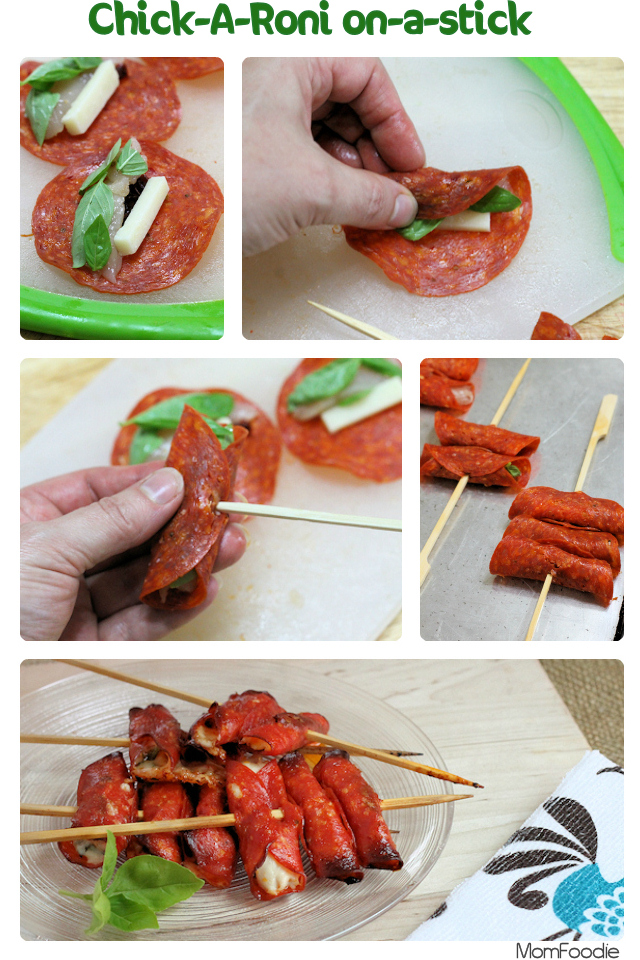 More Easy Keto Recipes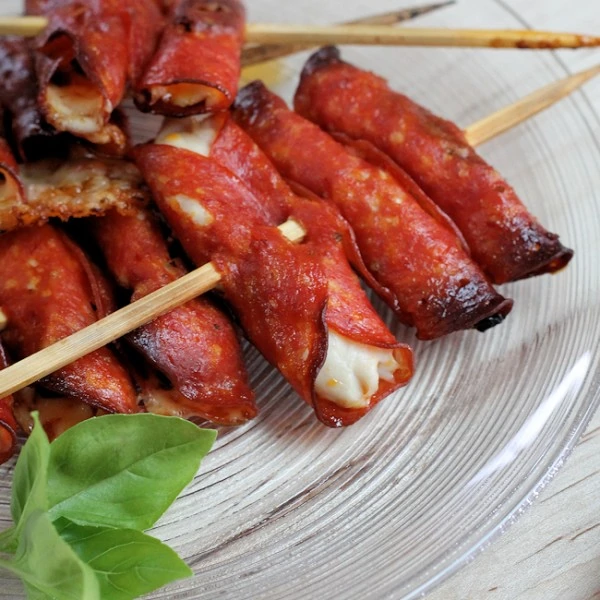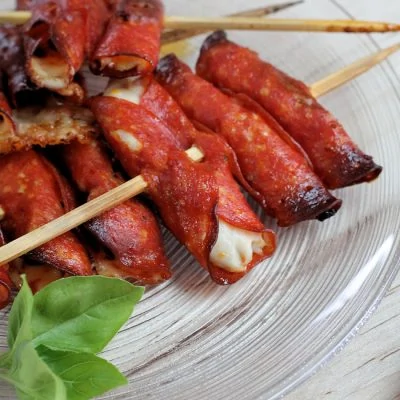 Chick-a-Roni Skewers - Keto Appetizer Recipe
These pepperoni wrapped chicken bites with cheese and basil bring the flavor of pizza to an easy keto chicken appetizer!
Print
Pin
Rate
Ingredients
1

pound

of chicken breasts or tenders

trimmed

4

oz.

block sharp cheddar

¼

cup

sun-dried tomatoes

½

pound

pepperoni

sandwich size

large bunch of basil

**optional** Marinara sauce for dunking
Instructions
Cut chicken into bite size chunks.

Cut off ¼ inch slices of the cheddar, then cut each slice into 4-5 narrow sticks.

Slice the sun-dried tomatoes into thin strips.

Preheat oven to 450 degrees.

Place a sliver of sun-dried tomato on each large slice of pepperoni, then put chunk of chicken over it.

Tuck piece of cheese against chicken on one side, then lay a basil leaf or two on top.

Roll the chicken up in the pepperoni. Poke skewer through starting at the lose end of pepperoni, and right through.

Skewer as you roll them*, and lay out on baking sheet.

Bake for 7-8 minutes. Then remove and drain from oil.

Serve warm, with marinara if you like.
Notes
*3 per skewer works out well, but as long as they are not packed on tightly adding a couple more should not be a problem.
Use the sandwich sized pepperoni. It is called Pepperoni Salami at some deli counters.
Nutrition
Calories:
363
kcal
|
Carbohydrates:
3
g
|
Protein:
30
g
|
Fat:
25
g
|
Saturated Fat:
10
g
|
Cholesterol:
107
mg
|
Sodium:
882
mg
|
Potassium:
588
mg
|
Sugar:
1
g
|
Vitamin A:
750
IU
|
Vitamin C:
4.7
mg
|
Calcium:
170
mg
|
Iron:
1.7
mg